Postmodern utopian dream of Costa Blanca
My story of travelling to see a very special architectural object from the 70's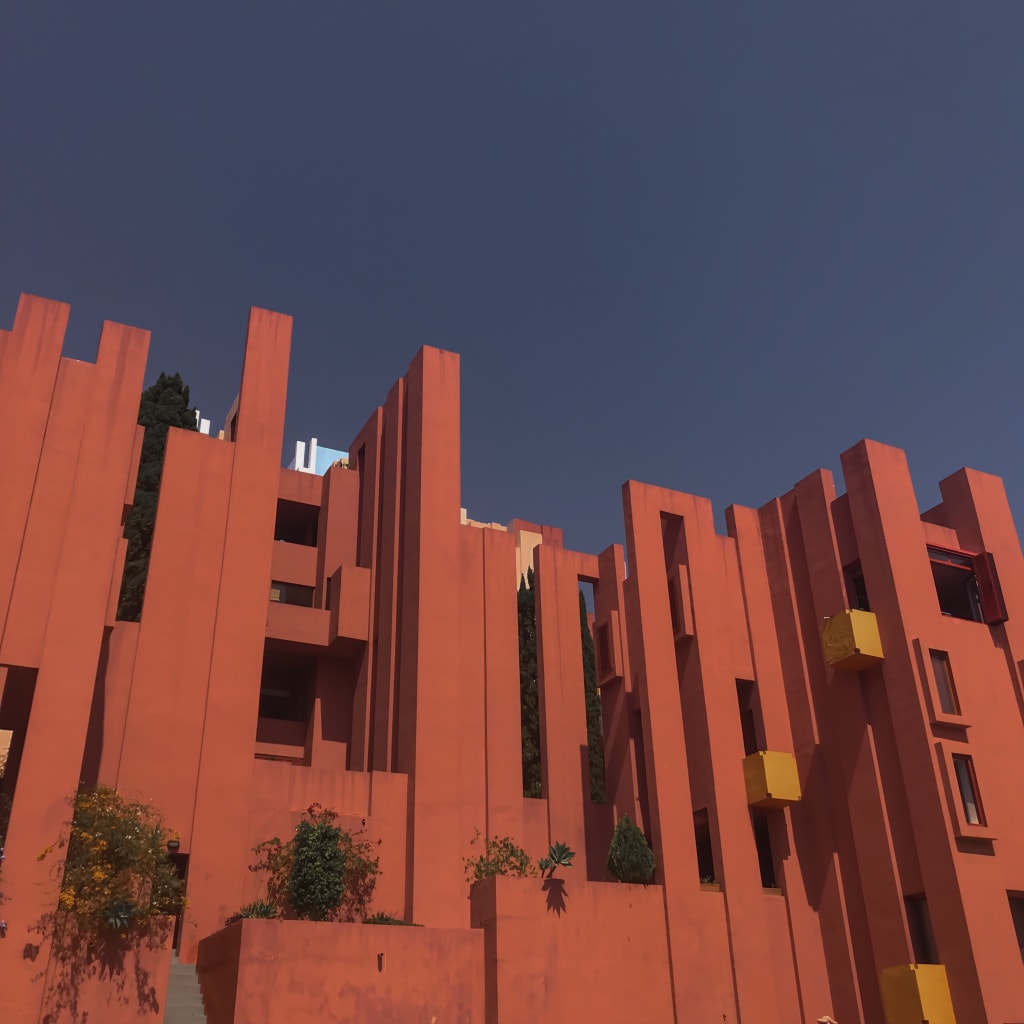 La Muralla Roja by Ricardo Bofill
This is a story of how I fell in love with an architect. I mean - not literally. But his work and legacy that he left around different parts of Europe, particularly in Spain. I will tell about my first travel to one of them and experience being a traveller with no car but a strong will to get what I want.
Being a massive visual enthusiast I love spending time surfing on the Internet searching for interesting destinations and locations around the world. Natural and human made. Anything that makes your heart melt and appreciate someone's great taste and ability to bring their vision into physical art objects. I came across to a very interesting pattern - I always end up in these interesting locations, sometimes even without realising that I've seen them before online. I have been saving pictures of these objects in my personal album and have left them there for good, and in few years time I accidentally ended up in these places. My very first experiences of travelling made me to come up with the understanding, that beach holidays are way too boring for me and I always wanted to explore more, than a 5 star-hotel-breakfast-included type of holiday can offer.
Few years ago I was on a trip to Spain with my family. One very kind and old captain agreed to show us the view on the city from the sea and while we were sailing around the coast in his yacht I saw a bright pink spot that looked like lego on the edge of cliffs. It was covered with a lot of trees and was far away from the main city. At that point we were quite far away from the shore and I couldn't understand how accessable is it from the town, where we lived. I showed the "lego house" to my parents but they didn't show any interest. After this we stopped in the open sea to swim among fish and then I completely forgot about my object of interest.
Last year I was at home browsing through some images on Pinterest and I saw a building, that caught my eye immediately. It was bright pink and looked like an XL sized tetris. The blocks were put on each other in the most strange way. I started researching this place and soon I figured that the building was built in the 70's by Catalonian architect Ricardo Bofill. I recognised it!! I realised that it was the same building, which I saw few years ago in Spain while being on a holiday with my family. The building was built by Bofill and his team as residential and brought no interest to the media until recent times. With the grow of social media and blogging, this building became very popular among tourists who wanted to visit and get lost inside it's maze walls. That summer I was extemely lucky, because my family decided to visit the same town for a summer holiday and they invited me to join.
I've spent some time researching reviews on the place and tried to find some time tips that would let me get in. The first thing that I saw is that La Muralla Roja (that is the name of the building) is now surrounded by a big fence which was built by residents. Apparently they got really annoyed with crazy amounts of tourits who were coming to take pictures and videos inside. The only way to get in was to a) rent an apartment inside b) climb the fence c) ask someone to let you in. None of these optioned seemed reasonable for my parents and they left me on my own with that mission.
The day X. Calpe, Spain. It was a boiling day in the mid July. I woke up and decided to get there by walking. Luckily, the place we stayed in was only about an hour away from La Muralla Roja. The road was taking me down the hill and I was blaming myself for wearing a black t-shirt and forgetting to bring a bottle of water with me. But it was too late to turn back and I continued walking. Quite soon I saw familiar edges of the house - it felt so close yet so far away. If you've ever been to Spain you probably know how strange the serpentine roads are. By the time I arrived to the building it was midday - the hot Spanish sun was right above my head and it was saying to me "You're gonna faint here and no one will pick you up" - it was dead quiet. I made few circles around the whole building to try and find a little hole in the fence so I can get myself in. Nothing! After a while I saw one old lady and asked her to let me in for half an hour to browse inside - she was very unfriendly and refused to let me in. After few minutes having the strangest conversation on the level when I didn't speak any Spanish and she didn't speak any English I found myself begging her to let me in, yet she was unbreakable. I decided that after all this getting inside was a question of principle for me. I walked around so she wouldn't see me no more and tried to climb the fence. That was dumb! The residents were so creative that they have put oil on it and my hands were slipping off every time i tried to get up. Being an amateur in parkour I failed that mission as well. "Ok, breathe. That's not an option.." Right when I was getting off that fence an old car pulled off next to me and the old guy that looked like he could be starring in Scorsese's movie asked me if I needed a lift to the town. I said to him that I'm trying to get inside that house and it's been already an hour of me trying to figure my way in. He laughed and said that he lives around and sees a lot of people trying to do the same. Our conversation didn't last long and as soon as he left, I felt helpless. I was almost ready to leave, when I saw another car coming my way and the fence, which was right in front of me opened to let it in. That was it! It was my chance to sneak in and I couldn't be more happy.
The moment I got myself in the time has stopped and I entered some kind of dream. Maybe partially because I was dehydrated and dying from the heat. I found myself in a concrete maze full pink and blue blocks and walls. I didn't know where to go, but it didn't matter anymore. Some of the walls were dropping shadows that looked like other walls - but they never existed. I wasn't sure which ones were real and not. On every floor there were different type of gorgeous plants and massive cactuses. It was a pink man-made paradise. After walking around and discovering new spots of the building, I found myself on the roof which had the most beautiful cross shaped swimming pool. The crystal blue water looked like a mirage and I the only thing I could dream of at that moment - is to dive in it. Unfortunately I didn't bring a swimsuit and eventually I got busted by a local, who came to swim there as well. That was the moment for me to leave.
When I was walking back home I kept on stopping and looking back to have a look on the view that I couldn't get enough of. The further I went the more sad I was that I couldn't spend more time inside. I was so exhausted, my sweat was dripping off my face and I thought I was capable of drinking 5 litre water bottle in one go but I was truly happy and satisfied. It was all worth it! That was only the beginning of my journey with exploring Ricardo Bofill's legacy and very soon I will tell you about my other trip to one of his works.
But for now enjoy the pictures of La Muralla Roja i've made.