Passing Along the Tradition Part 3
Winter is Coming - Scotland, Shakespeare (and the dark-side of York in Part 4).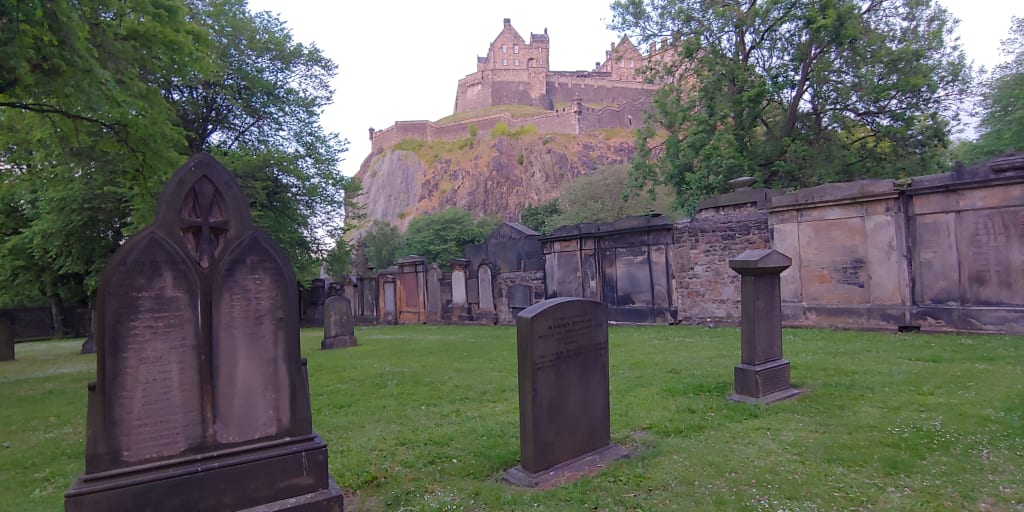 Part 3! We made it to Scotland!
Quick refresher: This is the 3rd part of a (now 4 part article! Sorry! Scotland took up too much space and York is too amazing to try to gloss over!) about my family's trip to England with 2 key intentions:
(Read part 1 here: https://vocal.media/wander/passing-along-the-tradition AND part 2 here: https://vocal.media/wander/passing-along-the-tradition-part-2)
Intention 1: Compare and Contrast - The world has changed in the last 32 years and that includes the UK. I will be pointing out particular comparisons and contrasts to my time in 1990 to what things look like in 2022. I hope this comes off as somewhat objective as I've also changed as a person over 32 years, so much of the observable changes could just be perception.
Intention 2: You too can have a great time in the UK with your family! Find some helpful hints scattered throughout this article.
I love Scotland SO MUCH! When planning this trip, the Scotland piece was the most difficult to pair down. In fact, the initial plan was to spend the entire 10 days in and around London. But, I couldn't fly over the Atlantic without taking the chance to expose my family to the beauty and special character of Scotland! Especially when some of my fondest memories from my 1990 trip took place there. So, I kept expanding and contracting our time in Scotland until, I think, I picked the perfect amount.
I'm Scottish, well, I'm mostly a British "mutt" with elements of English, Scottish, Irish and Welsh. However, my DNA test has me as 80% Scottish, which makes total sense. When I'm there, I feel at home. It's weird. Both sides of my family came to the US in the mid 1700s, so it's not like I have family I can visit in Scotland. However, when I'm there everyone feels like family. When I was there with my mom, it was October. So, all the trees were red, orange, yellow green and brown, there was rain everyday and it rarely reached above 60 degrees Fahrenheit.
My fondest memory in Scotland with my mom, was when we took a day trip from Edinburgh up to Inverness. It was rainy, and a balmy 50 degrees outside. I remember learning that Inverness castle is the setting for the story of Macbeth which made the visit extra special. I had recently seen a production of Macbeth at our local theater, with my English professor big brother, and had immediately fallen in love with Shakespeare. From Inverness, we took a bus tour to Loch Ness and Urquhart Castle. As a super romantic 11 year old girl who's current favorite authors included Shakespeare, Emily and Charlotte Bronte and George MacDonald, a trip to Urquhart Castle might as well have been a portal to the magical land of literature. I was entranced to put it lightly and intent on spotting Nessy in dark lake. So entranced, that my mom and I missed the bus, and got to walk back the 2 miles through the highlands and along Loch Ness to the small village where we could catch the next one. There doesn't seem to be anything more Scottish than trudging along in the clean, cold rain on a muddy road, interacting with highland cattle grazing along the stone walls separating the farms that border Loch Ness. We made it to the village and a beautiful bearded man with a kilt served us stew and homemade bread as we waited for the bus in the local pub.
That didn't happen this summer. BUT that doesn't mean that our trip to Scotland was any less magical! We went in June, so Edinburgh was a whole new experience for me, in sunshine. It still didn't get much above 60 degrees Fahrenheit in June either, but what a gorgeous site the castle is with wisteria covered buildings and green trees all around. We used VRBO for all of the places we stayed throughout the UK and were pleased with all of them. I booked our Edinburgh location in March, so we were able to get an amazing place with separate bedrooms on the Royal Mile, right in the middle of all the action.
My daughter is majorly into the supernatural. She LOVES ghost stories, so Edinburgh was perfect for us to take advantage of the Ghost Tour bus! Considered one of the most, if not the most haunted cities in the world, Edinburgh did not disappoint. We didn't see any ghosts, but we did get to go on a sunset cemetery tour and some really fun, and creepy stories. This isn't for everyone, I understand. My son was not into it, but played along and enjoyed the history he was able to glean from the stories and my husband and I loved the theatrics from the tour guide and the detail they put into the buses.
I'm a huge fan of the Outlander books and TV series, so Edinburgh also offered some fun fan-girl opportunities to visit filming locations. I was able to get a great photo of myself in front of "Jamie's print shop" location, which is identified on google maps (in case you're wondering). This was included in the must-do walk up and down the Royal Mile from the castle to Holyrood Palace.
In my opinion, no one should leave Edinburgh without visiting the Scotch Whiskey Experience. In 1990, this amazing experience consisted of siting in an old whiskey barrel and going through a dark Disney-like ride with animatronics, telling the history of Scotch and how it's made. It was totally campy and at the end my mom let me try a dram of scotch (which I hated). Now, the experience is way more high tech and way better than it was 32 years ago. There were 3 dimensional projections, really amazing visuals and a fully re-worked script that made it super fun. The whiskey barrel-ride part is much smoother now too. My kids loved it, we got an amazing education in Scotch varieties and my husband couldn't have been happier. When they opened the whiskey vault, I think I saw a tear of joy in my husbands eye.
To top the whole Scottish experience off, we made sure to get a family picture in full highland gear at the Old Time Photo booth on Market Street. We're suckers for dressing up and getting our photo taken. One of my goals is to have a family portrait each year in a different setting. We have photos on our walls themed from the Old West, Oktoberfest, and now as Highland Scots. Next year we'll have to do a Viking theme...which leads me to my next location: YORK! (which I'll pick up in Part 4)
Did you catch my hidden tips?
Sometimes missing the bus and having to walk in the rain turns out to be the best part of the trip.
VRBO is fantastic for families travelling in the UK. I think I said this before, but hotels don't offer rooms with two beds. If you want to have your own room, go with VRBO. The experience is way better, you can do your laundry and enjoy an "at-home" feeling
Enjoy the goofy touristy things that are offered and choose things that give everyone in the family a good time. (Don't just focus on the kids! Parents are on vacation too!) Most places like the Scotch Whiskey experience have child-friendly drink options too.
Not listed, but important: If you don't travel on trains often and suffer from any kind of motion sickness... take Dramamine! I lost a whole evening of fun in Edinburgh because I failed to do this for our 4 hour train ride from London. (Maybe I'll write a story about it titled: "That time a made a scene in the Edinburgh public restroom")
Part 4 coming soon! The dark-side of York.
Thank you for reading my article! I appreciate you taking the time to share in my literary journey, and listen to my geeky side. If you enjoyed this article, you can let me know by adding a "heart," or sharing your thoughts in the comments.
If you want to support my writing, check out my author profile for more articles, poetry, and short stories. Tips are never an obligation, however, they are always deeply appreciated!
Thank you again for your support.
About the Creator
My training is in vocal performance and I love the fact that I'm sharing my writing practice on a platform called "vocal." It's just too perfect. I hope you enjoy!
Reader insights
Be the first to share your insights about this piece.
Add your insights