Palm Hills Sokhna Village the New Place to Go on Your Next Vacation!
Palm Hills Sokhna Village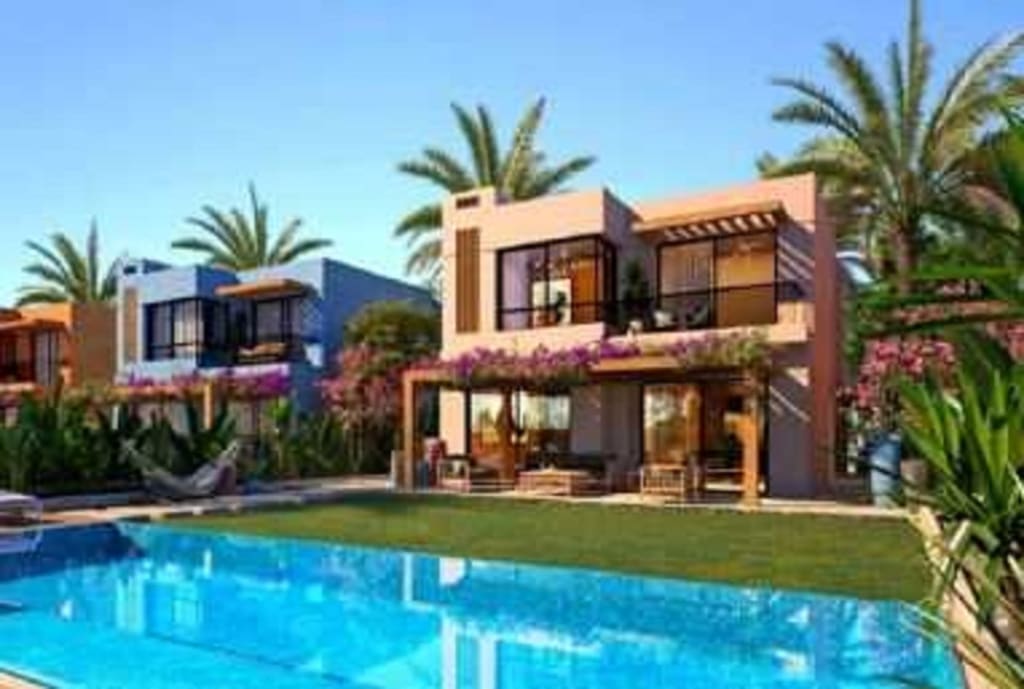 Sokhna's Palm Hills is where you and your family can enjoy the sea and relax amid charming nature while enjoying a life of comfort and luxury. The resort has chalets and villas with a beautiful view over the sea, pools, and gardens. It offers both entertainment and luxury with suitable payment schemes and rates.
The Location and Design of The Project:
Palm Hills Laguna Bay Sokhna Resort is situated on the 93rd kilometer of Suez Zaafarana Road and directly to Sokhna Road Exit. It is right in the center of Ain Sokhna, with a unique sea view from the entire resort and a 1,5 km long beach.
Palm Hills is a village of amenities and services planned according to the new international architecture and overall, 150-acre size.
The project region covers over 80% of protected parks, artificial wetlands, and aquatic centers. This luxurious resort offers 450 rooms, including the apartments, the villas and the chalets.
Palm Hills Village in Sokhna consists of a variety of units from chalets, independent villas, and townhouses. These units are in a rows scheme, which permits each unit to have its spectacular sea view.
The first row is for Beach House Villas, with a land area of 508 m2, situated at an altitude of 12 m, and have three to five bedrooms. Moreover, there is also a row of Beach House villas with 385 m2 to 432 m2, 19 meters in height.
Also, there is a selection of villas with a floor area of 267 m2 and 380 m2, 19 meters in height, and two-bedroom chalets of 210 m 2 - 294 m2 floor space, or three-Bedroom chalets of 287 m2 - 313 m2 with 26 meters of altitude.
Townhouses come between 172 m2 and 270 m2, and they are 29 meters in height. However, two to three-bedroom chalets are covering 100 m2 to 140 m2 and 36 meters in height.
The company is currently establishing its following process, El Mar, which includes 17 exclusive chalets overlooking the coast and marinas, from 63 m2 up to 130 m2, composed of 2-bedroom chalets, Juno chalets, average 130 m2 and comprising 1-bedroom chalets.
Prices of Palm Hills Sokhna:
The location's features and services of Palm Hills Sokhna chalets are consistent with the prices of Laguna Bay Sokhna chalets, with prices starting at EGP 2,300,000 and prices starting at EGP 4,100,000,000, and Palm Hills Laguna Bay villas. The repository of maintenance is 8%.
In Palm Hills Village, the company offered more than one booking and payment systems to please their clients as follows:
Pay 5% on the reservation deposit, then 5% on a three-month term, and the other unit amount on the equivalent payment for six years without interest. The remaining unit value is on equal payments.
The second system is a 10% discount, 5% after three months, with instalments over seven years without fair payments interest.
The third system is 10% after three months, and the remainder in equivalent increments for eight years, with no interest, can be payable as a booking deposit.
Palm Hills supply the chalets and villas of Palm Hills in Ain Sokhna within two and a half years from the date of the contract. They are complete with total super luxury, while the stand-alone villas are completed and can be by themselves with a semi-finished facility.
Palm Hills in Laguna Bay Sokhna offers everything you need for a vacation, as the resort provides a 1,500 km sea area full of coral reefs and amazing landscapes. It also has BBQ zones and other water sports like skiing and windsurfing. The complex also has many high-quality restaurants and cafes.
There is a training and equipment rental Kitesurfing Centre, and you'll find lovely swimming pools, artificial lakes in Palm Hills Sokhna, and an amusement centre for children.
There are areas for different activities like walking, hiking, cycling, and 24-hour protection and surveillance systems.