Our First Holiday - to Amsterdam, Berlin, Poland and Back Again- Part 1.
Part 1 entails our cloudy but phenomenal adventures in Amsterdam, Holland (where we found the best burgers in the world.)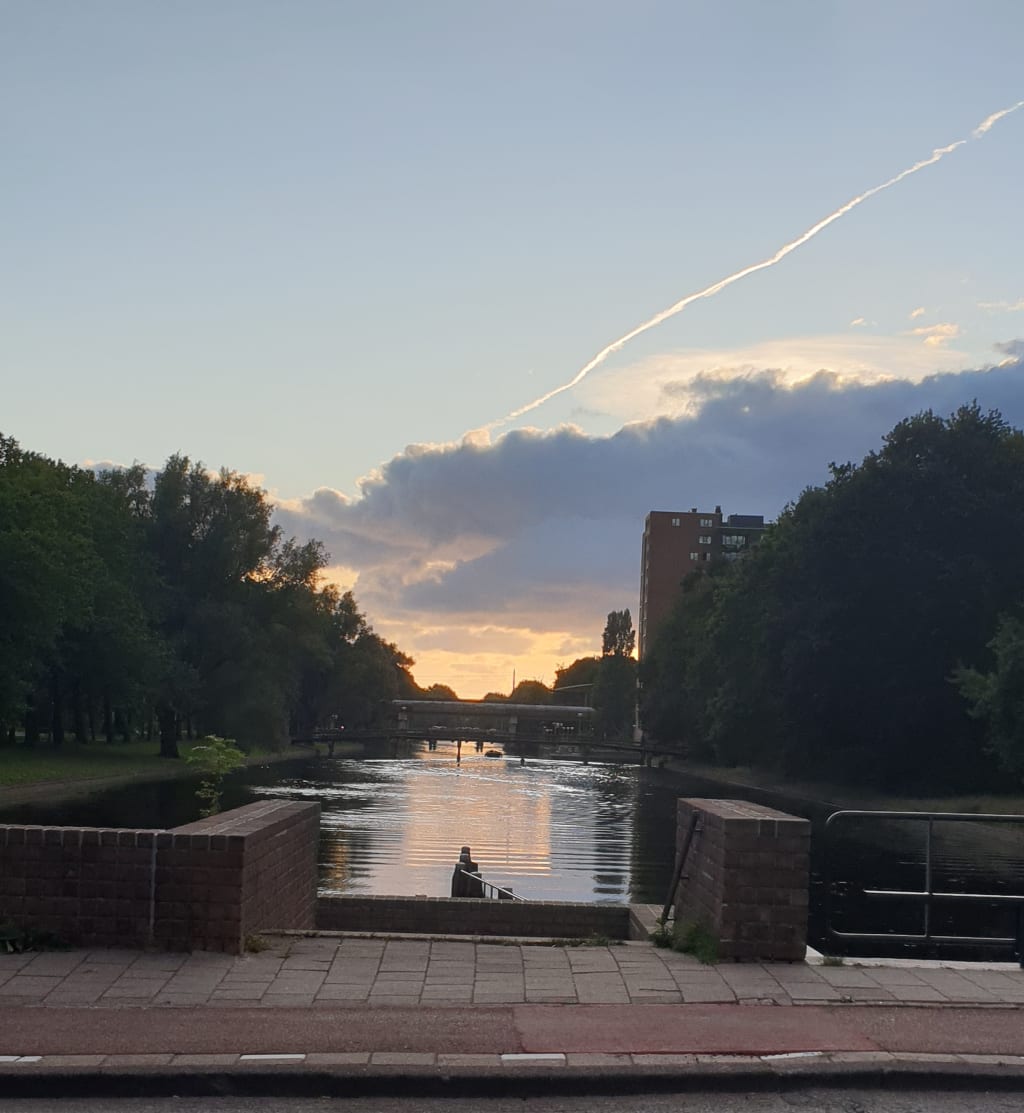 photo by author
Back when times were easier, calmer, and less scary, after my A-Levels and my boyfriend's first year of University, we planned to go on holiday as a reward and break for all our hard work. 
We sat and looked through the cheapest holidays we could find, not too shabby, but not too posh, we were students of course, and my jaw dropped as my eyes widened across a deal on a 5 day trip to Amsterdam. A 4-star hotel and flights for both of us, came to £420 (how fitting).
Oh. My.
My finger pressed confirm. And that was that.
The bad thing was, we booked about 9 months in advance. So we had to wait.
Oh the wait was torturous, we kept ourselves busy but the time we got to relax was more often than not filled with thoughts of where to go, what to see, what to take. 
This was our first holiday together of course! Why shouldn't we have been excited?
Just as the excitement started to become unbearable, an email made my heart drop. 
Our airline had moved our flight-back from the evening to the morning, meaning we had a day less. To our luck, a few days later they moved our flight-out to a few hours later. We hung our heads with disappointment, we wanted to stay there as long as we could.
That year, we also wanted to go to Poland. My boyfriend is Polish and has family who lives there, and he wanted to take me to meet them and see the country. 
A lightbulb sparked, why not go from Amsterdam straight to Poland?
Two birds with one stone. But finding trips from 'Dam to Poland proved extremely difficult. Flights being long, not at the right times, with weird stops in the middle, and lots of money. After longingly and determinedly searching for hours, we came across a coach trip from Amsterdam to Berlin and from Berlin to Poland.
I was unsure at first, two 9-hour bus trips did not seem incredibly appealing; I struggle to sleep on transport.
We went for it.
So we started on our little adventure, which turned out a little bigger than we planned (much to our delight), with only our back-packs and eachother in hand.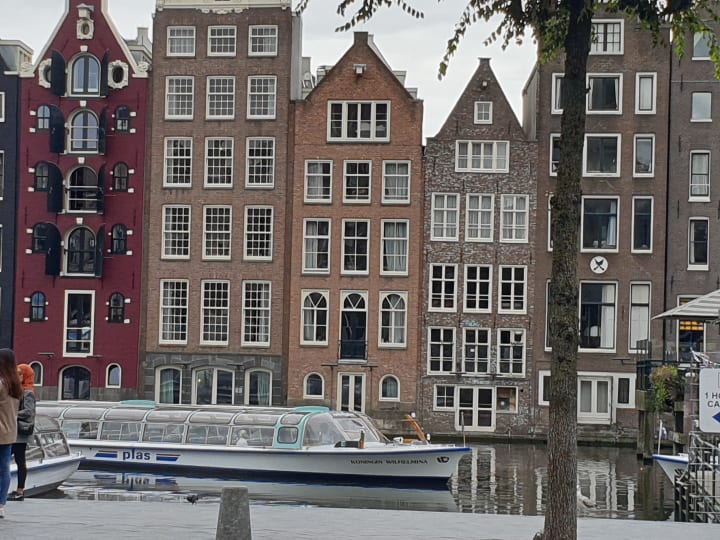 We arrived and it was bustling. I have been to London multiple times, and having been a small-town girl my whole life it is overwhelming, people everywhere, cars, bikes (though here it was predominantly bikes) noise and buildings all seemingly shoved into a tiny little box. This was even more so.
There were people as far as the eye can see. Coloured clothes of all shades and tones bobbed around corners and turned sideways as they tried to squeeze past eachother. I was filled with a mix of wonder at the other-worldly looking buildings, and anxiety and claustrophobia. My boyfriend's hand was held so tight he might have thought I was giving birth.
What made us chuckle was the class of all the people around us. They were adorned with designer clothing right to the shoelaces, their coats and hats and scarves so perfectly placed with such confidence almost as if they were attending the Met Gala later that evening. One item of their clothing was probably worth our entire outfits put together.
My boyfriend laughed next to me :
'We look like such 'village people'.'
The bike culture is alarming. My admiration for them being eco-friendly was quickly squished as we nearly got ran over by an angry woman on her bike. You get used to it after a few days, and learn when and where to cross the roads, which road is for who and do not mess with the cyclists.
When you got through the crowd though, remembering your Grandad insisting through the phone before you left to 'keep your bags with-and-to you because it is a prime place for those-clever-pickpockets', it wasnt so bad. The tension falls from your shoulders and you can finally pay attention to the sights.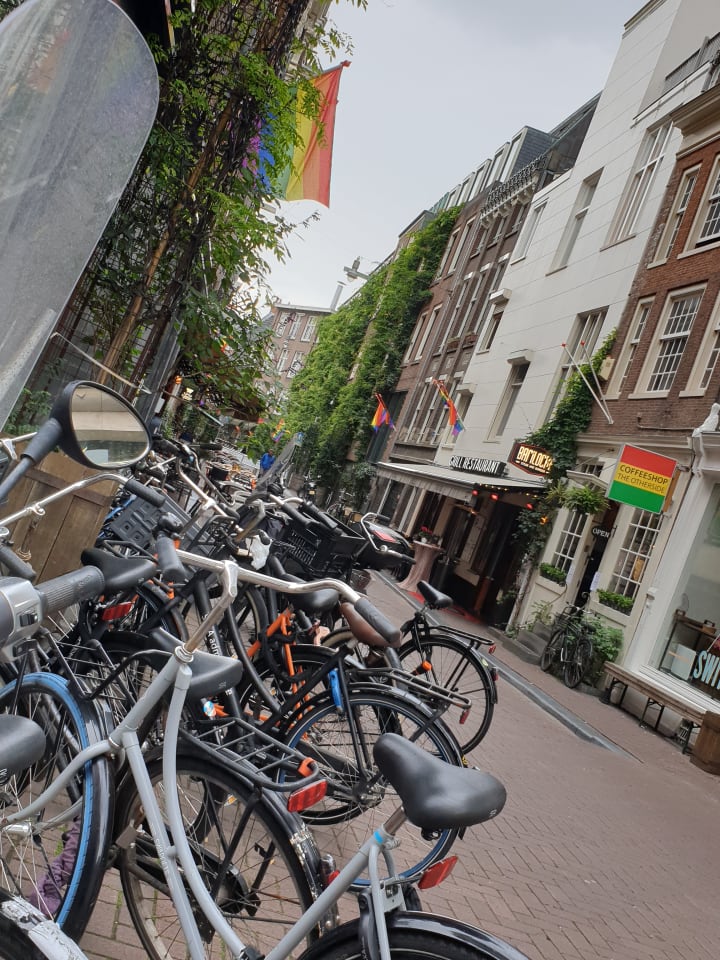 The cobbled streets were bordered by multi-coloured bikes, such like flowers.
It was the most aesthetically pleasing city I had ever seen. Thin houses towered to the sky, with cute little windowsills, and the perfectly seated front doors with white steps down onto the pavement as if you would see a character in a movie hop down in their beige trench-coat and shiny shoes. 
Maybe I am romanticising a little. Though that is how it seemed.
As much as the inner-city was nice, we walked as fast as we could, both hoping to get to the places we wanted to see most.
The water.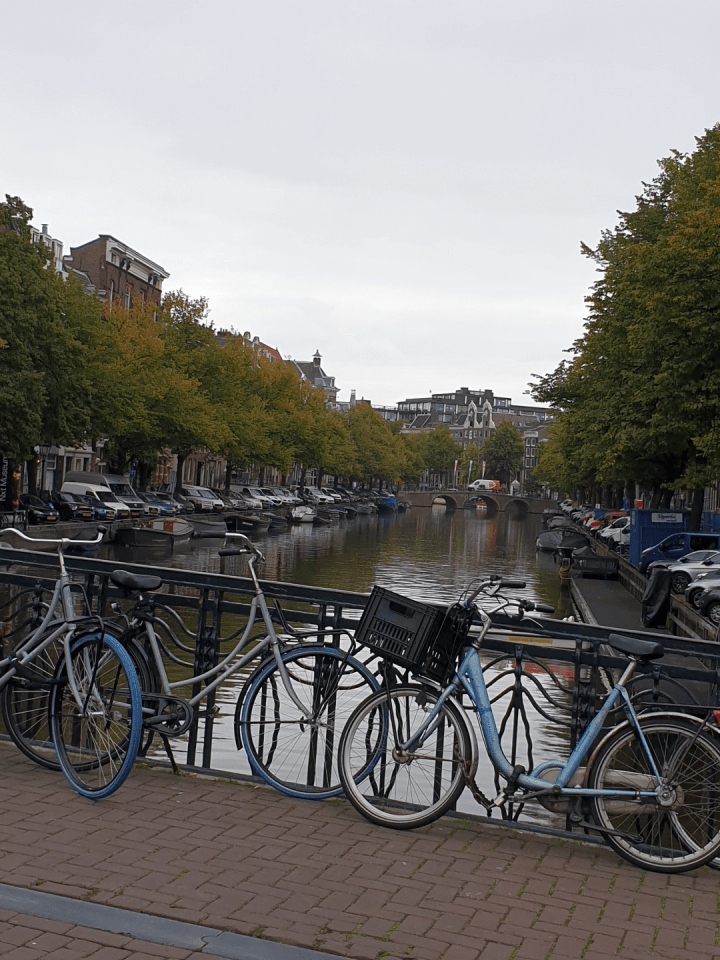 The clouds didn't ruin the sights for us, these were the parts of Amsterdam we most wanted to see
For we both prefer the natural touches the outskirts of a city has, the trees, the canals, the flowers and green. 
The suburbs did not disappoint.
I felt a pang of guilt that I didnt have a camera to capture the beauty of the place, and just a phone. Though I have always been more inclined to value the experience over the photos, as long as the photos remind me of the feelings we had, I dont mind if they arent magazine-worthy. They are to me.
When we got to the hotel we had to close our open mouths in order to not draw attention. It was quite far outside of the city, and our legs were aching from all the walking. We wandered happily through the automatic doors to a dimly lit, open plan room with sophisticated upholstery and the reception at a sheening bar in the middle. 
Around the quiet reception there were men in expensive suits, women with their hair freshly done and their velvet coats freshly ironed. 
We checked in, smirking a little with a blush on our cheeks at our sweatpants and trainers, rushed to the lift, and up to our room.
The only word I can use is 'posh'. It was posh. 
And lovely.
The room even had a Nespresso machine. 
We were shocked at how great the hotel was, especially for the price we paid for it. We were not expecting such luxury for a young couple to use to get snack crumbs all over the down-pillows. Oops. 
It was gorgeous, and best of all, very cosy and restful.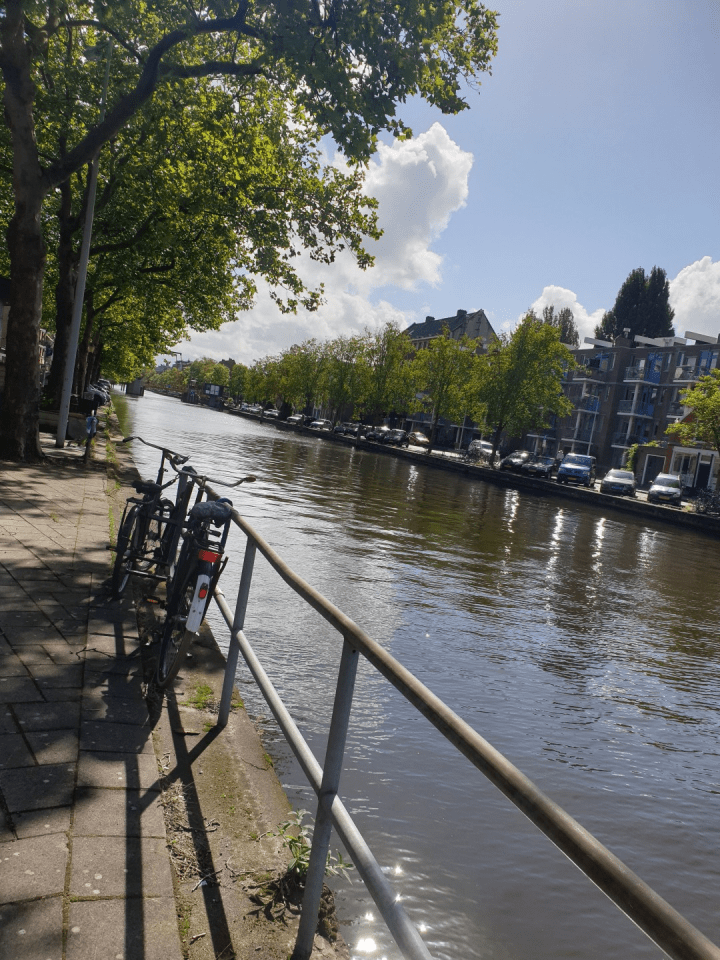 Our days were spent wandering around, feeling fuzzy and fascinated by our surroundings.
We visited various flower shops along our way, and then took to the world to wander around to our heart's content until the aching in our legs broke through the high and we had to find somewhere to sit.
For two of five days, we went to the gym to keep up our powerlifting progress. The gym was great and friendly and we went in, smashed the racks and then walked out again. (I am going to write another article about our experience with the gyms we visited in all 3 of the countries we went to on our round trip).
Often, we found ourselves at Amsterdam's glorious parks. They are vast, massive expanses of trees and water and grass. The air was moist with dew and the grass as far as the eye can see was the greenest of greens you have ever seen.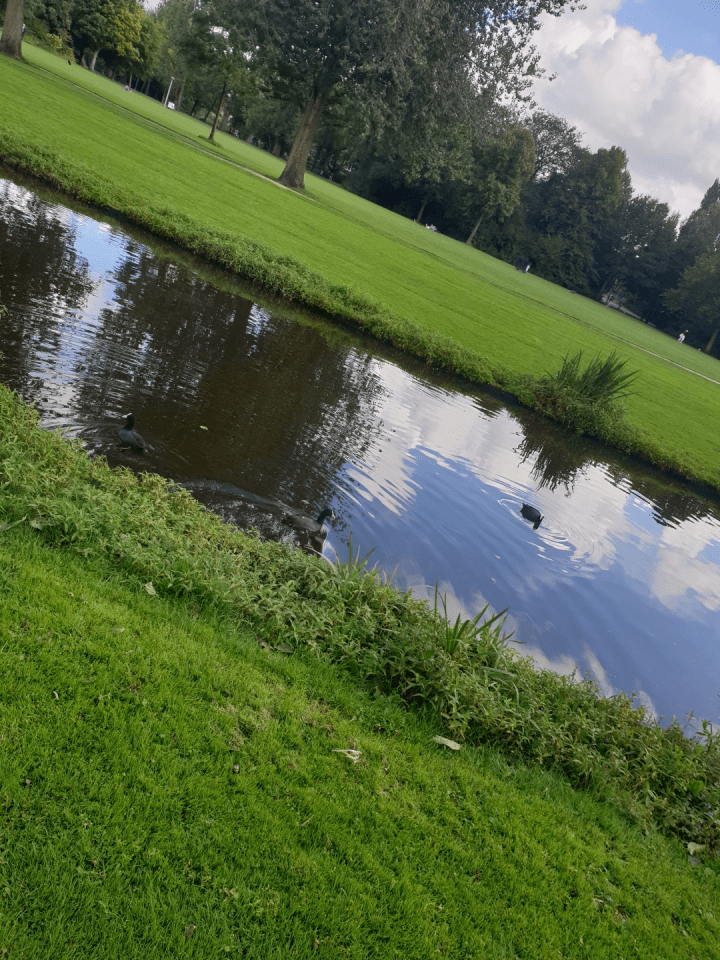 The parks were beautiful and tranquil, a perfect place to lay on the juicy grass and watch the world (mostly bikes) go by.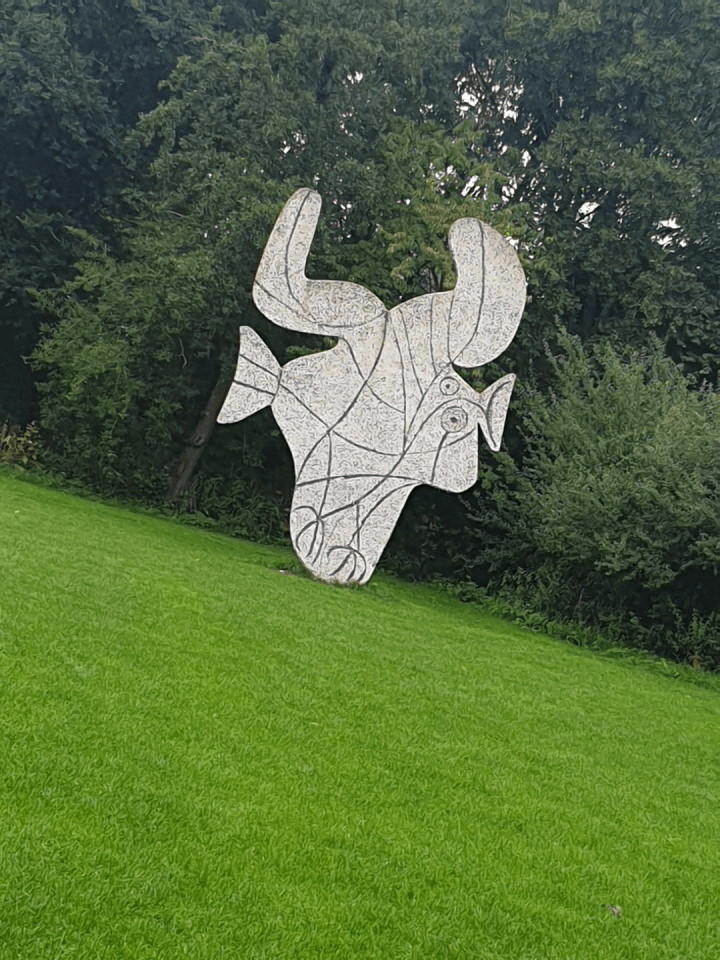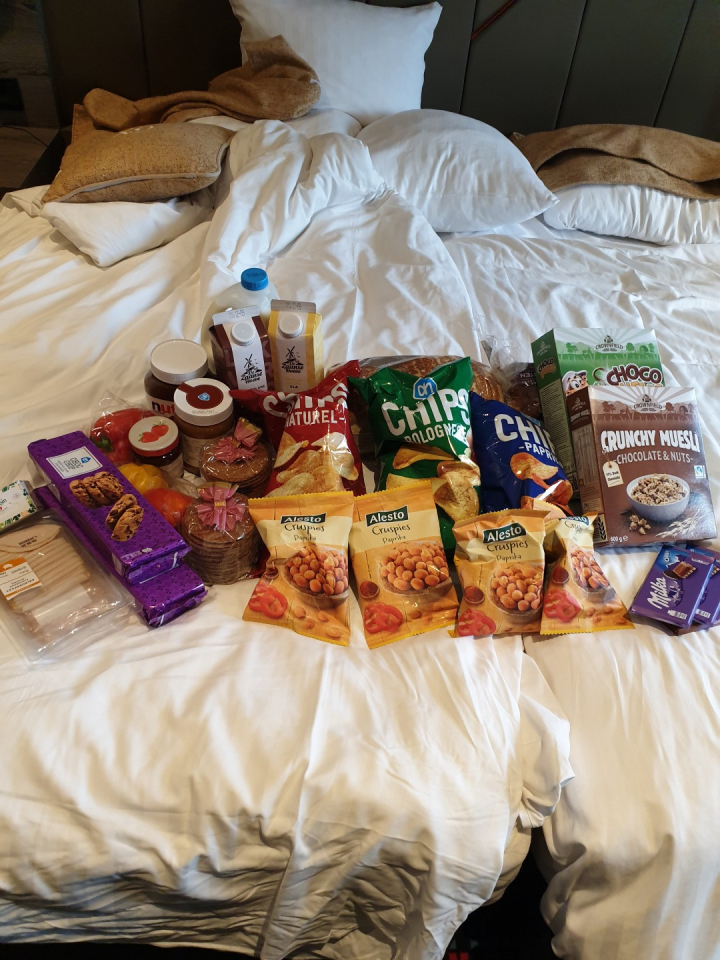 On the first day we made sure to stock up on snacks for the rest of our adventure here
Anyone who has been to Amsterdam will know the bliss it is to just grab a snack from next to you and not have to get up and shop for it.
We were good with our money, and did not eat in restaurants. We preferred to eat in together, after long days of exploring, without the hustle and bustle, the walk back, and we had Hell's Kitchen as the only other occupant.
After a certain long day of walking and exploring we sat in our hotel room and google-searched takeaway places. We found a certain burger restaurant called The Happy Bull, and our mouths watered as we looked at the menu. 
We always had a soft spot for burgers. 
We had enough energy in us to phone, and then walk and collect it after 20 minutes.
We grabbed the takeaway bags, desperate to escape the delicious warmth of the burger-y aromas swirling out of the restaurant and walked to our special spot we found on the first day to eat, relax and chat.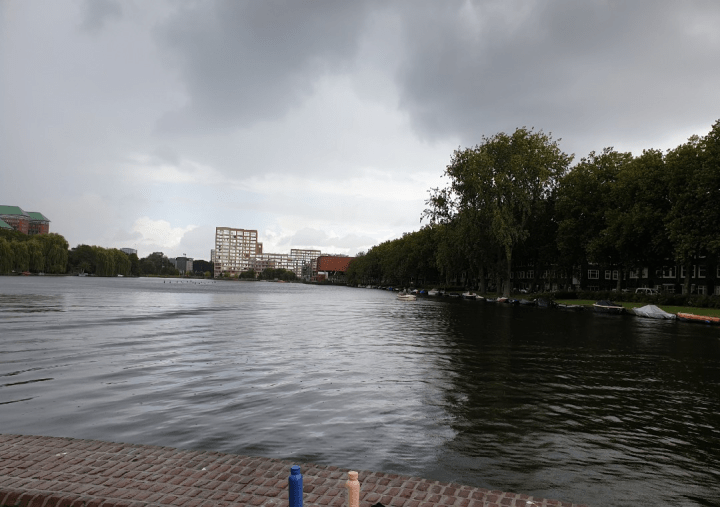 The foil crinkling as we unfolded the art that was this gorgeous piece of heaven was music to our ears.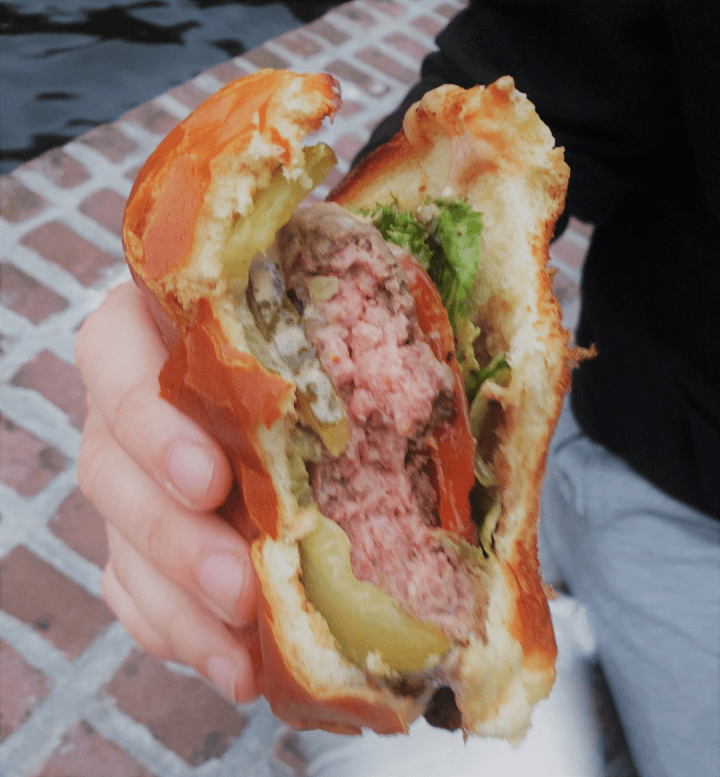 Sweet BBQ pulled pork, crispy lettuce, tomatoes, cheese, pickles (on my boyfriend's one) and the most succulent seasoned beef we ever set our taste-buds on.
The passers by behind us on the bridge probably thought we were engaging in much PDA from the moaning that came through the chews.
It was a heavenly experience.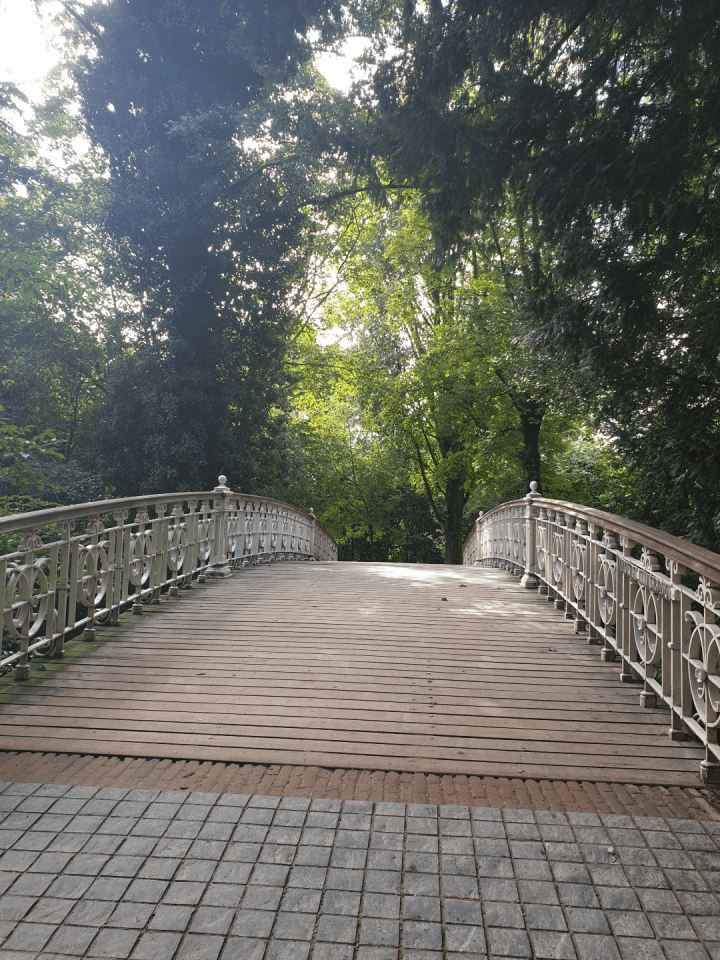 As our holiday drew to a close, our hearts were heavy with the thought that we were leaving, but ever so happy we got to experience this wonderful time together. 
We resolved that we would come back soon.
Thanks for reading, and look out for Part 2, our antics in Berlin and then Poland.