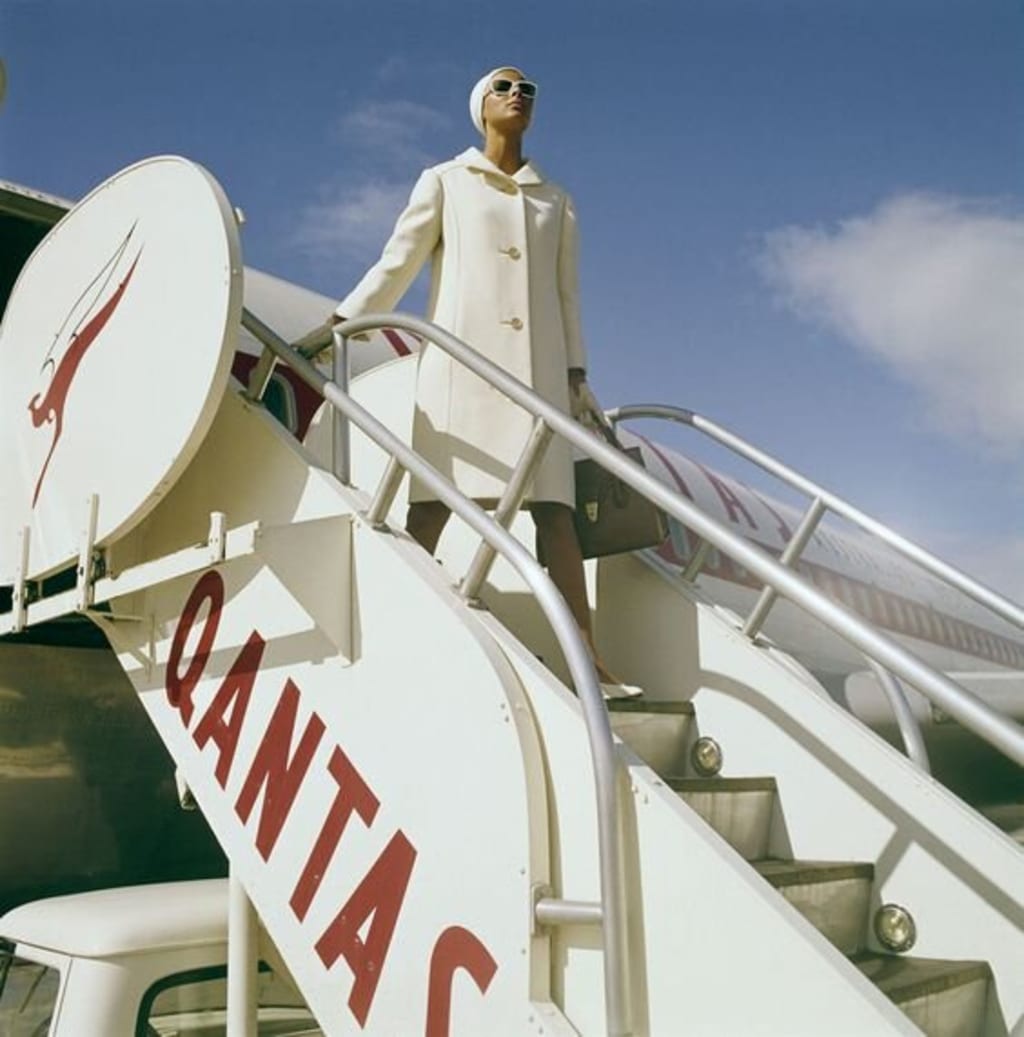 Source: Pinterest.
I will tread carefully with this one, ensuring I don't jinx any impending freedoms as dreams are fast becoming reality and my bank account is missing its old friend Bookings.com. I'm ready to enter the Qantas Club lounge, get the dust off the chair and race when boarding is called. Restricted travelling enables an easier decision making process when choosing a location, and I've been thinking back on an aesthetically pleasing trip I took a few years ago to the North Island in New Zealand. So dig out the passport, we're heading abroad.
Recharge
Eagles Nest Retreat - Bay of Islands
If you're after the ultimate luxury escape among an unbeatable backdrop, then Eagle Nest Retreat is an absolute must (even for one night!). With just five exclusive villas and resident chefs, it is the perfect escape after a difficult 2020.The resort is nestled on a private island not far from neighbouring town Russell, so just picture those dreamy mornings sailing on the resort's boat after a well rested sleep in a hilltop villa with accompanying infinity pools. I. Die.
Hotel DeBrett - Auckland
We love a boutique hotel situated near the harbour, fashion district and art galleries. This hotel also has my interest with its velvet chairs spread among the bar, resembling a 1920's jazz club. The art-deco vibes are real in this deluxe accommodation, with just 25 rooms for a cosy stay after exploring the city's laneways. Even better, the hotel is a short walk to the ferries connecting you to neighbouring islands, including the winery hub of Waiheke Island (without the argument over who is the designated driver).
Kauri Cliffs - Bay of Islands
It was probably the best mode of recovery I could've had following the Spring Racing Carnival. Waking up in an airy villa overlooking the cliffs on the Bay of Islands on a luxurious golf resort was a fabulous way to recharge ahead of the Christmas season, and the neutral contemporary designs were very easy on the eye. Replicating the exclusive American golf resorts, everything from the serene breakfasts on the patio, whiskey cocktails in the library and reading a book on the balcony overlooking the golf course is just what the doctor ordered.
Mudbrick Vineyard & Restaurant - Waiheke Island
Perched on a cliff, Mudbrick Vineyard and Restaurant is an absolute must stay for stunning ocean views and all round serenity. After a day of sampling wines, it is the perfect option to wind down in the sunshine on the island hideaway. Choose to stay in the old-world cottages or a three-bedroom lodge for your gang, where you can freshen up after a morning at the nearby beach before dinner in the main restaurant over some oysters.
Wine and Dine Me
Palate - Hamilton
Using locally sourced products paired with some of New Zealand's finest wines, Palate is the perfect eatery for dinner after a day exploring the Hamilton Gardens or the Hobbiton Movie Set for film fanatics. For groups, opt for the 7 course degustation which (hopefully!) includes the clevedon ricotta tortellini on offer.
Depot Eatery - Auckland
Known as a vibrant eatery and famous for its oyster selection, this is a terrific option for fresh seafood snacks as a quick lunch, or group dinner. I definitely would be dabbling in the snapper sliders and the kingfish sashimi.
Terra Restaurant - Paihia
To take a break from the resorts around the Bay of Islands, venture to Terra Restaurant for a change of scenery. Don't worry, you won't need to part ways with the views and it is essential to indulge yourself in some experimental dining in the north. Think iki jimi Kingfish tataki with blood orange, avocado, plum and kelp kombucha.
Jano Bistro - Wellington
This one speaks to the Melbourne foodies who have their list of restaurants to try saved in their iPhone notes (i.e me). Jano Bistro has a focus on experimental dining with a heavy French influence, nestled in a historical two storey cottage in Wellington. I am hoping they do not alter their menu by the time I arrive, as I have my eye on the heirloom tomatoes with French goats cheese, vanilla and elderflower.
Ebisu - Auckland
When travelling, I have to have some Japanese. I simply cannot help myself. So, Ebisu appears to be a fantastic choice. Think extensive lists of Japanese delicacies of finely crafted tuna ceviche rolls, crayfish & spanner crab dumplings and miso glazed Tooth Fish. Heck, I'll even have the vegan set menu.
Elephant Hill Winery - Hawkes Bay
We're used to swivelling our wines as we look across the vineyard, but have you sipped whilst viewing the ocean? This innovative winery is the ideal backdrop with modern architecture that gives off major Californian vibes. Located on the eastern side of the island, this is definitely one for those long afternoons in the sun and wine in hand.
Must See Areas
Wellington
I have to remind myself that Wellington is New Zealand's capital, and it would therefore be rude not to visit. Take a stroll (or run off those holiday indulgences) along Oriental Parade, or visit the peak of Mount Victoria and soak in the panoramic views. For craft beer lovers, this is considered the capital of a tasty frothy delight. Or for the culture dwellers, explore the bohemian Cuba Street for a milkshake at Fidel's Cafe, catch an outdoor movie at the boutique Light House Cinema or explore the Harbourside Market on a Sunday where you can grab barbecued halloumi on a stick from Brazilian Skewer.
A visit to the Te Papa Tongarewa Exhibition is also a must do if you have the time, for an innovative and immersive informative experience, featuring the highlight Gallipoli: The scale of our War.
Bay of Islands
This region is located at the top of the North Island, about a 3 hour drive from Auckland or a 30 minute flight (on the tiniest aeroplane I've travelled on, and where I spent my 30 minutes trying to read a detectives notebook sitting next to me). The key areas to visit here are Russell, Paihia and KeriKeri, which also have ferries running between these islands to add to the vacation vibes.
The water is of the bluest blues reflective of the Pacific Ocean, with a dash of Ireland's stunning greenery and clifftops. Apart from the seaside cafes and restaurants of Russell, the Bay of Islands is an adventure playground including boat/yacht charters, helicopters, sea diving, wine tasting, kayaking and golfing. It is New Zealand after all.
Rotorua
New Zealand is famous for its stunning nature, and Rotorua is an ideal town to explore it. The Wai-o-Tapu thermal area and Waimangu Volcanic Valley are reflective of New Zealand's wild outdoor landscapes, and while a guided tour may not be necessary, it allows you to meander around the world's youngest geothermal sites. Just don't touch the boiling hot springs, a result of a volcanic eruption 100 years ago.
The Wai-o-Tapu is famous for its Champagne Pool (no, don't get excited) consisting of a bubbling hot spring that emits gases of sulphide and arsenic, creating a bright orange hue. Best to wear one of your new face masks for this one, as there is an overpowering scent that lingers. Other notable mentions for volcanic pools include the Artist's Palette, and Devil's Bath.
Flights to Auckland are just 3 1/2 hours from Melbourne and a bit less from Sydney, making it all the more enticing to go. The North Island is so incredibly diverse, get planning immediately as you're going to have to fit a lot in.
About the Creator
Hi there!
I am a former criminal lawyer and whilst still working in law, am pursuing my passion to write on the side.
All about: crime, history, culture, travel and fashion.
Thanks for stopping by! Ciao ciao
Reader insights
Be the first to share your insights about this piece.
Add your insights