New York New York
state of mind, part 2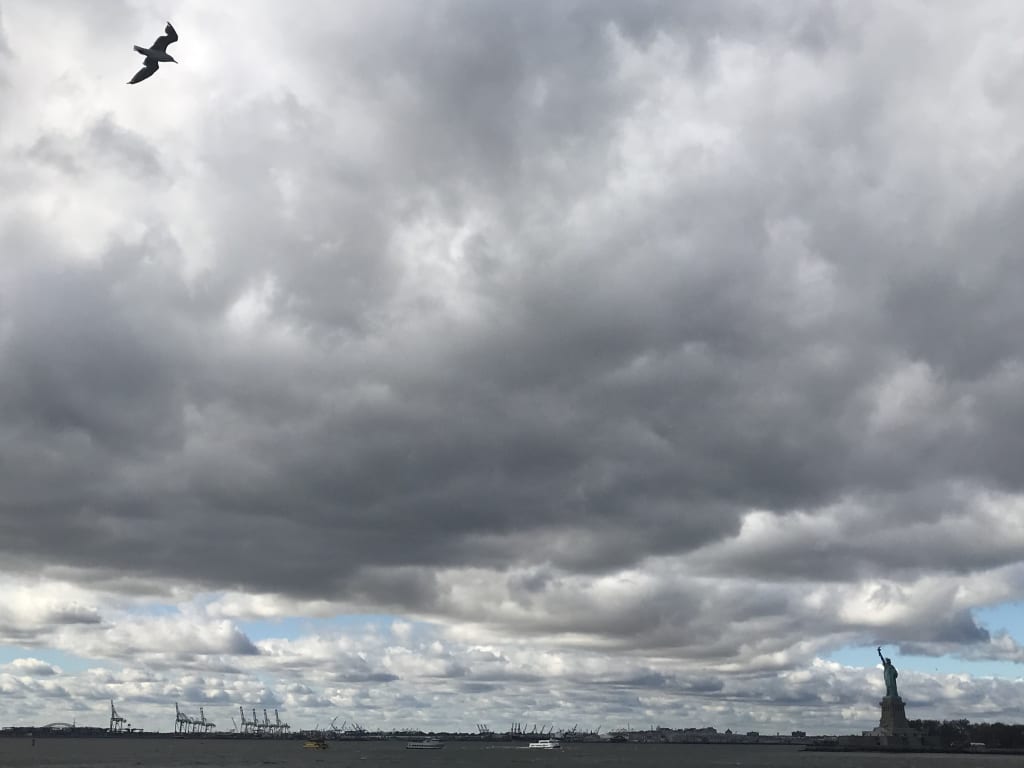 I hope everyone is enjoying my last few post about these awesome cities. I've got to admit I was not a fan of New York at the first time. I was expecting to be amazed, then I was a bit disappointed but then I started coming back and I realized there's so much more to it than just the Times Square or souvenir stores. At some point New York started really growing onto me and now I love spendinhg there my weekends with some friends. The key to it I guess is soing all touristy things at once and then moving on to discovering the real city. So let's come back to New York!
The one thing that everyone can expect from this city are ridiculously high prices. However I think I found a way to enjoy your time in New York and pay very little at the same time. I tried it with my parents and we had a great weekend in THE city.
My expample of a tour would be starting in Brooklyn but just beacuse that's where our Airbnb was. Just remember you could use any of these tips at any point of your visit.
After breakfast we headed to the Brooklyn Bridge. We didn't walk all the way to the other side of the bridge beacuse we wanted to be able to come back to Dumbo and spend some time over there. Brooklyn Bridge is one of the most beautiful bridges I've ever seen. It's huge and historical. It's a great picture spot and it's got some great views. If you go straight from there towards Dumbo you'll have bunch of things to do in that cool and hipster neighbourhood.
First of all Brookln Flea (unfortunatelly it's closed at this moment since it's too cold, for winter time I'd recommend the Winter Market- check out the link below) is a great spot to get some stuff that you completely don't need but will enjoy much better than any other souvenir from New York. The market is right under Manhattan Bridge and is definitely worth visiting if you're in that area!
After visiting the market walk up to the river and you'll have some amazing views of Manhattan and both bridges right there. Worth every single photo! If you've got some packed food with you I would recommend sitting by the rocks and enjoying your meal at the waterfront. If you don't carry food with you, just few minutes walk away you've got good old Shake Shack. I also mentioned in a previous that my favorite pizza place is in Dumbo. It's just a couple minutes walk from the riverfront and it's called Front Street Pizza. I've got to say, besides these to spots everything else in Dumbo seems to be a bit overpriced. However, I've got a special treat for Netflix's Nailed It! fans. Remember Jacque Torres? He's chocolate shop along with the cafe is right there and I've got to say last winter their hot chocolate was warm and delicious. Perfect for a gloomy day in New York!
After spending some time in Dumbo we took a ferry to Manhattan. You've got two options here. You could go either to Wall Street which is a very easy ride, short but cool. OR you could take a long way and go to 34th Street. It's about half an hour ride, maybe a bit more and you get to seee a lot! Williamsburg, Long Island, etc. The best part of it all? It's only $2,75 for one way ride! And it drops you off just few block away from the Empire State building.
The whole point of my tour is not paying for any entries. So instead of heading to museums or view points you've got to pay for I'd recommend taking a bus to 9th avenue or you could walk since it's only 8 blocks starting from 1st avenue and the walk is a true city stroll. On the way you'd see Empire State Building, Madison Square Garden, loads of yellow cabs and angry New Yorkers.
When you get to 9th avenue turn left and walk all the way down to 16th Street. Finally, on your right there should be brown brick building famous for being one of the fanciests markets in NYC. Chelsea Market has got some great food options but honetsly it's really cool just to walk around it. Especially their Halloween or Christmas decorations are on point!
Right next to the Chelsea Market building there's famous enormous Starbucks Reserve that is bigger than most of the restaurants in New York and you could purchase there anything from glass of Cosmpolitan to Starbucks branded denim jackets. Of course you could always go with my favorite Iced Peach Green Tea Lemonade (version for the poor people like me).
Another top NYC sight is right beside Chelsea Market as well. The High Line is the best walk you could take in New York or it would be if it wasn't so damn crowded every sngle time I visit. I guess the best thing to about the High Line is to walk over there very early in the morning when all the tourists are still sleeping or getting their breakfas but there's no way I'd go all the way to Chelsea at 7AM just to have some nice pictures from there. I mean walk… nice walk!
Once you get off the High Line I recommend seeing and walking up the Vessel. Its a huge staricase by the shopping center facing the Hundson River. Unfortunatelly I have't found people wanting to go up the Vessel with me yet. Nerea, where are you my dear? (don't expect the outside people to understand my last comment!)
The tour I described above took us most of the day. It was fun and you must have noticed we visited only places where we didn't have to pay for the entree. If you want to get any of the food options I gave you that's great but you could always go for the budget option and pack some food with you and enjoy it while sitting at some cool view spots, and believe me there are loads of them on this tour!
For another day in New York I could simply recommend classics: Times Square, Central Park, 'Friends' fountain (at Central Park) and Bryant Park. You might not have heard about the last one but it's a perfect spot for people looking for some Christmas delights. They've got a Christmas market set up and taking up a whole surface of the park. Ice skating rink, loads of delicious food, festive art to purchase and Christmas music all day. My favorite spot was definitely a stand I've been followng for pver a year now and funny thing, the founder of that stand and the whole company is Polish! It's called The Stackery and they make Chimney Cakes filled with hot chocolate, coffee, s'mores etc. I mentioned it before in the previous post but I completely forgot to say that Chimney Cakes actually come from Poland and we call the Kurtosze. Or maybe I mentioned it just with fewer details… oh well, I'm overdoing as usual!
One more thing that I would encourage you to do is to take all of the time in the world to walk around the Central Park. It's much bigger than you could ever imagine. Different parts of it have different things to do. There're always some amazing street musicians to listen to as well. I think the only way to feel like a true New Yorker is grabbing some coffee and walking around the Central Park for half a day. Or maybe it's just me and my weird obssesion with walking!
I know that I'm not a New Yorker so I might not know some stuff about the city but I definitely got to know it from a tourist's point of view and honestly I like it more every time I visit. At the beginning it seemed very chaotic to me, now I feel like I started figuring it out. It's a nice feeling. I'm getting more American every day…
I'll leave you with this post and dreams of visiting the Big Apple. I'm coming back to writing and creating my own compamy and volunteering and realizing that I'm not getting payed for any of these things for now… Have a great week!
If you are wondering where all those posts are coming from visit my website and enjoy free travel inspiration!