New York, New York
Start spreading the news... a perfect city break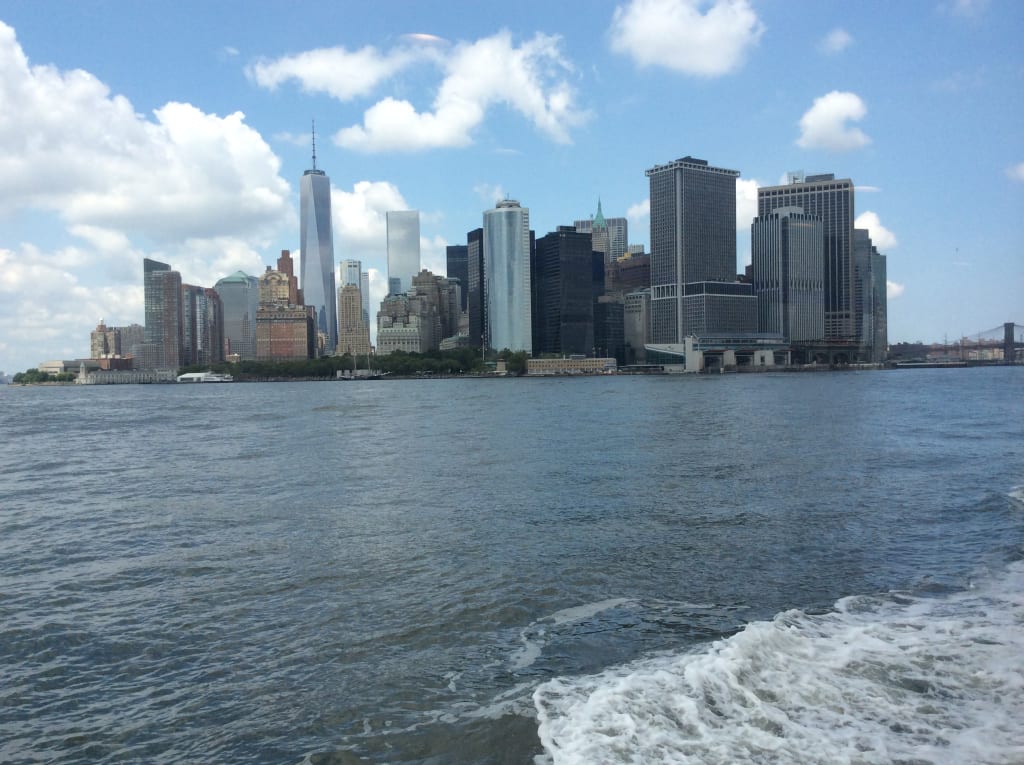 Last summer, I embarked on a trip that I had been dreaming of ever since watching Sleepless in Seattle, Sex and the City, and, of course, the one and only Gossip Girl. This mystical movie scene of a city, a place that we see in nearly every movie and yet rarely see as a "holiday destination." But I must say, New York, you fulfilled and exceeded my expectations in every aspect. If you are planning on visiting America or are looking for an exciting and different city break, then get on that plane and jet over to the big apple.
The morning of my flight felt like it would never arrive, a 2 PM, 8 hour flight, the longest flight I'd ever been on! But I was jet-set and ready to discover the concrete jungle!
After landing and being put in one of those famous yellow cabs, I didn't let the five hour time difference (from London) or jet lag stop me from exploring the endless maze of lights and dazzling buildings as I stepped out into times square. It felt like I was dreaming as I attempted to take it all in and pretend as if I was in a movie. However, not all spectacles are documented or famous or lit up in this city, for my hotel room window revealed a hidden gem of gorgeous street art, from the bottom of the opposite building to the very top.
Day one—hot hot hot. My stroll through Central Park was gorgeous, and to think it was all manmade! It was like stepping out of the chaos and having a moment of calm, a little haven of relaxation in the city that never sleeps. I encountered talented and unique street acts and buskers alike, my particular favourite was a guitarist we came across under the Bethesda Terrace & Fountain.
I later had a movie moment at grand central station followed by wandering up and down the gorgeous 5th avenue, feeling like Carrie Bradshaw.
The library was another one of New York's underrated gems. Being a book lover, it was an eye-opening experience for me just entering the study rooms. With walls and walls back to back with encyclopedias, biographies, and textbooks alike, complimented by the immensely beautiful architecture.
Later that night, it was time for dinner and drinks at the New York Beer Company. Great music and atmosphere, with quick service, which made it the perfect spot for perfect for a pre-broadway meal.
Dear Evan Hansen; moving, relatable, and beautiful. The Music Box theatre provided a great evening of entertainment. I loved the story, and the music and the cast were all brilliant. The fact that the hotel was a one minute walk from the theatre made my night, having been on my feet all day.
Day 2—I awoke to a rainy, Manhattan morning. Stepping out in my neon orange, waterproof and flowery umbrella, I wouldn't let the rain spoil my style—and with regards to fashion, in NY—anything goes!
I managed to dodge the puddles and dripping roof tops on my way to the Times Square diner. It was a pancakes type day.
I ventured down to the subway station, being used to the London Underground, navigating our way around the stuffy tunnels was certainly an experience! We shuddered our way across the water to Queens where we visited one of the hidden gems of this lesser known New York borough and found ourselves immersed in the Museum of the Moving Image (MOMI). With engaging, interesting, and practical exhibits, it was a rainy morning well spent.
Then it was back to the subway, a quick ride to Macy's on 35th. An in-store DJ and "one day sale" made my first Macy's shopping experience a memorable (and successful) one. I then walked over the road to the Van's store where I definitely felt more at home, and I was faced with the question of whether or not to add to my collection.
After a rainy wander back to the hotel, it was time to get ready for The Hard Rock Cafe, one of the highlights of the New York experience for any music lover.
One step in and I felt overwhelmed with excitement, I was so ready for this. I'd read about it, seen it in movies, and walked past it for days until I finally had the chance to experience it for myself.
It's something I've always wanted to do, having been brought up on classic rock and being a rock fan myself, this place felt like a rock lover's haven. Famous guitars from the likes of Elvis and Lennon hung on the walls, and the music was impeccable, as was the food and cocktails. We just had to get some HRC glasses of our own, and some T-shirts (obvs). The atmosphere was electric, with a vast range of bangers booming throughout the shop, bar and restaurant.
Day 3—An emotional morning at the 9/11 memorial and museum. Four hours of moving extracts, voices, films, and interviews. It was emotional yet humbling to see the two large memorial water baths in place of where the two towers once were, engraved with the names of every victim of the attack. This visit could have easily taken up the whole day, so much to see, so much to read and watch.
However, we then endured the rat race onto the Staten Island ferry; luckily, I got my crowd skills from gigs and mosh-pits. We made it to the back of the boat and watched as the Manhattan skyline grew and then faded as we headed towards lady liberty herself. A real tourist moment I must admit, and I have no shame. Next was a few subway stops back to Manhattan where we munched our way through a very nice Italian meal at Daniela on 8th Ave before heading to the Eugene Oneil theatre for one of the funniest nights of my life, The Book of Mormon was fantastically funny and had the audience in stitches throughout. And an early evening show meant time for a drink at the local bar.
Day 4—A drizzly morning for a jog in Central Park but revitalising nonetheless, my body most certainly thanked me for it after the amount of calories consumed in the past three days. A race down 8th Avenue dodging commuters, umbrellas, and crossings, set me up for the day of shopping I had ahead of me.
It had to be done—shopping in Bloomingdales and then a wander round 5th avenue, gazing longingly into shop windows and slowly making our way up to the Empire State building, whilst attempting to avoid the masses of puddles. Although it was misty, the views from the 86th floor didn't fail to impress and I had yet another movie moment, straight out of Sleepless in Seattle.
We then took the subway to Brooklyn, where low key street art brightened up the pavements and we found the coolest vinyl store in what appeared to be a warehouse from the outside, but inside was a vast sea of new and used, classic and modern records, LPs and EPs alike. Rough Trade was a record lover's dream, and so, was mine. I found a particular favourite album of mine, Blue Madonna by Borns.
We had dinner at Brazen Tavern, with enough sweet potato fries to feed an army of hungry New Yorkers. A short stroll and I was in Times Square, taking in the splendour for what I hope won't be the last time.
Day 5—A busy morning packing, and then subway down to The Met, where I particularly enjoyed Heavenly Bodies; Fashion and The Catholic Imagination, an Anna Wintour exhibit exploring the theme of this year's Met Gala. Extraordinary pieces and beautiful garments dressed the walls. I hope to return to The Met museum, as there were many exhibits I did not get the chance to see as we were scheduled to the time constraint of an eight hour flight home. There was just enough time for some last minute shopping before a dreary cab ride in the pouring rain to JFK airport, in time for the long haul, across the pond home.