New York City in a Few Days
How to See New York City in a Few Days or Less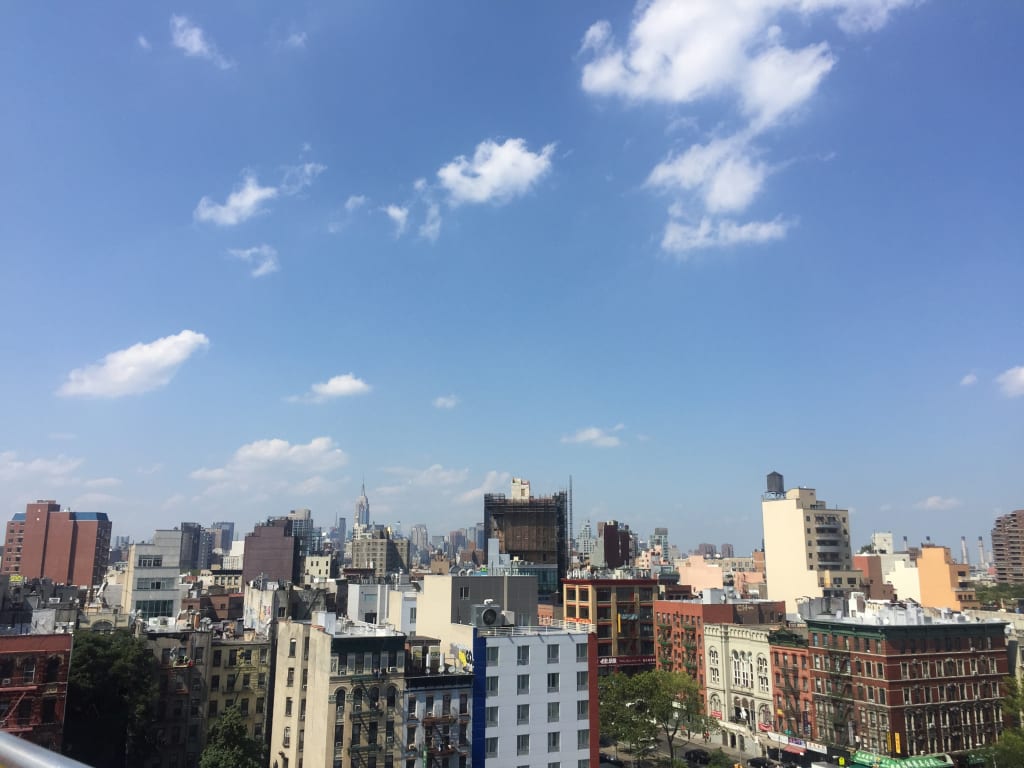 I went to New York in July 2016. It had always been a dream of mine to go and see the Big Apple. I was fortunate enough to go as a birthday present from my grandma. We flew out to New York and then caught the Queen Mary 2 to Southampton; with a quick stop at Halifax in Nova Scotia. My overall vivat to New York wasn't long and I knew I wouldn't see everything that I wanted to see so I had to narrow it down and go to the main places.
The Holiday
Day 1—21st July 2016
I flew out to JFK airport from Manchester airport in the United Kingdom on 21st July 2016. I flew out at 11am so, like all fights we had to be at the airport to check in and go through security a few hours before. Whenever I go on holiday I hate checking in because of the wait. I walked through the door and saw how long the line was and instantly my heart dropped; but then my grandma told me that we didn't have to go in that line. I was so confused as to why I didn't have to go in the line. She then carried on walking and stopped when she saw the sign for the premium club check in. I was told that we were going to be flying premium. The check in went smoothly and we got through security. Once we were in the departure lounge we had a look around, got a cup of tea and waited for our flight to be called. Once it was called we boarded the plane and set off. The flight took about eight hours and it wasn't as daunting as it sounded.
We arrived at JFK airport in the afternoon and we went through go arrivals. THAT WAS MAHEM. It about two hours just to get through to have our passports checked. By the time we had done that, got our luggage and got out transfer we had lost neat three hours. Our holiday didn't include a transfer to the hotel so we had to book that ourselves . Luckily, my grandma had been to New York before so she knew what company to use and booked one. The transfer journey lasted about an hour and we went through Queens.
I WAS NOW IN NEW YORK!. When I was coming in to New York the first thing that I saw was the World Trade Centre and I felt like it was a dream I had wanted to come to New York all my life and I was finally there. We arrived at The New Yorker, which is where we were staying. I couldn't believe the size of the lobby!. I had been to America before and even then I couldn't believe the size of the lobbies. We checked in and went to the room. The first thing that I did was look outside the window and right outside was Maddison Square Garden. I just couldn't believe I was there. As we wasn't in New York long we decided to go and have a look around. We didn't want to do much as we had just go of a long flight but, we didn't want to waste our time while we were here.
Our hotel wasn't too far from Times Square so we went and had a quick look around. While I was walking I couldn't believe it so I just kept walking with my head up. When I say that we had a quick look around we spent a good few hours there. As it was getting late and both of us were tiered we decided to go and get something to eat and go to the shop to get something for breakfast. In our hotel there was a restaurant called The Tick Tock Diner so, we got something to eat in there. The food was delicious!. We went to the shop to get something for our breakfast as we didn't want to get up early. We got some cereal that already came in the bowl, some milk and a drink as our hotel room didn't have a tea making facility. We then went back to the room and went to bed for the night.
Day 2—22nd July 2016
We woke up in the morning had breakfast, got dressed and went out. My grandma had booked the hop on hop off bus for 48 hours so, we had to go to the ticket office to collect the tickets. Once we had done that we decided go on the tour to Brooklyn. It was amazing!. Brooklyn has always been my favourite borough of New York. The tour took about two hours and it exceeded my expectations. The bus then dropped us off where we got on however, you can get off a different stops and get off during the tour and have a look around. Then we decided to go on the tour of Lower Manhattan. This tour was shorter than the others but, we knew that we wouldn't get the go to Central Park or the Natural History Museum. Once we did that we went on the tour of The Bronx. The Bronx has always had a bad reputation so I was really apprehensive about going however, this was my favourite tour that I went on throughout my trip. The tour guide was outstanding and she gave us so much information. One thing that will always stick in my head is when we went past something to do with Alexander Hamilton (I can't remember what though) the tour guide went on about the musical, then I didn't really know the musical but I knew of it and the tour guide started singing the opening song which I did know. Over all The Bronx tour was amazing and it will always stick in my mind as the best one. With the hop on hop off bus a night tour is included so we went on that and again the tour guide was amazing and he couldn't do more for us. The information that he have us interesting and I will remember it.
Day 3 - 23rd July 2016
On this day we decided to have a look around on foot and go to the Empire State Building as a ticket had come with the holiday. We went to the Empire State Building first. We got the hop on hop off bus by our hotel and near the Empire State Building. When we got there and got of the bus I couldn't believe how tall the building was; it's such an iconic building that I found it hard to take in. One of my favourite Christmas movies is Elf and it reminded me of the film when Buddy presses all the buttons in the lift. As I had seen this film I had expected it to only be one lift to the top of the building; however there was quite a few and they were fast. When I got to the top I couldn't believe the view it was mesmerising. We didn't go to the very top but we went high enough that we could see everything. On the way back down after you get out the first lift you stop at a gift shop. As my mom loves Christmas tree decorations I purchased one for her.
As a child I had knew about 9/11 and me and my grandma both wanted to pay our respects. We walked there from the Empire State Building as it wasn't that far. The emotion that I felt as I approached Ground Zero over whelmed me. Even though I didn't know anyone that was involved I still felt a huge wave of emotion come over me that I couldn't describe. The way that they had built the memorial was beautiful and the amount of thought that went into it was also massive.
After about an hour there we decided to go to Mcay's as it's famous. Macy's was brilliant and I can now say that I've been there however, it's just like any other department store. Although it's still exciting to say that I've been to Macy's. On the way back to the hotel we saw Buddies bakery from Cake Boss. As I love the show I wanted to go in there. I got a red velvet cup cake as it's my favourite type of cake and a cup of tea, as I was gasping for a cuppa. The cup cake was absolutely delicious and I could've easily ate another one. As for the cup of tea it wasn't the best. I'm from Britain and I love my tea so I know a decent cup of tea; I drank it as i wanted a cup of tea but, I wouldn't recommend it.
Finally, we decided to go and explore Times Square properly. As a massive Disney fan I had to go into the Disney shop and I also had to go into Sephora as we don't have one in the United Kingdom. I brought some make up that wasn't at the time available in the United Kingdom at the time. As we were walking back to the hotel I saw the Hershey's shop and I absolutely adore the brand. I went in and I instantly knew that I was going to purchase something. At the back of the shop you can personalise a Hershey's wrapper and have it wrapped around a big bar. I did this and I had a picture of my dog put on the wrapper; after did this e staff member told me that if I waited and looked outside of the shop on the billboard I would be able to see my personalised bar on it. I waited outside and I saw my bar that I had created on a billboard in Times Square. On the way back I remembered that there was a place to get cheesecake from that people had recommend to us. We went and got a slice of cheese case as we couldn't eat two between us. The shop wasn't big enough to sit in and eat the cheese cake so we took it back to the hotel and called it a night.
Day 4 - 24th July 2016
On this day we didn't really do much as we were boarding the board back and we had to get a taxi to the port, we went to have another quick look around Times Square again as it was near to our hotel then went back to the hotel and got our bags then, got a taxi to the port.
Tips
- Get the hop on hop off bus—this was amazing and I would highly recommend it to anyone who is planning a trip to New York. Plus it uses the land marks as stops so nobody should get confused.
- Get the cheesecake from Junior's Bakery by the Lion King—the cheese cake is beautiful and I would highly recommend it.
- Go in to restaurants that are graded B or above—each restaurant or any place that sells food should have a grade in the window. Only go to ones graded B or above.
- If you want to go and see a Broadway show go to the ticket office at the bottom of the big red steps in Times Square—if you haven't already booked any tickets go here as they have all the last minute tickets to all the latest shows.
What I wish I did:
Ellis Island
Statue of Liberty
Natural History Museum
Central Park
Went to see a show on Broadway
Over all, New York was amazing and although I didn't see everything that I wanted to see I can still say that I went to New York. I hope this helps some of you at are planning on going to New York. I've personally told everyone who has told me they are going to New York theses tips and what I did, and they said that it's helped them and made their experience better.
america
Lover of TV, travel and Harry Potter. As Peter Pan once said "never grow up." Also a tea expert.
Receive stories by Brooklyn Shannon in

your feed