New York City, 1999.
Tales of a first time tourist.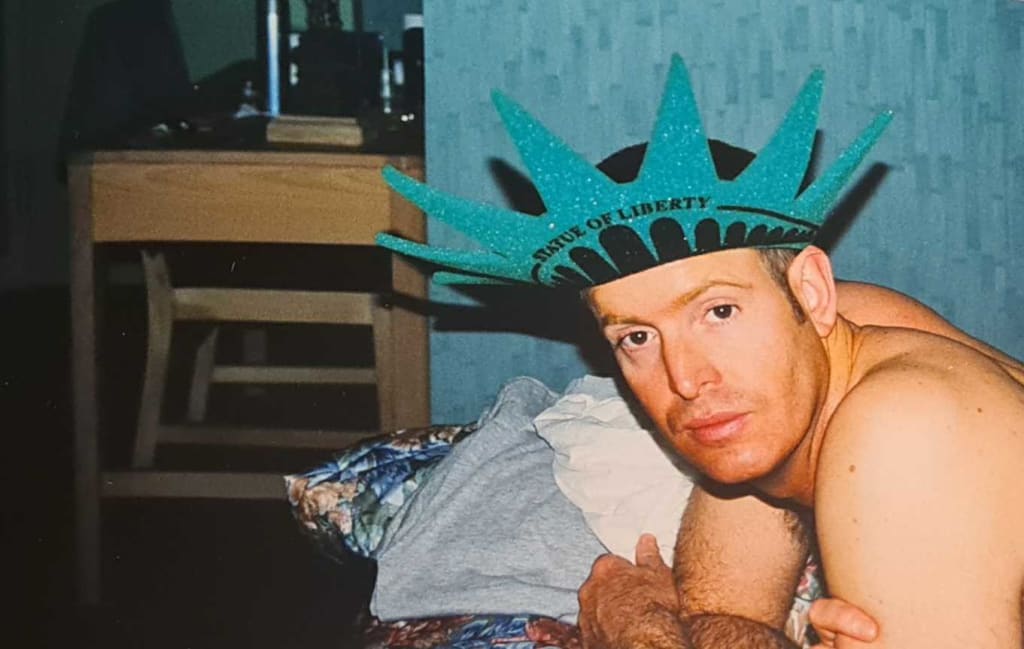 "Are you okay?"
Chris was sitting bolt upright, in the hotel bed opposite, counting on his fingers.
"I've been up for ages."
"How come?"
"I'm trying to work out how we leave Miami today, fly to New York, then take an eight hour flight to Manchester and arrive home yesterday. What time zone are we in again?"
I frowned in concentration, counted on my fingers then replied, "Oh shit Chris. I think we might have missed our flight."
We didn't know it then but missing our flight back to the UK was the least of our worries.
The holiday had started with mixed fortunes. Two days before flying to New York, Chris had been made redundant and relieved of his duties. His boss had taken the decision to remove all the heads of music, of which Chris was one, from across the group and replace them with his boyfriend, who despite him having no discernible experience in the radio industry, he felt was well suited to take a senior group position.
"It's a business decision," he'd said to Chris, his knee visibly shaking under the desk as he delivered the news. Of course it was.
As I was heading into work that lunchtime, to wrap things up ahead of our holiday, Chris was leaving the building with a box of belongings . Until that day, we had worked at the same radio station, Chris was head of music, I was head of research.
This wasn't going to be awkward at all, my partner of three years losing his job, in a grand example of nepotism, and me continuing to be employed by the company with all the expectations of integrity and loyalty that go with it. I could continue to be professional – if I wanted to – as it turned out, I didn't.
Cut to Manchester Airport – 21st April 1999 – check in. A few weeks earlier someone had suggested a surefire way of getting an upgrade on a flight so we'd arrived smartly dressed, looking respectable, script learned. Chris's opening line, as he passed his paperwork to the woman at the Continental Airlines desk was well rehearsed.
"Good morning fine lady," he didn't really say fine lady, but it sounded like he should. "If you're considering upgrading anyone today we'd be very happy to accept."
We both grinned inanely at the woman, our overly enthusiastic smiles laced with looks of desperate pleading.
"You what?" She didn't even look up at us.
Chris cleared his throat and enunciated, slowly, "If you're considering upgrading anyone today we'd be very happy to accept."
"Sorry love, no upgrades today. Passports please," she sucked her teeth and finally made eye contact.
We curled our lips at each other and shrugged, the realisation dawning that we'd have to sit on a plane in smart but uncomfortable clothes for eight hours until we landed at Newark.
Checked in and luggage deposited we headed for security and the shops. This being 1999, and pre-9-11, security meant having your suitcase x-rayed, walking through a metal detector arch and, if you were lucky, getting a quick pat-down from a security guard a la Diana Ross. Even then, Ms Ross's life altering ordeal at Heathrow was nearly six months in the future. It wasn't the heyday of flying by any means but it was far easier than it is today.
Scanned, beeped and well patted, we headed for Duty Free, that esteemed institution that in April 1999 had a mere two months lifespan remaining and was gasping for dear life on the last of the cheap fags while swigging one last bottle of cut price brandy.
Chris gets carried away at airports; he sees an opportunity to stock up on perfume and voddy and takes it. Unlike many Brits he doesn't care for an early morning pint and has no interest in browsing reading material for the flight, no, he wants to shop till he drops, walking out laden with the latest goodies from Tom Ford or Calvin Klein, and so a mammoth expedition got underway.
Chris sees airport shopping as a challenge to get as much out of the staff as he possibly can, whether that be discounts or free samples. I've seen him get on a plane with a Givenchy sports bag containing not only his shopping but hundreds of tiny packets of testers, a pair of socks, a travel blanket, flip flops and bottles of branded mineral water before now.
While eschewing the aforementioned pint, Chris, when on his tour of duty (free) is always sure to take advantage of the alcohol tasting stands. It doesn't matter what time of day it is, if there's a thimble of whiskey or a snifter of gin going free, he's having it. He has the routine down to a fine art. Spying his prey from a distance he casually approaches, as if he's not onto a sure thing, and begins his patter:
"May I try some?"
"Of course, would you like to try the standard, the lemon or the summer berries?"
"Lemon please."
Chris sips the illicit nectar, it hits the spot, you can tell by the glimmer in his eye.
"Richard! Come and try this."
I traipse over, sullen.
"Hello," I offer the assistant a knowing shrug. "Thank you, I'll try the lemon too."
"Ooh, this is delicious. I can see us having this before a dinner party," Chris will coo.
"Urgh," is my usual grunted response. "Are we done?"
"I might just try..." he turns to the assistant. "What's the summer berries one like?"
"Fruity. Would you like to try some?"
"Is that okay?" Chris won't be seen asking for more booze at 7am but if he's offered it, that's a different matter altogether
This merry dance continues until Chris has tried everything on the stand at which point he'll ask in elevated tones, "And where can I buy this marvellous product fine sir?" (Again, the 'fine sir' is more of an attitude than a quote.)
The assistant will point to the large display of bottles next to him, Chris will feign surprise then in a stage voice highlight to me what a reasonable price it is. Grabbing one and sticking it in his drag-behind-you shopping basket, he'll thank the member of staff profusely and go on about his business.
Within three minutes of leaving the free drinks behind, the bottle of fancy booze will be stuffed in amongst some overpriced teddy bears or abandoned with the sunglasses, and replaced with a litre of the standard brand at half the price. I've watched these interactions at airports around the world and it never changes.
On the morning in question we were just coming out of the shop, stinking to high heaven from the concoction of perfumes we've tried on with the false pretence of buying them, with our shopping in hand, when we heard our names being announced on the tannoy.
If you're at an airport and you hear your names being called then you know something is wrong. What had happened? Had we inadvertently stolen something? Had the machetes and bomb blueprints in our suitcases finally been discovered? Had the authorities been alerted to the child trafficking? No – we were late for the aeroplane.
"Will passengers Buckley and Douglas please make their way to gate 22 for boarding. This is your final call, the gate is closing."
In unison, "Shit!"
We legged it for the gate. We ran along the concourse, doing double speed on the moving walkways, practically jumped down a set of steps, past the loos which Chris considered stopping at before I yelled at him, then up another lot of stairs and finally arrived at gate 22.
"We're here!" I wheezed. "Let us on! Please!"
"You're lucky. We were about to take your luggage off." They weren't, airline staff are liars, it's all a power trip.
"Here! Take them!" I thrust our boarding cards into the woman's hand.
She looked at the cardboard tickets, then at a clipboard next to her, then back at us. After a visible hesitation and a secretive word with a colleague she finally turned to us and said, "I'll just need to print new boarding cards. Your seats have been changed."
Chris's hackles were raised. "What do you mean? We've booked those seats!"
"Shut up will you! They won't let us on."
"I'm not having..."
"Chris just be quiet!"
"These are your new boarding cards, you'll be in seats 4A and 4B." The Continental Airlines representative was suddenly all smiles. "Please make your way along the jetway and turn left when you get on the aircraft."
We set off down the tunnel to the aeroplane scrabbling with each other like children.
"What did she say?"
"I don't know."
"She said turn left, what does that mean?"
"I don't know, hurry up!"
"If we've been given shit seats I'm going to brain them!"
"Just shush! We're here."
We composed ourselves, and stepped through the door onto the Boeing.
"This way please sir." The assistant indicated the front of the plane.
And with that we were directed into Business First. Chris was practically squealing with glee and immediately turned into the modern day equivalent of a medieval princess, bowing to people and announcing 'Good day kind Sir' and such. (I don't need to mention the Sir thing again do I?)
We took our seats, the stewardess offering to put our hand luggage and coats in the cloakroom – who knew such wonders existed on an aeroplane? – before asking if we'd like a glass of champagne.
"Why yes, fine lady. That would be simply exquisite," said Chris.
As soon as she left us we descended into childish giggles and 'Oh my Gods!' and 'What just happened?' before immediately beginning to play around with the gadgets you didn't get in standard class. At that moment we decided we'd only ever fly First Class from now on. Our social status had been elevated and with it we had become more important than everyone we knew. We'd have to get new friends now and move far away from our families for fear we might be associated with them.
The woman returned with our glasses of champagne and we composed ourselves.
"Can I help you with anything? Do you know how to use the TV?"
Chris put on his best 'this isn't our first time' voice and declined her offer of help with a deep bow of the head and a dramatic swish of the arm. Ten minutes later we had to call her back.
"Remind me fair maiden, how dost one retrieve thine television set from the arm of one's chair?"
I think the cabin crew suspected we'd only ever flown in the back of the plane before and most of them were very accommodating. The Cabin Crew Manager was even good enough to give us a couple of bottles of wine which they'd opened but not used, as we got off the aircraft in America.
The only negative on the flight was one member of cabin crew who was rude to me when I confided our secret in her.
"Excuse me, I'd ordered a vegetarian meal but we've since changed seats. Is there any chance..."
She looked down at me, both literally and figuratively, and with a flare of her nostrils said, "No. Your meal's back there," and flung a thumb over her shoulder towards our old seats before marching off.
It was fine though, I complained about her attitude to the woman who eventually gave us the bottles of wine. She sorted me out with something to eat, and ejected her colleague out of the aircraft at 32,000 feet.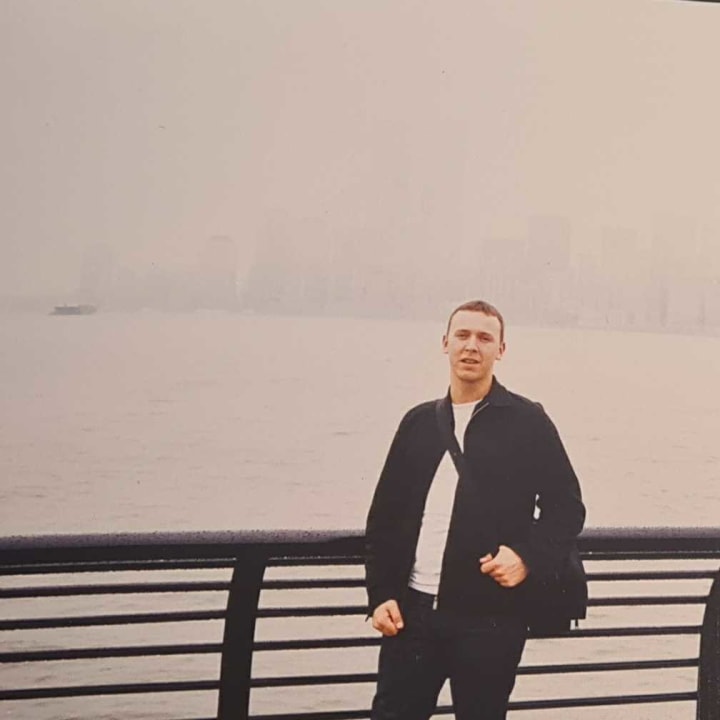 We spent the first week of our holiday in New York City before flying down to Miami and the Florida Keys for the remainder. While in the Big Apple for the first time we took it upon ourselves to visit every single tourist trap we'd ever heard of. We began with the round trip on a ferry to Ellis Island and the Statue of Liberty, unfortunately though, we somehow messed it up.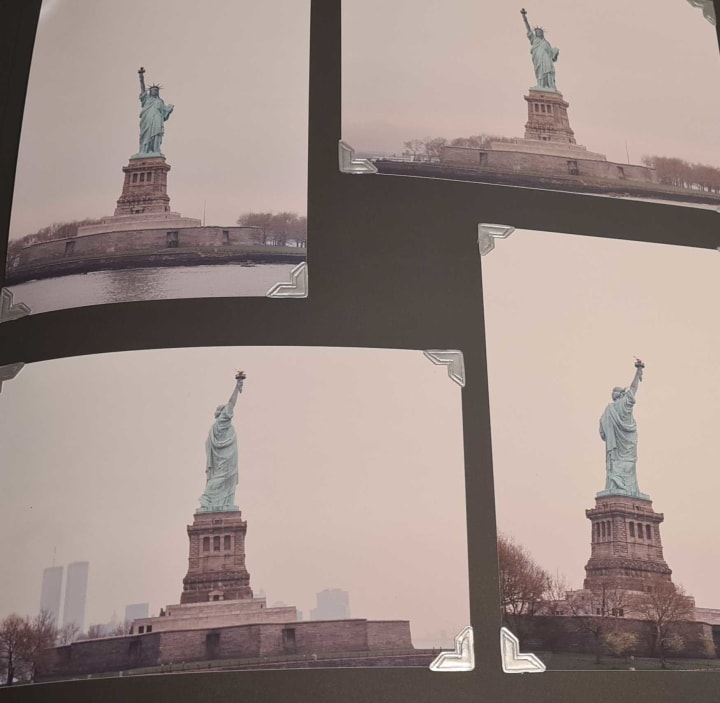 Ellis Island was very interesting – in the way a museum is interesting next to a theme park – but what we really wanted to do was see Lady Liberty up close. It wasn't until we were on the second ferry and Liberty Island, with its famous resident, was gradually, but surely, getting smaller, that we realised we'd messed up and got on the wrong boat. If only we'd have known then that this was to be a harbinger of things to come, maybe we'd have been more careful in Miami a fortnight later.
I don't even know how we managed it, now I think about it, it's a one way route taking in both islands, and it's pretty difficult to mess it up. Anyway, the Statue of Liberty looked pretty grand from a distance and we consoled ourselves by buying foam crowns and postcards from the hawkers back at Battery Park when we alighted.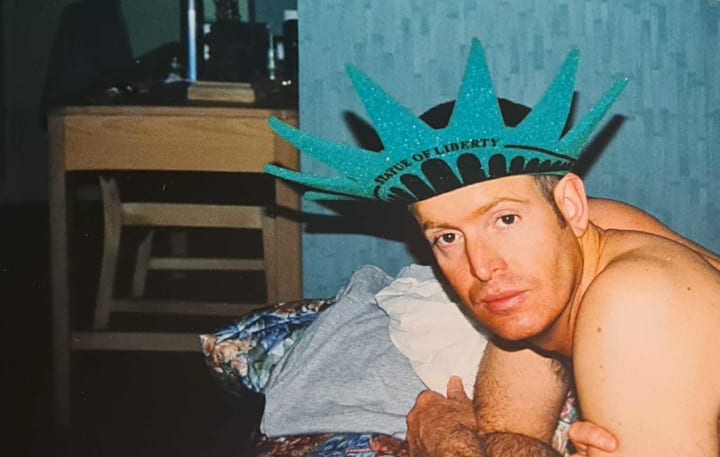 Undeterred we continued our day of sightseeing. We headed for Midtown to visit the Flatiron building and coo at its unusual shape, we went to the Chrysler Building to take in its deco delights and we obliged the gods of tourism by taking in the Empire State Building, where of course we visited the viewing deck and looked out across Manhattan to where the Statue of Liberty stood on her plinth in New York Bay, smirking at us and waving her torch in defiance.
It turns out that a week in New York City is a long time when you're a tourist and it's possible to run out of things to do. That being said we managed to fill our time fairly well with a mixture of sightseeing, shopping and drinking.
We went to the twin towers of the World Trade Center on two separate occasions. The first to have cocktails in the Windows On The World bar in the North Tower – aka The Greatest Bar On Earth – where after checking in our coats on the ground floor and travelling in the ear-poppingly fast lift to the 107th, Chris realised he'd left his cigarettes in his jacket downstairs thus triggering the first moment of realisation about how unfair and ill-timed his redundancy had been. I ordered drinks while he went to retrieve his menthols and by the time he returned Chris was livid and actively wishing the early demise of his former friend and boss, the hatchet man, not only for his actions but for doing it a day before we went on holiday.
On the second trip to the World Trade Center, later that week, Chris was slightly less furious. This time we visited the Top of the World observation deck on the 107th floor of the South Tower. We had our small change mangled and imprinted with a friendly message by a machine which charged us ten dollars for the privilege and gazed across the bay to where a certain green statue stared back, blank and smug.
I remember standing on a railing and leaning our heads against the glass, amazed and feeling slightly sick by the distance to the ground below. I can't even begin to comprehend what it felt like for those poor souls that two years later made the choice (if you can call it that) to leap from that height, beaten back by flames from an exploded Boeing 767.
Oblivious as to the impending future of the World Trade Center, New York City and indeed the world, we went on to spend a wonderful afternoon in Central Park admiring the roller skaters' balancing skills and going to say hello to the penguins in the zoo. We then spent an hour or so browsing FAO Schwarz, the world's biggest toy shop, which back then was situated on Fifth Avenue, near the corner of the park. I must admit to loitering a little too long in the Barbie shop, not because I had a particular fascination with the plastic princess but simply because it was a separate store, within a store, with its own street entrance, and I got a little bit confused. We eventually left the emporium with a box of Milleniumopoly and a shiny, steel slinky, important finds I'd say.
As Chris and I were both radio folk at the time, I'd hatched a little plan back in Manchester to see what American radio was all about. I'd been on an internet message board, left my calling card – English man in New York – and secured us a trip to Jammin 105 which was located on the 18th floor of a building on 6th Avenue. This was when I saw Chris's recent redundancy experience overflow for the second time as he cursed the bastards back in London to the bemused Music Director who was showing us around.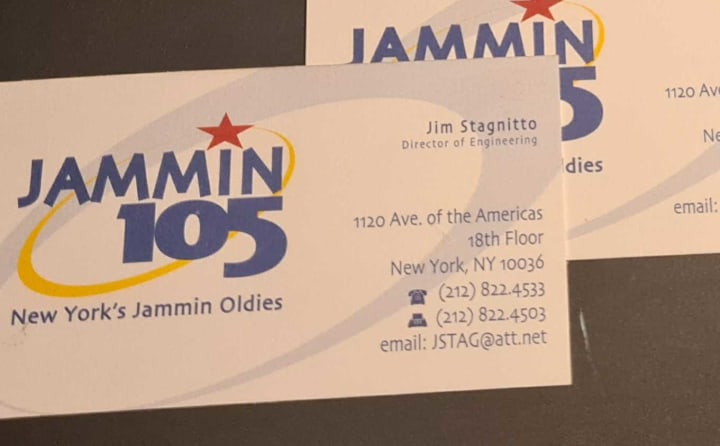 Jammin 105 was strange to us in the late 90s. British radio was a lively, creative place back then, our station was bustling and fun. In comparison this one was soulless, situated as it was in a corporate style office with glass partitions and carpet tiles, and where we saw only two people. Their presenters, it was revealed, were stationed at home studios in different states across the country and would often broadcast on more than one station. The United States' geography allowed for this as it was unlikely that a small radio station in New York would clash with say one in San Francisco or Salt Lake City. Looking back now it seems that, as with commercial, format radio before it, the UK was destined to follow in the footsteps of America, removing people and rationalising resources, as a way to improve the bottom line.
Our holiday continued with a dash through Times Square where we attempted to take photographs of a group of grumpy police officers; a stroll around Washington Square Park where we met lots of lesbians congregating for some reason with their lap dogs – each of them dressed preposterously in strange garb. The dogs not the lesbians.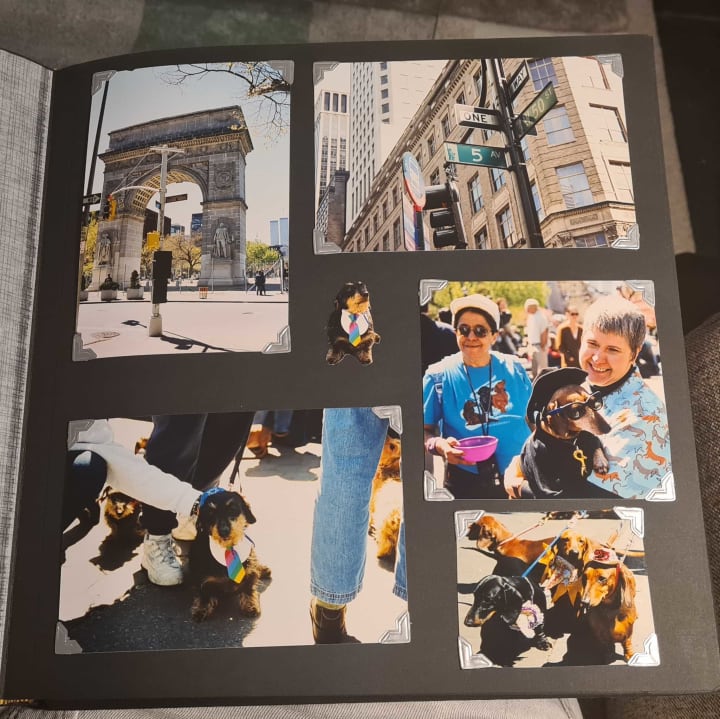 Part way through the week we took the subway all the way to the end of the line in Brooklyn because I had somehow become obsessed with Coney Island. It was lovely and everything but this being April, and Coney Island essentially being a seaside town, everything was shut. No fairground, no cotton candy, no Diana Ross and Michael Jackson Easing on down the road.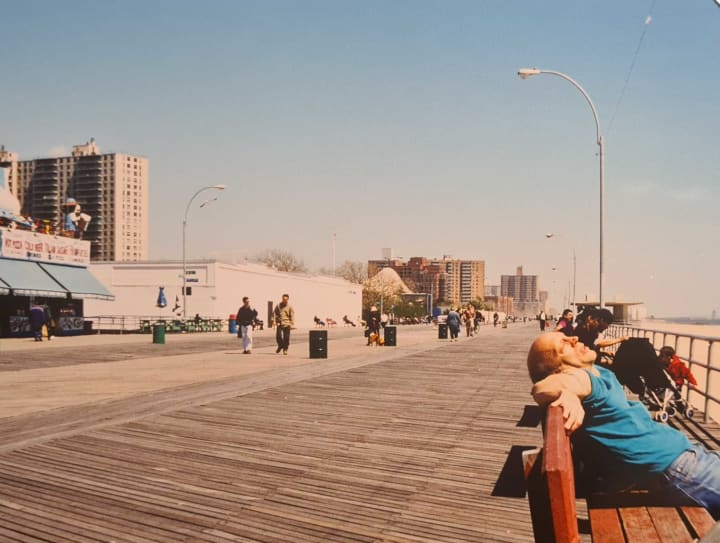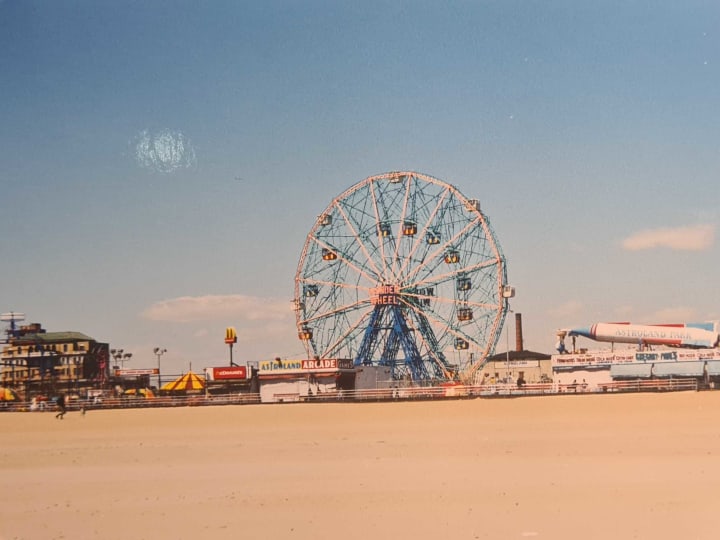 When we returned to Manhattan later that day we stumbled upon a Sikh procession which Chris was thrilled by because they were offering free food to passers-by. I couldn't tell you what the celebration was about but the food was delicious.
Naturally we tried a number of bars during our trip including the famous Stonewall Inn, renowned for being the birth place of the American struggle for gay rights, where fellow drinkers marvelled that Chris and I had been a couple for as long as four whole years. We celebrated this with copious amounts of beer and a singalong to high energy mixes of Toni Braxton and other such hits of the day, before heading for The Monster, a gay club across the road.
We were reliably informed that The Monster was another Manhattan institution and we'd been assured we could continue singing to show tunes around a piano – music to Chris's ears. Once settled and with drinks in hand, I left Chris trying to work out the lyrics to Somewhere That's Green from the Little Shop Of Horrors while I went to find the loo. He eventually had to come and find me when, while trying to locate the gents, I'd inadvertently wandered into the basement club and was bumbling about in what appeared to be a gay, Hispanic, hip hop night. I was very popular, a British accent used to do that in New York.
I forget the other places I remember – if that makes sense. I have vague memories of a place called G Bar or G Club or G Spot (but it was a long time ago and I didn't write it down) and another basement club in a long room where I had a dance off with three locals who were very impressed by my moves, I'll have you know. I seem to remember us being taken to a swanky hotel bar one night, one of those where you have to know where you're going and it's literally a door with no signage, on an unassuming street. I remember another long room with high ceilings and steps, all down one side, which we sat on and quaffed our drinks. I recall with horror their cocktail menu with a dreadful concoction called a cunt-pump listed on it. This delightful beverage was a vodka based drink with tomato juice, garnished with a tampon. Needless to say I didn't try it.
Looking back, more than twenty years later, it all sounds very New York and my first time there was lots of fun. We should probably have stayed for four days rather than seven but you live and learn and besides we had a week in Florida to look forward to and of course the horror of missing the flight back home. But that's for another time.
We went back to New York just once more, in May 2001, with friends. I'd love to go again, it has changed so much, but if I'm honest I don't think I can afford it now. Back then I was happy to rack up credit card debt and say I'll pay it off when I'm older, but now I am older, comparatively I earn less money than I did, I don't want to be in debt again, and I've got my ISA to think about. Leave Manhattan to the wealthy and the young adventurers.
Long live 1999.