My TOP 5 Things TO DO in Jaco Beach Costa Rica
An EX-PAT now LOCAL Perspective of a lively beach town in Costa Rica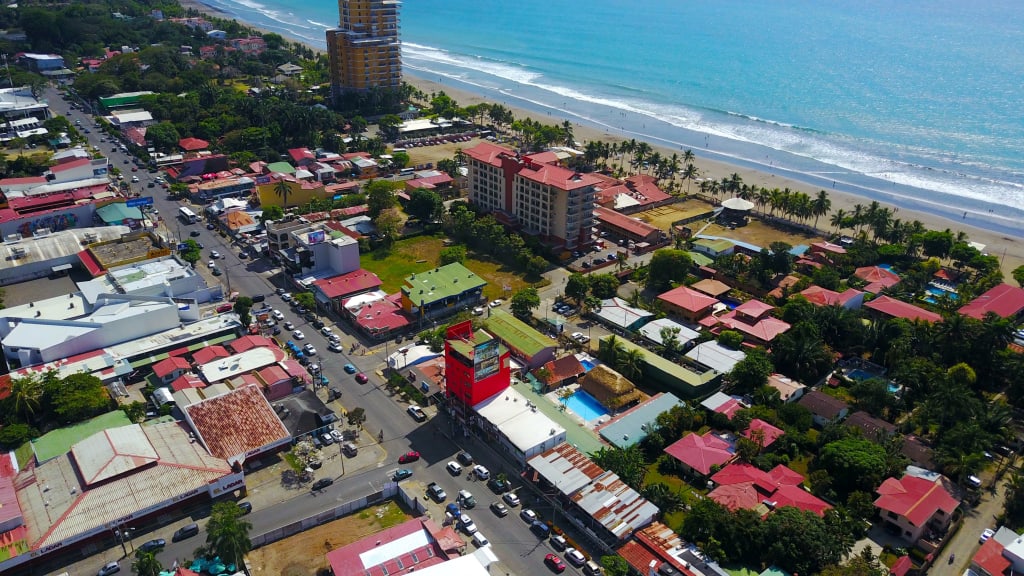 Drone view of Jaco Beach and center of town.
I am living here in Jaco Beach Costa Rica for nearly 12 years now, and have recently started writing articles about the area. Below are some of my favourite thing to do in town.
Chill on the Beach, Play in the Ocean, and Drink a Beer at Sunset.
I try to get my toes in the sand every day, but it doesn't always work out that way. Living in a vacation destination beach town, doesn't necessarily include a life of leisure...
Anytime I can get away from my daytime responsibilities, heading to the beach is my favorite activity of all. The water is warm and the ocean floor is mostly soft and sandy. It's the best place to chill and play. During high tide there area many surfers, and a few surf schools set up where you can take a lesson, but I prefer to boogie board and just splash around in the waves.
Even though I can see the ocean from my condo, getting out in the mornings for a cup of coffee had become a common ritual before this pandemic thing started. Sometimes I bring my own coffee and sit on a ridge or large log that the ocean temporarily decorated the beach with, and on some days I get on my bike (or in the car) and head over to one of the beachfront restaurants that open early.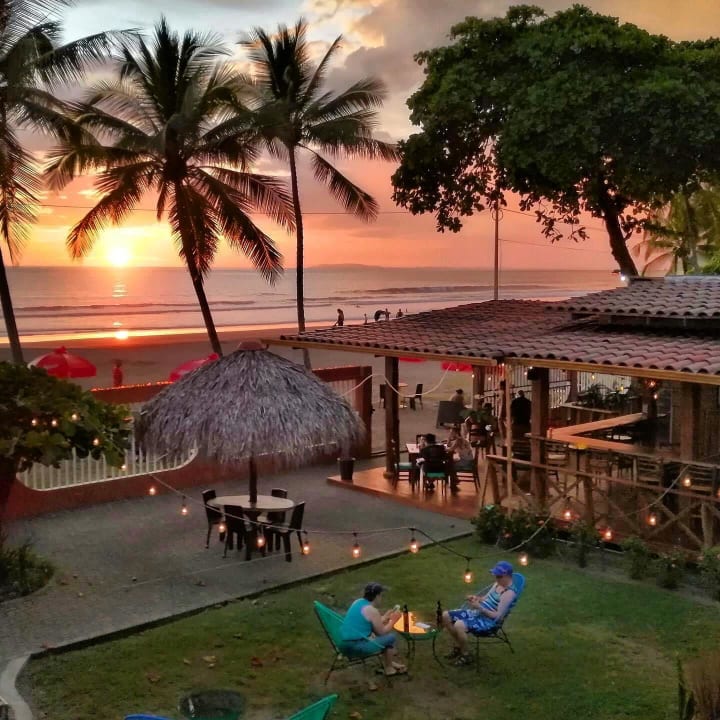 Sunsets are a big deal in Jaco, and often create spectacular colors in the sky that can be seen from almost everywhere in town. Happy hour is pretty consistent as the sun sets at around 5:30pm all year round.
Party Like A Rock Star.
In the last fifteen years, Jaco Beach has become known as the party capital of Costa Rica (and maybe all Central America). Every week there are dozens of flights to Costa Rica with bachelor party and bachelorette party groups, friends getting away for a long weekend, and large families celebrating something or other, many of which come to Jaco for the beach and the famous nightlife.
The above picture is of a bachelor party group at Rancho de Suenos, a 20 BEDROOM vacation rental house that was converted from a private school that closed a couple of years ago.
It's quite impressive, how much fun you can have in a small beach town, and how much trouble (the good kind - mostly) you can get into if you look for it. Jaco is no Vegas, not by any stretch, but you can still find pretty much all the same fun at a fraction of the cost, and many of the locals sure do know how to party!
Drink Coffee and Eat Chocolate.
The coffee in Costa Rica is EXCEPTIONAL! Not talking about Folgers instant flakes, I'm refering to the real thing, freshly roasted and freshly brewed, local coffee beans. Even the most commercial Costa Rica brands like Britt, Rey and 1820, are fantastic.
Nothing against the Folgers brand, but referring to reconstituted dehydrated flakes as coffee, is the same as saying that Tang is Orange Juice.
Lol, ok nothing against Tang either, it's just that I have become a coffee and fresh fruit snob since moving here.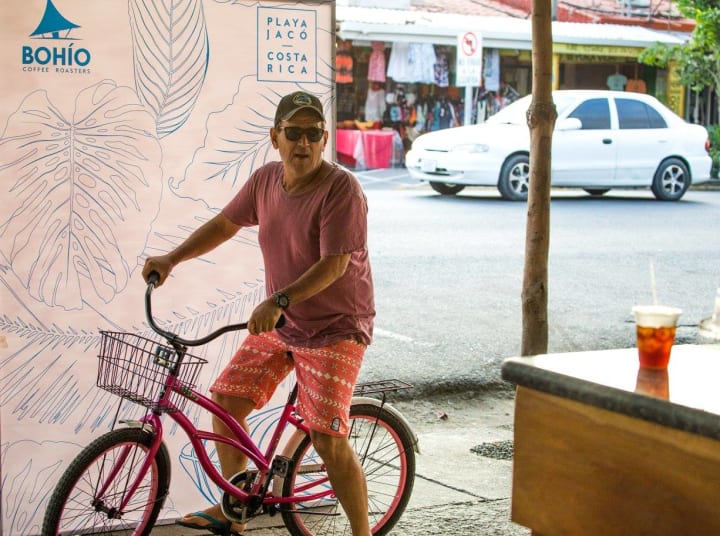 Same with chocolate! Hershey's makes some delicious treats, but it's not the same as hand made artisan chocolate, and there is some good stuff available in town. Check out a little shop called Fruity Monkey Poop in the center of town to find coffee, chocolate, cinnamon, vanilla and other local products.
Check out the HUGE Murals and LIVE Music.
There have been some great artists in town... well, maybe not names you would recognize, but they have left behind some very impressive murals around town. Most of this trend has been headed by Artify Jaco and the generous donations from local business and private individuals.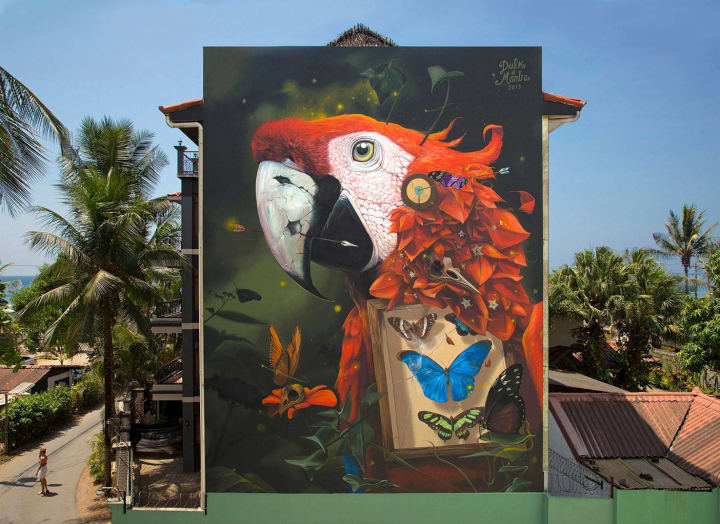 This 5 Story mural on the side of Pacific Palms, a luxury vacation rental house near the center of town, is just one of many awe-inspiring works of art adorning buildings in the area.
There is a handful of restaurant/bars around town that have live music on the weekends. Right in the center of town, The Green Room is a popular restaurant and bar that has a band or single musician pretty much every night of the week. They also have a great selection of craft beers made in Costa Rica that include exotic local flavors like mango, passion fruit, ginger honey, hibiscus and others.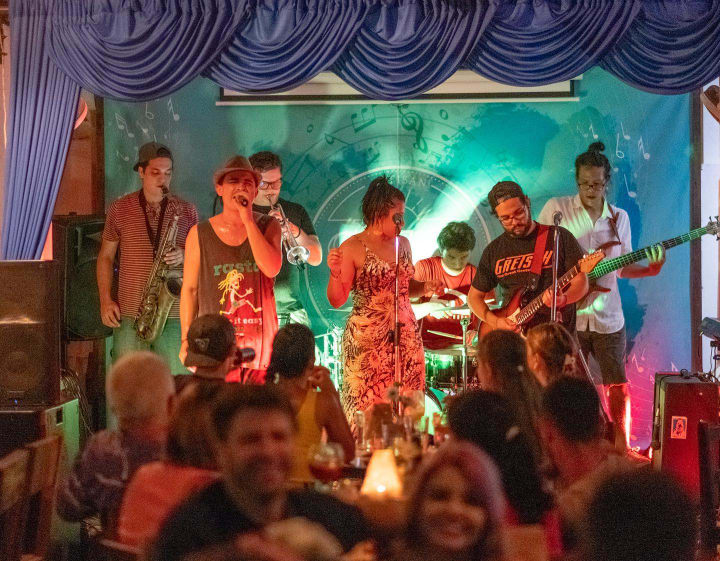 Hike up Miro Mountain.
Miro was a local celebrity in his time, not to be confused with the famous Joan Miro a Spanish surrealist painter from the last century. The Jaco Beach Miro was an entrepreneur (and artist) who bought a mountain and built a bunch of simple but interesting houses with curved walls and round windows.
He died quite a few years ago, and many of the houses and small plots of land have been sold to individuals, but his son and family bought back a large section of the mountain and are maintaining it mostly for conservation.
There is a great hiking/walking trail running up and through the land. The path is wide enough for a car to pass, and on rare occasion does, but it's mostly people that are walking or jogging, and a few on bicycles.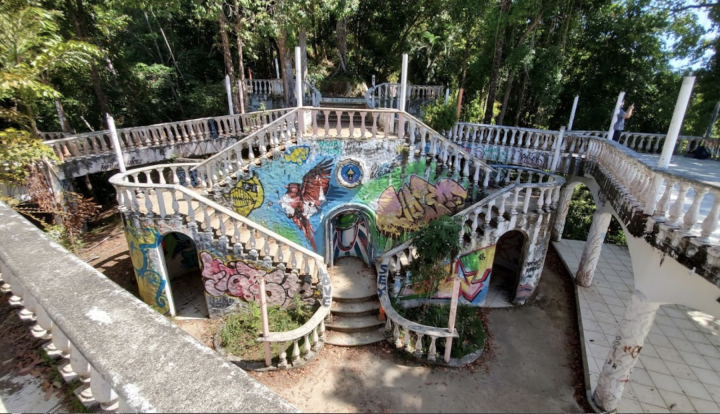 There is an abandoned building about half-way up, unoficialy referred to as "El Miro Ruins". The views of Jaco Beach are spectacular. It's not clear if it was slated to be a restaurant, or house, or both, but the structures that remain have been covered in grafftti and make for an awesome selfie background and photo opportunity.
The trails continue up from there. Along the way I have seen many white faced monkeys, blue morph butterflies, slightly poisonous dart frogs, wild turkeys, toucans, scarlet macaws, and others. It's a special place where you can get some exercise, enjoy nature and breathe in some fresh air.
Conclusion:
Costa Rica is an awesome place to live, and Jaco Beach is just the right size of a town for me. I highly recommend that you come here for a visit.
A couple of months ago, I published a similar article for Jaco VIP (a vacation planning agency) titled "Things to do in Jaco Costa Rica", but the version that you are reading here was modified and updated specifically for vocal.media readers.