My Thoughts After New Orleans
This may be encouragement to visit Louisiana or to live outside the limits of your comfort. I will also share a special poem after my trip.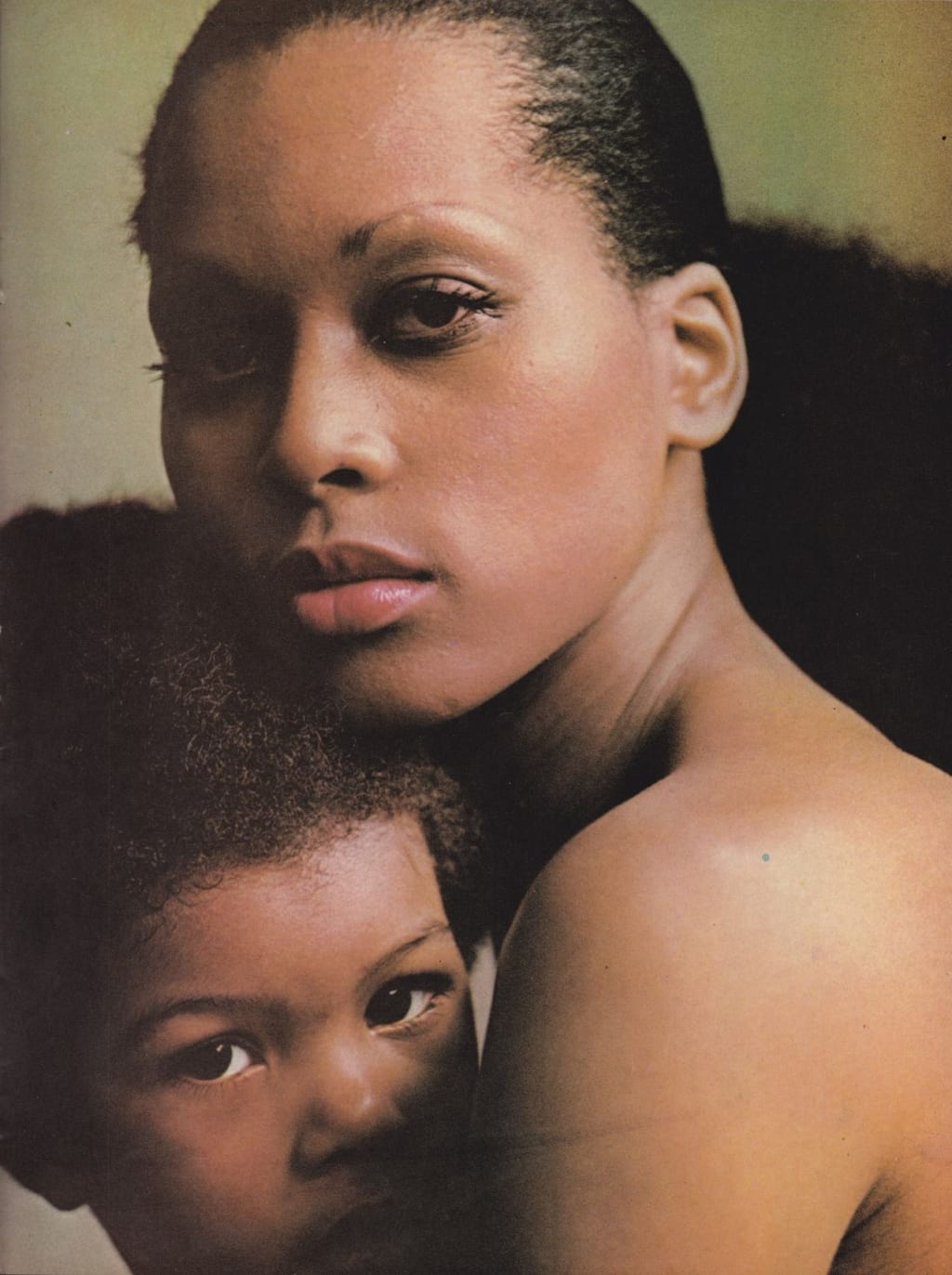 Was it in this place of Who Dat's, ghosts of flood victims, or Black eccentric pride that I learned that I am natural? I recall rubbing my light yellow skin, untouched by the 97 degree heat of the ninth ward. Who knew that high dewpoint could make me shed, and get toasty brown. I rubbed the spicy melting lotion into my skin, put on my fresh red pants, and striped Be-Youtiful shirt, ready to explore. After traveling down South I was worried. I did not know how to be around communities of other races that were historically not very kind to women that look like me. I expected that my skin tone would cause my service to be lessened, or to be judged. But, what I learned is that maybe Southern Hospitality is the barrier breaker to what we call discrimination. Although our accents stood out, we were traveling among the 100,000 coming down for the 25th year of Essence! Essence magazine is so important to highlight blackness in business, fashion, politics, and within families. The first issue of Essence was in May of 1970, where the tag "to delight and to celebrate the beauty, pride, strength, and uniqueness of all Black women," and Barbara Cheeseborough graced.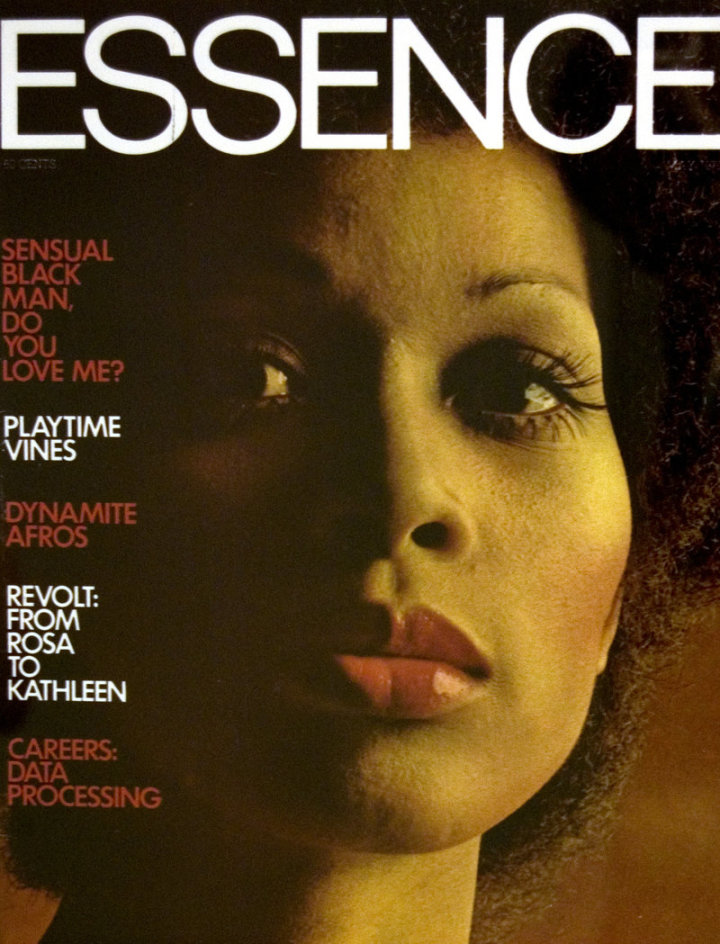 Being in New Orleans reminded me that experience is really the best teacher. I got to see that my time in front of screens was very minimal, and when this happened I got to see and try to feel into life. I noticed that people used phones to capture themselves, when they were bored, when they wanted to be seen. I did this too. I guess that we were in a rush to remember the moments, and to prove that we were there. I wanted to make a scrapbook! But, when I got to sit down next to the Community members: those men and women that drove us and helped us escape that burning Sun, that was the true gem. I gave myself one mission on this trip. I wanted to allow myself to feel. I wanted to waste no second. Melting and baking into this place of heart, ancient Cemeteries, deaths that celebrate instead of mourn.
The perspective is what differs from culture to culture. I remember growing up how heightened emotions were, there were times when I never felt like I could move. I had to stay quiet, controlled, and stable, but this place was just the opposite. Something about New Orleans made you want to take risks. Eat Carrot cake, or Orange cake at night, go to a Bar among the hushed conversations and clanking clear glasses. The danger did not scare me there. It felt surreal to see the Mississippi River, to hear those accents that I only heard on Queen Sugar on OWN. Being a "tourist" among people from Texas, Arkansas, Baltimore, Ohio, Georgia just felt like a blended family reunion. In the black-American culture this is the one day or weekend a year that we see our cousins, great aunts, or silly little nieces and nephews. I listened to our driver who played the electric Congos, I remembered when she dropped us off with a shortcut in front of the Convention Center, or when he told us that Willie Mae's crabs were the best black owned. I could feel the bricks being rebuilt, and the way that New Orleans wanted to reinforce the sinking land. Personally for me artwork and murals captures more than these words. I want to show a few images, and then write how they make me feel. Maybe something that I write will lift up those physical ancestors, or community members that want an outlet to scream their hearts. Artwork is permanent, but it can also be covered up, destroyed by time or land but we can preserve it.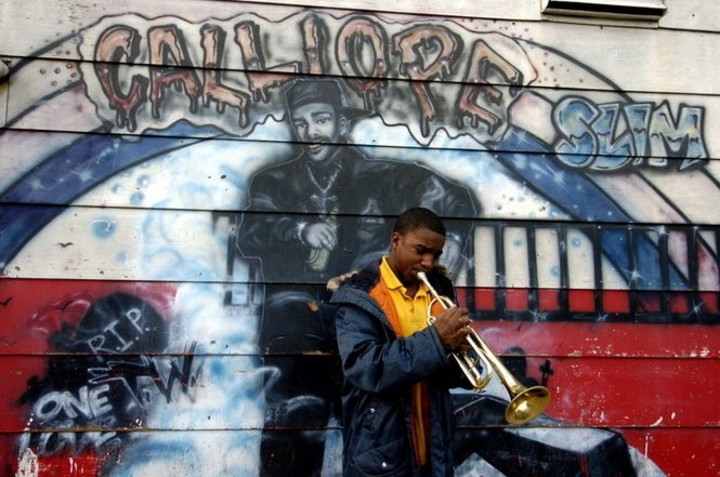 Calliope is a street name. This means a keyboard instrument resembling an organ or beautiful voice. This image also shows Calliope Slim or Randall Watts was murdered in a New Orleans Parish in 1997. He was an alleged hired killer. His mural is located very close to where he was murdered, and his funeral included a second line. A second line is a brass band in New Orleans during parades where dancing, swinging handkerchiefs, or twirling parasols is custom. It is sort of like the harder that you play for someone the more that they were loved. There has to be something that transmutes realms when someone is playing their trumpet for a person gone too soon. This mural brings me hope because there is another young boy who is training. He is learning about the power of his mind and body. A beautiful trumpet is nothing without the lips, the soul, and the breath of the player.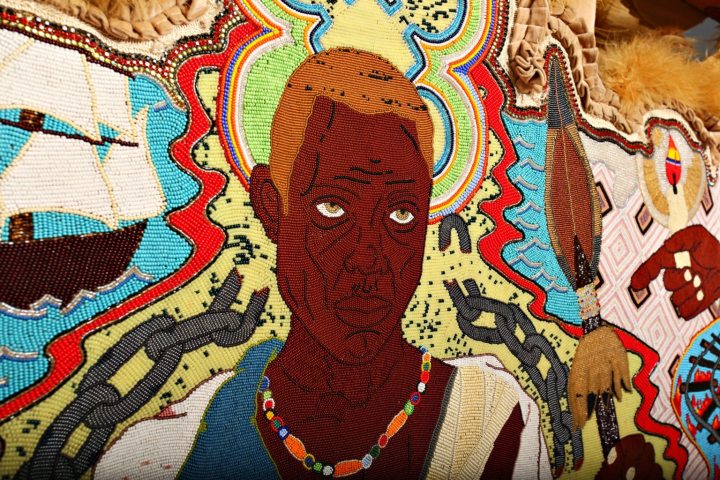 This image shows Black Masking "Indians." I see a ship on water coming to shore, feathers, a man stern with green eyes, freed from oppression. He is holding a weapon, being pointed at from the right, and a railroad seems to be blocked or inflamed. These tribes, also known as Mardi Gras Indians, wear traditional sequins and beads three times. The collectives are split into downtown tribes and uptown tribes. Their names go from Golden Blades to Ninth Ward Comanche Hunters. The feathers depicted may be ostrich feathers, which symbolize power, keen sense, and is related with the goddess of truth and Justice, Maat, in ancient Egypt. In 1725, the first of many slaves escaped into the bayou, with help from the Choctaw, Seminoles and Chickasaws. They were taught to live off the land in Maroon Camps. So there was a teamwork between the colonized. This pairing created a bond of peace that has been celebrated for over 300 years! This also reminds me of Treme. This is the place where the oldest community of free black people lived. This place that we know from a Hurricane once was a safe space for freed slaves finally being treated as the humans that they were. This land was fought for. When I think about a fight I imagine courage, passion, and sacrifice. The people that once built here wanted its upkeep rooted, and kept.
Precious girls with puffs and braids, with blue and green cotton look up to see a reflection of themselves. No matter how much light squints their eyes you can't miss the bright giant being. Like a tree they stand with a crown, spiral, orange, and brown sprayed long and wide. I take the symbols to represent the eternal kingdom that our spirits should live in. Our children are just sprouts, they feel harder, play with that wiggle and twinkle that we only get back with the carelessness of older age. Our children make the tallest, burley men look lighter and do outrageous acts. Our children are the ones we try to protect and catch. But something happens when hormones rise, and people think they are separate. We separate ourselves through money, color, gender, religious practice, size, and location. These things make "Ours" a humorous dream. Our souls become tight, enraged, and alone when we think that we are being shut away, and unseen. So this picture brings me to another reason why I write here. I want my views to be seen, read, spread. Just like these artists in New Orleans should be shown, and spread.
Finally I created a poem on July 7th, just two days ago called "Let Life Happen to You." This is also located and read by me on my YouTube Channel called "Morgan Sankofa." Sankofa means to learn from the past and is an African Adinkra symbol.
I must desire change
When speckles of doom pick at me
The fingers with red tips flick and whip
my controller
Breaking fast and jumping out
of the way of a line of hissing
Geese
Surety in elongated necks
traveling eights, nines, close to the swollen
mossy pothole
Maybe we should rush through danger?
But what if we
took a slow crawl through it?
Four AM lightning strikes, choking flames
squeezing together
Surrendering to life's energy pounding pinching
bracing and shutting inward
A textbook smacked closed
I can see hands locking thick smooth metal as lava
approaches
Clouds throwing softballs of hail sunroofs
Our helmets
Our skins magnets
Porous to all of Earth's touches
Vitamin D, Venom, passive Violation
We breathe it anyway, cycling in
inside there is no sanctuary
After this trip to New Orleans I will take with me a commitment to embrace more cultures. I want to use this to fall deeper into my writing, spiritual practice, and light. I want to share others light, and also put myself put there! This is the first post that I have made on Vocal where I am showing my face and voice after almost three years! So just as I have fought with myself I am now sacrificing my own mask. I will use this post as a first step to share the beginning of my greatness. Louisiana taught me to be seen, and that I am among the dignified, the musical, and the faithful. I encourage you to let yourself feel more, and sit in all that you are: a miracle. Much love to all of my readers. <3
america