My Road Trip Around Scotland
A Day-By-Day Breakdown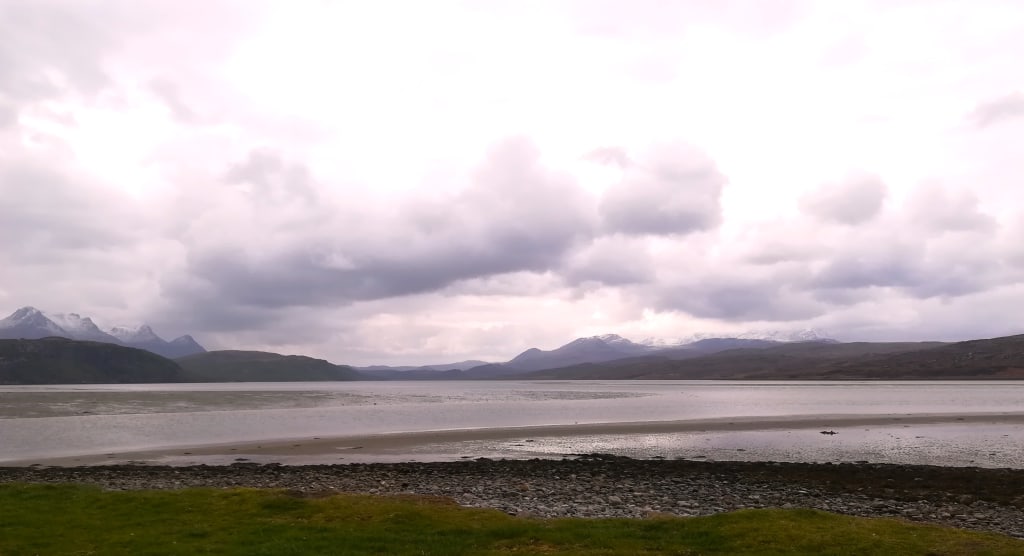 Mountain Range at Tongue
In 2018, Scotland was voted one of the most beautiful countries in the world. As someone who is native to Scotland and has lived there her entire life, my first response was, "They clearly didn't see where I live." However, I was intrigued by Scotland's rank and many people had told me that the highlands were rather stunning. So, my friend and I decided "what the hell, let's do a road trip." We both love to travel and have seen places such as Prague and Berlin together, so it was high time we saw more of our own country.
Our hometown lies in the central belt of Scotland, halfway between Edinburgh and Glasgow, so this means that the two of us have seen more than enough of Scotland's two largest cities. We didn't stop in either of those major cities, however, if you're completely new to Scotland then you should absolutely check them both out. A word of warning before you go planning a road trip around Scotland, it's super expensive especially compared to places like Prague and Berlin, so make sure you can afford to go. Also, your accommodation isn't going to be great, but for myself and my friend, our rooms were really only for sleeping as we were constantly on the go. Finally, one of the things I'm going to talk about is the North Coast 500, a route around the Highlands of Scotland, which my friend and I did over three days, but I would recommend taking longer to drive it if you can. Unfortunately, we only had a week to do our travelling. If your car has sat nav then it will come in very handy, however, we had a road map with our routes highlighted just in case.
Day One: Helensburgh, Luss, Glencoe, and Fort William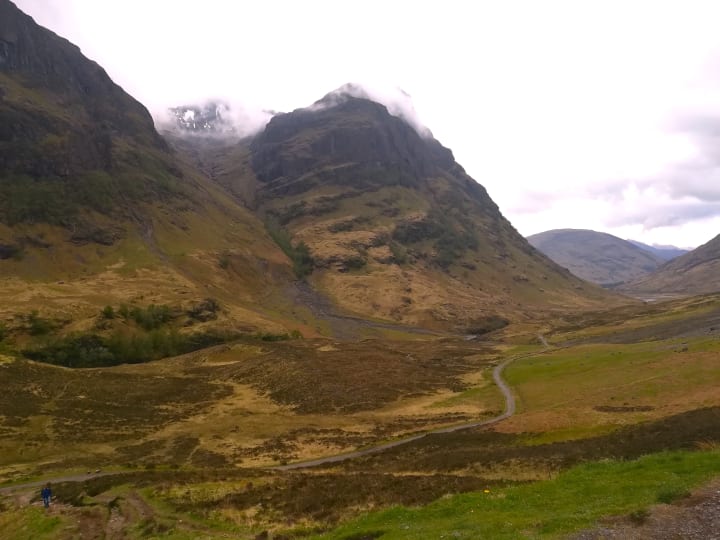 We began our journey by travelling the M8 through Glasgow to a small seaside town called Helensburgh. Helensburgh is the last stop on one of the trains from Edinburgh that I've taken frequently and so my friend and I were intrigued to see what it was like. A quaint little town, Helensburgh is great for a walk along the shores and has a Greggs for a breakfast sausage roll.
From Helensburgh we travelled to the village of Luss, which is situated right on the bank of Loch Lomond. This provides a great picture opportunity, a chance to walk around and learn the history of the biggest Loch in Scotland, and there are public toilets and small shops to buy souvenirs. They also offer tours of Loch Lomond from Luss, if that's something you're interested in.
From Luss, we travelled through Glencoe—as recommended by a friend. Glencoe has been the setting for many Hollywood films, including James Bond. The scenery here is stunning and with the dull sky that we had that day, there was definitely something eery about the place. There are parking spots along the road where you can jump out the car and take some glorious pictures.
From Glencoe, the road takes you right through to Fort William, where we stopped for the night. Our hotel was situated very central and if you're looking for somewhere good to eat I would highly recommend The Tavern, which is along the High Street.
Day Two: Fort William and Mallaig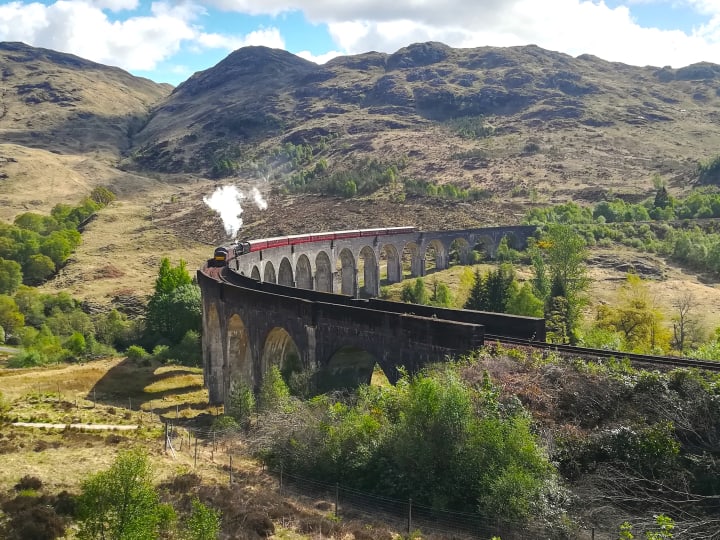 A friend from university got very excited when I told her about my upcoming trip, she insisted that we stay in Fort William and she would show us around. This was an excellent decision and the first place she took us was the Glenfinnan Viaduct, which is a twenty minute drive out of the centre of Fort William. At 10:45 AM you can witness the Hogwarts Express cross the bridge at the viaduct in the exact place it happens in Harry Potter and The Chamber of Secrets. Parking is available, however, I'll recommend getting there early as the car park tends to fill up rather quickly; we arrived around 10 AM and the car park was already busy. From the car park it's a short hike, make sure you're fit enough to attempt this, up the hill and a wait for the train to pass. A must do, in my opinion. There is the opinion to actually board the train and see the scenery from there, but it's rather expensive.
From Glenfinnan, we travelled to the seaside town of Mallaig, which was roughly a 40-minute drive. This is where the Hogwarts Express Train arrives. A scenic drive along the west coast of Scotland with some more connections to the Harry Potter films I would say this beautiful little town is well worth the visit. We had lunch at The Tea Garden, a cute little cafe in the town, however I would recommend eating there a little early, as it gets very busy very quickly.
We spent another night in Fort William and were happy that there was a bar directly underneath our hotel where we could have a couple of drinks before heading to get some sleep.
Day Three: Beginning the North Coast 500-Inverness, Dornoch, and John O'Groats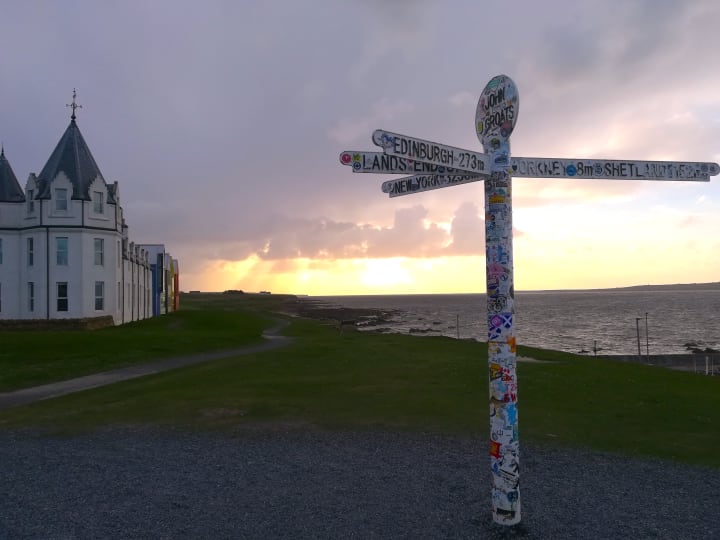 Leaving Fort William, we headed past the famous Loch Ness to Inverness where we stopped for fuel. There are a lot more petrol stations up north than I was expecting, however I would recommend filling up as often as you can just in case. Inverness is a city that feels more like a very large town which is great for people not confident in driving city centres.
Inverness is the beginning of the North 500 route and so from there we stopped in the small town of Dornoch, which has good little cafes with home baking and a stunning beach if the weather is right. The weather in the Highlands can be rather unpredictable, it literally went from sunshine to sleet within ten minutes at one point. Dornoch is a good stopping point if you're in need of food or even just to stretch your legs.
From Dornoch we travelled further north, stopping every now and again at the parking spaces at the side of the road to really appreciate the views and take some pictures. Because we were doing everything rather quickly we didn't get to see as much as we could have. I'd recommend the Visit Scotland website, which details great beaches and activities to do when travelling the North Coast 500 if you have time. Also, if you're looking for a petrol station, then Wick is your place. It also has a Tesco in case you need a bathroom break or snacks.
From our stop at Wick we made our way to John O'Groats, which is the most northern point in mainland Scotland and also our stop for the night. Take a picture with the sign to prove that you're as north as it gets and admire the view of the Orkney Isles from the beach. John O' Groats offers tours out to the Isles if that's something you have time for. The Stacks of Duncansby are a ten minute drive and then a further ten minute walk away and fair warning that it's super cold and windy up in John O'Groats, but the stacks are a must see.
Day Four: The Castle and Gardens of Mey, Durness, Mountain range at Tongue, and Ullapool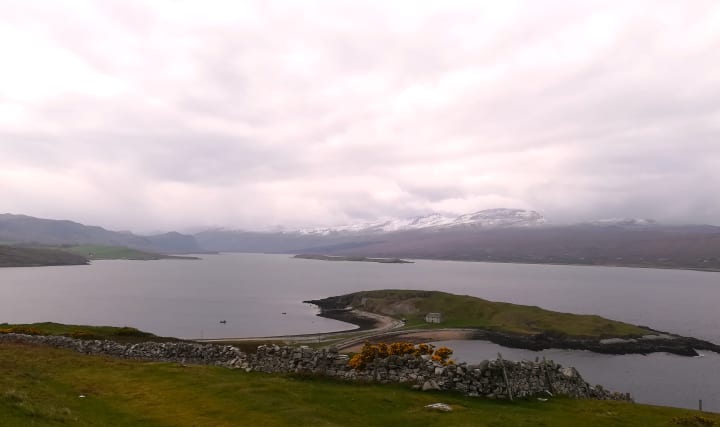 The Castle and Gardens of Mey are only around seven miles from John O'Groats. Unfortunately during our visit, not much had bloomed yet, however I could see the potential and think this would be a great stop in the height of summer.
Durness is a small blink and you'll miss it place, but it just happens to be the place that is most convenient to stop off for a spot of lunch, even if there isn't much there to see. I should add that the roads this far north are really dangerous and it takes a very confident and safe driver to navigate them. Allow vehicles travelling behind you to pass if they are going at a faster rate, especially motorcycles. Some roads are so narrow that only one car can fit at a time, so passing points must be used. This means the drivers attention must be on the road at all times and they must be thinking about what's coming around the corner as well.
The mountain range just past Tongue was one of the highlights of our trip. Stunning doesn't even begin to cover how gorgeous the scenery is from here and you should definitely pull over to fully appreciate its beauty. From Tongue to Ullapool, the drive is absolutely gorgeous.
Ullapool is a small town that doesn't seem to have much going on, however, it's a convenient place to stop for the night.
Day Five: Finishing the North Coast 500-West Coast Drive, Attadale Gardens, and Inverness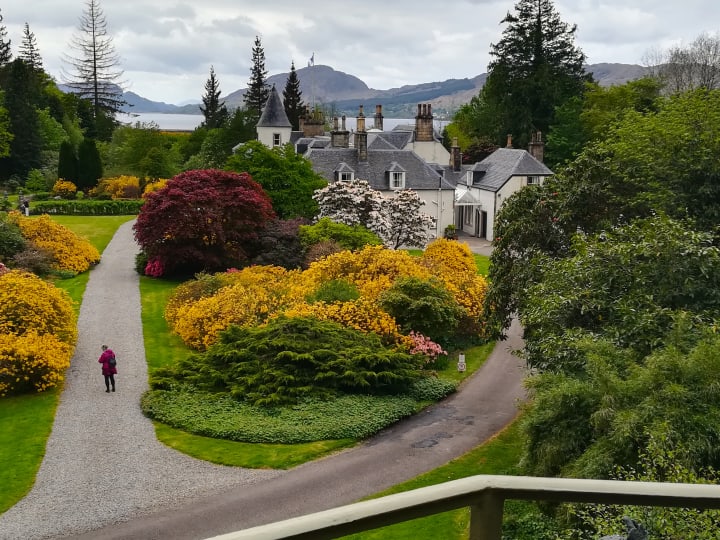 From Ullapool we drove the coastal route to see the stunning scenery of the West Coast of Scotland. We decided to go a little off route, half an hour or so, to see Attadale Gardens which is well worth the trip. At £8 entry each we were able to see the stunning set up they had as well as an excellent view of the Isle of Skye. The gardens are gorgeous and due to the great weather in this particular location the plants had all bloomed around two weeks ahead of schedule.
From the gardens we finished the North 500 Route in Inverness where we started, not going to lie, but we were absolutely knackard.
Day Six: Buckie, Portgordon, Portknockie, Findochty, and Cullen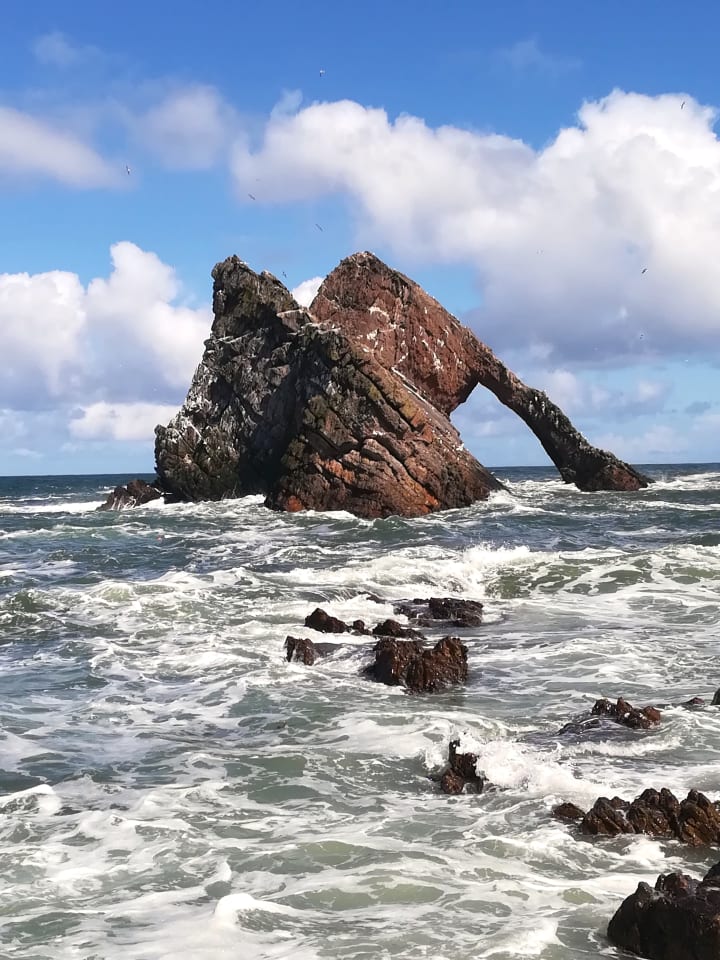 As someone who lives only a ten minute drive from my grandparents I acknowledge how hard it must be to live four hours from them, especially when you can't drive. My friend's grandparents stay in Buckie which is an hour from Inverness and so to give her chance to see them we stayed the night in this East Coast seaside town. The small surrounding towns give you a chance to see dolphins, whales and seals. Cullen has some of the best ice cream in the area and the beaches, especially the ones in Findochty, are rather stunning. If you enjoy climbing rocks then the beaches in this area are the place for you. The Bow Fiddle Rock is a rather stunning natural phenomenon that's famous in the area, head to Portknockie to get some pictures of it.
Day Seven: Journey Through Dundee to Home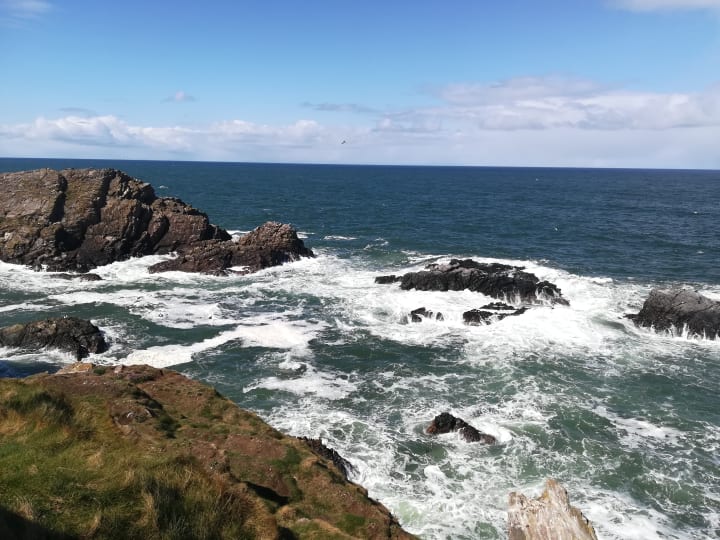 By the time my friend and I were heading for Dundee we were extremely tired and ready to be home. However, we had one last stop in Dundee, which is a rather underrated city. There are some great museums and sights in Dundee and it's only an hour and half from Edinburgh so more people should really check it out. If you're into seafood then try The Tailend restaurant that makes tasty seafood and great burgers for those who aren't into fish.
Our trip across Scotland truly made me appreciate the fact that I do live in one of the most stunning countries in the world. It might be expensive, and the roads might be difficult to drive, but the entire trip really opened my eyes. One last tip for anyone who's thinking of doing this road trip, please drive on the left hand side of the road and stick to your lane, we had quite a few close calls. But you should definitely check out the Highlands in Scotland, the most beautiful country in the world.