My First Trip during COVID-19 to Porto, Portugal
Porto gave me the wettest welcome.
About one year ago, I landed in Porto, Portugal after eight months of staying put. The lockdown was starting to be lifted and people were traveling cautiously. I already had handed in my thesis so I took the chance to blow off some steam and boarded the earliest flight to Porto.
I came to Porto in the morning. My first impression was that this city was so reminiscent of my trip to Prague: the stone streets, the hills, and the red brick houses. Even the peaceful vibe Porto gave off was similar. The first impression was not bad at all.
Not many restaurants had opened up so I and my friend stopped by a McDonald's to get a morning McMuffin. We then went to a friend's house to visit her and her family. Our first day was spent inside.
The following day and a half were memorable.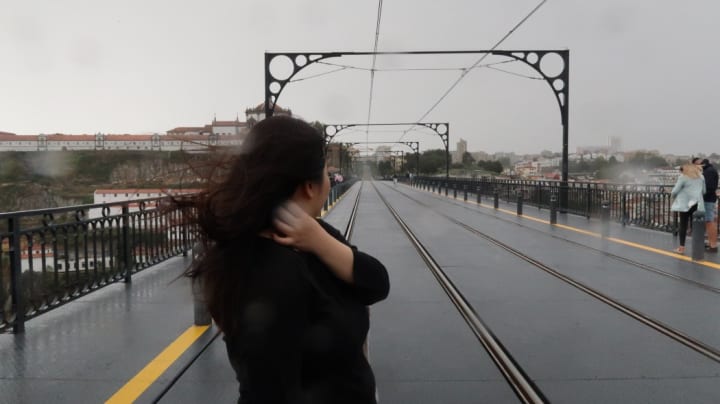 I really meant "the wettest welcome". The only sunny day was our first day there, which was a total waste. The following days were gloomy, rainy, windy, and not ideal for sightseeing and taking photos.
After having a light breakfast, I and my friend went to the double-decker Dom Luís I Bridge, which connects the city of Gaia with the Ribeira district of Porto. This one is the equivalent of the Eiffel Tower in Paris, the Colosseum in Rome, and the Sagrada Familia in Barcelona. It is truly an icon of Porto.
When we were dropped off at this bridge, the sky was still gloomy but it was not raining just yet. We crossed the lower deck to reach Gaia and took our sweet time there. By the time we came back, it was raining cats and dogs. Yet, thinking that we wouldn't cross the bridge again, I and my friend decided to walk the top deck without anything to cover our bodies. The wind was so strong that it felt like the rain was slapping our faces.
But we still were determined to capture our memories here. Hence, the photo above was born.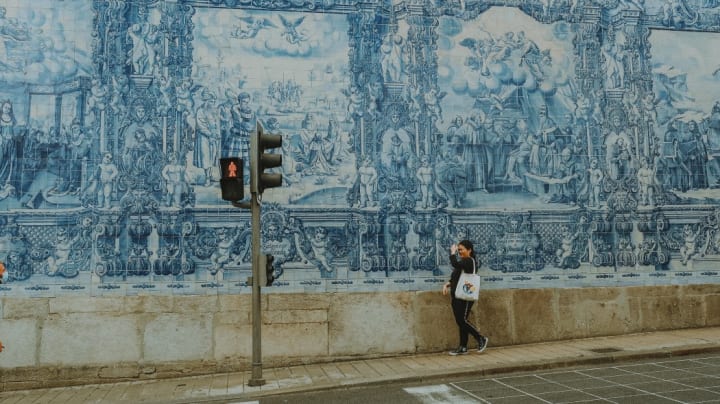 This chapel is hard-to-miss. Even though it is rather small, it conveniently resides at the center of the main shopping street of Porto. The exterior of this church uses azulejos, a form of Portuguese painted tin-glazed ceramic tilework. Not only do churches in Portugal use azulejos, but one can also find such fascinating artworks in train stations, palaces, houses, restaurants, and bars. This is truly unique to this city and the country.
"Many other countries have tile art, where it is used as decoration like a tapestry, but in Portugal, it became a part of the building. The decorative tiles are a construction material as well as decoration." — said the Museu Nacional do Azulejo director Maria Antónia Pinto de Matos
I wanted my picture to be Instagram-worthy, but the rain and wind stopped that so please excuse my expression in the above photo.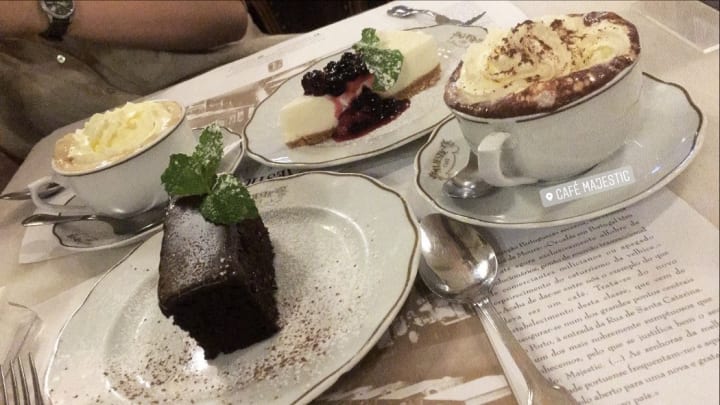 Portuguese cuisine is among my favorites. I love the fresh-out-of-the-oven egg tart. I adore the fish cake with a glass of red wine. Francesinha is gooey, filling, and should be everyone's cheat-day go-to. But if I have to choose the meal I miss the most during my trip to Porto, it would have to be this one.
After a day of walking in the rain and hiding from the wind, we were pretty worn out. Nothing beats a cold day like a cup of hot chocolate and some delicious cake on the side. So we went online for suggestions. And there it was, on the top page, Majestic Café.
This cafe is located in the middle of Porto city center so it was easy to find. We were skeptical of Google-recommended places. But this place has over 14,000 reviews? How is that possible? This might be the location with the most reviews I've ever seen on Google. So we decided to pay it a visit to see if the reviews were trustworthy.
It really was amazing!
From its façade to its interior, Café Majestic was brilliant. It is said to have been built to the original La Belle Époque style. In 1983, it was considered a building of national historical interest. Majestic Café was even included in The Telegraph's 50 greatest cafes in the world, so it is definitely not to be missed.
According to many reviews, there usually was a long queue outside the cafe. However, when we came, there were only a few occupied tables. We were shown to our seats and our order was served quickly. We ordered two cups of hot chocolate, a slice of raspberry cheesecake, and a piece of chocolate cake. They were absolutely fantastic and incredibly helpful to warm our freezing stomaches.
I would come back to Porto for this cafe alone!
A year ago, I was strolling around the gorgeous city of Porto. A year later, I am writing down these words, trying to relive the beautiful memories I created there. Hopefully, the pandemic will soon be gone and I'll be on the next flight to charming Portugal.
Reader insights
Be the first to share your insights about this piece.
Add your insights