My First Date With My Lovely Girlfriend
Finally meeting in person, for the first time.
Relationships are very complicated, but worthwhile. Long distance relationships are even more complicated, but probably are becoming much more common as people spend more time meeting others online. I happen to be in a very long distance relationship, and I spend a lot of time thinking about how things will go when we finally meet in person. This story is a work of fiction, but only for now hopefully.
The Flight There
The day started early. I knew I had plenty of time to spare, but getting to the airport early was important. I didn't want to miss the flight. I made sure to eat a decent meal before leaving the house, because I knew food at the airport and on the plane would be expensive. Still, with a 26 hour flight, I had to get a few meals along the way. I was also nervous because I wasn't used to flying alone. I'm honestly amazed that I didn't get lost or get on the wrong plane.
When I finally did get to the plane, I took my seat. I always try to get a seat next to the wing, since I like watching it change shape while taking off, landing, and adjusting to conditions while flying. I was awake for much of the trip, since I have trouble sleeping when traveling, but thankfully I did manage to get a little bit of sleep. Most of the time I just took pictures out of the plane window or spoke with the person sitting next to me. I'm sure they wished I spent more time sleeping.
Getting to the Hotel
I decided to pick a hotel that was nearby so I wouldn't have to do much traveling on my first day there. I knew I'd be exhausted from the trip. Luckily, hotel prices were fairly reasonable thanks to the relatively high purchasing power of the USD. Even the fairly large suite was only around $200 a night. As soon as I had access to wifi, I got ahold of my girlfriend to let her know I got in safely. I checked in right away, threw my things down, and passed right out. I was excited to see her, but damn was I tired. It didn't help that there's a 12 hour time difference, so there was considerable jet lag.
Sightseeing
When traveling, it can be really helpful to have someone who knows the area show you around. Thankfully my girlfriend grew up in Cebu and knew a lot of fun places to visit.
One of the first places we went was the Casa Gorordo Museum. It used to be a home for wealthy Spaniards during the colonial period, and then was renovated and eventually turned into a museum.
A Relaxing Evening
We were both tired from sight seeing, but wanted to spend more time together, since we finally got to see each other after so long. I opened a bottle of Mojave Rain Merlot and we sat and talked for hours. We've always talked a lot, but admittedly it was a little different talking face to face. We were both a little shy at first, but spending the day together helped a lot. Overall, it was a wonderful evening.
More Sightseeing
Given that it was a 26 hour flight each way, I wasn't about to leave after just one day. Throughout the week, my girlfriend and I traveled around Cebu. I saw so many wonderful things, and got to eat so much delicious food.
My girlfriend suggested a strawberry farm and sunflower farm in Dalaguete. It was a bit further away, so we took a taxi. Aside from the farm, there was a lot of interesting architecture, including the San Guillermo de Aquitania Church.
Later in the week, we went to visit the Lapu-Lapu shrine and some other spots, including Fort San Pedro, and the Yap-San Diego Ancestral homes. It was an exhausting week, but a lot of fun.
The Food
Of course I wasn't about to travel all the way to the Philippines and not try some of the delicious food. I've seen plenty of videos of foreigners experiencing culture shock because of the food, but honestly, I don't get it. The food is great.
Lechon is roasted pig. The whole thing is roasted until the meat is falling apart and the skin is super crispy. It's one of those foods that a lot of foreigners seem to shy away from. And it's not something eaten every day, but it is a luxury item that's prepared for special occasions. I love pork, and I love quality BBQ. So I was really excited.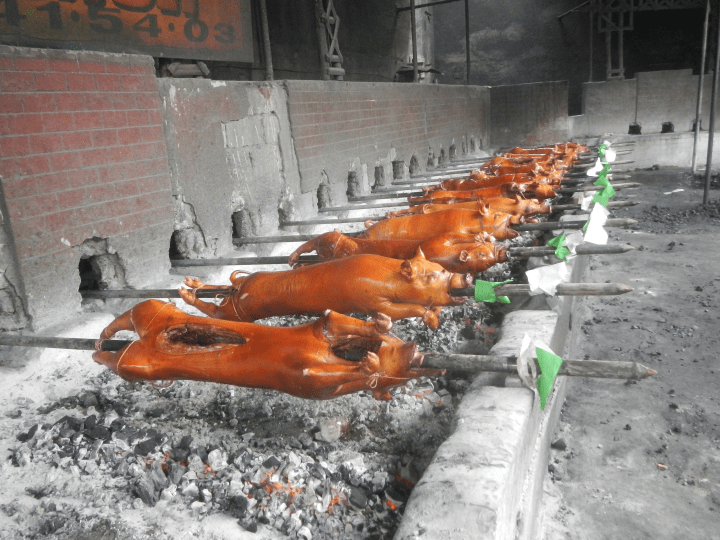 As a side note, if you like lechon, and happen to be visiting Peru, I'd definitely try cui (guinea pig). It's almost like individual serving sizes of lechon! Anyway, I of course loved the pork. It was juicy and falling apart, as expected, and the skin was just perfect.
After the lechon, it was time for dessert. Funny enough, I had a harder time eating the dessert than the lechon.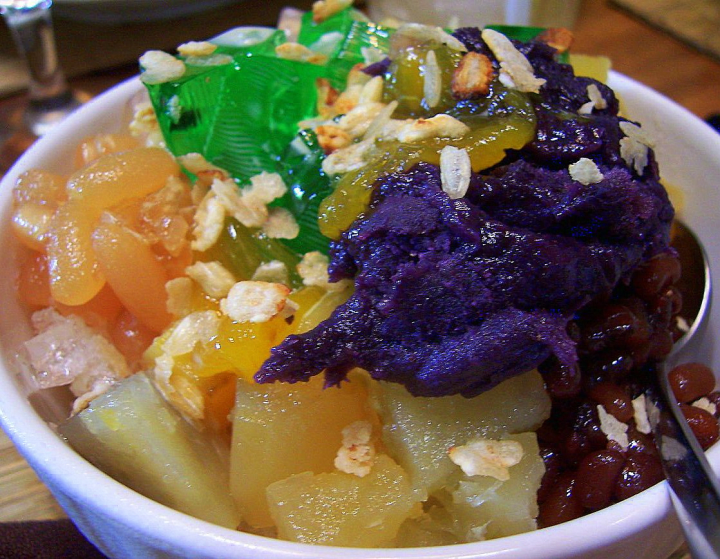 So, halo halo is basically a bunch of things thrown together on top of shaved ice with sweetened milk. For whatever reason, I tend to dislike when everything is just thrown together. And I'm not a huge fan of jelly. But it was sweet, and cold, which was great on a hot day. And the flavors themselves were delicious.
Returning Home
The trip was incredible. I had so much fun hanging out with my girlfriend, exploring, and trying new foods. But I had to get back home. My cat was waiting for me after all, and as inexpensive as things are in the Philippines, the trip would have been a bit too much for my budget if I stayed much longer.
My girlfriend and I grabbed an early breakfast and then went to the airport together. We said goodbye and I waited for my flight. I had a lot on my mind, and a lot of new memories. It was a great experience and I'm glad that I finally got to meet my partner in person, and already looked forward to the next time we could be together. Such is the life of an international relationship, I suppose.
When I finally got back to my house, I hugged my cat, and went right to sleep. I was too tired to even eat, no matter how hungry I was. It really was a great trip, and I'm glad that I made it. Or... at least that's how I hope things will go.

Daniel Goldman
Visit my homepage. I am a polymath and a rōnin scholar with interests in many areas, including political science, economics, history, and philosophy. I've been writing about all of these topics, and others, for the past two decades.
See all posts by Daniel Goldman →