My Big Adventure in Iceland
A December ATV ride on a black sand beach in Southern Iceland leaves me feeling like an astronaut on a foreign planet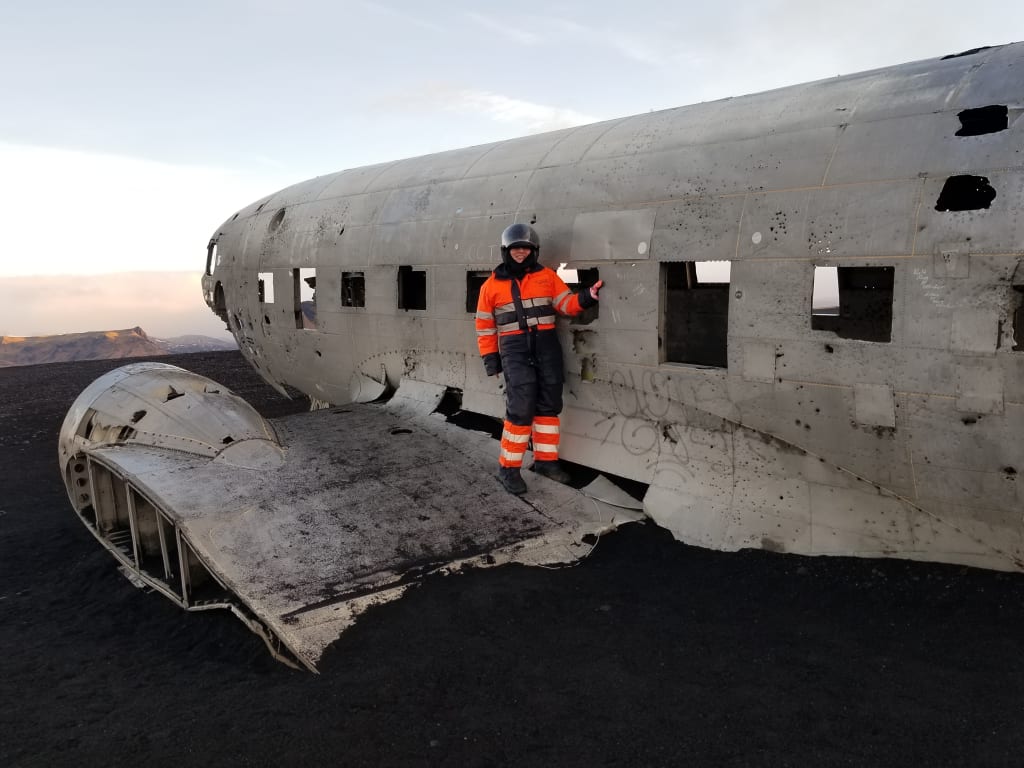 Photograph of the author in Iceland
With my husband being more of an adrenaline junkie than me, I often push myself out of my comfort zone when planning our travels. And our December Iceland trip was no exception to the rule.
On the day of the excursion, we entered a large luxury tour bus with a hundred other tourists all headed to Iceland's South Coast. As I looked around, I relaxed a little, seeing people older than us on board.
The same thing happens each time I plan a thrill adventure. When I'm planning, I get super excited. When the actual day arrives, I get nervous – sometimes really nervous. Then, I push myself to do it instead of chickening out. Thankfully, afterwards, I usually want to go again and again.
That day, a surprise was revealed by the tour guide once we were on our way. Over the speaker, she said, "Two people on board will miss the lunch stop to be dropped off for an ATV ride..."
My husband just laughed, while I sat there in shock. We were the only two crazies to do this?
The next several minutes were spent begging him to promise not to turn too quickly or drive too fast. I was terrified of flipping, especially as we had recently watched a reality show where someone ended up shattering their leg on one.
Before we were abandoned...I mean dropped off...we enjoyed the scenery passing outside our window. We learned about the Icelandic horses, who are all owned by people, even though they are free range. The little, shaggy horses are said to be able to perform five gaits and are so comfortable and steady that you can ride one without spilling a drop of your pint of beer.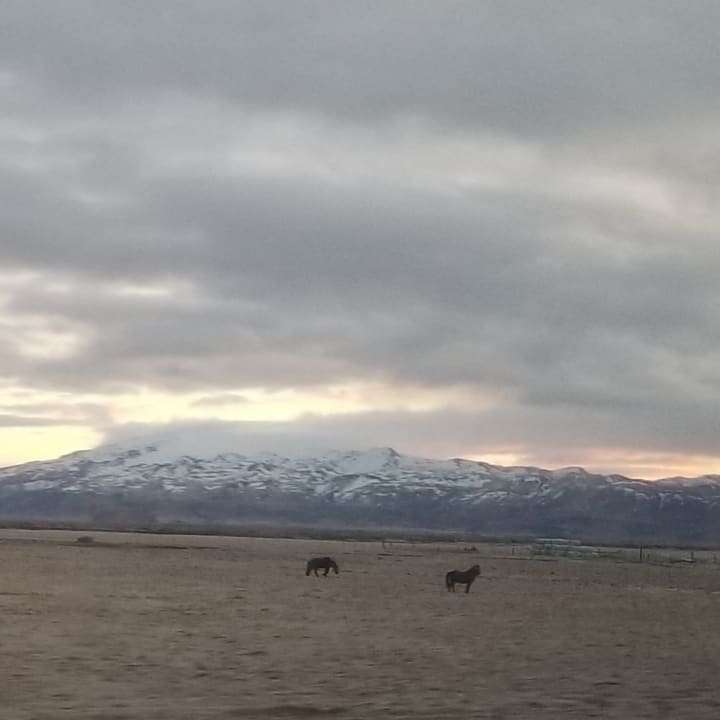 One noteworthy stop preceded our adventure – the spectacular Skógafoss waterfall. Having seen it in one of our favorite television shows, "Vikings," and in the movie The Secret Life of Walter Mitty, it was even more impressive in real life. Skógafoss is one of the biggest waterfalls in Iceland, with a drop of 197 feet. You can walk right up to it, but be prepared to be drenched.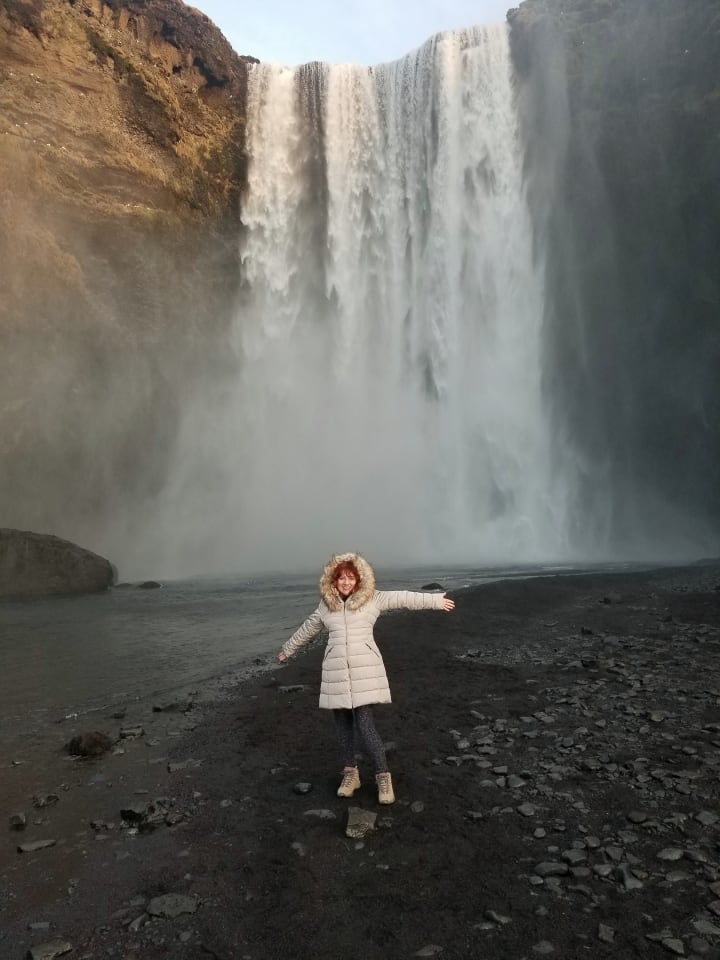 The cliffs surrounding the falls are filled with little nooks and crannies, and in each was a pair of seagulls. This small feature left me even more enchanted. I always say that if reincarnation was a thing, I'd like to come back as a cliff seagull in a place like Portugal or Ireland. Now I can add Iceland to that dream.
There is a legend that you can find a chest filled with gold and treasures behind Skógafoss. The story is that a Viking settler at Skógar (Eystriskógar) hid the chest behind the cascades around the year 900. With the majesty of the spraying, iridescent water creating rainbows before our eyes, it was easy to imagine the legend to be one of truth.
The time came to be dropped off at the ATV headquarters. After meeting our guide and the two other people who would be joining us - a young French couple - I realized that most of the items I brought wouldn't be necessary. They immediately put us in warm overalls, long rubber snow-boots, and a helmet with a balaclava. Already walking like a moon astronaut, I followed everyone out to the three ATVs. The tour guide showed everyone how to operate them, and then he made us all verbally acknowledge that we understood. I said, "Yes, but I'm not driving. I'm just holding on." It's not that I was automatically against driving, but I feared that if I did, I would drive slower than a geriatric snail through peanut butter.
We chose the last ATV, and I climbed on behind my husband and braced myself. Luckily, I did. When I pictured this particular excursion, I imagined driving a straight line down the beach. I did not think about how we would get there. In this case it involved maneuvering between curving, narrow dunes, driving through water, and shooting through pipes beneath bridges. After several minutes, my husband called out to make sure I was okay because if I'm not screaming, he's knows I'm scared – really scared.
Then as the guide saw that both other drivers were proficient, he pushed us to the ATV's speed limit.
As the rugged lava fields gave way to the beach, I began to take in the otherworldly scenery. It is an area of spectacular contrasts, where white-crested waves wash against the jet-black beach and imposing glaciers and pockets of greenery dot the horizon.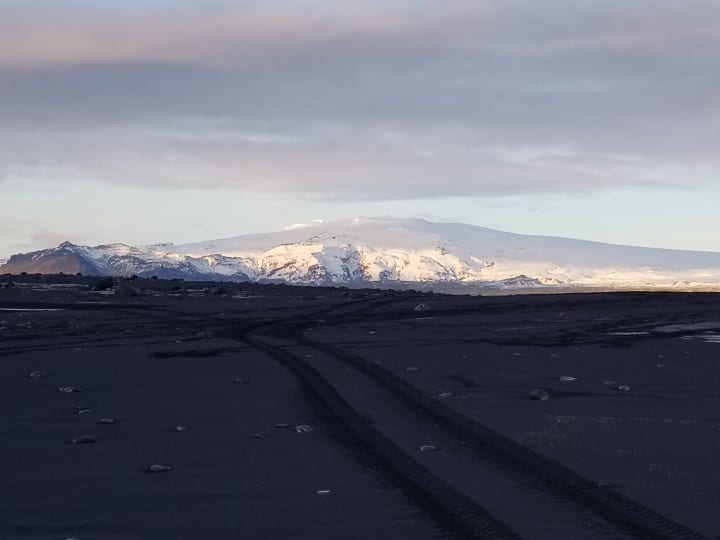 We stopped to admire some whale bones, before viewing the famous Sólheimasandur plane wreck that has been resting in the sand since 1973.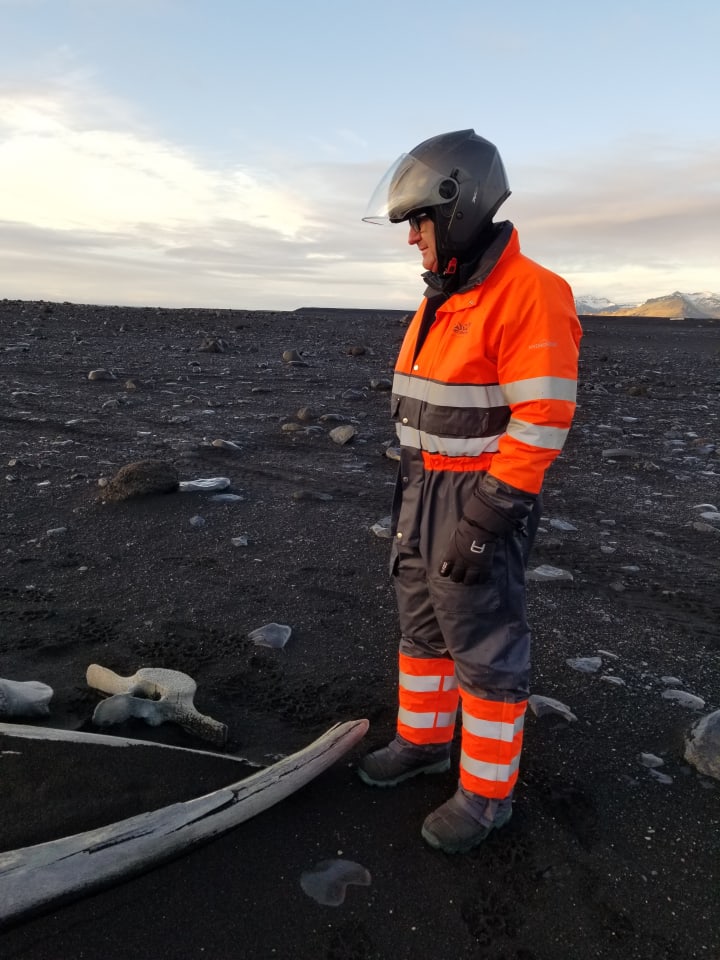 The United States Navy DC plane ran out of fuel and crashed. Fortunately, everyone survived. Later, it was discovered that the pilot had simply switched over to the wrong fuel tank.
Then it was off to our next stop at the Mýrdalsjökull glacier, Iceland's fourth largest icecap. At almost 5,000 feet high, it sits atop the explosive Katla Volcano. If we visit again, I would like to hike through the winding tunnels of the ice cave. But on this day of adventure, we shot off again on our ATVs, taking in the spectacular natural beauty of the Land of Fire and Ice.
As you can see from the pictures and video, I relaxed so much that I could even ride one-handed by the end of our tour.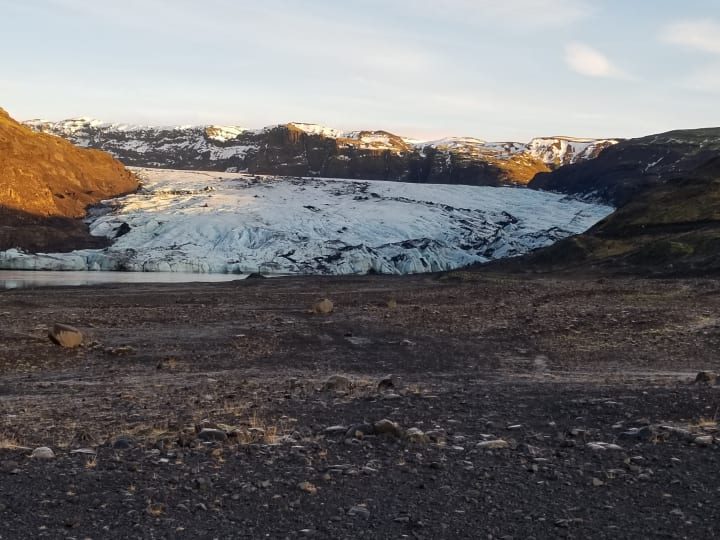 And, as predicted, when the tour bus picked us up, I felt a bit of pity for all those who opted for a simple lunch stop instead of experiencing our unforgettable, action-packed escapade. I can't wait to do it again.
activities
About the author
Animal advocate, traveler, and bibliophile. Lover of all things dark and romantic.
Reader insights
Outstanding
Excellent work. Looking forward to reading more!
Top insight
Heartfelt and relatable

The story invoked strong personal emotions
Add your insights