Most LGBTQ Unfriendly Locations in the World
To stay safe during your global travels, steer clear of the most LGBTQ unfriendly locations in the world.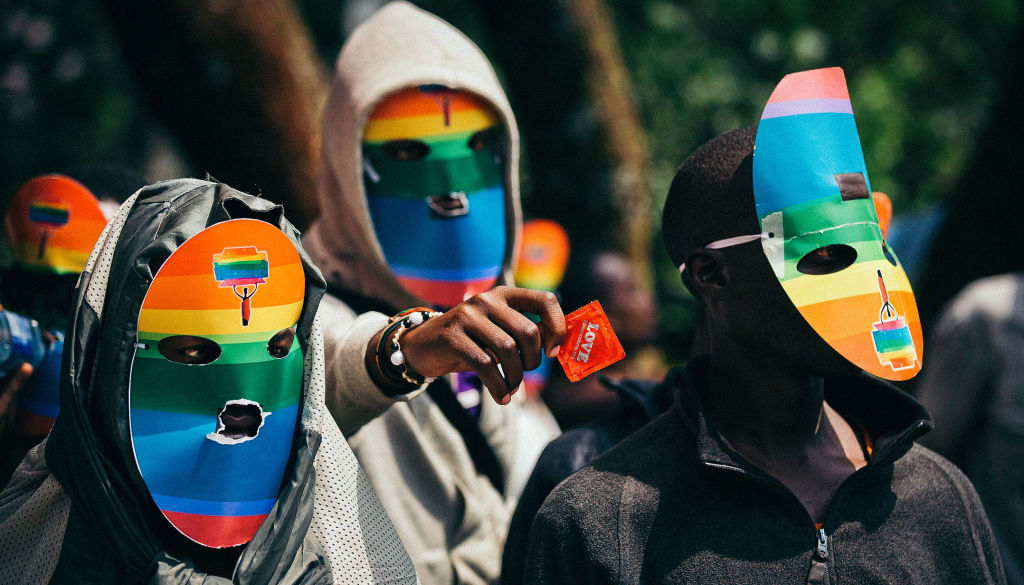 Credit: CC0 Public Domain
Despite signs of progress on the home front, there are still several LGBTQ unfriendly locations both in the US and around the world. Traveling has its fair share of headaches for everyone, but for LGBTQ travelers, there's also the possibility of harassment, discrimination, and even legal trouble. Vacation research extends far beyond hotels, museums, and nightlife. However, there are amazing LGBTQ resorts out there. But, LGBTQ travelers must also check laws about homosexuality and the frequency of anti-gay violence at their destination. And, even with thorough research, there's still the potential for scary run-ins upon arrival.
"In some places I've traveled, being gay isn't even often considered an option. I've had awkward taxi rides in Jordan and Egypt, in Thailand and India: 'Where's your girlfriend? Why don't you have a girl?'" writes Nomadic Matt's Matt Kepnes. The following states and countries are some of the most LGBTQ unfriendly locations in the world that should be avoided at all costs.
The Southern United States
During the Obama administration, the United States was a leader in the global LGBTQ movement. Some of the community's greatest achievements included the legalization of marriage equality and guidance on federal protections for LGBTQ employees. But there's a small portion of the country that's actively working to fight any and all progress when it comes to human rights.
Specifically Mississippi, Alabama, Texas, and Louisiana are each leagues behind the rest of America when it comes to gay rights. These states are know to be a few of the most LGBTQ unfriendly locations in the world. Mississippi previously passed a "religious freedom" law, and was the last state to lift its ban on gay adoption in 2016. Both Mississippi and Alabama forbid teachers from discussing LGBTQ issues in the classroom. And, Alabama has consistently ranked in the top ten for the nation's highest rates of hate crimes. Texas has openly supported conversion therapy, and Louisiana refuses to protect LGBTQ workers from discrimination.
These states are the sites of popular LGBTQ cultural events like New Orleans' Southern Decadence festival. Yet, they're staunchly anti-gay. Though travelers won't be living there, their day-to-day treatment of their own LGBTQ population speaks volumes about how visitors would be treated.
Nigeria
Beyond North America, Nigeria is easily one of the most LGBTQ unfriendly locations in the world. Reuters reports that 90 percent of the Nigerian population supports the criminalization of homosexuality. Though a small section of the African nation's citizens is opening to equal rights, they have a long way to go.
Same-sex relationships have been illegal in Nigeria since 2014. That same law, The Same-Sex Marriage Prohibition Act (SSMPA), also forbids joining gay rights groups. In May, 54 people were tried on suspicion of celebrating a gay wedding. Those Nigerians brave enough to claim their sexuality are subject to sexual violence, death threats, and criminal charges. One of the country's most outspoken LGBTQ activists, Michael Ighodaro, was attacked in the city of Abuja this spring. Since the attack, he's spoken out about anti-gay violence in many of Nigeria's cities, and he's officially sought asylum in the US. Nigeria is not safe for locals, and it's especially unsafe for tourists.
Honduras
In Honduras, LGBTQ rights still have a long way to go. Gender transitions are illegal, adoption is only legal for single LGBTQ people, same-sex marriage and blood donation are illegal, and conversion therapy is still legal. While there are some bright spots in the quest for equality (i.e. housing and employment protections), the overarching sentiment is still widely anti-gay.
Popular activist Rene Martinez was murdered there last June, and another activist, David Valle, was brutally attacked in July. The Central American country has seen an increase in attacks on its prominent activists in recent months. There's an air of uncertainty and lack of safety for locals and visitors alike. Looking forward, the country's new Human Rights Minister will work to protect LGBTQ activists. But still, Honduras is dubbed one of the most LGBTQ unfriendly locations in the world.
Jamaica
Of all the countries on this list, Jamaica is easily one of the most recognized LGBTQ unfriendly locations around the globe. Despite its positioning in America as a travel paradise, queer travelers know it's no safe haven. The first season of Viceland's docuseries Gaycation dedicated an episode to the Caribbean nation's troubling LGBTQ past and present.
In late August, beloved activist Dexter Pottinger, who was dubbed the face of Jamaica's Pride celebration, was murdered. He was at the forefront of a cultural shift toward accepting the local LGBTQ community and reducing violence against them. But, as his death indicates, many Jamaican citizens aren't ready for this change.
Same-sex relationships and sexual activity are criminal offenses in Jamaica, with the convicted facing punishments that range from misdemeanor charges to a decade of hard labor. This isn't quite the utopia that most tourists have been sold.
Lithuania
Lithuania is one of the lesser known countries in Europe. Rarely does it dominate headlines, especially for LGBTQ equality. But, the country's Parliament recently participated in the International Day Against Homophobia by lighting its city hall in the colors of the rainbow flag. It was a show of solidarity that, for now, is just a glimpse of the way forward.
Lithuania was ranked second worst of all European Union countries for its stance on LGBTQ rights and one among other LGBTQ unfriendly locations out there. Its politicians have attempted to ban Pride celebrations, and same-sex marriages and unions are still illegal. Last year's Baltic Pride participants were subject to hateful rhetoric and threats. Times may be changing there, but not fast enough. Like several other countries in Europe, Lithuania is a destination that should be approached with extreme caution.
Egypt
Tourists are drawn to Egypt for its rich history and breathtaking sites like the pyramids. But there's nothing breathtaking about the country's stance on its LGBTQ residents. There are no discrimination protections in place for them, and homosexual men and women can be imprisoned because of their sexuality. A whopping 95 percent of the population thinks society should not accept gay people. Local authorities are even jailing gay men for using Grindr, on the grounds of 60-year-old laws that criminalized debauchery. The Egyptian LGBTQ community is an easy target for police, and tourists are at risk, as well. Hookup apps like Grindr are popular, and discreet, ways to meet locals. But there's the strong possibility that the man of your dreams could be an undercover officer. Traveling to Egypt poses unprecedented safety risks.
Russia
Given the climate of the 2016 election and the ongoing investigation into Russia's meddling with the results, the European superpower was probably not at the top of your travel list. But to add fuel to the fire, consider their treatment of LGBTQ citizens. The country has been party to Chechnya's gay concentration camps this year. Anti-gay violence is a regular occurrence. Professor Lyosha Gorshkov was beaten so badly his face remained paralyzed for six months. The country even banned propaganda that was perceived to be pro-gay. Pew Research Center reports that more than 70 percent of its citizens believe homosexuality is morally wrong. If any country on this list took the crown for one of the most LGBTQ unfriendly locations, it would easily be Russia.
Uganda
Like fellow African nation Nigeria, Uganda takes a hard stance on homosexuality. Perceived homosexual acts are punishable by prison terms. LGBTQ Ugandans are forced to live in the shadows or face severe consequences. Those who've vowed to speak out and organize Pride events have been subjected to raids and violence. Last year's Pride event was cancelled after police brutally raided a pro-LGBTQ event. Even a Pride Uganda guard was killed, and local police are doing little to solve the case. Popular badminton star Megan Nankabirwa was forced to flee to the UK with her lover after being chased by an angry mob. Many Americans visit Uganda for humanitarian work, but if you're LGBTQ, it's best to do this work somewhere safer and more tolerant of your sexuality.
Afghanistan
US military involvement in Afghanistan is ongoing, and many of our troops fighting there are proud members of the LGBTQ community. But homosexuality is a major taboo there. In fact, it's a worst-case scenario. Homosexuality is not only illegal but punishable by death. Thus, there are no protections for LGBTQ citizens, and they are unable to join the military, donate blood, or contribute to society in a meaningful way. For those who dare to embrace their sexuality, they're forced to hide in the closet. Last October, BBC News spoke with several officials and clergymen, many of whom felt death was the appropriate penalty for homosexuality. Even for those who dare to pursue relationships in secret, they fear that Afghanistan will never have a flourishing gay community. There will always be a stigma. And thus, for an LGBTQ person who heads here for any kind of work, it's important to be careful and understand the cultural stigma, because Afghanistan is one among other LGBTQ unfriendly locations in the world.
Yemen
Yemen is just as dangerous as many of the other countries on this list. A 2013 Inter Press Service article detailed the ongoing threat to local gays and cited eight men who'd been killed in just a three-month span. In terms of rights, LGBTQ people barely have any. Aside from legally donating blood, they are forbidden from marrying, adopting, or joining the military. And of course, there are no federal protections against discrimination. Homosexual men and women can be jailed and legally beaten. And for those who have spoken out, their main fear has been physical safety—not acceptance. At the moment, Yemen isn't safe for travel for most but especially LGBTQ travelers.
If your vacation planning, military service, or humanitarian work takes you to any of these countries, beware of what lies ahead. And, if at all possible, do your best to avoid the most LGBTQ unfriendly locations in the world.