Manaslu Circuit Trek - A Journey Like No Other
Beginning in the lush lowlands covered in miles of rice paddies and continuing through the breathtaking canyons and gorges of the Budhi Gandaki region to the glaciers and icefields of Larkya La, Manaslu Circuit Trek is unlike anything other.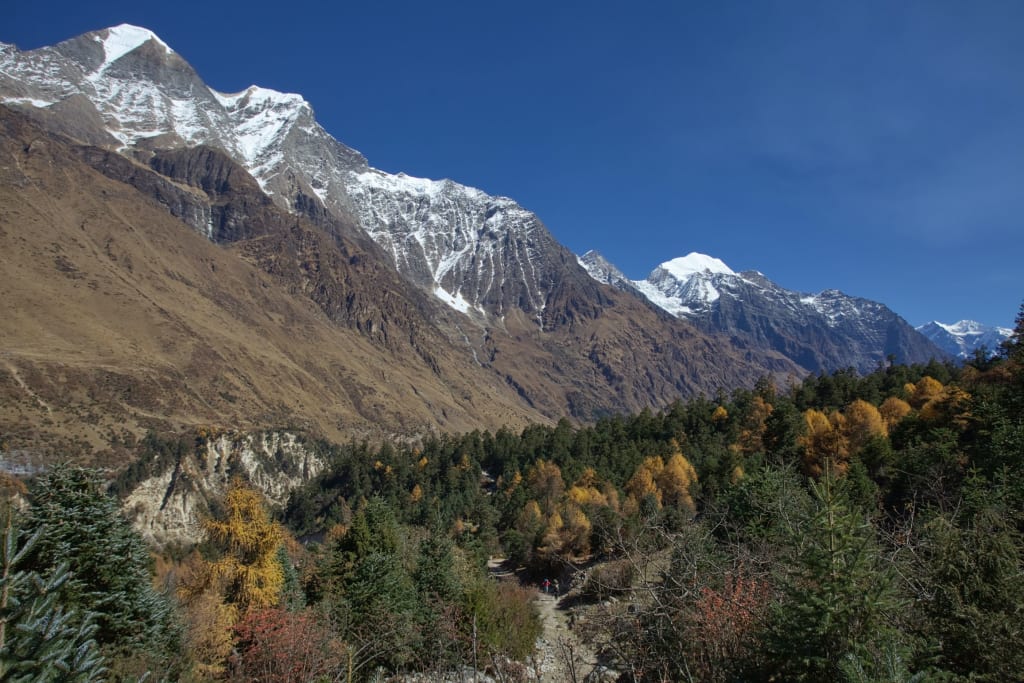 Manaslu, Samagaun, Nepal
In the western central section of Nepal, in the Manaslu Region, there is a lesser-known trekking trail known as the Manaslu Circuit Trek. The Manaslu Circuit Trekking pathway has rich, unique, and isolated topography. During this trek, you'll get to see 10 peaks that are over 6500 meters (21,300 feet) in height. Furthermore, Manaslu is extremely close and clearly visible for a large segment of the circuit. Manaslu is the world's eighth-highest mountain, set in a restricted area in the Manaslu Conservation Area. Six different climate zones can be experienced within Manaslu Conservation Area.
Experience Six Different Climates During this Single Trek
Manaslu Circuit Trek begins at a pleasant elevation of 800 meters above sea level. After that, it takes you to a peak of 5416 meters at the Thorong La pass and then descends again. With such a large elevation shift, it is one of the most diverse treks in the world. As you travel from one temperature zone to another, from the jungle to the alpine forest to high altitude desert and back again, each day is distinct from the last.
You can view some of the planet's finest glaciers and ice fields in some of their most stunning displays. You will be surrounded by glacial streams and ice sheets in the mountainous areas, which are stunning to view up close.
As you descend through the mountains, you can see numerous natural waterfalls that flow into valleys. The Manaslu region is famous for its breathtaking suspension bridges that you will cross throughout your trek.
Witness Tibetan Buddhist Culture
Manaslu Conservation Area borders Tibet in the north and east. So, it has a significantly high Tibetan influence in terms of culture and religion. As a result, Tibetan Buddhist culture is seen dominant in this region. Though it's a Nepali land, you'll feel like you're in a Tibetan land.
Challenging Larkya La High Pass
Larkya La Pass, which is located at 5,100 meters above sea level and is the highest point on this trek, offers sweeping views of the Manaslu range. Crossing this high pass is among the most challenging part of this trek as you need to walk over ice during some portions of the pass. Despite the difficult terrain, you will love this trek for the breathtaking vistas and tranquility it offers.
More Challenging than EBC Trek and Annapurna Circuit Trek
In comparison to well-known treks like the Annapurna Circuit or the Everest Base Camp trek, the Manaslu Circuit Trek is a little more challenging. This is due to its off-the-beaten path, less development, and more difficult terrain.
Further Plus Points of this Trek
This trek sees significantly fewer travelers than other treks, which is an extra benefit of its remoteness. On the other side, the trek is quite difficult and the accommodations (teahouses) available are very modest. Surprisingly, meals are tasty in those teahouses.
Interestingly, the Manaslu Circuit follows the Tibetan-Nepal salt-trading route along the Budhi Gandaki River. This ancient salt trade route connects the Tibetan Plateau to the Middle Hills of Nl before continuing to India. In 1950, Tibet was annexed by China and the Sino-Indian war broke out in 1962. This led to a change in trade patterns. Thus, the use of this traditional trade route decreased and salt-carrying caravans were rendered obsolete.
Requirement of Special Permit
You must reserve this trek through a trekking agency and travel with a registered, qualified guide because it is in a restricted area. This trek necessitates both a Restricted Area Permit (RAP) and a Manaslu Conservation Area Permit (MCAP).
Final Words
Now, all I have to say is....traverse through the world's longest and highest suspension bridges while also taking in the diverse and rich cultures of the many regions.
So, how excited are you to go on Manaslu Circuit Trek? 
Reader insights
Be the first to share your insights about this piece.
Add your insights