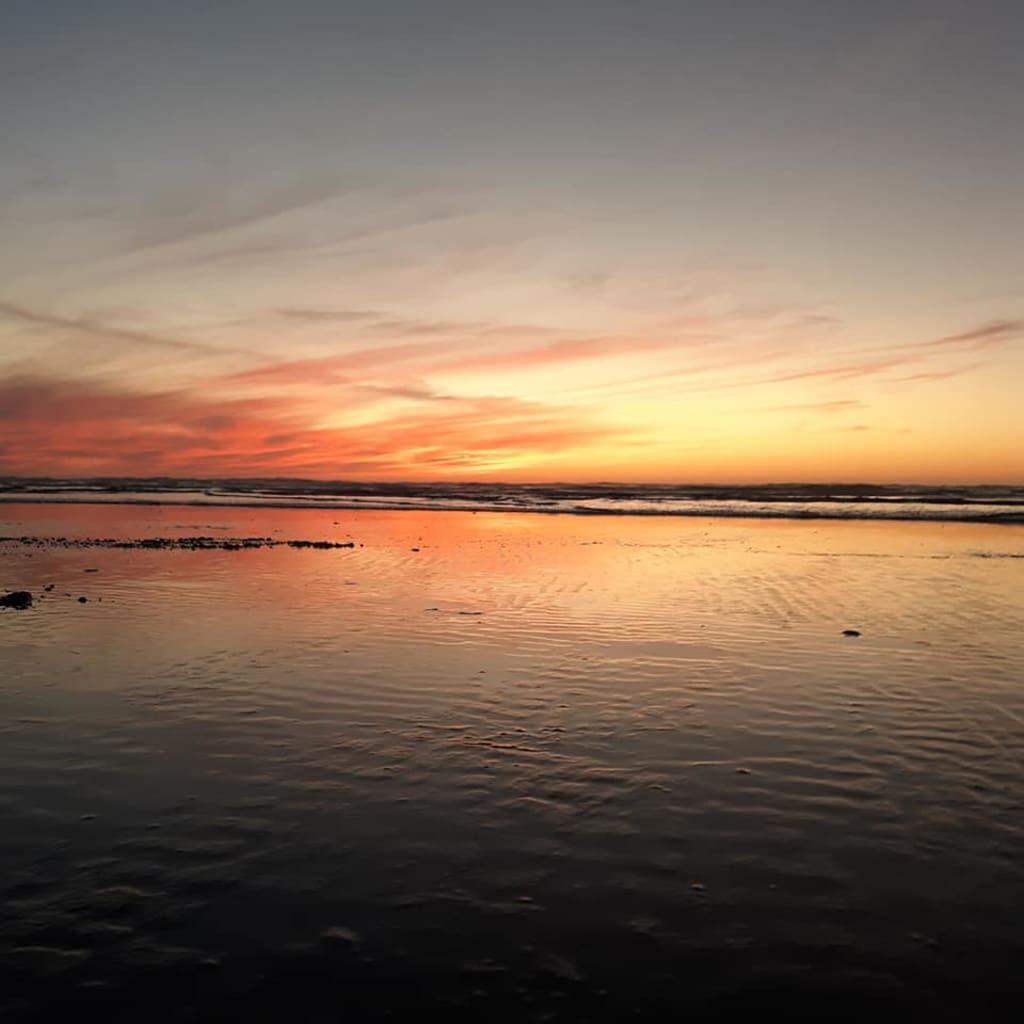 You are too far away for the waves to grab you
It coats your hair, encouraging soft waves to blow in the breeze.
It sits on your skin and you can almost feel it crystalizing.
The taste lingers in your mouth without you having to open it.
Salt.
Why is it that salt water is so magical? What truly makes the ocean better than a beautiful lake nestled cozily into a valley?
The water will always beckon to the weary land dwellers. What does it hide? Where will it take you?
Take a deep breath and expel the city out of your lungs. The sand is like a bed and the waves are singing a lullaby. It wants you to stay.
There's something deeper. It doesn't just want you to stay. It craves you. The ocean is pulling, crawling it's way to your feet. It needs you, your energy, your purpose... your soul.
To say it is a siren call is underestimating it. It's ancient, ethereal, a song with no music, no lyrics, no human voice. What is lurking beneath the waves?
You stand, transfixed, hypnotized by it's beauty. Can something so pretty, so calm, really want to hurt you?
To eat you?
Turn to the side, walk along the edge of the waves. Watch as they fight to reach your feet, just to barely splash over the tops of your toes. It's warm, so inviting. Go for a swim, enter the waves, give in to gentle pull of the tide.
Fragments of shells shift under your weight. Look down, the sea is giving you gifts. Look, how pretty! The next shell is a little closer to the water. Might as well go grab it. The sea foam of the next wave hits your ankle.
You are getting closer.
Back to your walk, a leisurely stroll parallel to the sunset. Unassuming, silly human. That sunhat will look so mysterious as it rides the next tide to shore.
The next large wave sounds like a growl, crashing with a soft hiss. Is the wind picking up? You should really turn around, it's time to head back to that city, that life. Away from the beach. It's getting darker.
Look! A perfect shell, spiral, rich clay colors mixed with the most impossible mermaid pink. Poseidon surely spit this up just for you. Reach for it, you can take home this little shell, a perfect souvenir of your relaxing walk along the beach.
A wave picks it up, ever so gently, and pulls it back towards the ocean just a bit. That's fine, it didn't go far, you can still reach it.
A laugh bubbles up from the deep far offshore. It transforms into the wave that pulls that beautiful shell farther from you. Look at you, an animal in a trap and you don't even realize it. The sun is almost gone, you came here alone, why did you do that?
Are you a sacrifice?
How pleasant.
This is it. You reach for that shell, water up to your knees. You aren't stupid, you're aware of the waves. But the wind has picked up so much, have you noticed that? Is the tide going in or out? Did you even look? You wanted a nice day at the beach but where is your respect for it's schedule?
Bend down a little further. Here's a bit of sand, covering your precious trinket.
Reach.
Ah, wonderful.
One decent wave, well-timed by the ancient ocean, the beings that lurk beneath, working together to acquire one more soul. A successful hunt is so satisfying, even to the best hunters.
There it is, that sunhat, littering the waves with slightest hint of a crime. There will be no body, however.
It was already eaten.
Reader insights
Be the first to share your insights about this piece.
Add your insights