London Calling
Weekend trip, Day 2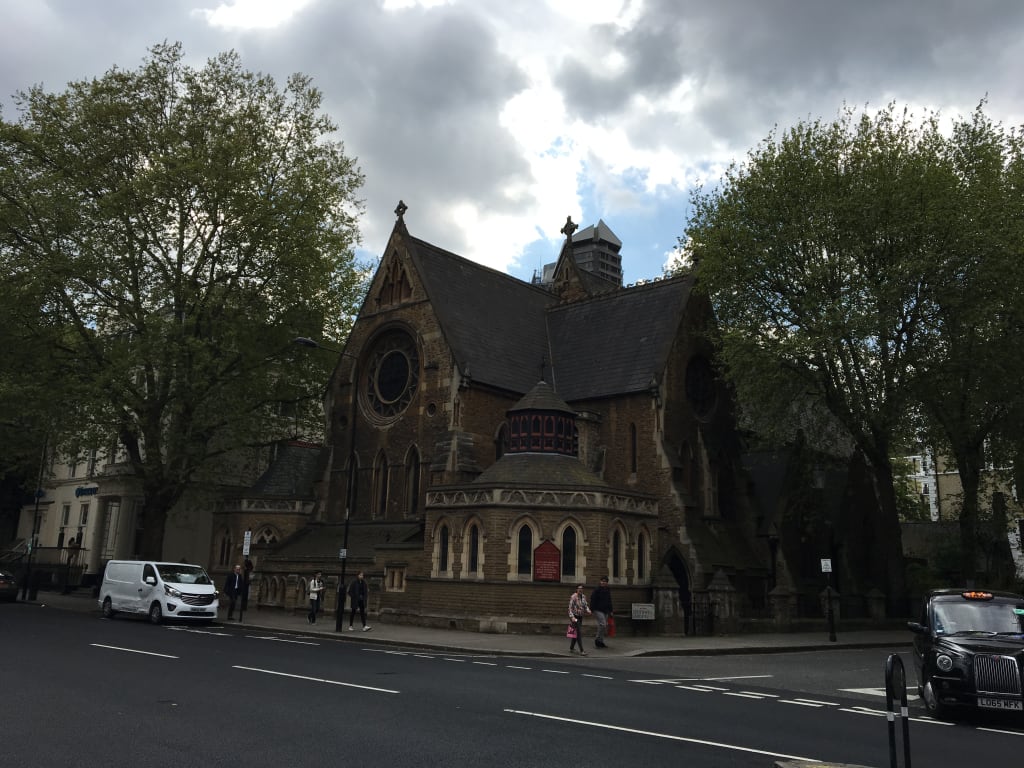 I've got to say I loved waking up in London. That city was giving me a great vibe and that was probably the most active and productive time of my life. I had so much fun exploring the city and doing some weekend trips to other parts of England when I was off. It was also the most independent period in my life so far.
But let's cut short my reflection mood and get to your second day in London right away! Warning! You're about to walk into a BOUJI area! (great food, awesome places, HIGH prices…).
You'll start at South Kenington station and walk just few minutes to two very big buildings. Natural History museum and Science museum are great places to start your day! In the morning it shouldn't be that busy. Both of them offer a free entry and you can hontesly spend hours walking around and learning stuff. Honetsly? I'm not a museum person so I'd spend there like 20 minutes each, but I get if you'd rather do 2 hours each. However long it's gonna take you, you might want to get a snack afterwards. Come back to South Kensington station and sit outside at one of their cafes or restaurants. I definitely reccomend a Kensington Creperie that has got some amazing waffles covered with chocolate spread (I'm pretty sure it's Nutella) and strawberries. It gets you full for hours! If you want something smaller and maybe healthier there's always a chain of french bakeries called Le Pain Quotidien. They've got a lot of vegan options and while getting a meal over there is super expensive, you can just get some coffee and a small snack like a crossaint or a cookie and move on with your day!
If you're still hungry for some museum time I'd definitely reccommend you to walk across the street to the Victoria and Albert Museum. The building itself is absolutely beautiful but also it's another free entry museum you could visit and it's right there!
If you walk passed V and A museum after about 10 minutes walk you'll get to Harrods. It's an enormous department store and you'll definitely see some out of the world prices over there. But what I liked the most about this place is actually their food court. on the first floor they've got few sections of some amazing food choices. One section is basically chocolate, tea, coffee and more chocolate. If you've got sweet tooth this place will be the closest to paradise you'll ever get. Is the food cheap? Nope! Definitely not. But is it worth it? Kinda! It depends how much you're willing to spend. If you're okay with spending £ 10-25 for a box of chocolates you'll be thrilled to get something there! You can always get a souvenir mug that costs around £ 10-15. Also they sell seperate chocolates and that could be your sweet snack in a reasonable price. On the other side of the food court you've got meats and cakes and all the other delicious treats. It's worth seeing, that's for sure!
For your next step I'll give you two options. One… you could go staright to Hyde Park and walk around. Two: you could always wander around Knightsbridge for a while and discover how unique it is. Knightsbridge is definitely one of my favorite areas in London. If you walk across the street from Harrods and walk in between buildings you'll find yourself in a comletely different space than just a moment before. It's quiet, pretty and it kind of feels like you travelled in time to see old-fashioned pastel-painted houses. Take as much time as you want and get some great pictures. Then you'll be heading to the Hyde Park, the biggest park in the city. In summer it's best to have there a lunch by the water or maybe some ice cream. There are multiple lakes, lawns, some monuments etc. where you can seat down and enjoy your day! From November on there's Winter Wonderland happening and believe me, you can't miss it! It's so much fun! Also in the bottom right corner of the park (when you look at the map) there's Hard Rock Cafe just few minutes walk away!
I suspect that this itinerary will take up your whole day but if at any points you'd like to switch it up a little bit or you've got an extra day for sightseeing here are my favorite places in London that might be a bit out of the way but they're more than worth it!
Camden Town- a place filled with so many food trucks that you'd have no idea where to start! Asian food as 'all you can eat' buffet, Korean barbecue, pizza, fish and chips, greek souvlaki, Mac & Cheese, South American cousine, donuts, crazy pastries and so much more. Also you've got a great choice of pubs over there. My personal favorite is Lockside Camden since it's right above one of the main food squares and it's a great view, my beloved cider and just a moment of a break from sometimes overwhelming Camden Town. It's an amazing area full of weird people, crazy musicians, punk and rock and metal and emo stuff, vintage clothes, dorky t-shirts and basicaly a tourist paradise. It's definitely a love it or hate it kind of place! http://www.locksidecamden.com/
British museum- for museums' fans. If you are interested in seeing how much of national heritage the UK stole from Greeks that's definitely a perfect spot for that!
Kensington Palace- still in the Hyde Park but on a different side that I told you to go to. Nice place to visit, kind of like a museum. There are really nice gardens outside!
Kew Gardens- I'm gonna be honest, I've never been there but I really want to! Heard great things about this place!
Nothing Hill- yep, that's from that movie! It's kind of Camden Town meets Knightsbridge. Very pretty and popular place but also you can find loads of vintage clothing and antiques there. They've got a flea market running most of the days! https://www.visitlondon.com/things-to-do/place/470049-notting-hill-and-portobello-road-market
Hampton Court- very far away from the center and worth every minute that you spent on the bus or the tube. It's huge and it could take up half of your day but for a person who doesn't really like these kind of stuff I had so much fun! https://www.hrp.org.uk/hampton-court-palace/
Harry Potter Studios- that's the actual place were the movie was filmed! It's not cheap, you could barely say it's in London (it's in Watford) but c'mon! You're in England! Youshould definitely put this on your bucket list… 🙂
Honestly? If you gave me a book to fill with my London suggestions, I'd fill it up in a day. Let me just give you two more must do's and I'll let you go!
1. Dip and Flip- burgers and fries dipped in gravy?! Yes, please! My favorite burger spot (although I'd usually go with their grilled cheese) in a whole world! Few different locations in London. https://www.dipandflip.co.uk/
2. B Bagel Bakery- your life will never be the same after trying their breakfast bagels. Not expensive at all and simply so amazingly good! https://www.bbagel.co.uk/
3. Rossopomodoro- my favorite pizzeria in the UK. Amazing pizza, Neapolitan staff, few locations in London. Not cheap, still worth it! Will please the most picky ones, I assure you! https://www.rossopomodoro.co.uk/
The more I write the more I remember and the more I miss that place. As you probably have realized by now London is definitely my favorite city in the world. It will always be my home and I hope that very soon I'll be able to visit it again. For now I'll just let you enjoy it and hopefully fall in love with it as much as I did. Have a great trip!