Lodz: the urban art hub
A guide to a city you probably haven't heard of.
Light Move Festival at Piotrkowska Street
If I had to describe my city in three words, they would be: grim, ghost and film.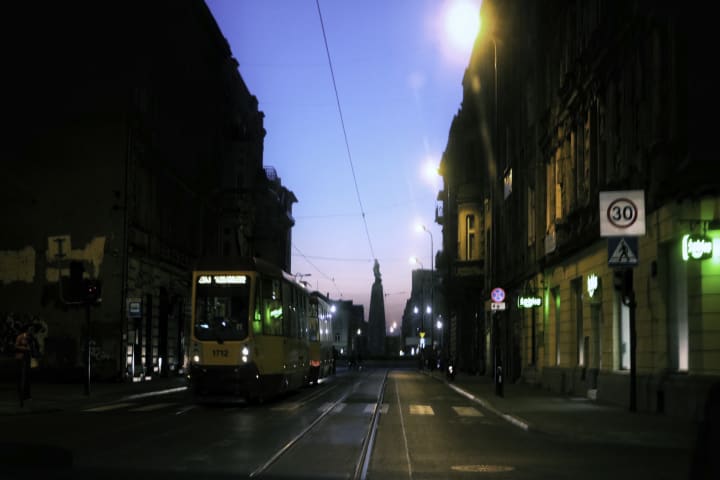 Because you very likely have never even heard of this city, I will give an honorary mention to the tourist attractions.
They're hardly attractions in of itself anyway; the real "meat" of this dish (can be soy meat, don't worry) is the heavy but one of a kind energy you cannot escape once you cross into the city.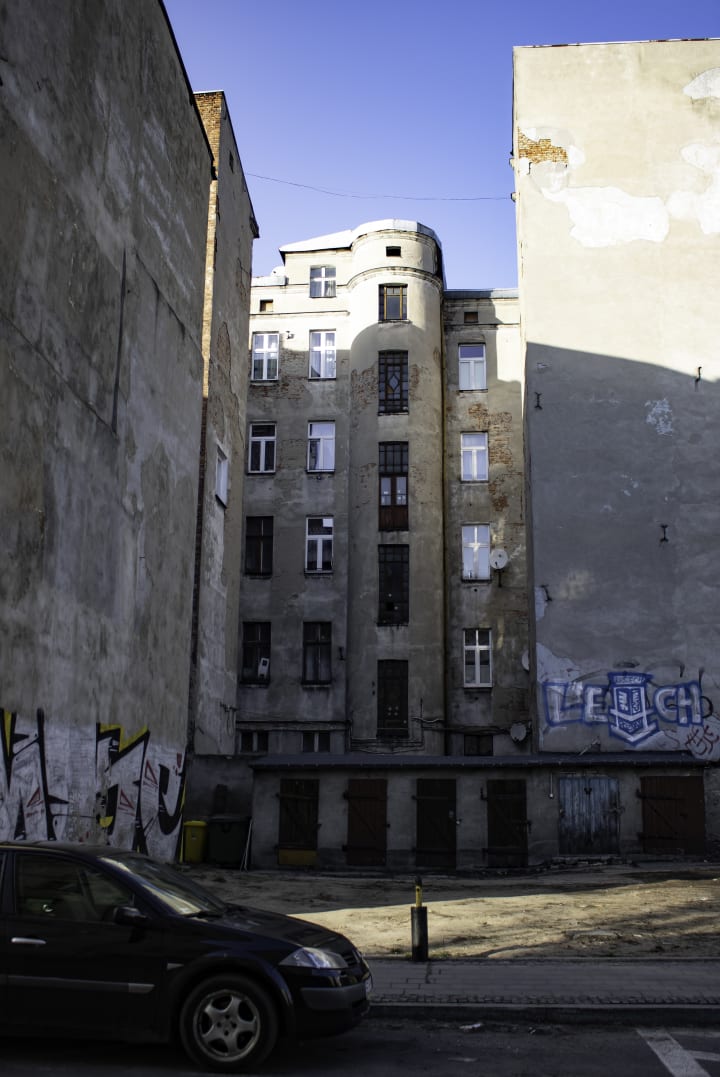 It might be also my sneaky way to snuck in some history – which is vital for the unique, moody atmosphere that quite probably made David Lynch fall in love with this place.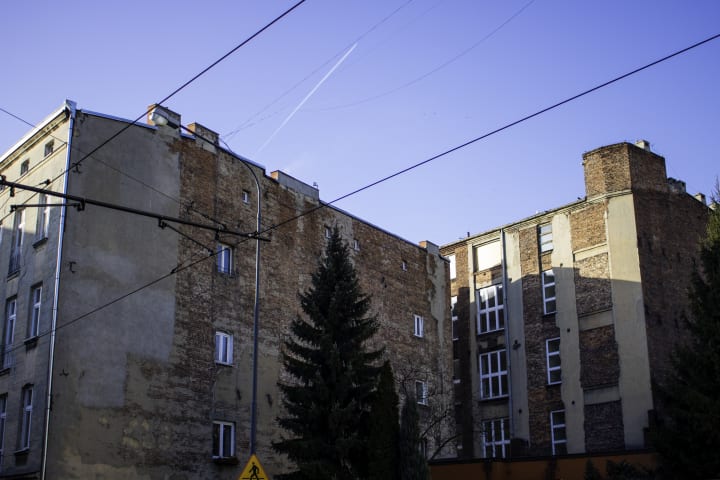 Łódź, better known as Lodz among foreigners, is nearly perfectly in the middle of the country. It's the fourth biggest city in Poland, but unlike the other cities, it doesn't have a romantic or downright tragic history. Not like Cracow with its legend about the Dragon of Wawel. Not like Warsaw, the capitol that turned to dust less than a 100 years ago, and had been rebuild stronger and better to reclaim its title of the capitol.
Lodz was a city of broken dreams and sweat and tears.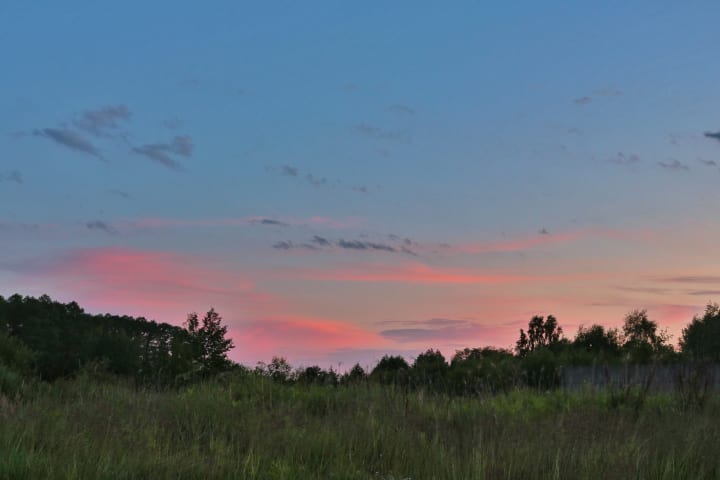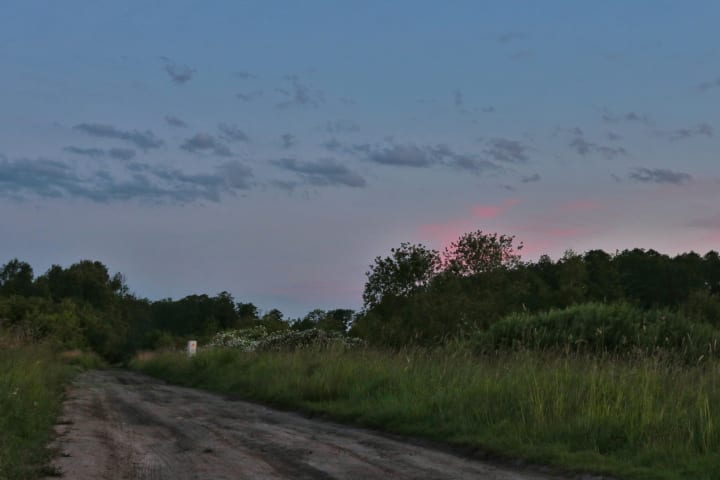 One day it was empty grass fields, not a single soul to even cross it and bask in the sun. The next day, there were construction sites.
Empty fields filled with factories and dorms for the employees, but the work stations and beds didn't fill with people. Couldn't with the nonexistent people not living in the ghost town that it was.
In a bold attempt to draw in communities, the council made a law that every person who could prove their weaving skills in front of the mayor got a job and a piece of land.
Thus Lodz became the city of weavers.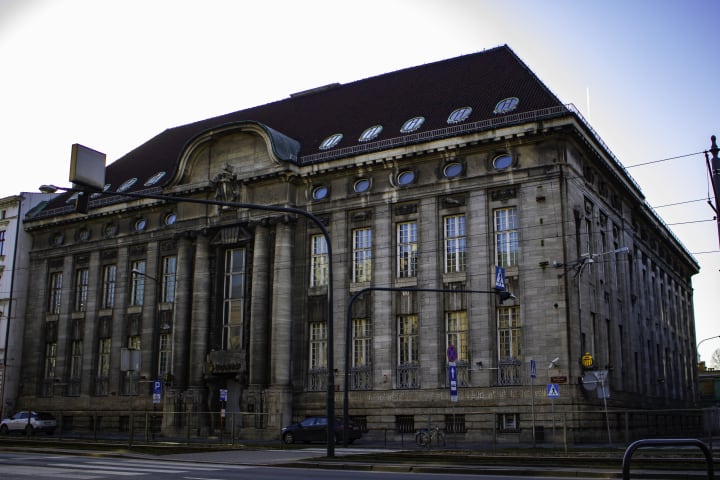 Are you snoozing yet? I know, not everyone's a history buff. Let me just explain why I choose to include that:
Weaving is both a creative talent and a hard skill. It's a craft, as artful as it is pragmatic, available for both the meticulous working class trying to make ends meet, and the creative spirits finding a means of self-expression through fashion.
It's a duality you'll encounter everywhere in Lodz.
With time, this art form has retreated into the shadows.
The youth brought a transformation, albeit a subtle one. There was no rebuilding or pulling apart the old to make space for the new. All of the touristy places you'll find through a quick Google search are the courtesy of people who wanted to make use of the space they had without compromising the spirit of the city.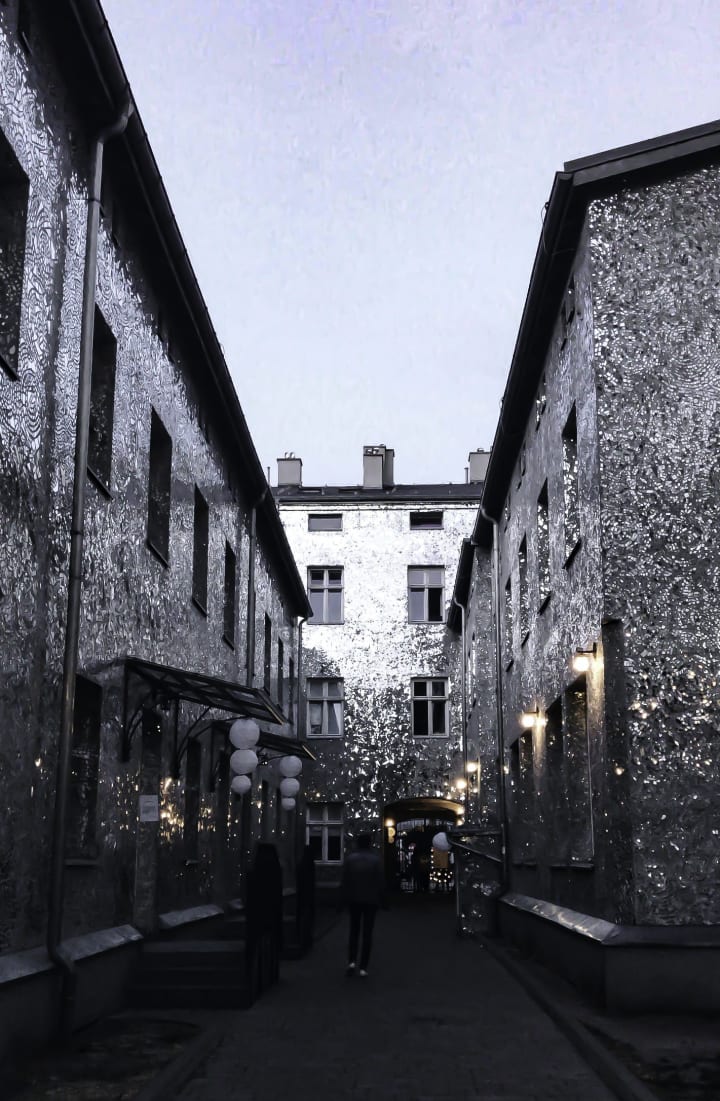 You'll find a multitude of hipster and/or vegan cafés and restaurants in post-industrial halls and buildings. The most known shopping mall in Lodz, the Manufaktura complex, thrives on its legacy – where it stands, used to be a complex of textile factories.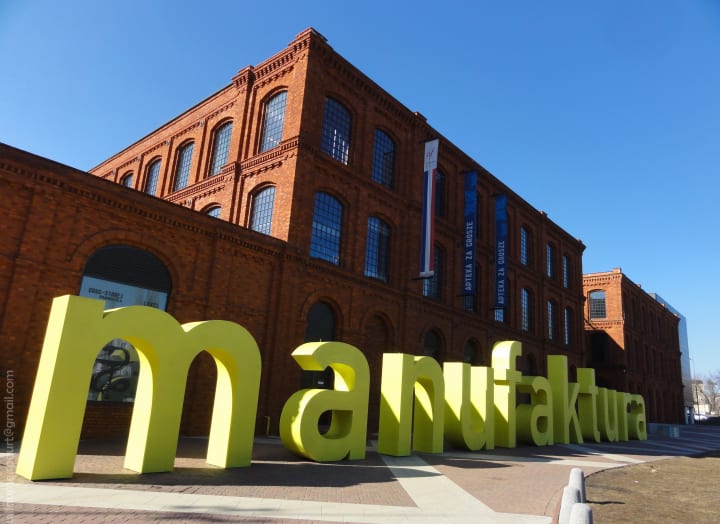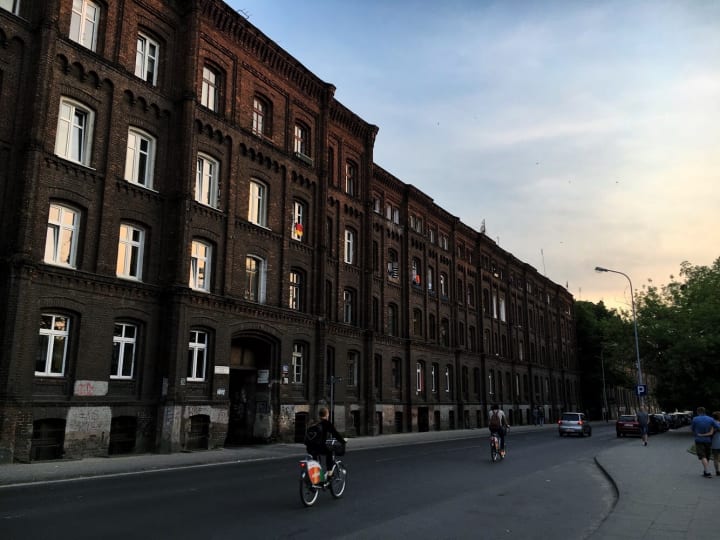 There's a hipster heaven that is OFF Piotrkowska, and the iconic Piotrkowska Street itself – the longest street in Poland, peppered with vintage tenement houses, quirky statues and art exhibitions.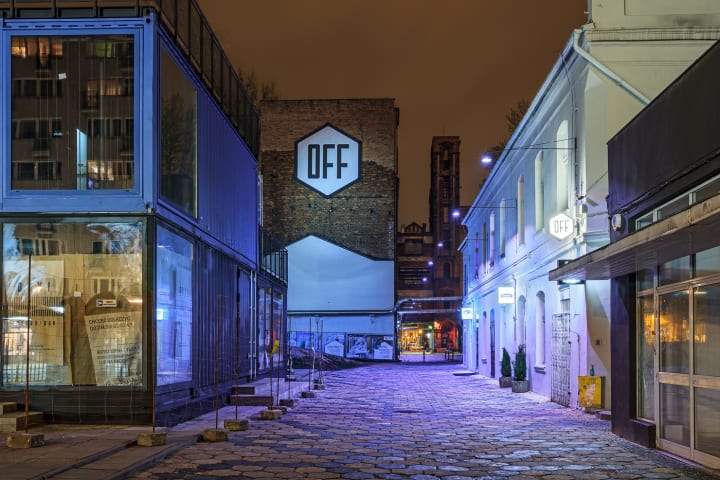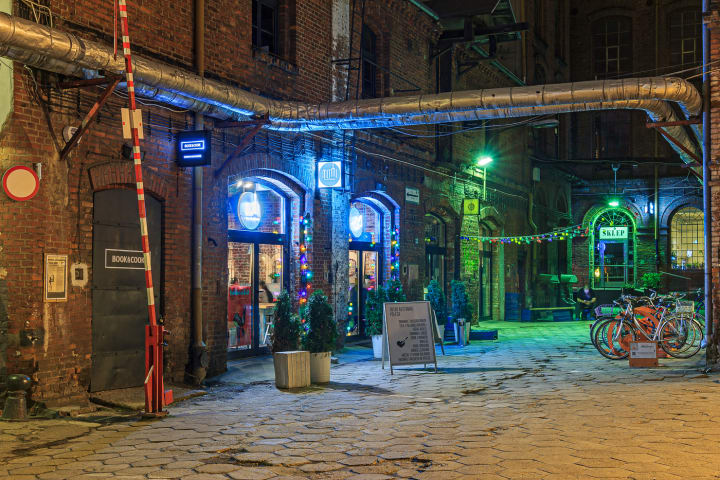 You'll find palaces of past textile magnates, and untouched pieces of history turned museums.
And in alignment with the health and fitness trends, the city encourages the use of bicycles and public transport, in true Millennial fashion. Not to mention the 40 urban parks squeezed into less than 300 thousand square kilometers (approximately 115 thousand square miles).
The way the city wants to present itself these days is artsy and hipster. And, well, that's kind of what this place is.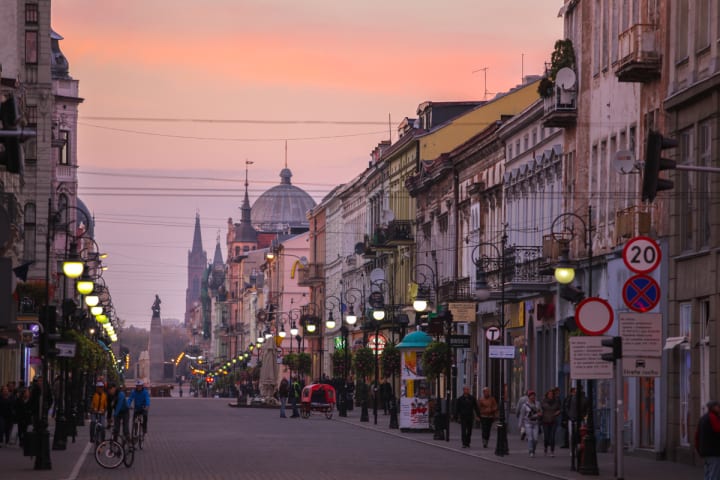 But it's not polished; it's not the celebrity hubs or modern skyscrapers. This is where real life happens, as it always has.
It's where the struggling artists live, not yet ready to move to Warsaw and pay the exorbitant rents and unreasonable prices for plain coffee. It's where the new generations of filmmakers observe the ghosts of the past scattered around the city, and the simple people who have never known anything but this, and file away random spurs of inspiration for later. It's where photographers come to admire the ugly, and poets write about the beauty in the ordinary.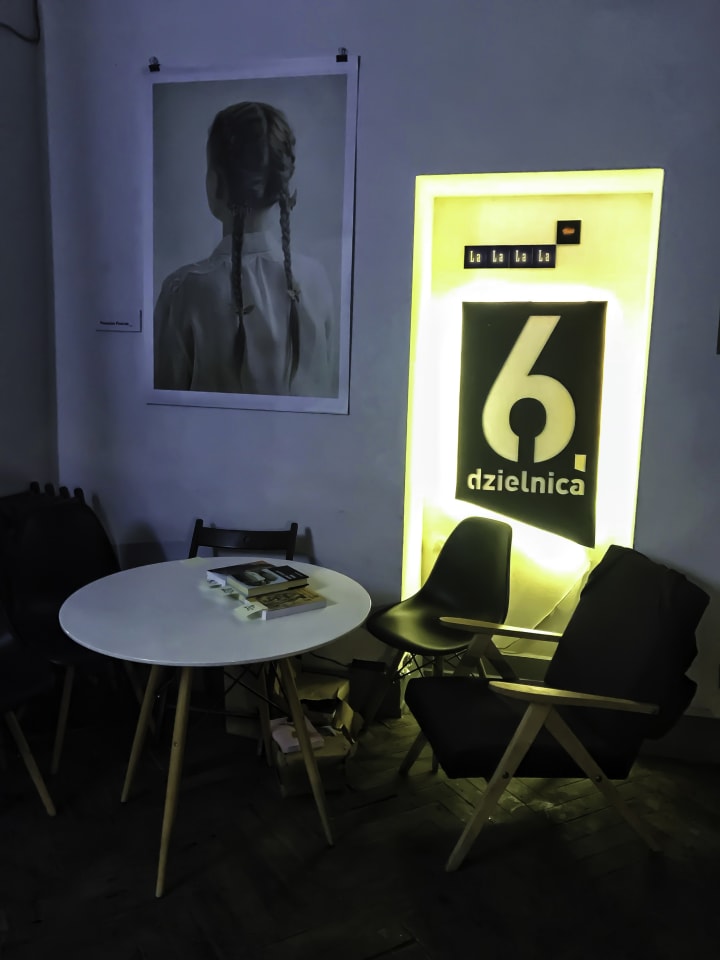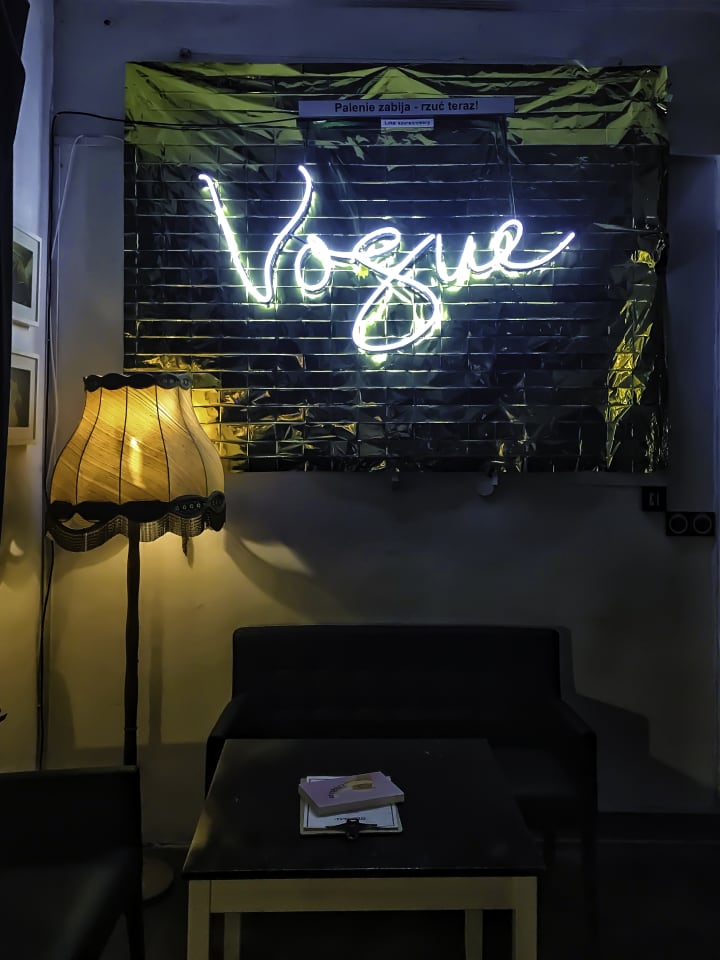 It's also where you bump sometimes into the acting major dressed up as koalas, screaming slogans and burning a paper globe in the middle of the street. As long as there's a Lodz Film School van and a film crew with cameras, it's nothing to worry about.
Nearly smack in the middle of the city is a time capsule – the Green Market.
It sounds like a trendy all-organic ecological market you would buy an avocado at… except it's really not.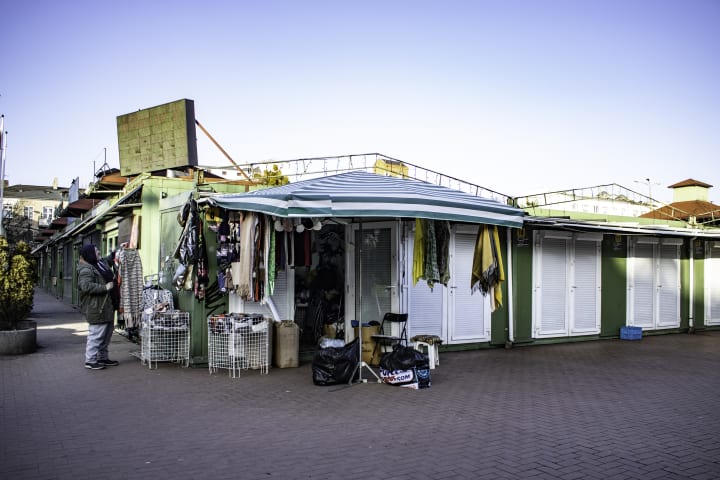 It's a half-indoors, half-outdoors market at the Barlicki Square. For all intents and purposes, it has everything a supermarket has. It's just cheaper. And offers knock-off brands, consequently. And honestly, this lady at that corner was there 45 years ago, selling those exact same pens, eating the same bagel at the same hour every day, talking with the same other lady from the stand next to her, complaining about the loose hinges they have been complaining about the past 40 years.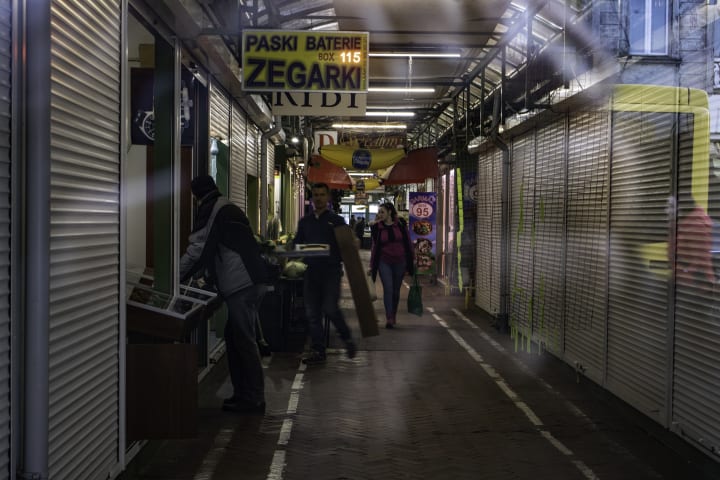 See, the market isn't really about the $10 Nike knock-offs or homemade bread that most certainly doesn't pass the EU regulations. It's about the spirit. And the gossip. It's a perfectly preserved excerpt from 1975, and if you listen well enough, you'll hear the gossip from that time, too.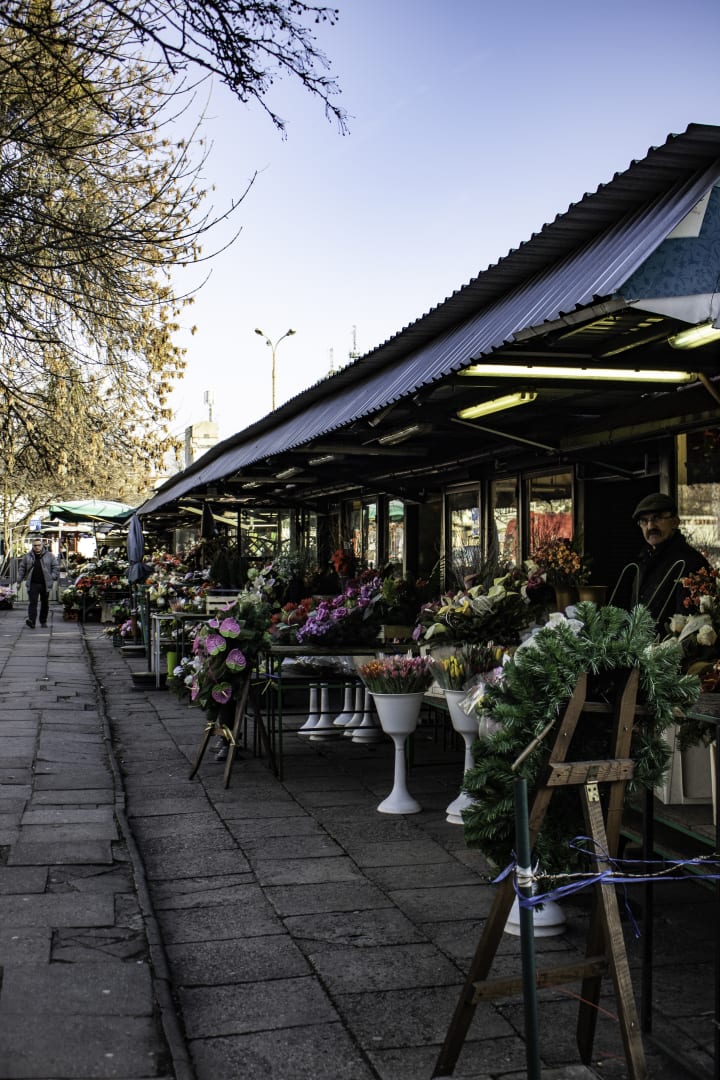 At some points, you might feel like time has avoided touching upon this city. It's not an unusual thing for Poland, a very sentimental and melancholic country by nature, but combined with grimy streets lined with forty-year-old signboards on displays and elderly hangout spots like the Green Market, the effect doubles down. In some parts of the city, if you take a photo and add a vintage grainy filter, no one would be able to tell whether it's a recent photo or your great grandma in her youthful glory days, picking out apples for an apple pie.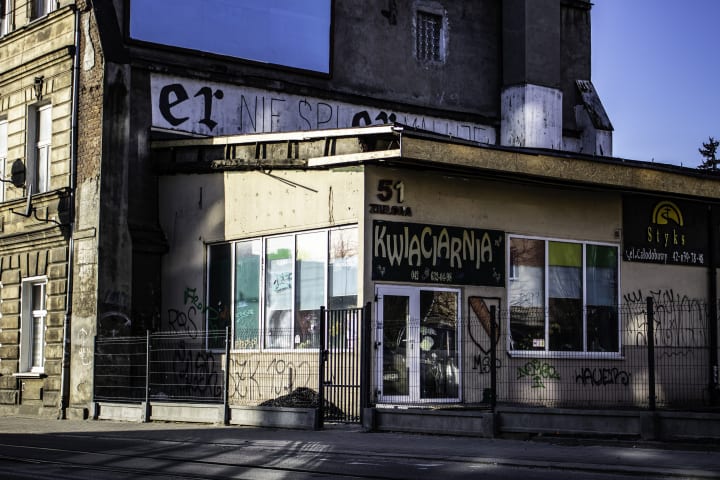 That might be obvious at this point, but I need to make this clear: artists here are welcome.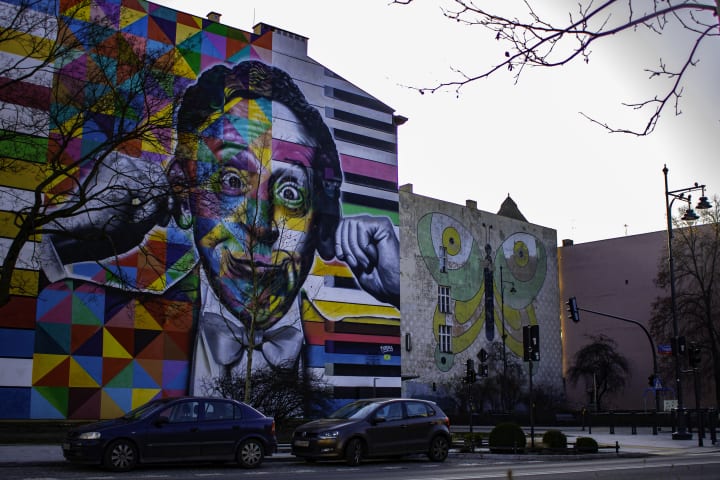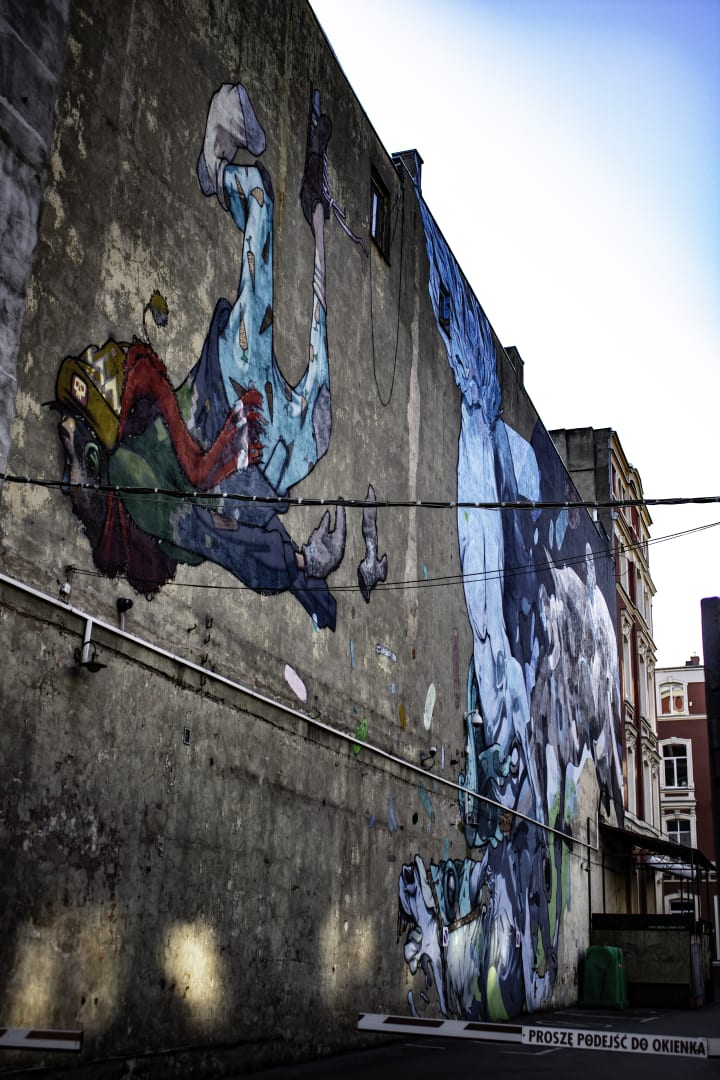 If you take a walk through the city, wherever you go, the chances are you'll find one of the murals. The street art is the apple of the eye for Lodz. The administration not only doesn't fight the enormous artworks popping up on buildings like mushrooms after the rain – the city council is in full support of them.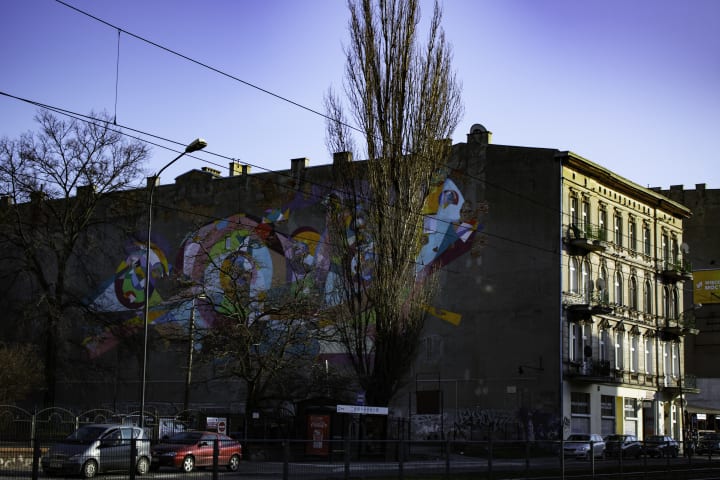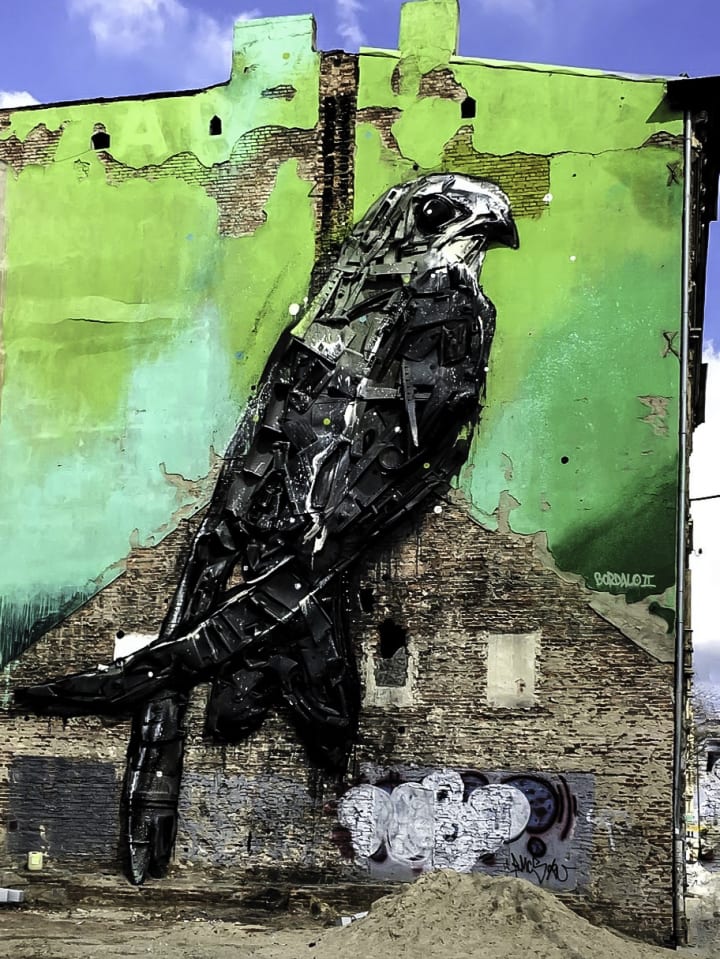 It would be a pretty rubbish guide if I didn't mention any specific places to visit, so I'll serve it right now. Those are the places I always come back to, and those are the places I'll always think of when reaching in my memories for home.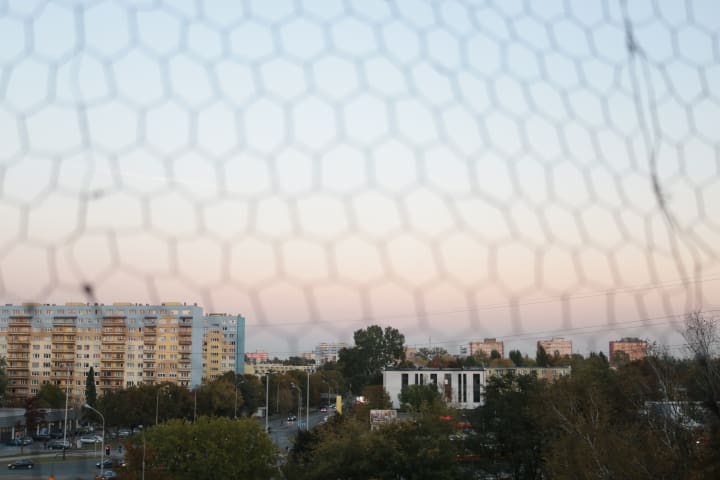 Museum of Cinematography
A place where I spent countless hours watching black-and-white movies, then listening to a lengthy analysis of it and a discussion panel, to come home at nearly midnight on a school night. But that's just me.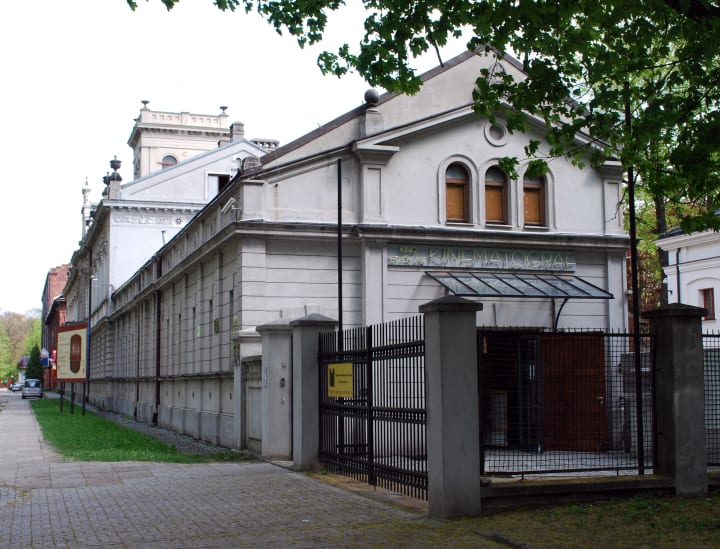 The place has a lot to offer. It resides in what used to be a palace of Karl Scheibler, a textile manufacturer, with a gorgeous park around it. The entrance is guarded by cats; Philemon and Boniface, two iconic cats from an old Polish cartoon produced by an equally iconic studio from Lodz, Se-ma-for. Quirky statues like these are scattered across the city and you might find one when you least expect it.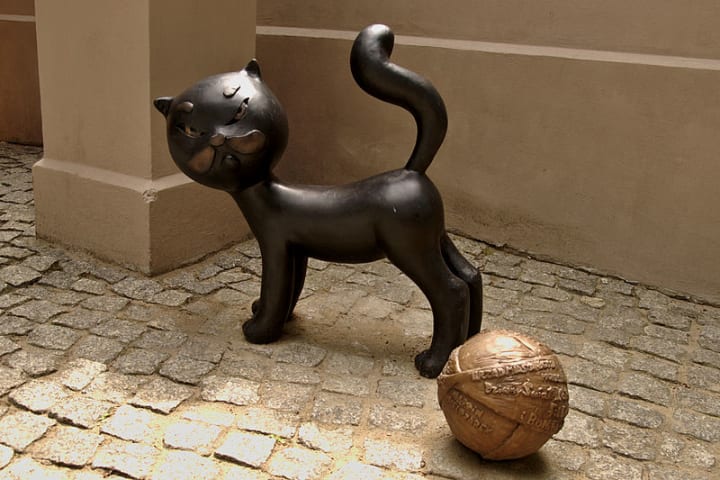 The interior is barely touched in some rooms, showcasing original 19th century rich architecture. The building appears for a moment in David Lynch's Inland Empire.
Exhibitions, though centered around film, have a lot of fun elements like original sets from stop-motion movies and some quite ridiculous movie props like a 4-meter-tall fork (around 13 feet).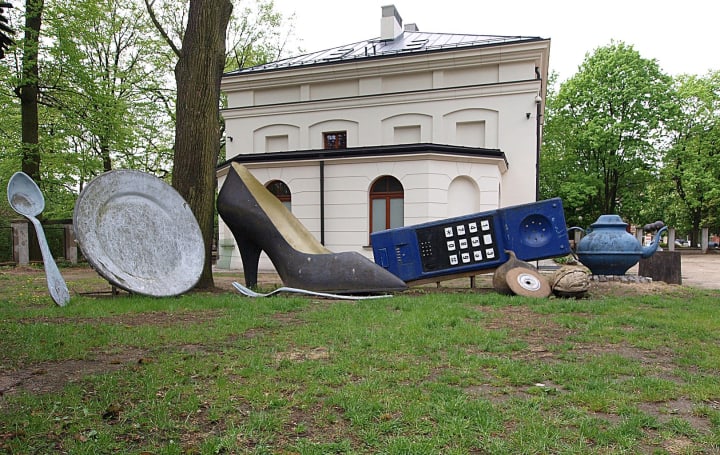 At the time of writing this, the place is under renovations but should be open soon enough again, and with more accessibility.
It's worth mentioning that the Lodz Film School (or 'Leon Schiller National Higher School of Film, Television & Theatre' as it's technically called) is right next door – or same street, same difference – further intensifying the omnipresence of film in the area.
Forno Nero Pizza Napoletana
Now, not everyone is a film enthusiast – but everyone is a foodie.
One of my favorite places to dine at is Forno Nero. As you might've deduced from the name of this fine place, it serves Italian food. Mainly pizza.
But my God, is it hell of a pizza.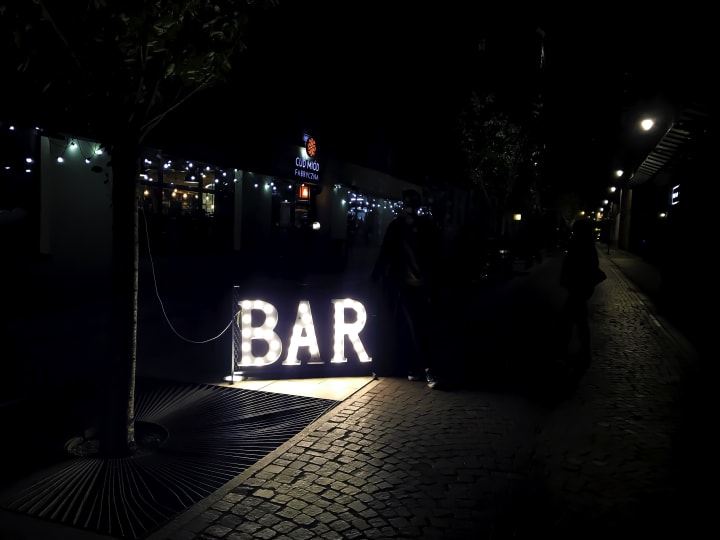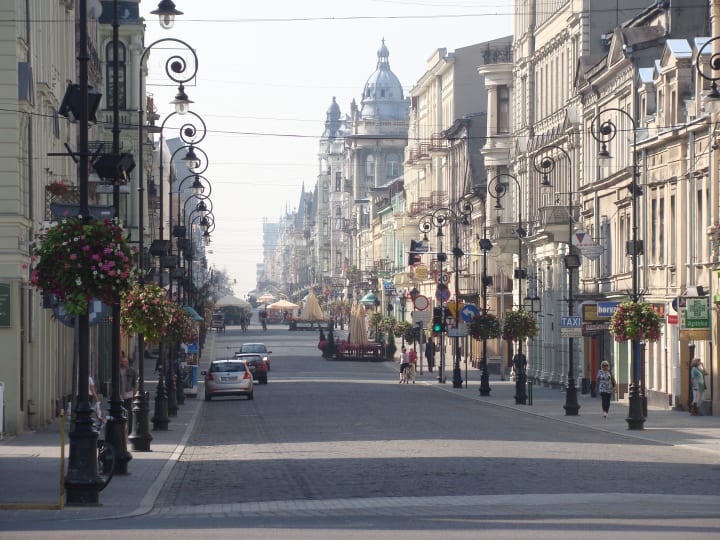 On top of making real quality pizza, they offer vegan versions with an abundance of vegan cheeses and meats to choose from. And if the usual pizza isn't enough for you, feel free to try their dessert pizza – pizza Fragola, with sweet mascarpone instead of cheese, and with fresh strawberries on top.
Yes, a sweet pizza, you read that right.
Experiments like that happen often at this place and they're always taste-buds-blowingly good. So, don't be afraid to try some!
MS2 Art Museum
Now, we've fed our stomachs, let's feed our souls.
As a huge museums fan, I cannot omit our art nook that resides in a 19th-century weaving mill. The museum offers three different exhibitions, usually rooted in contemporary art and Avant-Grande.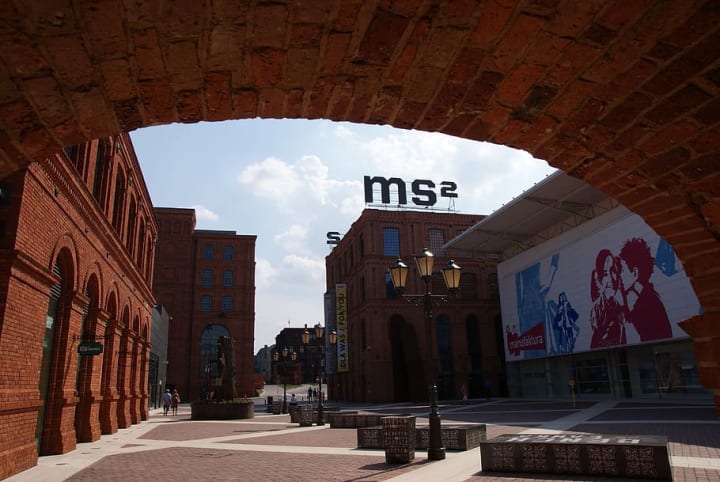 I can't describe it more perfectly, so here's an excerpt from the official site of the museum:
"The Museum promotes art as a valid component of social life which makes our human existence more complete and valuable."
I have seen that statement embodied in every exhibition I've been to, and I always look forward to coming back there. Also, the Awangarda Café for Instagram-worthy coffee pics.
Oh, did I mention free entry every Friday?
Piotrkowska 217
I'm honestly not sure how to describe this little square.
On any given day, a multitude of really good pubs and restaurants invites you from the street to come in and inside, often using brutal moves like heavenly smells and pretty lights – but that's not all it is.
Personally I come there most often for Lodz Vege Festival and Street Food Festival, which happen a couple times a year, but if that doesn't sound good enough, there are always other festivals happening there: Breakfasts of the World Festival, Artisan Ice Cream Festival, Street Beer Festival, and many holiday-themed festivals.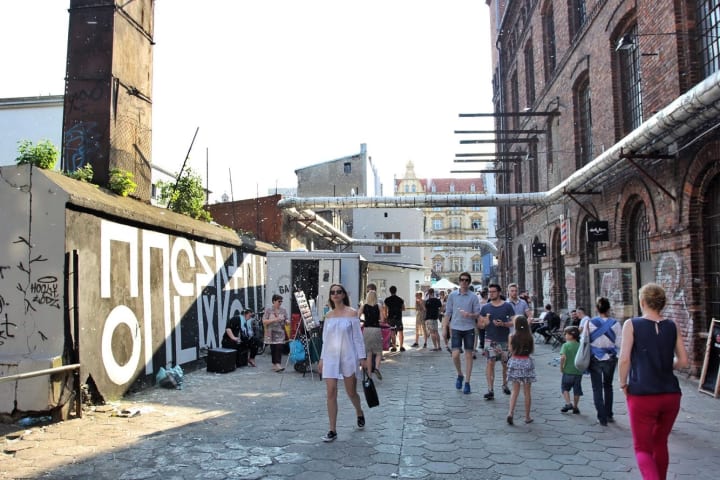 Right now there's a Pierogis Festival coming up. You can't get more Polish than that.
Don't be surprised to find events happening there unrelated to food, too! The whole space is supervised by young creative people who are on top of new trend waves. For example, as a way of encouraging people to not throw out perfectly fine things, they organize a huge outdoors "garage sale" (with no garage in sight) where anyone can "bring their junk", as per instructions on the site, and sell or swap with others.
Lody na Zlotnie (Ice Cream at Zlotno)
Now, I might be biased, but those are by far the best ice cream in the world. And yes, I've had gelato, I've had ice cream in some certified number 1 parlors (at least at the time), and every time I thought "still not as good as the ice cream back home".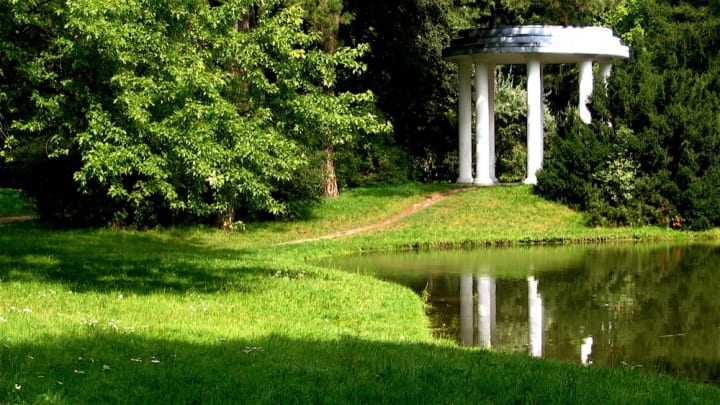 I am not joking or exaggerating. When I move abroad, I'll be coming back just for a healthy dose of this ice cream.
The place itself is so inconspicuous and truly nothing special. It's a cabin the size of an ice cream truck, even with a window to put your order in quite alike. There are three tables off to the side. Rarely ever someone sits there, except maybe kids from a nearby primary school, and the occasional group of older ladies catching up.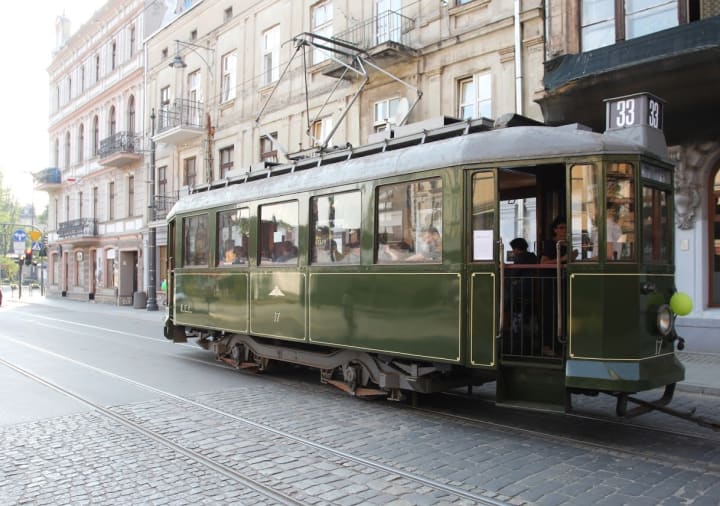 But the queue in the summer is long enough to wait for hours, just for an ice cream cone. And that's the real statement of how glorious this ice cream is – there's no fancy desserts, no special flavors, no unique ways of serving.
It's just two types of ice cream (twisted and scoops) and around ten flavors total. Maybe some icings and sprinkles, too. And people are willing to stand for hours on end for a scoop of chocolate ice cream, from the day the parlor opens, usually around May when it gets warm enough, until the day it wraps up for the season sometime in September.
I think that's statement enough.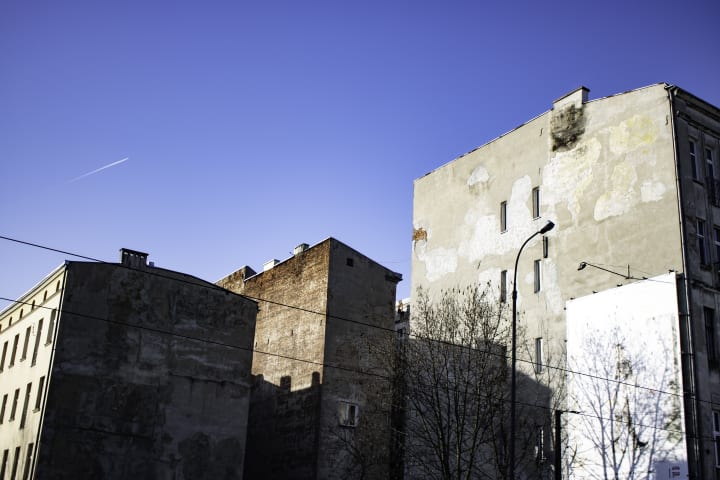 Trattoria Italiana
I might have a thing for food, and Italian food in particular. Sue me.
It's a worthy recommendation, though. And unlike Forno Nero, the Italian specialty here is pasta.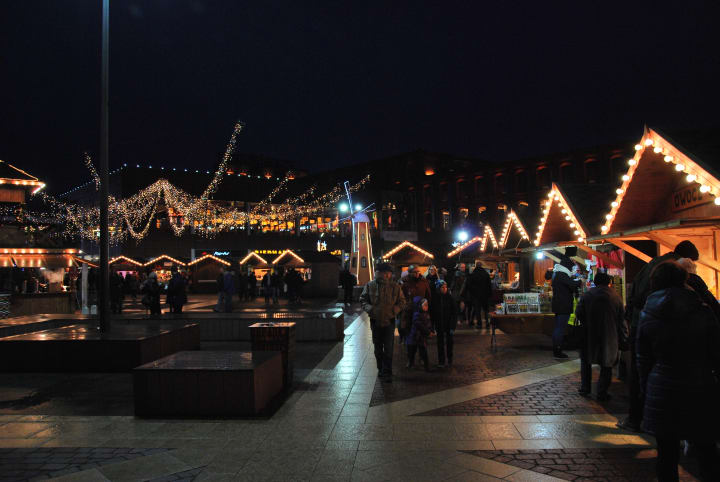 At this place is an equal give and take: you have to wait a longer while, but you get bigger and better portions than the money should've gotten you. You'll also need to call ahead, because the owner is a no-nonsense Italian man, and the place is special enough you cannot just come in from the street and expect an available table. Even though it doesn't look like much from the outside and the prices don't scream "high-end restaurant" – I promise you, it's better than any high-end Italian restaurant you've ever been to.
If you don't believe me, though, the reviews on their Facebook page are filled with astounded native Italians happy to have had a taste of their home in such an unexpected place.
While the Italian cuisine is the main forte (cue the name), for anyone curious of Polish food, you'll get your money's worth for it, too.
Infinity Club
I don't know about you, but my way of wrapping up the day when on vacation is usually hitting the clubs. So, that's what we're looking into here!
The club "Infinity" is where the kids have fun these days. Well, kids over 18 that is (because, may I remind, that's the drinking age here).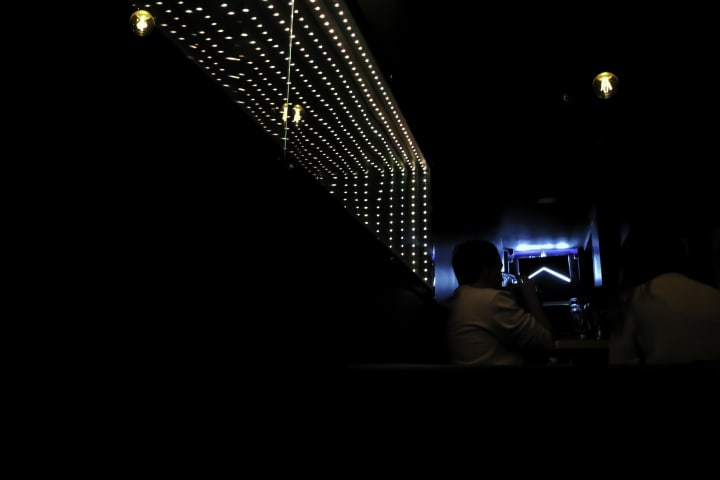 The thing that sets this place apart, is that it's pretty cozy for a club. People can dance there, for sure, but they come more so to soak in the atmosphere, smoke, drink a couple beers and goof off with friends. Low light and music give that secluded-from-the-world club vibe, but a lot of the space filled with seats, and incredibly friendly enthusiastic staff create a warmer feeling.
Fear not, if you do want to just take a couple shots and dance it out; all sorts of pubs and clubs line up along the Piotrkowska Street, as it's the place to go to at night.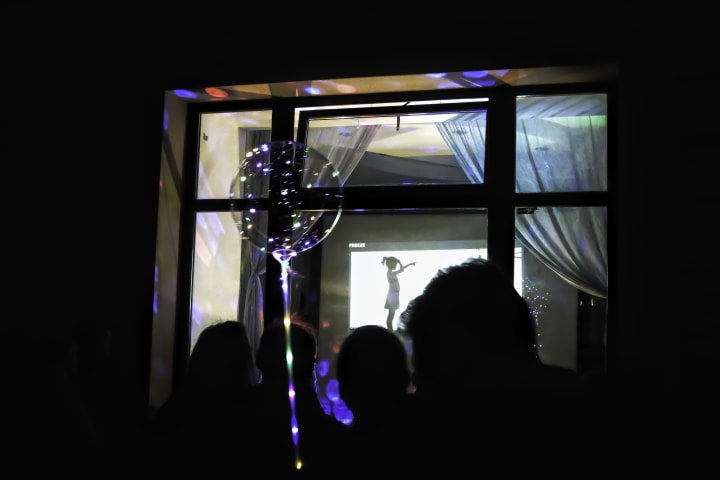 It's an inconspicuous city with a lot of secrets. It's full of art, museums, music and hangout spots. But most of all it's soulful. Imperfect in its rawness. It has a character that can be ugly at times, but beautiful too, and however way you feel about it, it'll make you feel.
Places are places, but feelings? Feelings are fleeting. Isn't it precious to grasp them?