Life Lessons Learned from Boating
Brox Baxley shares some life lessons you can learn from boating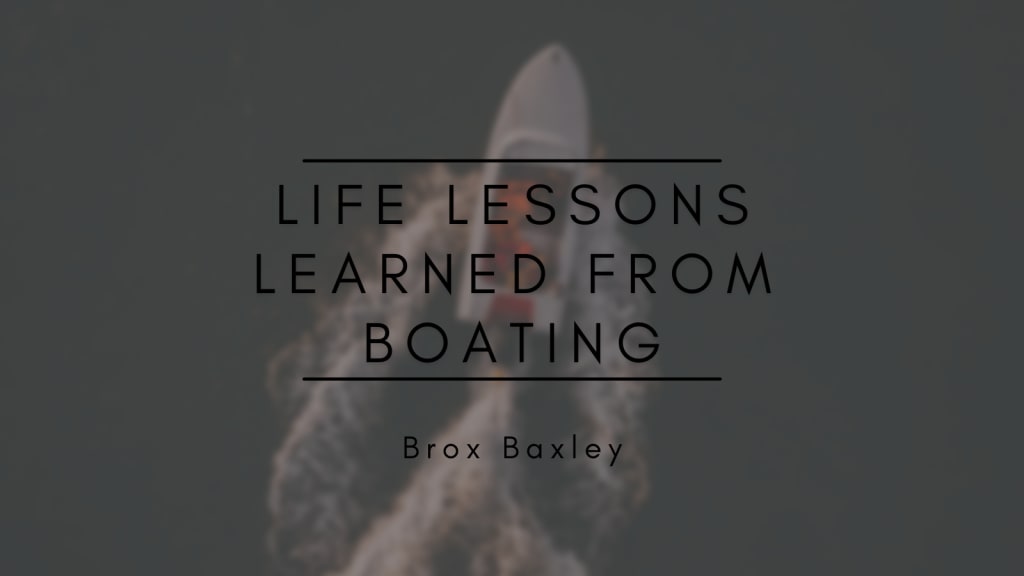 There are many lessons that sailing can teach you, and it's not just about practical skills. It's also about developing life skills that will benefit you in the long run. Below are just a few life lessons you might gain from boating.
There Will Be Unplanned Detours
One of the most important lessons that sailing can teach you is that you can't always get to the next mark in a direct line. If your goal is upwind, you must make a U-turn before you can point back to it. This is referred to as a tack.
There are many parallels between boating and personal goals. It's a rare occasion when one's objectives are easy to reach and come in a straight line.
One of the most important lessons that sailing can teach you is that you can't always get to the next mark in a direct line. Instead, take the less traveled path. This strategy can help you win the race. Taking the less traveled path in life and career can help you accomplish your goals.
There Is Beauty in Silence
We tend to get so busy that we don't have many moments just to be. In our busy lives, there are only so many moments we can enjoy being in silence. Unfortunately, most people don't find it relaxing to commute to work by car, train, or bus. During a sailing holiday, you can spend time in complete silence as the waves and the coastline flow past you. This is a form of meditation that can help you find peace amid all the chaos in the world. It can also help you get back to the real world and focus on the positive.
Small Steps Matter
One of the essential lessons boating can teach you is that the little things matter most. For instance, learning to tie a knot and read the wind is crucial for safe and successful sailing.
There are many types of knots that sailors use. For instance, the bowline is considered the most important of all of them, and it can be tied around various fixed objects such as posts and bollards. This knot can help prevent your boat from breaking away from a jib sheet or a cleat.
One of the first lessons a sailor should learn is how to read the wind. This skill can help them determine the direction and speed of their boat. They can also watch the thin pieces of yarn attached to the halyards to understand the wind's movement better. If they fail to accurately judge the wind's shift or adjust their sails promptly, they can lose track or get hit by the boom.
Life lessons learned from sailing can also be applied to other areas of life. For instance, you must understand the needs of your customers and the appropriate adjustments to make your boat more stable. Successful individuals know how to read the signs and make the necessary adjustments.
Appreciate Helping Hands
Regarding sailing, teamwork is a vital part of the process. Everyone is expected to contribute to the boat's success during a bareboat charter. Everyone has a common goal: to arrive safely and have a great holiday. Having everyone working together can help make the experience even better. One of the most rewarding aspects of sailing is having a great day on the water. Having everyone working together can help make the experience even better.
Persevere Through Frustration
One of the biggest lessons from sailing is that despite the odds, you can still persevere. It's easy to give up on situations or obstacles that appear too hard to overcome. Like a sailor, we also have no control over the wind, the boat's direction, or our life's direction. However, instead of complaining, we should make the most of the opportunities we have been given. Most people are successful because they are not afraid of what they can't control.
Nature Is a Natural De-Stressor
Getting away from nature can help us feel better. It can be very challenging to keep track of what's happening in the world around us, especially in our hectic lives. A sailing holiday can help us connect with nature and improve our happiness. Numerous studies have shown that taking a break from the daily routine can help improve our health. Being in nature can also help us feel better, as it can help us reduce anxiety and stress. It can additionally help us be more active and put more effort into being healthy. These effects last for a long time after we leave the environment.
About the Creator
Brox Baxley is a businessman who lives in Myrtle Beach, SC. Currently, he owns and operates a landscaping and construction business. He's an avid sailor, hunter, and traveler, who enjoys spending time in nature and exploring new places.
Reader insights
Be the first to share your insights about this piece.
Add your insights