Life is what happens to us while we are making other plans
Plans for 2021?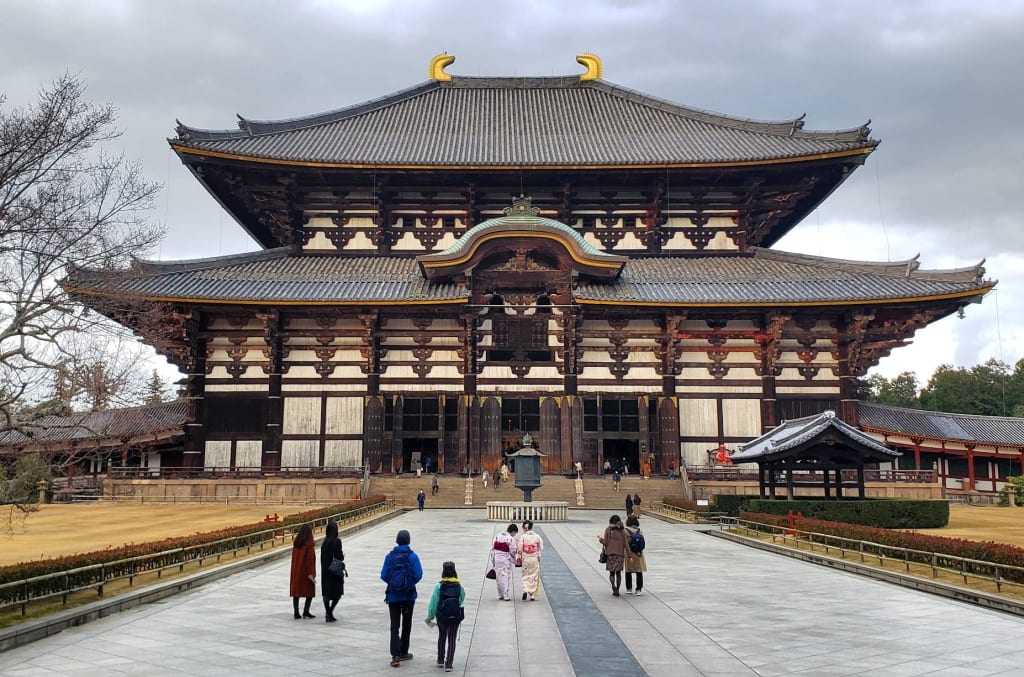 Dear Carolyn,
As this last year has thoroughly and unquestionably taught us, predicting where we'll land in the future year is a folly and a fool's errand. While I had grand intentions on taking a sabbatical year to travel after saving up 5 years of savings from work (what didn't go towards rent, food, and my 6 digit student loan figure), these were interrupted. I will say I was extremely lucky in my timing as I did have a few months travel under my belt before the world shut down.
I started my 2020 in Singapore. I had been feeling unwell whilst in Thailand and thought it best to head to my next destination Singapore a tad early in case I needed more care than the beautiful isolated islands of Thailand could provide. I rang in 2020 to the sound of fireworks in the air and the beauty of drones dancing and forming images including the famous Merlion in the air, moving and bringing them to life.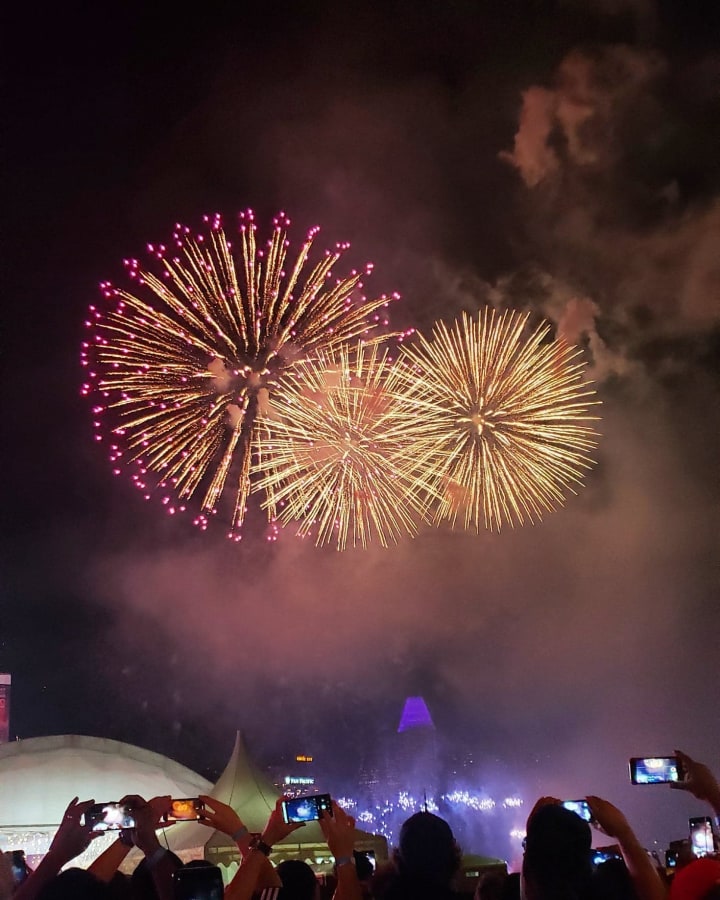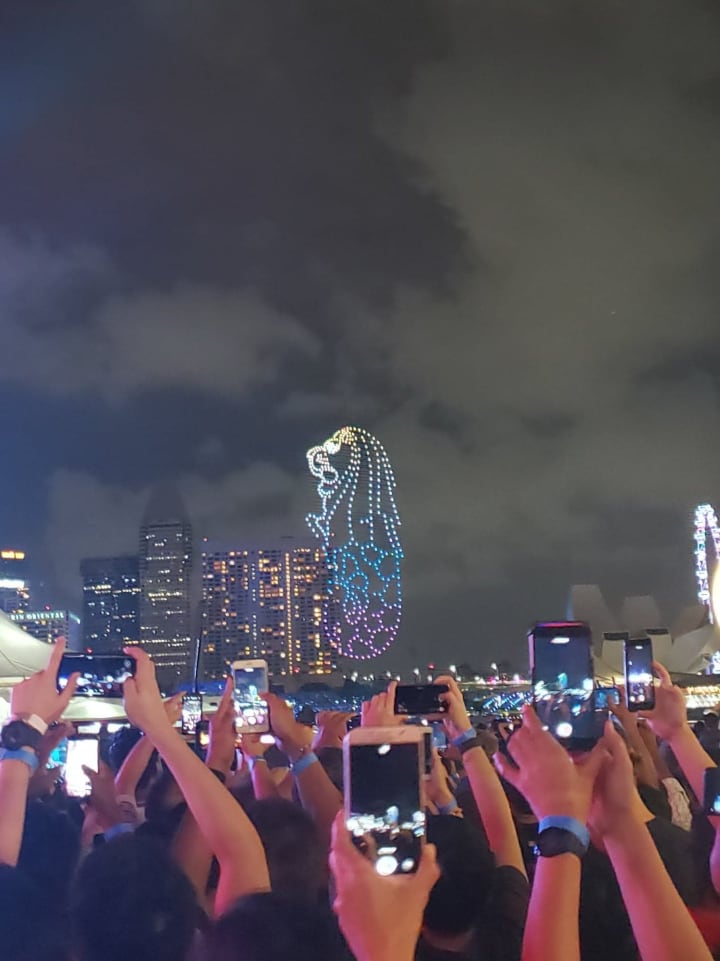 The smoke from the fireworks was so near and had aggravated my lingering upper respiratory signs of the past 2 weeks, but I went to bed thinking that was all and nothing more. As I woke up at 4 AM wheezing and unable take a full breath (never had asthma in my life by the way), alongside my worsening cough, I realized it might be prudent to go to the hospital. I took a Grab, Southeast Asia's version of Uber, to a local Urgent Care and after a few hours entry I was diagnosed with pneumonia, as well as sent to the hospital's respiratory specialist for further care. He decided it was severe enough I would need hospitalization on two different intravenous antibiotics. After he found out I was a veterinarian he proceeded to fascinate me with a story of him treating an orangutan with asthma! All in all I do feel fortunate to have been in such good hands during my stay.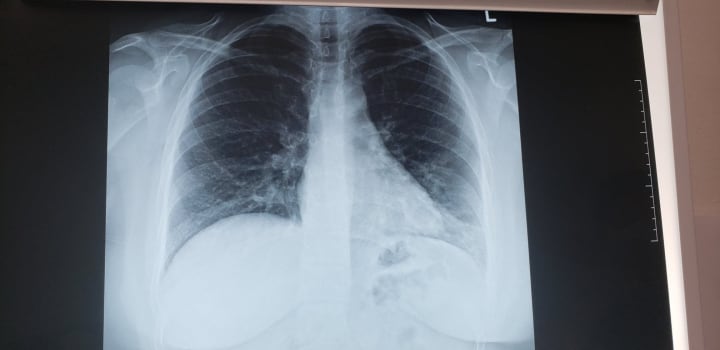 I was amazed at the level of health care and speed of care achieved in Singapore. I spent 4 nights 5 days in total at the hospital and I must say my care was exceptional. I was in a room with three others and had to pay out of pocket for my stay (thankfully my travel insurance reimbursed most of it - never travel without it!!) and it was just over $10,000 for everything. A far cry from what you'd pay out of pocket for a similar scenario in the USA without health insurance. The hospital was lovely and all the nurses were as well.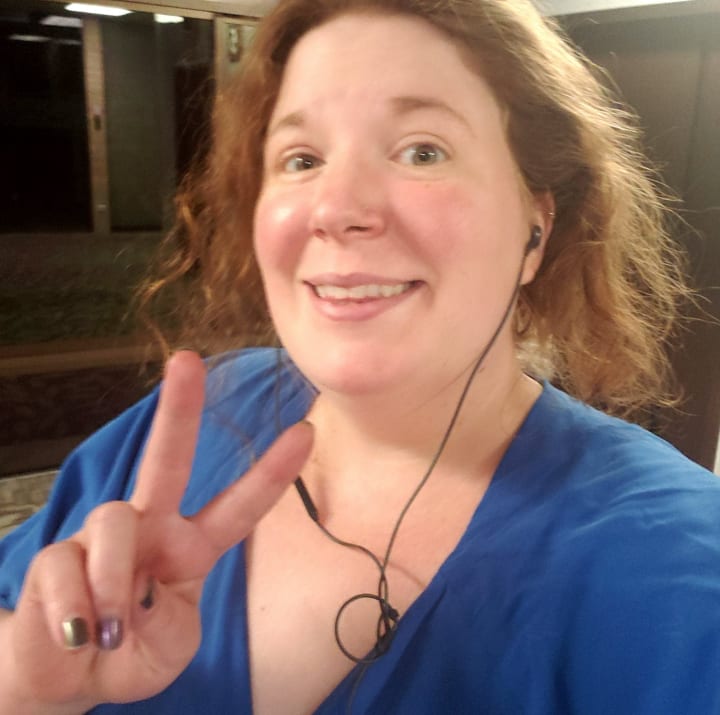 To say Singapore didn't go quite the way I planned it would be an understatement, and honestly should have been enough to portend the rest of 2020.
While I was quite miserable and sick while in Singapore, it didn't ruin all of my time spent there. When I was still trying to pretend I wasn't that sick and rally (because how many times am I going to be in Singapore in my life??), I took a Grab to their local zoo and the Grab driver and I had a conversation I will always remember and truly treasure. He was kind, funny, and we talked about nothing and everything. I think those moments are my favorite part of travel, you never expect you'll have a memory you'll cherish forever in the back of a ride share vehicle.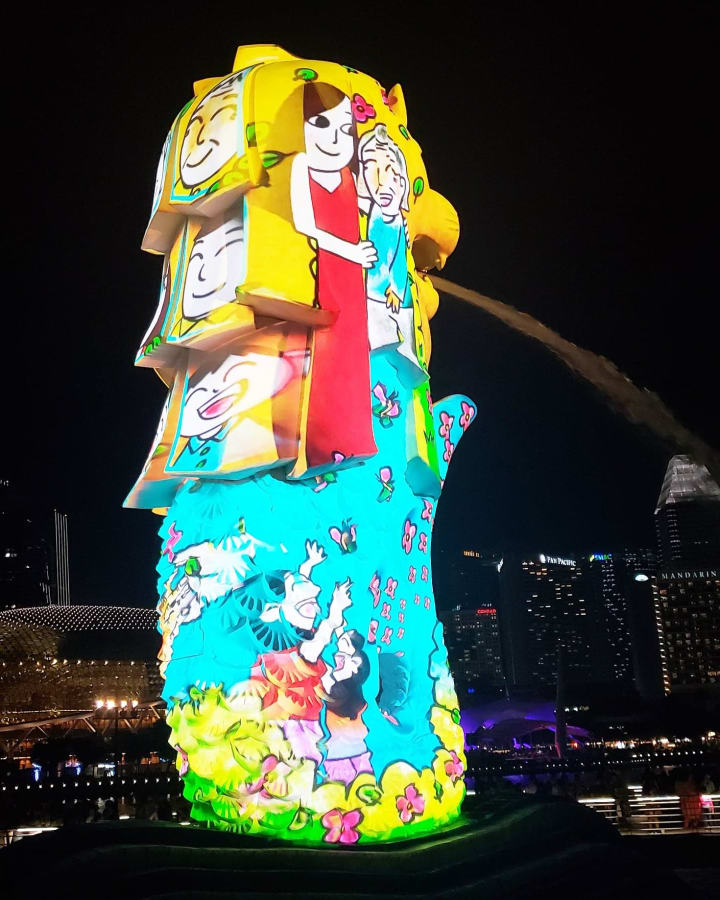 I was able to enjoy the country though both before and after my 5 days in hospital. I truly enjoyed its astounding beauty and diversity. Singapore is a cosmopolitan wonderland with the people a mix of Chinese, Malay, and Indian descent as well as a large population of citizens from countries all over the world. The way they embrace all of their diversity with stunning Buddhist temples on one corner and a Mosque on the next is enviable, it's an easy country to feel completely welcome and at ease in. It doesn't hurt that the main language of the country is my native language of English.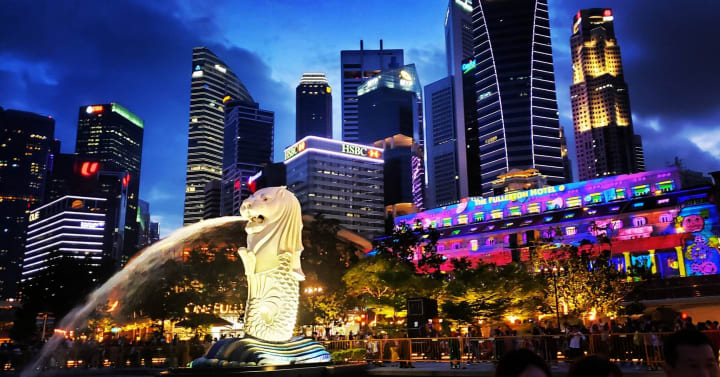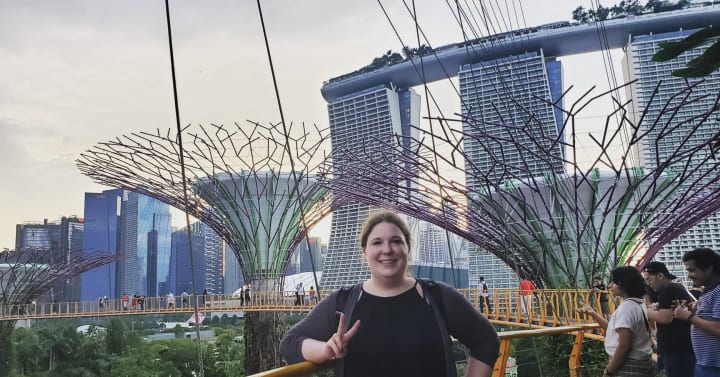 From here, I took a flight to visit a friend in Australia, and then a cruise from Sydney to New Zealand. One would assume this would be an entirely relaxing endeavor, right?? What could go wrong?
I monitored carefully the pollution air levels secondary to the wildfires raging in Australia. Sydney was safe and the skies were clear without smelling any smoke in the air for my January departure from Sydney Harbor. However, the first night out at sea we caught up with the smoke that had been blown off shore from the never-ending fires. There was no way to escape from it on board the ship. All of the air was pumped in from outdoors. Needless to say after just re-cooperated from pneumonia, I was extremely anxious about inhaling all the smoke. That night I hardly slept and panicked about what the smoke was doing to my lungs. No one wants to return to the hospital after having just been released from it. Fortunately, this ended up being a blip on the cruise and my trip continued onwards into February landing me in Auckland, New Zealand. I have to say, disembarking from a cruise ship with only a backpack and stepping onto an entirely new country without having been on a very cramped flight was very freeing. My hostel was a twenty minute walk away, affordable and clean, all I could really need.
New Zealand was a dream. This was most likely the best part of my year. I saw where Hobbits were brought to life on the screen.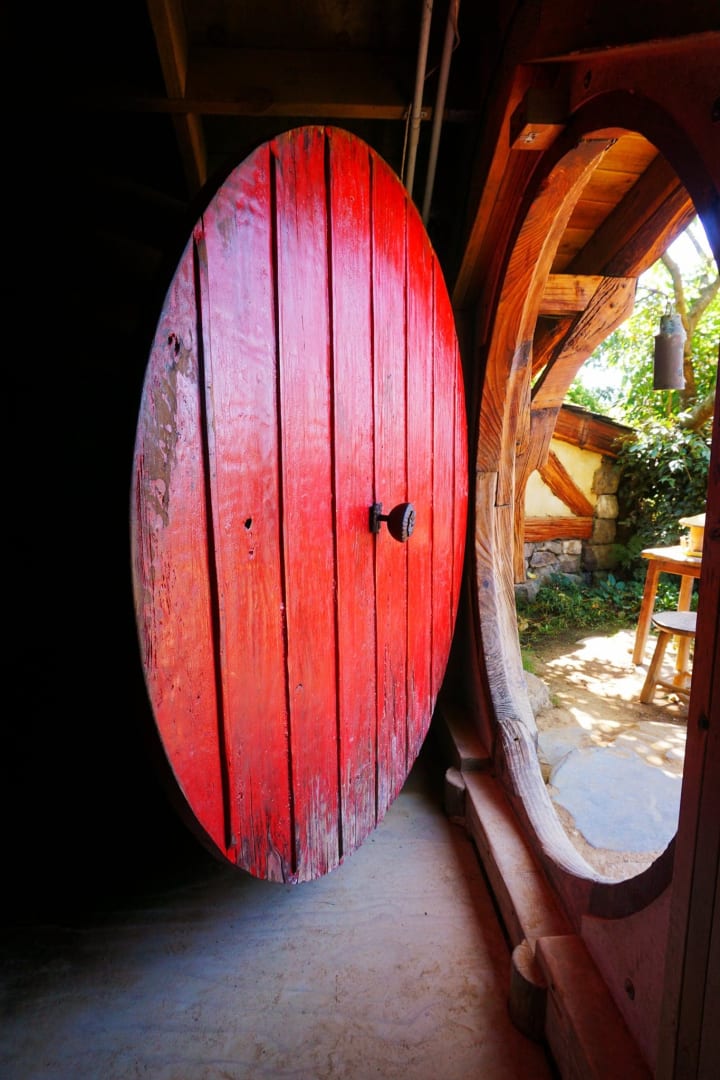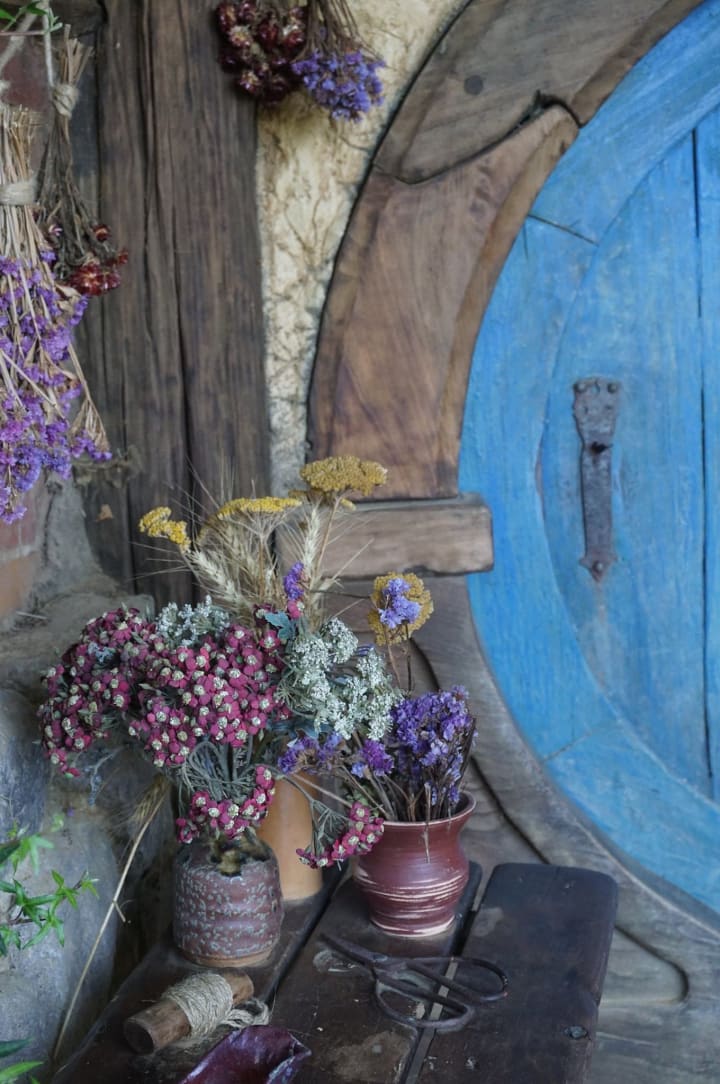 I met many new friends on my group tour. This was one country I decided to do this in as there was a lot of land to cover and I didn't want to have to figure out how to rent a car and plan a route here, it was definitely worthwhile. I met many new friends from Germany, Australia, New Zealand, USA, and Canada and we all became exceptionally close on our 3 weeks discovery this absolutely unreal scenery and people.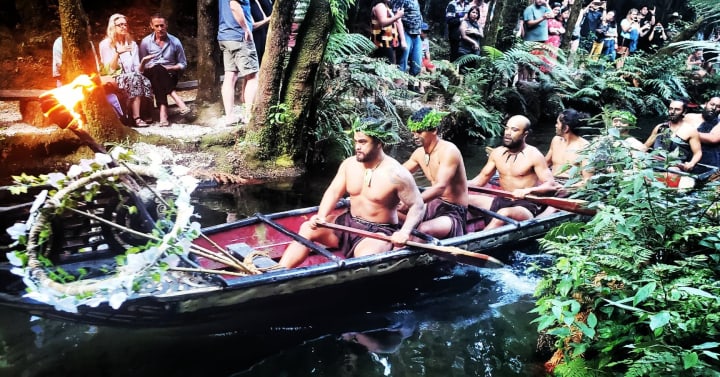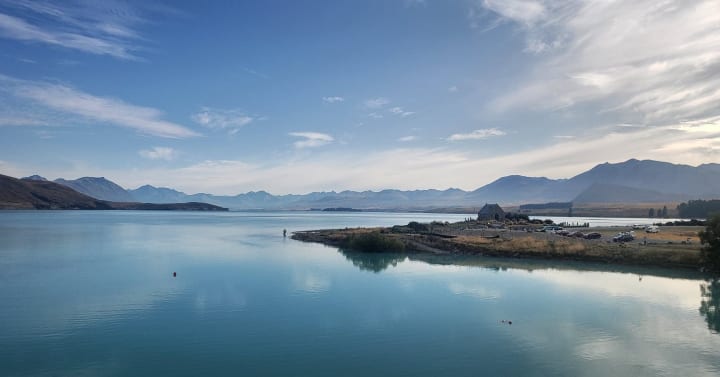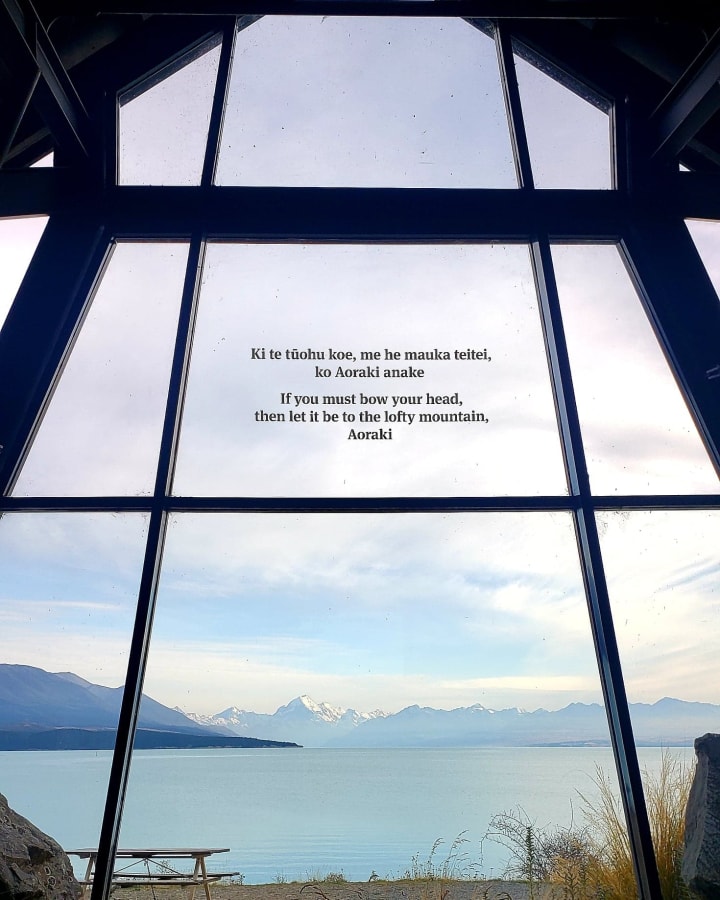 No matter what else may have occurred this past year, this country was an unequivocally stunning and unforgettable experience I'll always carry with me.
I left New Zealand having made life long friends, especially my two new friends from Germany who I have had zoom nights and game nights with throughout the pandemic. From here I flew to Japan.
What is there to say that can properly convey the intoxicating uniqueness of the Land of the Rising Sun. The food, the people, the dress, the traditions, the cleanliness and respect of this land is unmatched. I flew into Tokyo, was able to enjoy this vibrant city for a few days and felt surreal as the pandemic had not been in New Zealand at all while I was traveling through there, blissfully safe within its borders. In Japan the cases were also extremely small even in end of February early March. It was a reprieve I greatly enjoyed, but alas did not last long.
I would apologize for the upcoming photo dump, but honestly Japan is too cool not to share some of the memories I made while there. Even if my time was cut short by a global pandemic.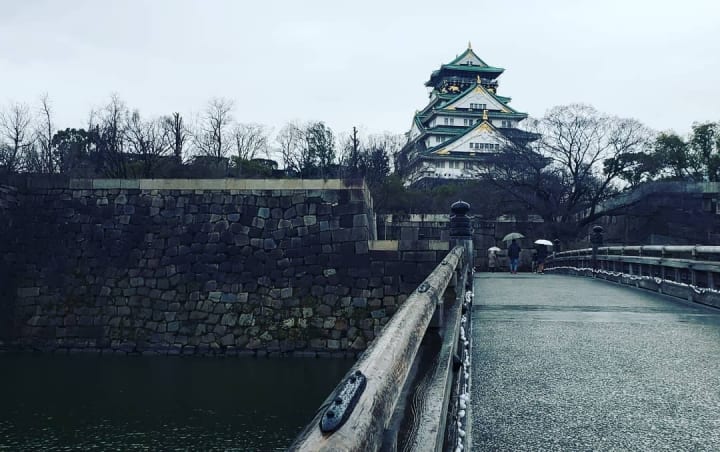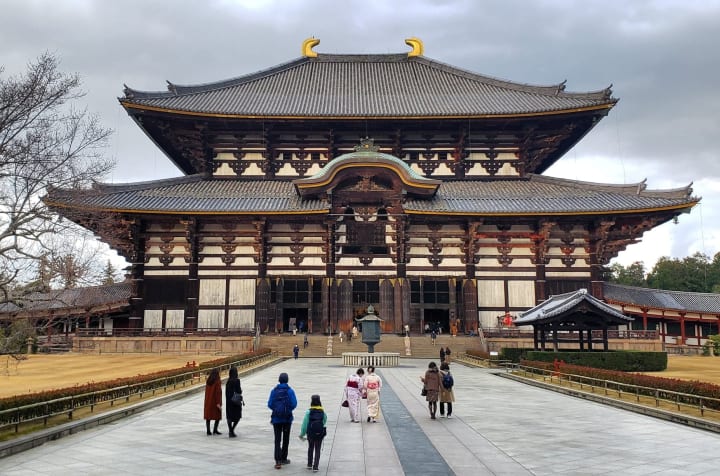 Nara is also famous for their deer.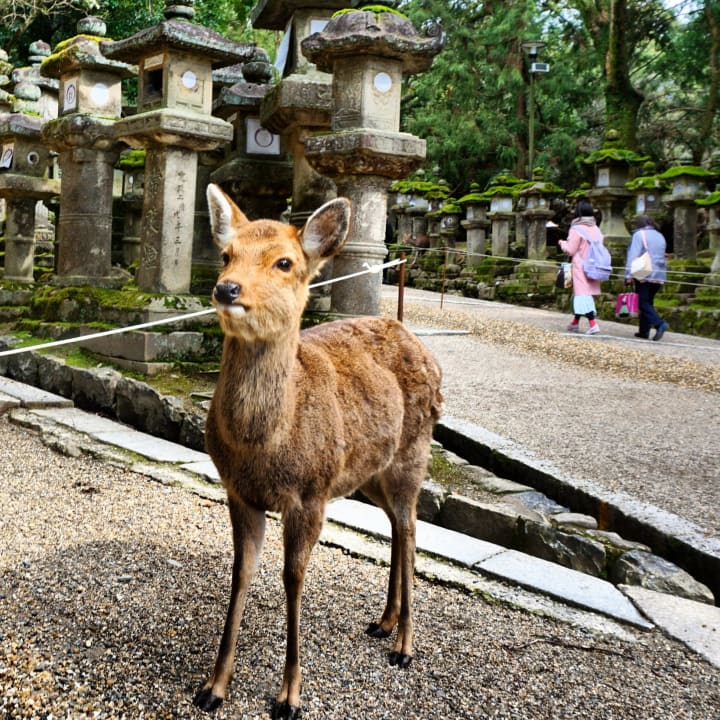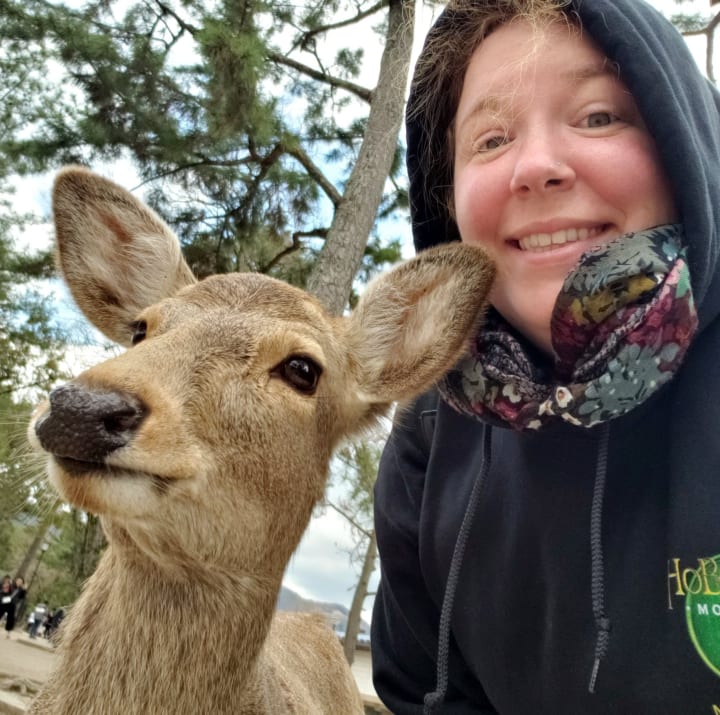 While cute, they have become somewhat dependent upon people to feed them. Tourists were scarce at this time and if you bought any deer food the hungry deer would essentially rip it from your hands, or attempt to bite, headbutt or shove it away from you. I saw one poor Japanese man running in circles while two large deer chased him, eventually they gave up.
One of my nights in Tokyo I ventured out to a meetup group. I was fortunate to make a new Japanese friend who invited me out the next night to accompany her and her food loving friends (they check out a different restaurant each week together). This night was very memorable and special for me as we went to a Moroccan restaurant in Japan. They educated me about host and hostess clubs in Japan and let me practice my extremely rudimentary Japanese.
Before dinner we met at the famous dog statue Hachiko at Shibuya Crossing and she took me to the top of a new tower built called Shibuya Sky where one can get a bird's eye view, it's Shibuya's largest observation deck. Although less people than usual because social distancing was starting to become a thing, the lights and people are mesmerizing to see from above.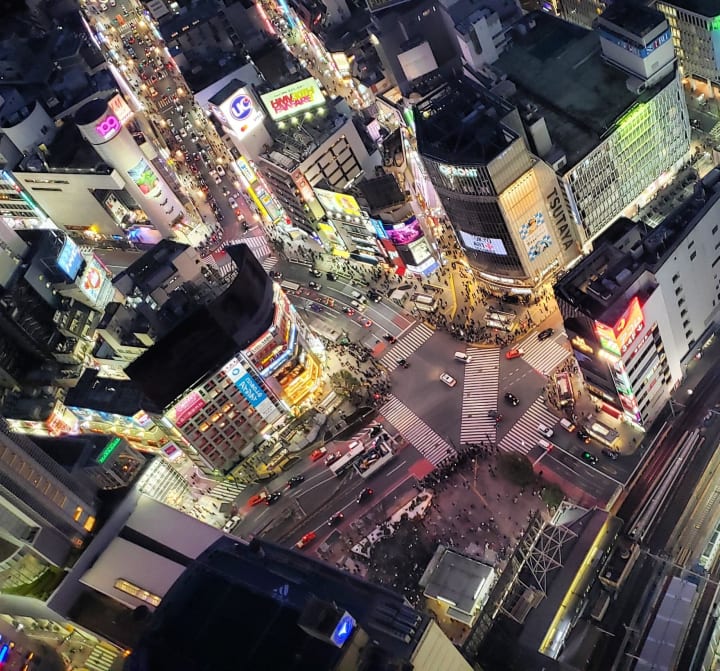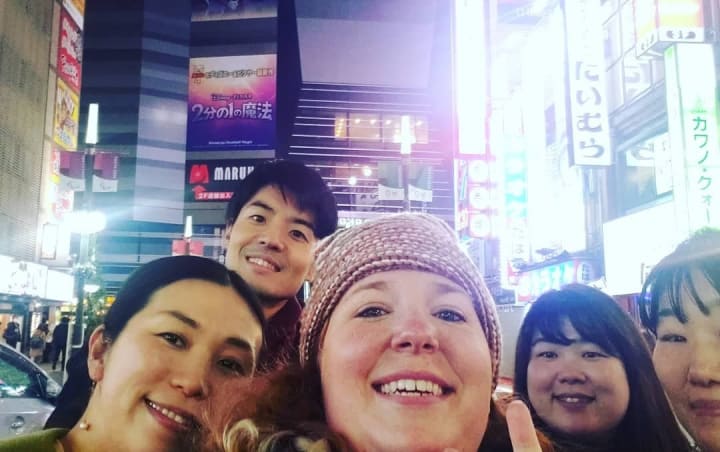 I am a nerd and was ecstatic to visit a Pokémon cafe. The food was not only delicious but a work of art.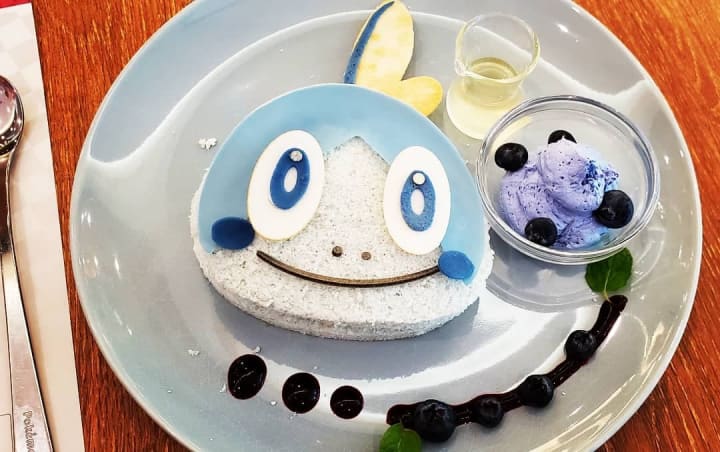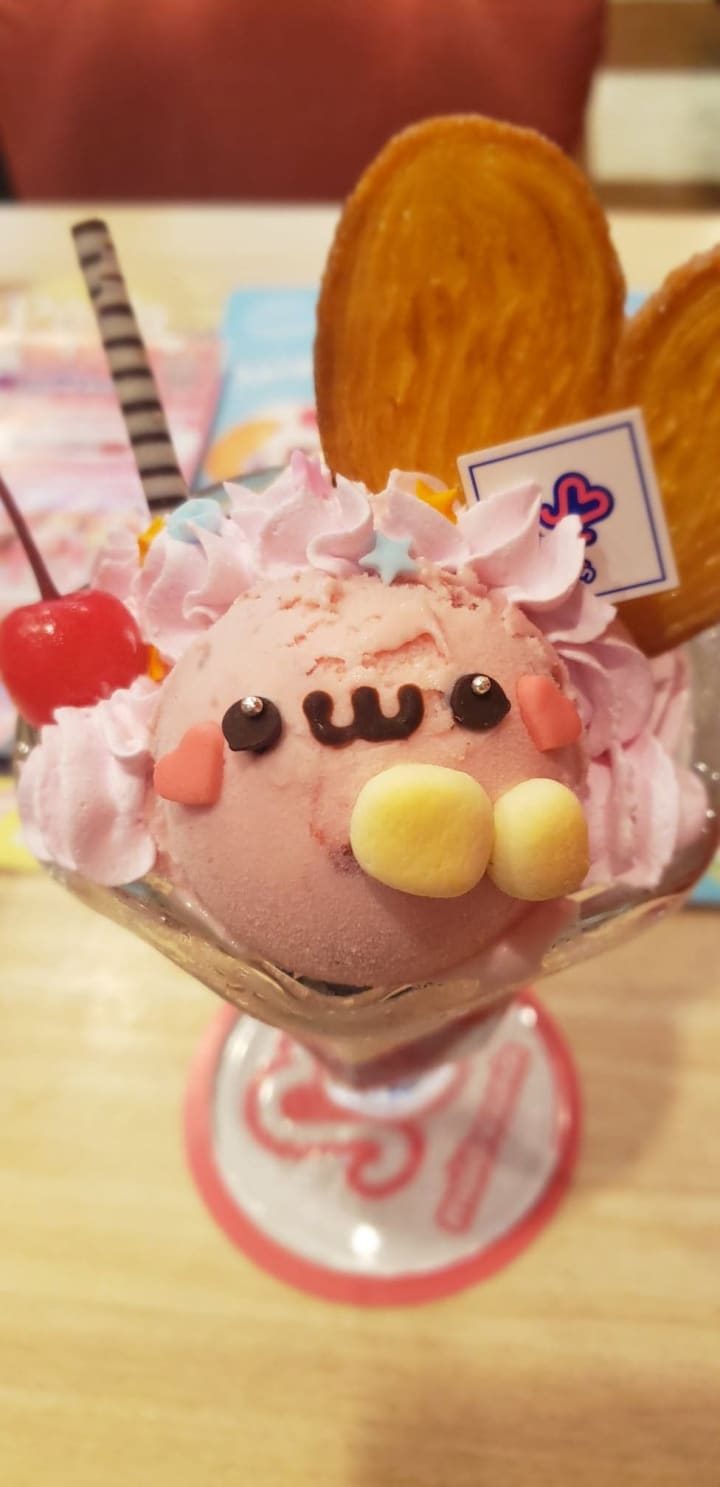 Another perk was being able to catch cherry blossoms in one of the many parks running throughout Tokyo.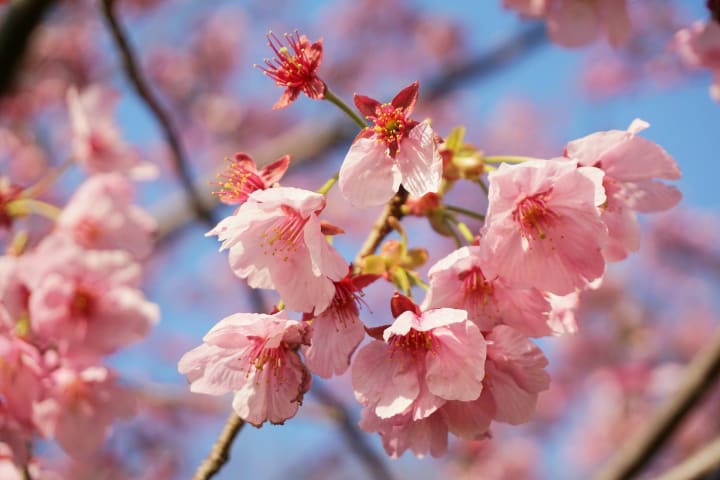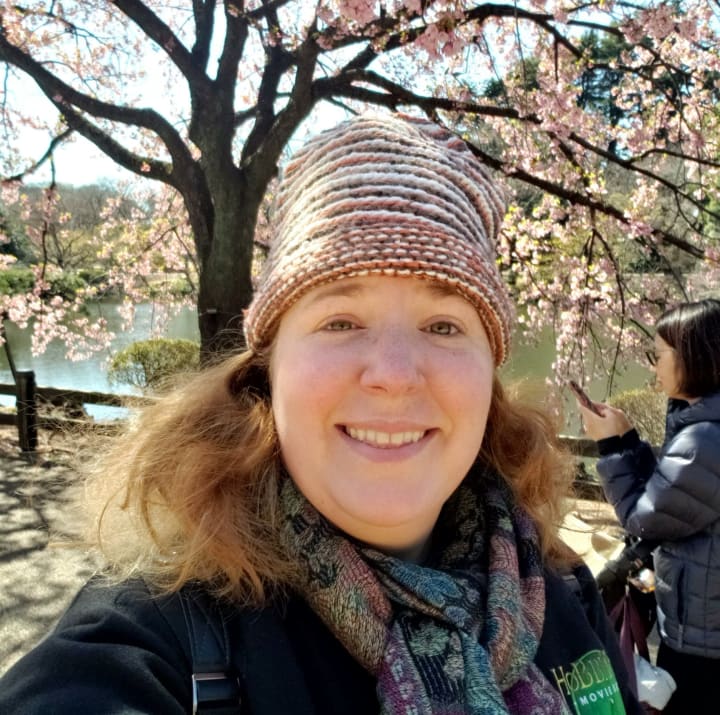 Anyway, while I intended to live in Kyoto for over a month studying Japanese I had to alter my plans. I never did make it to Kyoto. The borders all over the world were closing and ultimately I made a decision to fly back to the USA before I was stranded in Japan (which, I mean, there are definitely worse places to be stranded, but I didn't want to run out of savings). My flight stopped in Taipei, temperature checks done in Tokyo and Taipei prior to boarding and exiting, landing in JFK I was able to disembark without so much as a glance.
I returned and mostly readjusted to being indoors constantly with my boyfriend and our dog, Bean. I played a lot of video games, had D&D sessions with my cousin and his friends online, played Jack Box games with friends, went on daily walks in the neighborhood, did indoor yoga. I relaxed for a bit until starting a job hunt again in early April.
I was lucky that I found a new job but had had some time to focus on myself. The middle of the year is pretty much a blur, as I imagine most people's has been. There were many uneventful days and weeks where work was our only escape, or neighborhood walks playing Pokémon Go.
Fall came with all the bright oranges, reds, and yellows on the trees. Leaves changed as days melded together. As a veterinarian during this pandemic year, in general the case loads have been extreme, to put it mildly. While there's debate among the profession about causes most agree it's a combination of people adopting more pets (including puppies and kittens) and needing vaccines and accompanying spays and neuters for these animals. People have been desperate for something to occupy their time and many have decided now that they're home more frequently, it's the time to do this. In addition many are home and staring at their pets all day, so they are more liable to notice if something is off and want their animals examined. People are also searching for an excuse to get out of the house or get that vaccine done that they've been putting off, so veterinary care is one of the few options available as an essential service. Anyway, if you know and love any veterinarians in your life, we are struggling. Most ER facilities are so slammed they are turning away pets unless actively dying and the GP practices, like my own, are attempting to handle their overload of those animals that are sick but not dying. I don't envy the ER vets, I have one friend who works at a very busy referral 24 hour hospital. Around the holidays she had to euthanize 15 out 20 of the cases she saw that day. It takes a heavy toll this profession, to be sure.
The year mostly unfolded in a sea of busy work days, but the day after Thanksgiving dear reader, I must tell you I felt off. I had zero energy and a very sore throat. The following day I got tested for Covid 19 as a precaution, I did not have a cough so I was less suspicious, but still called into work as I didn't feel well enough to go in either. I was very surprised when four days later my test returned positive. I was sick for over two and a half weeks. When I say it is a miserable experience, believe me. I bookended my year nicely with severe ill health, from starting my year on January 1st with pneumonia in Singapore, to Covid 19 in New York state in December. Not to mention dealing with the anxiety that came with Covid. There are many unknowns as this is a severe and new disease that we are still learning all the affects it has on the human body. The fear of returning to the hospital was also very real. About 10 days in when suffering daily chest pains for the past three days and developing numbness in my legs, left worse than the right, I decided to go to the ER.
These neurological signs and chest pains I was assured were typical for Covid, my bloodwork and thoracic radiographs were unremarkable so I was sent home. My boyfriend was quarantined with me but somehow managed to avoid getting Covid so while he had 2 weeks of paid leave, I had this but feeling utterly miserable the whole time. I wish I could say the chest pain is entirely gone, but it is a lingering symptom, although the numbness is gone in my legs and my sense of taste is returning.
Finally came the last month of the year December 2020. Surely there couldn't be MORE gifts 2020 could bring. It was unwise of me to underestimate it.
Two days prior to the new year ending, I come home after a long day at work to my boyfriend looking at me curiously. He cautiously asks me "Did you read the messages I sent you?"
The afternoon having been extremely busy at work I hadn't checked my phone for most of the day.
I reply carefully "No. I didn't, what's up?"
Him, "Oh. Well, something happened. Just so you know I cleaned the stairs and where the guy walked in our apartment."
Me, panicking now "Okay...what guy and why did you need to do that?"
Him, "The sewer pipe leaked in our basement. There's poop all over it. There's a plumber coming, but not until tomorrow, the handyman our Landlord sent over couldn't do anything about it today."
Me, trying not to freak out as I'm a massive germaphobe, put on my basement shoes to examine the damage. When I say there was literal feces strewn all across the basement floor, this is not an exaggeration. It went almost all the way to the washer and dryer.
Resigned but knowing I couldn't do anything else, I had a video call with my family planned that day as my Dad's Christmas gift (a neon sign of his favorite baseball team the Rays and my hometown team) to watch him open it. I then ate dinner and was about to sit on the couch and watch Soul, just released from Pixar, with my boyfriend and our dog cuddled up together when a loud piercing noise from next door can be heard emanating at a steady pace. Through the thin adjoining wall of our duplex I can hear our neighbor panicking. We rush over and smoke fills our nostrils.
She panicking reports "My dryer is on fire!"
My boyfriend rushes down the stairs and unplugs it, I run to our side and grab flour and a pot. The flour helps a bit but the clothing inside are still aflame. I encourage my neighbor to call 911 while with trepidation we use water on the clothing inside the dryer (we were worried about it being an electrical fire potentially) but were able to put out the flames this way.
About 10 firefighters arrived shortly thereafter, they have me go through her upstairs and open all the windows to help let out the smoke while they dragged the sad carcass of her dryer out into the snow and cover her still smoldering clothes in it.
Needless to say the poop filled basement and charred dryer carcass, reminding me of a dumpster fire, seemed a symbolic and fitting end to this impossible year.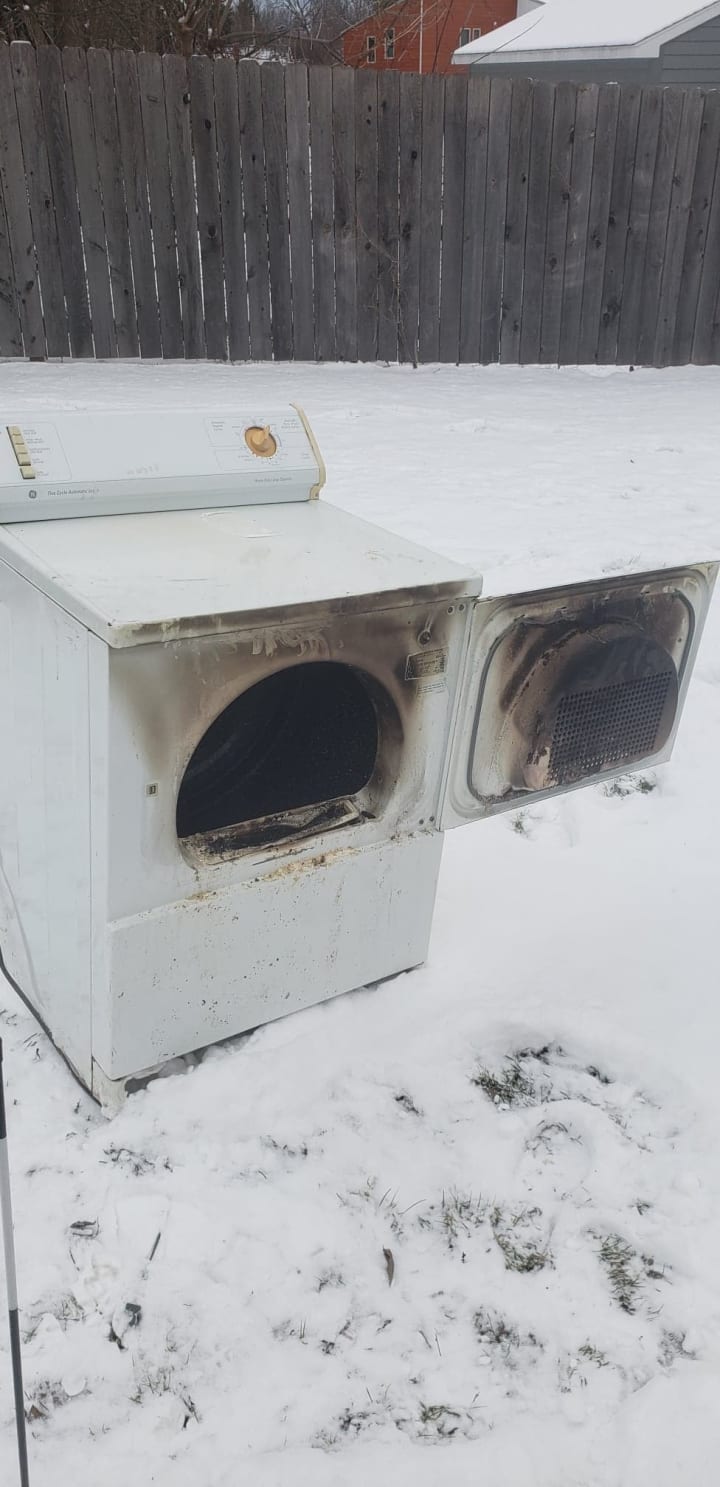 As my 2020 has so nicely bookended itself with respiratory sickness followed by smoke inhalation, I truly have to marvel at its symmetry and poetic beauty. While I am entirely cognizant of how fortunate I am to have survived, not only Covid 19 from having had pneumonia earlier in the same year, but also my immediately family has so far survived as well. I have friends who have not been as fortunate and lost parents and relatives to this disease. This has been a year of change. A year of plans that were made becoming altered so drastically that they aren't even a resemblance to what had been envisioned at the beginning of the year. So with this lesson in mind, I thought it appropriate to reflect upon the year past who taught it to me. I know a new year doesn't change the situation of the world, but a new beginning can be something to pin our hopes upon. To sit back and reset. Just because our plans changed doesn't mean we should stop planning.
So this brings me to 10 goals I have for 2021.
1) Save up enough for a down payment on a house.
2) Try to find a duplex I like enough to buy. By renting out one half I hope to help make long-term mortgage payments easier and maybe eventually be a source of income.
3) I'd like to go to the Olympics in Tokyo (I bought tickets back in 2019 to some of the events - women's basketball finals, diving). Just bought my plane ticket yesterday with the second Covid relief money.
4) I'd like to get the Covid 19 vaccine. Even though I recently fought it off, the immunity built up by my immune system supposedly only lasts for 3-4 months. The vaccine should provide longer protection
5) I would like to adopt another dog. Something small, mixed, and a rescue.
6) I have started the keto diet, hoping to lose enough weight to get myself into better health overall.
7) Pay off one of my private loans ($1,400 left on one, $9,000 on the other). My federal loans stand at $298,000 so those will be there until they are hopefully forgiven with Pay As You Earn - although the forgiven portion is taxed and that will be well over $50,000.
8) I'd like to volunteer my time to something worthwhile.
9) Buy a stranger's groceries.
10) Read one book a month.
11) Continue working on my mental health - meditation, try to find a new therapist, continue working 30 hours or less a week.
"To accomplish great things, we must not only act, but also dream; not only plan, but also believe. "
Anatole France
While my plans fell through as most people's plans did in 2020, I still wouldn't have gotten where I did without SOME planning, 5 years of it in fact. Of course nothing is going to work out the way you think it will in your head. Does that mean you shouldn't try? Of course not. Adaptability is one of the best lessons one can learn from extended travel.
An oft misattributed quote to Charles Darwin, actually written by Leon C. Megginson states aptly -
"It is not the strongest of the species that survives, nor the most intelligent that survives. It is the one that is most adaptable to change."
And so as the year 2021 unfolds do your best to ride the waves of change as they come. Have gentle goals for yourself, but don't worry if you don't achieve them this year. It's enough to be surviving a global pandemic.
Hagrid has the wisest words of all to impart to you dear Carolyn, to meet 2021 head on.
'No good sittin' worryin' abou' it. What's comin' will come, an' we'll meet it when it does.'
And we will.