Let's Cross Over
A tattoo story that wants to be told...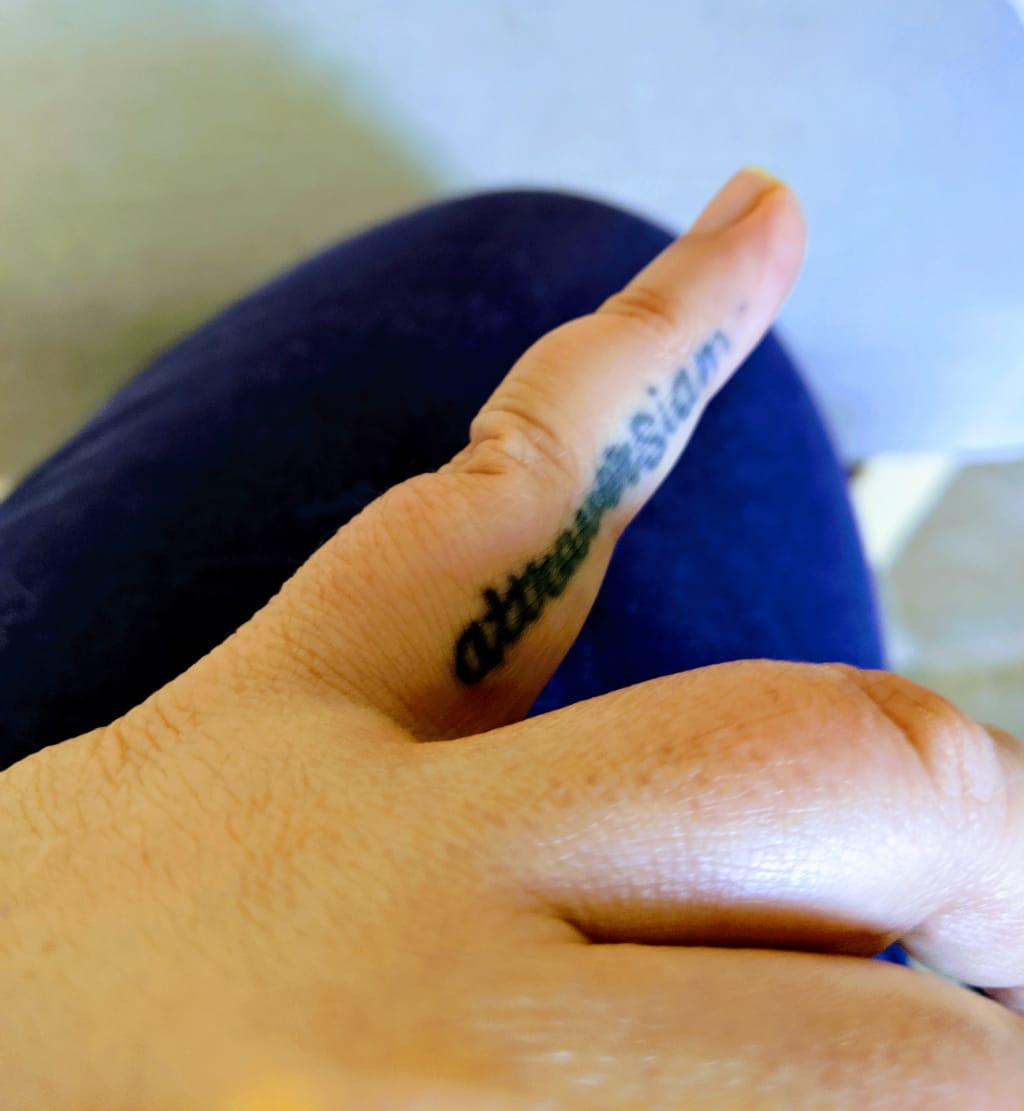 I would decorate my entire body in tattoos if I had the money, time and trusted someone so much that I knew that they knew exactly how I would want to be decorated. My thighs would be full of phoenix rising from ashes and my back immersed in dream catchers. Butterflies would trail down my arms and turn into daisy chains around my wrists, with mandalas and henna style patterns scattered all around and inbetween.
But for now, I just have a sun in the middle of my lower back, with the Chinese sign for earth in the middle of it. The Chinese sign now looks abit like a pound sign 20 years after it was originally inked! I can laugh about it. Many people refer to the lower back tattoos as a tramp stamp but it will always remind me of being 21 and a time when I was full of life's angst but also so determined to take risks and live more in the moment.
But this tattoo is not today's story. The tattoo story that wants to be wants to be told is very small and subtle – rarely seen.
It all began six years before I got this particular tattoo, and 13 years prior to today. I was travelling upwards through India trying to find myself with yoga, meditations, temples and chanting. I realised very quickly that everything I needed was actually within me and during one very early morning meditation a voice said to me, 'to be happy you need to be of service'. This awoke a desire inside of me that felt both new and known. I needed to be of service to people less fortunate – to the world.
Returning from my travels, I trained as an acupuncturist and less than a month after graduation I was back on the road again. I immediately left for Zanzibar and the acupuncture wing of the island hospital. A hospital that looked like something from the early 1900's – only known from history books – with my first vision being nurses sluicing wards with buckets of water. The sun blazed down, as I spent weekends on white beaches pumping out reggae music, and weekdays providing acupuncture to local people with facial palsy. The hospital walls were a dirty white and when I needed to breathe and recalibrate, I would walk to the end of a corridor and look out to the idyllic ocean, allowing the breeze to bring me back to myself.
After Zanzibar was India. I joined a basic volunteer clinic in Goa that was made up of rows beds sheltered by reems of thin mosquito mesh. It sat at the edge of a forest where queues of people would wait for treatment on patios chairs long into the sticky Goan evenings. I lived the expat life in India and spent much of my free time running around on my moped with new friends and the wind in my sea salty hair.
After India, came Nepal. But before we get onto Nepal, I need to mention the movie Eat, Pray, Love - and this brings us back to the tattoo, kind of... So many people roll their eyes when this movie is mentioned but it's one of my favourites. It takes us on a journey of self-discovery, adventure and romance. You might already know, or not know, or don't remember - but while the protagonist, Elizabeth, was in Italy she was asked what she thought her word was. A word that could depict who she was. She didn't know. She didn't know it until she got to Bali at the end of the film.
Now I have planted the Eat, Pray, Love seed in your mind, let's go back to Nepal. I landed in the bustling and dusty Kathmandu and immediately headed off down the street of stall upon stall of active outdoor wear. It's a famous street for all the hikers and climbers that arrive to take on the Himalayas. I picked up a couple a fleeces and some thick socks and then took a taxi to the clinic I was volunteering at. I was heading to a monastery. Two hours of city roads and thirty minutes of driving over brain rattling rocks and we arrived. A beautiful monastery hanging over a valley with low sounds of chanting monks floating into the trees. Peace flags everywhere. I was in a dream. Had I not seen movies like this?
Every day thirty people queued around the clinic for painful backs, knees, necks and feet. So many people bent in two from a lifetime of manual work and carrying heavy loads in bare feet. The closest hospital would have meant going back into Kathmandu so sometimes I was shown things I'd rather not have known about. I couldn't do anything about the lump in one woman's breast or the swollen legs of a man with an obvious heart problem. It was tough. And humbling. I cried a number of times, but I was also in awe of where I was, the people, the monks and the beauty of the mountains that saturated everything.
A few weeks passed at the clinic and I decided to head back to Kathmandu for a weekend. I left the monastery and took the bumpy ride down the mountain to head back into the city to meet a friend I'd met in Australia a few years before. She was in town with the organisation Water Aid and the first friend I had seen in 8 months. It felt so familiar to be with a friend, chatting and laughing. Sharing stories. One afternoon, after we had gorged on a pile of the most delicious Nepalese momo and dhal bhat, we saw a tattoo shop across the street. She was the first one to say it, 'shall we get a tattoo?'… 'Why not' I said, 'let's do it'.
At this point I need to come back to Eat, Pray, Love and Elizabeth's 'word'.
When I watched the movie, this 'word' had made me cry in a knowing way – a calling from somewhere inside of me. It felt like this word encompassed everything. It described the parting from one part of me that no longer served my new life. A word of adventure. A word of new beginnings. A word that held the risking of everything. A knowing that allowing myself to let go of a part of me would be one of the most pivotal moments in my life. I was proud of myself and this word felt like wading across a choppy river and finally getting to the other side. I knew exactly what my tattoo was going to be. I could see the movie in my mind, as she held out her hand to her new love Elizabeth said her word was, 'attraversiamo'. It means, 'let's cross over'.
I know this moment of knowing what my tattoo was going to be sounds very deep and meaningful, and honestly it was, it meant a huge amount to me. I had fulfilled huge dreams and had journeyed many years for them. But the situation unfolded to also become a funny story I tell whenever someone spots the little tattoo and I am asked it.
So, the decision had been made. We were each getting a tattoo in a back street tattooist in Kathmandu. It's the stuff of memories.
We weaved our way across the street and squeezed up some very precarious wooden steps to enter the tattoo shop at the top. Inside the shop we were welcomed by walls full of pictures of all the possible tattoos we could want on one side and then proud travellers showing off their new tattoos on the other. There were two Nepalese guys in bomber jackets sat behind a glass counter. They didn't speak much English but welcomed us in with their big smiles. We chatted in broken English/Nepalese and I wrote down my word and pointed to where I wanted it on my little finger. They just looked at each other and shrugged and then directed us into a back room. We could hear some muttering and sighing behind us as they sorted out whatever they needed to sort out to decide who was going to tattoo us. After a few minutes one of them came into the room and closed the door. My friend and I looked at each other and although this all felt a bit bizarre we didn't feel in danger. The room was set up with a large desk with a big old battered black leather chair behind it, and a window behind that. The guy - I cannot remember his name now - plonked himself down on the chair, grabbed a new tattoo needle packet and started to unwrap. 'We are doing this!' I thought to myself. I held my hand out. It's actually quite hard separating the little finger away from the next finger for any length of time. There was a bit of a burning sensation, but the excitement of the moment and everything that had gone before, the elation of being with my friend and the awesomeness of being in Nepal left me feeling hardly anything at all. He did struggle alittle with the small space he was tattooing but, in what felt like seconds, we were done. My word, Elizabeth Gilbert's word, that word that made me cry when watching that movie and felt so connected to due to all the change I was bringing about in my life. That word was now with me forever - on my little finger. There it was, wrapped in a cling film dolly for protection and healing. Attraversiamo.
When we were all finished and our tattooing all done, there was someone watching through the glass, looking at us and turning back to talk to someone further back. He seemed abit agitated. The guy doing our tattooing looked at the window and said, 'my brother'. My friend and I looked at each other, 'oh nice', I said, 'you work together?'. 'Yes', he said as he was clearing away, 'my brother is tattooist'. 'oh amazing', I said, 'you both tattooists?' He was across the room and by the door now and as he opened it for us to leave, he said, 'no, just my brother'. I looked at him, then at the other guy standing by the window and then to my friend - I just burst out laughing. We left the shop giggling to ourselves and thankful we hadn't gone in for anything bigger and bolder - like the phoenix rising on my thigh I had been visualising!
Something I found when travelling around Asia is no one wants to say they can't do something. Everyone wants to help and make a request happen - even if they might not have the right credentials to do so!
So now, not only do I have a meaningful word on my finger that makes me think of change, adventure and my big dreams - it also makes me smile and sometimes laugh out loud. It really could not have happened more perfectly. And as you can see from my photo, the last letter of the word wasn't tattooed deep enough so it literally fell off my finger. Now my word is attraversiam…