La Calima
a Desert Sandstorm from the Sahara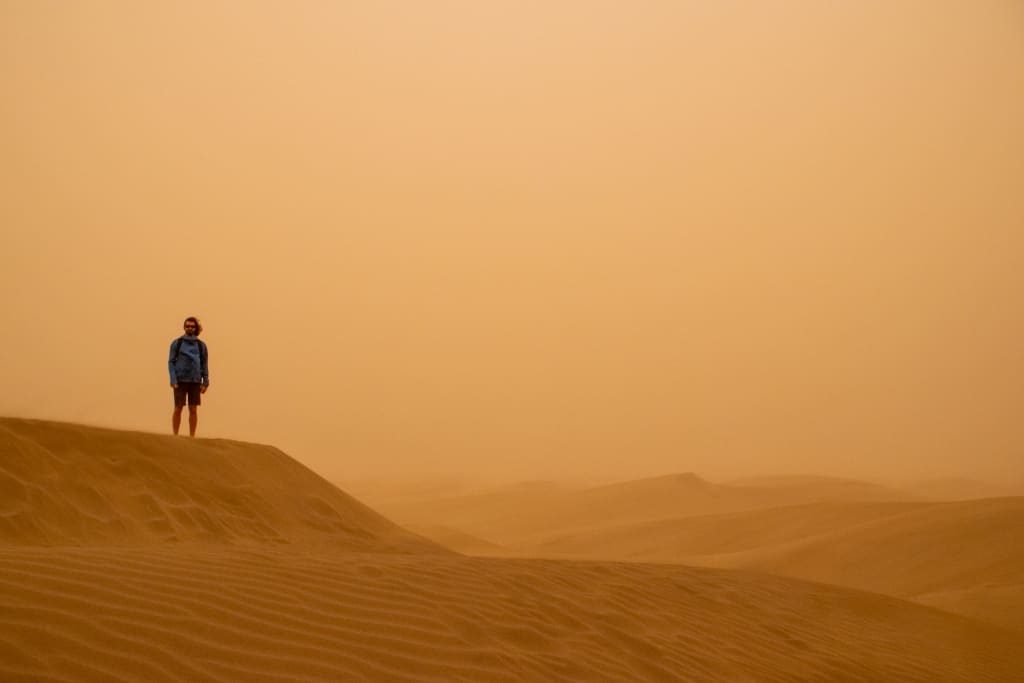 Dan the man, standing before la calima (a Spanish colloquial term for a type of sandstorm)
Before la calima hit Las Palmas, I had only heard of it in passing conversations.
"Excuse my cough. It's because of la calima."
"It's not even that cloudy today. It just looks hazy because of la calima."
"La calima comes from Africa."
"La calima… what?"
A few months ago, the father of one of the students that I give English lessons to explained that la calima is, in essence, a desert dust from Africa. When strong, westward winds blow across the Sahara, they bring sand, dust, and pollutants across that great desert expanse. Sometimes, when the wind is strong enough, it all gets blown into the Atlantic Ocean, subsequently landing on the Canary Islands.
The Canaries — las Islas Canarias — are a Spanish island chain off the coast of northwestern Africa. In addition to being the southernmost autonomous region of Spain, the islands make up one of the largest clusters of people, commerce, and culture outside of continental Europe. Due to their physical geography, the islands are technically located in the African Tectonic Plate. Despite its unique location in the world, as well as belonging to the European Union, the Canaries are not well-known outside of the continent (with the possible exception of South America). For the past four-and-a-half months, I've been living and working in Las Palmas, the archipelago's biggest city, on Gran Canaria, the second biggest island.
Prior to the arrival of this particular calima, I had seen only minor instances of the desert dust since arriving to the island. But on Saturday, February 22nd, an especially strong calima arrived out of the blue. I remember looking out the window in the morning and seeing what looked like a thick haze, or even a dense fog. It all look looked quite strange and unusual, especially as it contrasted the blue skies forecast that I had seen that week. Las Palmas, which shares a longitude with the south of Morocco, is usually quite sunny.
That Saturday afternoon, I had plans to go surfing with a couple of American buddies (side note: not many Americans make it to the islands). As the day progressed, so did the intensity of the "haze" that descended upon the urban beach of Las Canteras, the largest, most popular beach in Las Palmas. Under normal circumstances the beach is mostly packed, but on this day the shoreline was thin; large gaps separated only small clusters of beach goers. Within the span of just a few hours, visibility completely dropped off. Buildings and landmarks that are easy to see along that part of the coastline quickly became obscured with what looked like a yellow-orange dust.
At lunch that afternoon, after surfing, my two friends and I sat outside a popular restaurant only steps from the ocean. By the time the checks arrived, our plates and drink glasses were coated with fine layers of dust.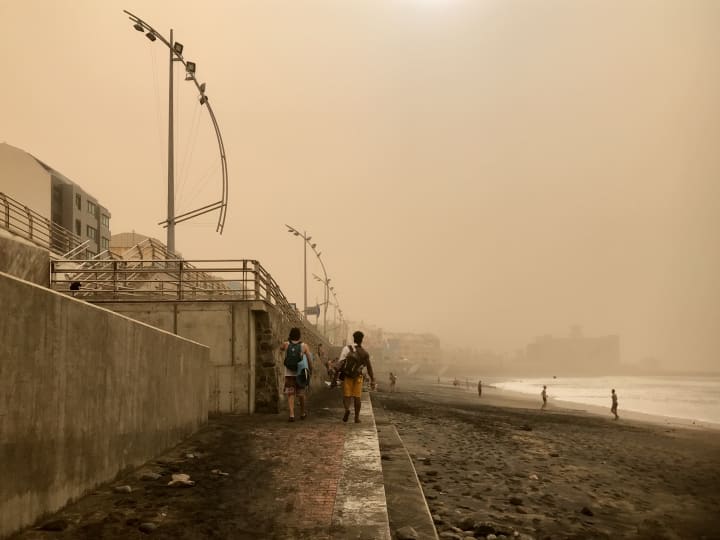 It was later that day that we began to understand what was happening: it was, officially, the most extreme case of calima to hit in years. Before nightfall, it was the dominant news story around the islands (this while the coronavirus was beginning to pop up in places outside of China. More on that in a bit). Being the mildly bemused person that I am, I initiated conversations with a number of locals in order to gain a better understanding of la calima.
Sure enough, locals attested that a sandstorm like that one had not swept through the islands since 2002. Others said 1985. The accuracy of human memory can indeed be fickle, but since the Spanish are a highly social people who live through stories, I trusted what they had to say.
Life across Gran Canaria (and the other islands) quickly ground to a halt. The island's central transport authority either cancelled or delayed many of the flights that were scheduled for that evening. This would also happen on Sunday and most of the day on Monday, leaving thousands of people stranded in the airport or having to unexpectedly extend their travel plans (albeit in a whirlwind of sand).
Here is a short video that does a pretty good job of showing the extremely limited visibility at the airport:
https://www.youtube.com/watch?v=nLAUQArmoGI&feature=emb_title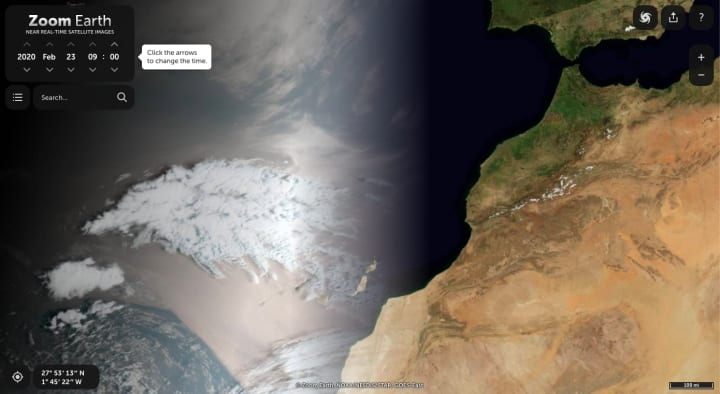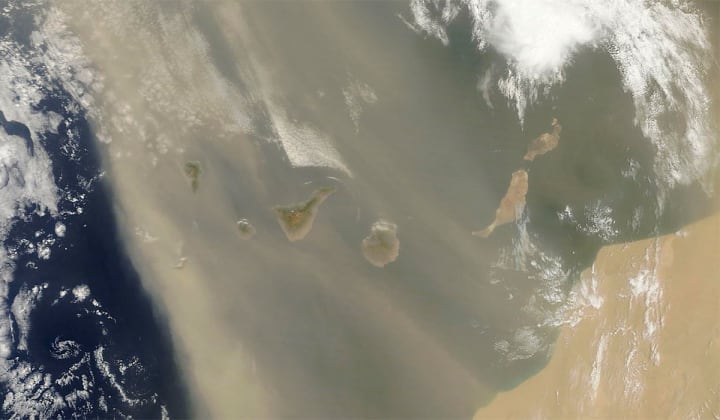 As it turned out, my buddy Dan was expecting a friend to arrive from the States via Barcelona that Sunday but, due to la calima, she didn't land until the following Wednesday (a three day delay)!
Thus, instead of meeting her at the airport, we took advantage of his Sunday car rental to visit the southern end of the island to see what it was like. The town of Maspalomas, usually a bustling, touristic area on the weekends, resembled a true ghost town. The yellowish-orange haze of the calima dominated the landscape; very few people or cars were present on the sidewalks or roads. We stopped into a restaurant that my buddy Terence recommended for lunch, where a decent number of people dining. Outside, however, only a handful of people dotted the surreal cityscape.
After lunch, we swung by a well-known Irish pub for a round of jarras (big steins of beer) but I excused myself to wander around the nearby streets with my Nikon, as I wanted to document the effect of la calima. Below are some of my photos from that day: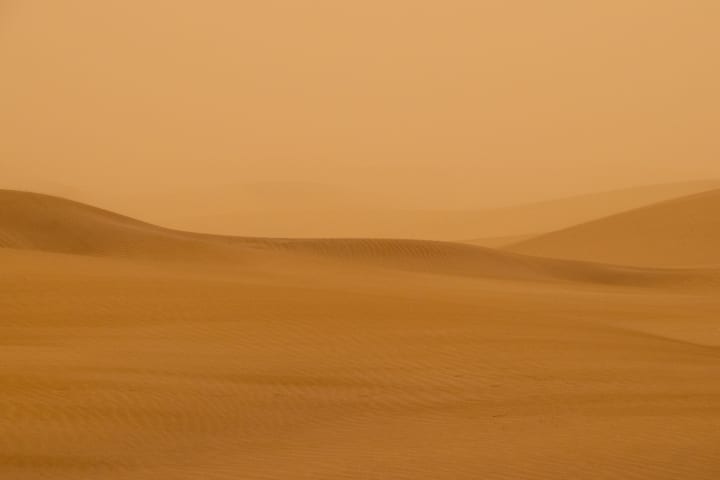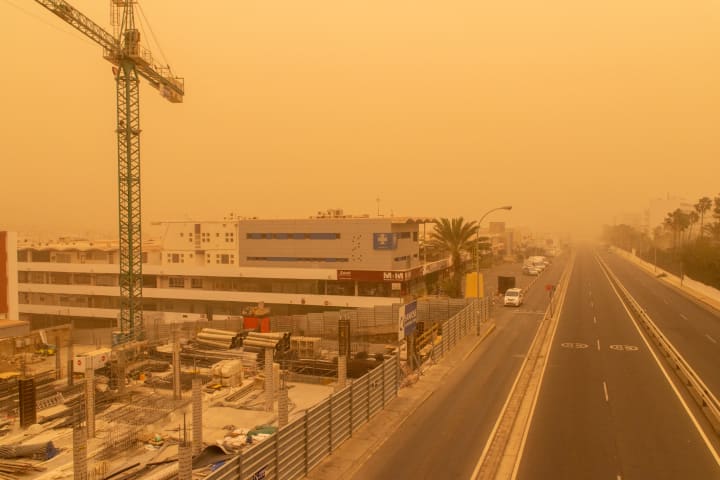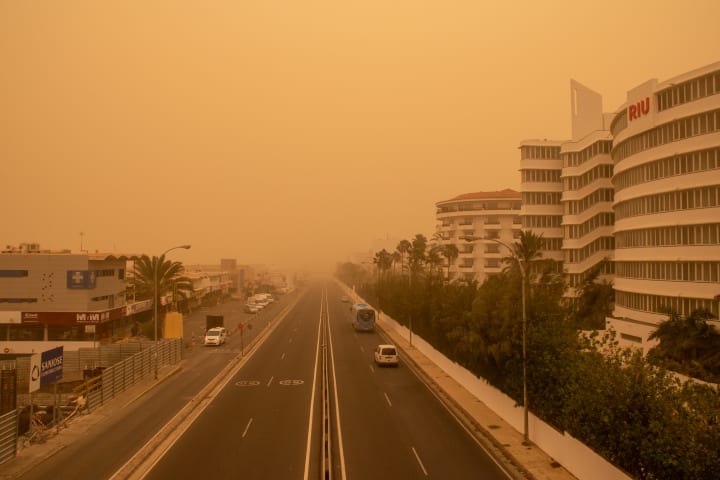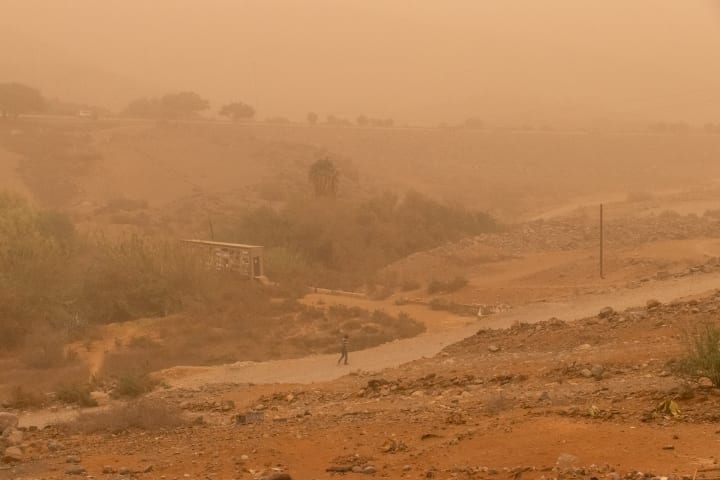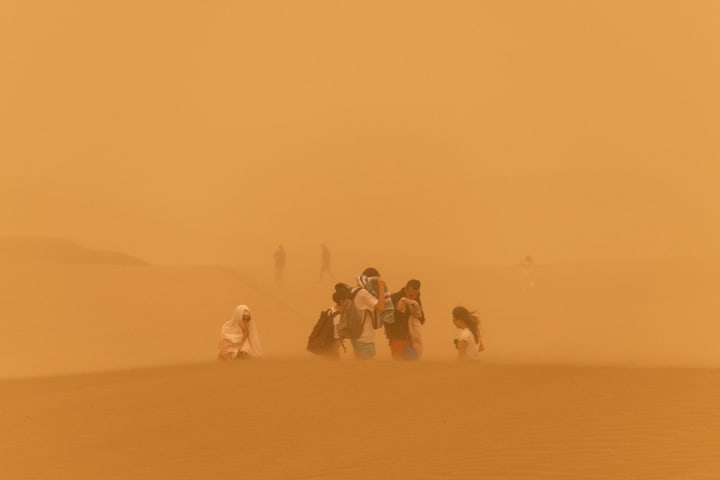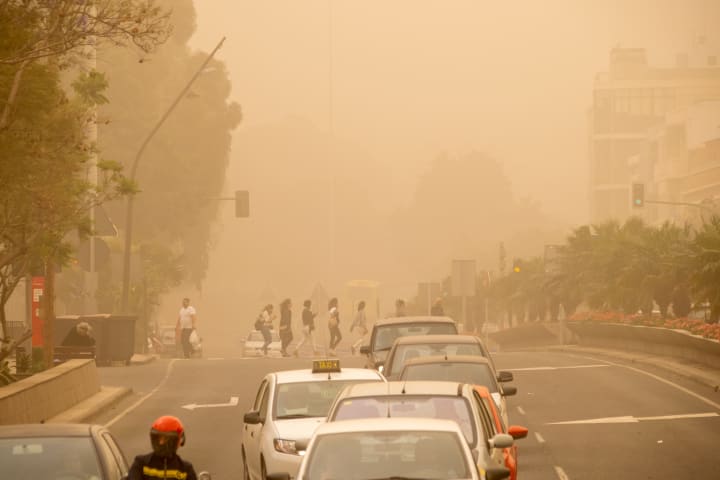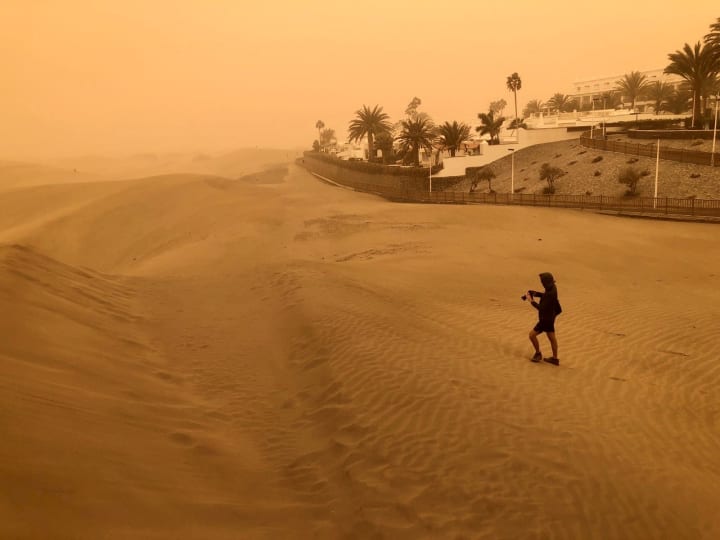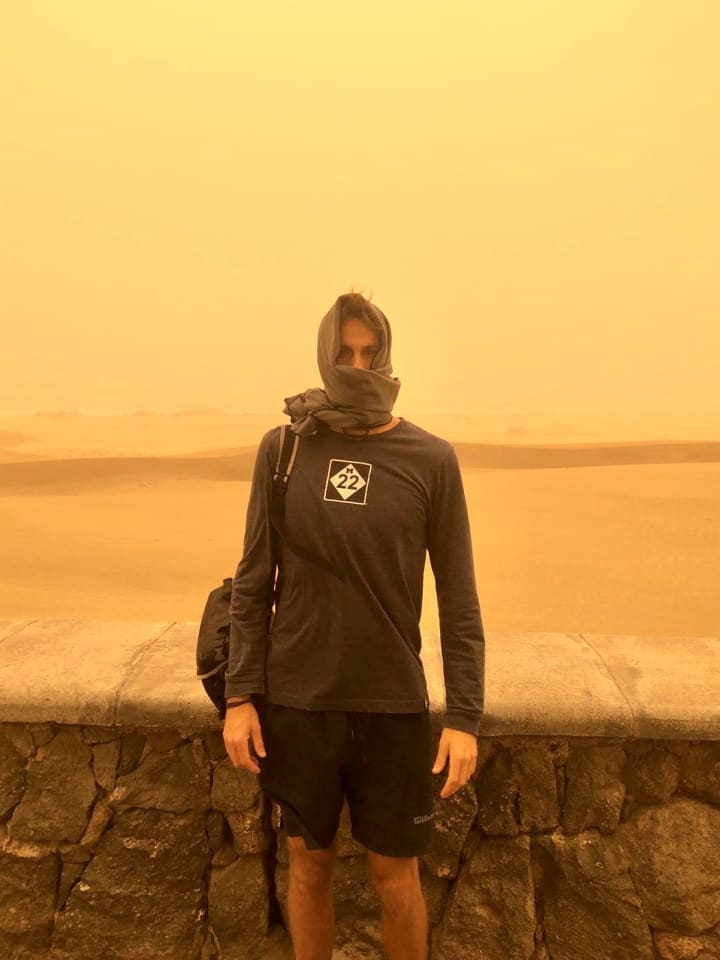 —–
Tourist and business travel aside, Gran Canaria was in the midst of celebrating Carnaval that weekend. Carnaval is a longstanding tradition in many places across Europe, dating back centuries, but the Canarians have taken it to another level. Celebrations, parades, and parties take place just about every weekend for close to two months, and that weekend was going to be no exception. An especially notable event that was due to pass that Monday was Los Indianos (known as 'traditional carnival' in English). This is what the site Carnivaland has to say about it:
"Traditional Carnival is a messy affair. Everyone dresses in white and throws talcum powder at each other in honor of the "Indianos" emigrants who made their fortunes in the Americas during colonial times and then returned home to the islands. Held in the old town it marks the eve of Shrove Tuesday."
After the weather normalized the following week, I stopped by the stand of a local vendor who sells roscas (Canarian popcorn). As I gave her .50c for a small bag of spicy roscas, I heard her say over the phone that the cancelling of Los Indianos "fue un puto desastre." For those who need a translation, I recommend the website SpanishDict.
Carnaval is a critical part of the calendar year for the Canarian people. In addition to being a time of fiesta, when Spaniards truly earn their reputation for having a robust work/life balance, businesses rely on the revenues from the large crowds of carnival goers who dine and drink merrily, often beginning early in the day and going late into the night. When the city government mandates that an event be cancelled and the majority of the population ends up staying at home, restaurants and vendors are forced to take an enormous hit.
And so it was- la calima. But as I write this blog post, two to three weeks on from the sandstorm, a far more serious event now dominates the headlines. COVID-19, the novel coronavirus, is currently spreading around the globe at a much, much faster rate than we can feasibly halt it. It is affecting the daily lives of millions people in a host of different countries. This is a consequence of an increasingly busy, interconnected world.
In addition to Italy having to enforce a complete lockdown, Spain and France are currently enacting highly similar measures (on Monday, March 16th, Spain will enter a 14-day period of isolating confinement, meaning that all but the most necessary of societal functions will be suspended and people will be ordered to remain indoors). The WHO has concluded that many other countries around the world (including the United States) could be anywhere from 7 days to two weeks away from eventually being forced to do the same. It would be a bit obvious to say that this virus is disrupting modern life in ways that are, surely, unprecedented. This is what a modern-day pandemic looks like.
There is so much that can be said, read, and retread about COVID-19. My purpose is not to do that here. As the pandemic progresses and/or eventually wanes, I will perhaps document my viewpoint(s) on it here.
If there is one positive takeaway from the hard-hitting tactics of confinement and enclosure, it is that many of us here in Spain now have plenty of time on our hands. For example, I get to read, write, watch, and pass the time as I please.
In a recent phone conversation with an American friend who currently lives in Paris, I remarked that Shakespeare produced some of his most important works during the plagues of the early 1600s in England, when he (or whoever Shakespeare actually was) had to remain isolated from city society. We also joked that so far, aside from promising developments on treatment for COVID-19, all that seems to have happened is the circulation of some very funny memes. May the arts flourish in these times!
-HPM
—
Thank you for reading. If you have any questions or comments, please them leave them below. Otherwise you may send me an e-mail at [email protected]
humanity
About the author
Swiss-American. Daydreamer. Shortlisted for the Vocal+ Fiction Awards.
Portfolio...... pohaimuller.myportfolio.com
Blog............ pohaimuller.wordpress.com
IG................ @hanskealoha
Reader insights
Be the first to share your insights about this piece.
Add your insights