In the Path of Falling Objects
The bond between brothers can never be broken.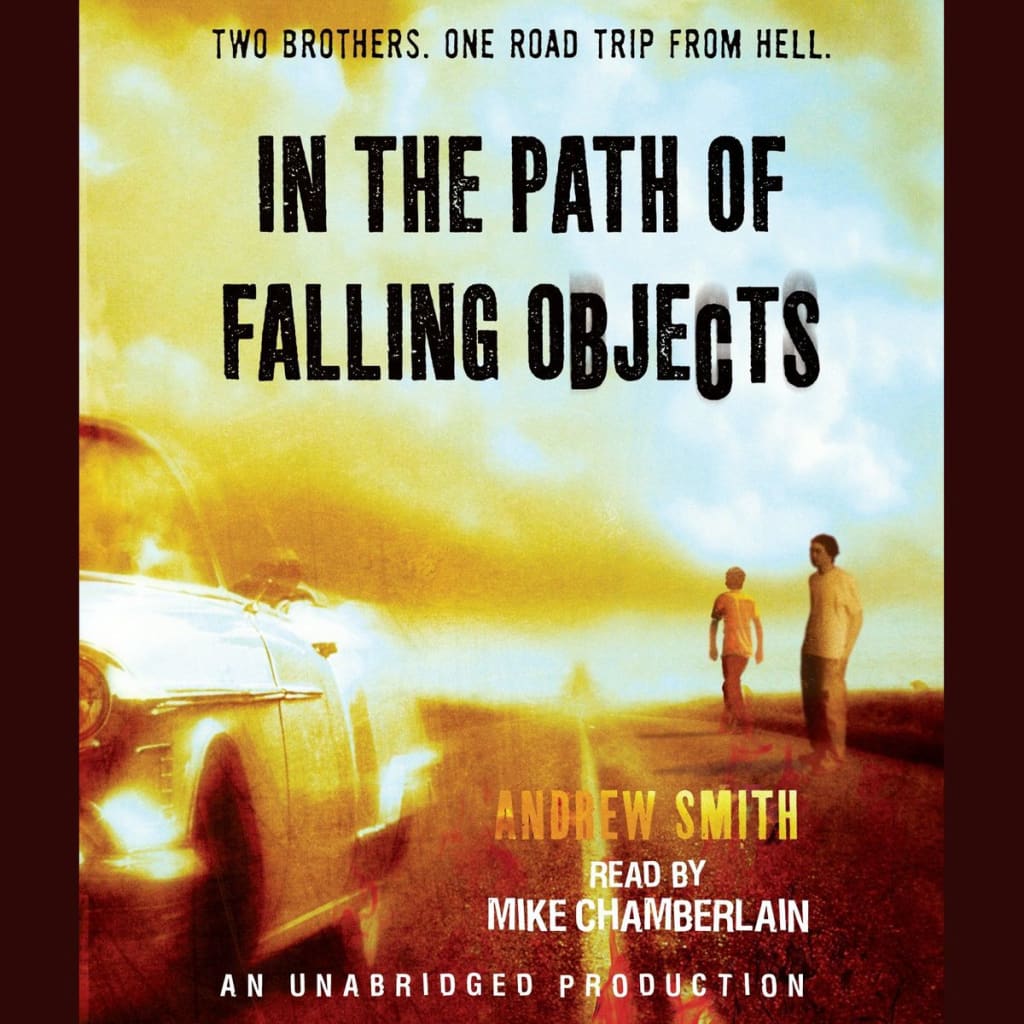 Andrew Smith strikes again! I'm starting off the new year by diving into the stack of books that I received at Christmas (and yes, they are all Andrew Smith). I decided to start with "In the Path of Falling Objects," and I am glad that my 2021 reading journey is starting off with a bang. Smith, who is one of my favorite authors, has a way of crafting characters and narratives that completely hook that reader--and this book was no exception. Like a slow boil, I suddenly realized that I couldn't put this book down; instead, I began furiously turning the pages in a desperate need to know how it would all end.
"In the Path of Falling Object" tells the story of two brothers, Jonah and Simon, as they run away from their home on a journey to Arizona--the place where they are going to meet their older brother when he returns from fighting in Vietnam. Leaving behind a mother who couldn't care less about them, the two boys begin their journey across the desert, hoping to find what's left of their family on the other side. Like typical brothers, Jonah and Simon don't see eye to eye: they fight, they argue, they fight some more, and then follow that up with more arguing, but at the end of the day there is a bond--a love between them--that cannot be broken. Carrying nothing but a composition book containing a hand drawn map of their journey, ten dollars, the letters from their brother in Vietnam, and a loaded handgun, Jonah and Simon know their journey won't be easy.
When they hear a car approaching them on the road, Jonah instructs his younger brother to simply keep his head down and continue walking, but Simon, thinking he knows better, holds out his thumb to signal for a ride. Enter Mitch, Lilly, and Don. As Jonah and Simon join Mitch and Lilly, they realize two things: Mitch, despite his normal outward appearance, is completely deranged and Lilly, a fair and beautiful young woman, is harboring a secret; oh, and they drive around with a mental statue resembling Don Quixote in the backseat of the car.
Simon, who idolizes Mitch, becomes enamored with the lifestyle that he leads on the road, but Jonah, realizing Mitch's true intentions, urges his brother to flee with him. After an unfortunate event leaves the brothers separated, it becomes an urgent journey to reconnect before it's too late.
Smith does an excellent job at writing characters that feel real--that feel human. As someone who doesn't have siblings, I was able to experience the bond between these brothers and understand the unspoken need to protect one another. The characters in the book are complex, raw, and force you to think about what you truly know about a person. Gravity is used as a metaphor throughout the book to showcase the law attraction that keeps everything grounded and proves that actions come with consequences.
I loved the way that this book used an alternating point of view for different chapters to allow the reader to get inside the mind of different characters. As the book began to approach the climax, the chapters became shorter and shorter which created a rushed feeling in the reader--almost forcing you to quickly keep turning the page. The chapters in Jonah's point of view each began with a letter he received from his brother in Vietnam and the letters acted as a mirror to connect the struggles that these brothers were facing despite being a world apart.
This book is filled with excellently written characters, excitement, romance, and plenty of moments leaving the reader going, "wait..what?!" Although there were a few spots when I felt the plot was a little dry, I would recommend this to anyone looking for a quick read that leaves you on the edge of your seat.
4 out of 5 stars