Ignored beauty
Madrid, the "hidden" gem of Spain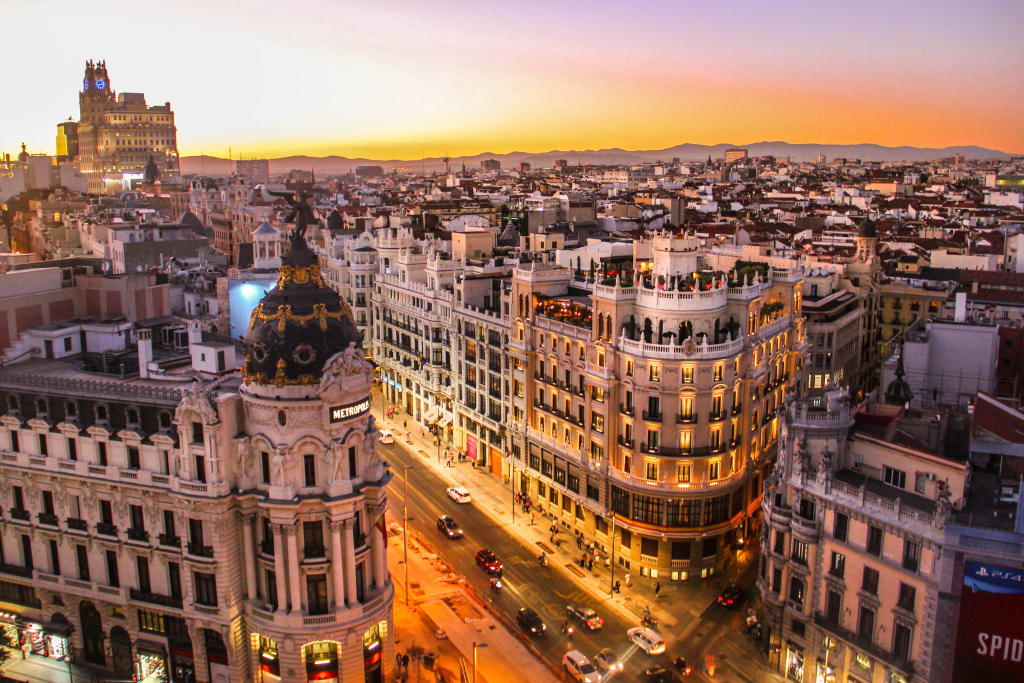 Madrid aerial view. Florian Wehde
How to explain a city that is a feeling? Where do you start? I guess starting with one of its natives is as good of a beginning as any. I was born in Madrid and I lived there for 20 years, the first 20 years of my life. The city shaped me, but I thought I was oh-so independent from it. No attachment to the city I was born in or the place I went to school. To the winding streets of its city centre or the massive parks, new and old, the city's struggle against the dry heat in summer and the dry cold in winter.
Then I moved away. I am still away. I have the privilege to go back each year and re-discover my city, with the local and the tourist angle. I love and I hate that the city changes without me, that I am surprised to find a new shop on a corner or to see that my neighbours are no longer there. It hurts, but a few days back are enough to heal the wound. Maybe someday I will feel solely like a local when I go back; maybe I can stay for longer than two weeks again.
Madrid is a hidden gem in Spain. Or maybe not that hidden, but I guess the majority of our tourists visit because it's the capital city. Most of the people I know have visited Barcelona instead of Madrid. But the people that I know who have been to Madrid are in love with the city (not to say that Barcelona is not worth visiting. I don't want to start a war here, you know?). I would say that to really understand Spain, you need to visit every inch of it. There is so much history in every point that you will feel like you are in a completely different country when you go from town to town. But back to Madrid, my city.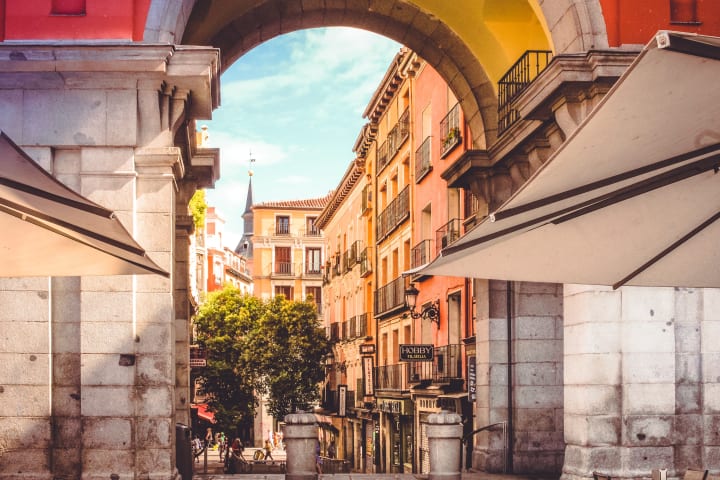 If you want to visit Madrid, be ready to walk. Everything below an hour walk away is close to a "Madrilian" – it's walking distance. So when you ask "how can I get to such and such place?", if you are in the centre, you will always get the reply "ah, yes, just go down this street, it's pretty close by". Google Maps says it will take you 30 min to walk there? Sure, the local you asked didn't lie – that's really close by to us. But don't take the easy way out and take the bus. Walk. That's the only way to know Madrid. I could tell you a bunch of grand buildings to visit, and sure, they are really beautiful, but the magic of Madrid isn't in the big buildings. It's in the small streets, the details on the blocks of flats in the city centre, the corners and hidden gardens that you can only find if you walk. Those 30 min will feel like ten, and will be more than worth your time. One of the nicest places to walk around in is "el Barrio de las Letras". Although mostly unknown by foreigners, Spain has had many top notch writers apart from Cervantes. The most famous parts of their books are written on the floor as you walk around this district. The shops and restaurants that you can find there are also incredibly pretty. You won't know where to look: up or down?
Maybe it's best if you go for a walk there in the afternoon and have dinner somewhere around there. Why? Because if you go to Huertas street, in that same district, you are in the bar zone. Perfect to get a taste of what going out in Madrid is like. To that aim you also have Chueca, the famously gay district, also full of bars and pubs.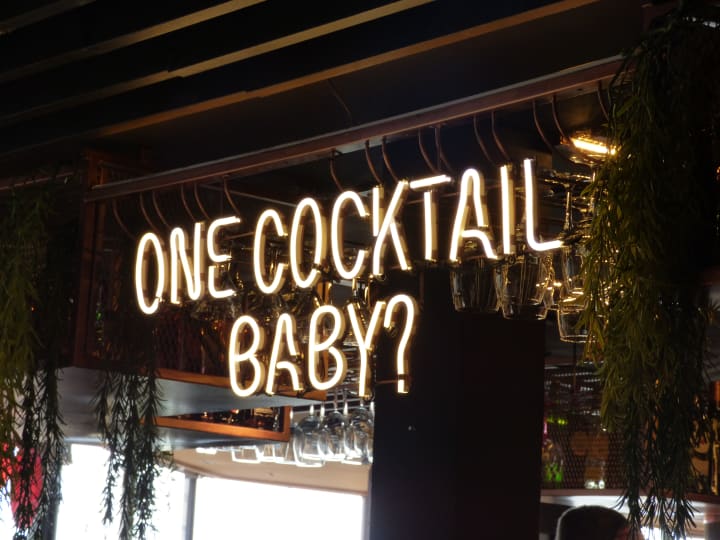 However, plan for a late night. If you're going out in Spain, the party starts earliest at midnight. We have dinner at 21:00, and that's already too early for some, so you have to shift everything down in accordance. I mean, you have to get ready, and you have to look your freaking best, so you need time. Fashion is everything in Spain; more in some places than others, but we definitely pay attention to our looks. We want to feel beautiful and empowered and fashion can do that to you. Thus, Madrid is also a great place to buy your latest outfits (cheap and in fashion, win-win).
But the thing I most indulge in when I go back, more than walks around the city centre or chilling under the sun in Madrid Río, is food (no need to feel guilty, you'll walk it all off!). I miss the fresh fruits and veggies, the fish... my mouth waters only thinking of it. So this is a key part of your visit to Madrid. If you want to cook yourself, go to a traditional market and buy your groceries there, the quality is worth your time. The famous "Mercado de San Miguel" is pretty expensive, but there are other, cheaper options. If you prefer to eat out because, you know, you are there to relax and be fed, then I have a few tips and suggestions for you. DO NOT BUY PAELLA. The "Valencians" will chase you down and torture you until you throw it all back up. No, just kidding, but only partly. Paella isn't traditional of the whole of Spain. As I said before, each region is really different from the rest, and paella is a typical dish only in Valencia. If you buy it in Madrid it will be dreadful paella, I can assure you. Instead you can try and find somewhere where they sell the following: tortilla española, huevos rotos, calamari, cocido madrileño or gazpacho, for example.
Bars are the best places to get tortillas. This dish can be eaten as breakfast or as a snack in the middle of the day. Gazpacho is a refreshing vegetable soup that is served cold, and is drunk, not eaten with a spoon; the perfect refreshment for a hot summer afternoon. My favourite places to eat in Madrid are: "Los Rotos" for huevos rotos, "La Oveja Negra" or "B13" for vegan options, "La campana" or the adjacent store for a calamari sandwich (I reaaaaally recommend that you try this. Like, really. They also have vegan options if you don't eat fish), "Tu fruta al momento" for freshly squeezed cheap juices, "La famiglia" if you are feeling like Italian (I know, not Spanish, but its freaking good. It's the only Italian restaurant that my dad likes, so there you go) and los Pinxitos for a delicious and affordable breakfast of churros, also a must have if you are visiting Spain (very detailed, I know, but food is VERY important, okay?).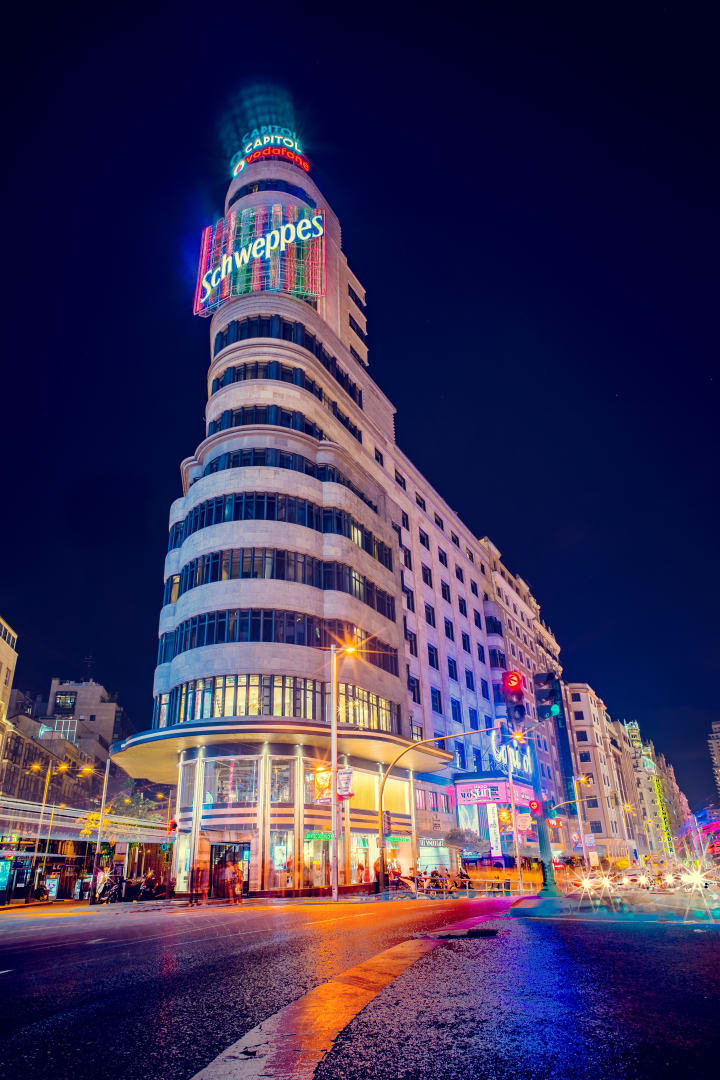 There are many more things I could tell you to visit in Madrid. The offer of things to do is unfathomable. But I think that at this point, it's better that you just go there and discover them for yourself. I mean, all in all, I doubt there's a better city for a holiday. Amazing food, friendly people, beautiful streets you have to walk through, sun and a lot of fun. You just cannot not enjoy Madrid.
About the Creator
Erotic short story writer (bisexual). My stories center around female characters and their pleasure. Let's reclaim our pussies!
Twitter @ClementineLips
Insta: @clementine_lips
Gumroad: gumroad/clementinelips
Reader insights
Be the first to share your insights about this piece.
Add your insights