I Am a Wanderer
...and I Love It!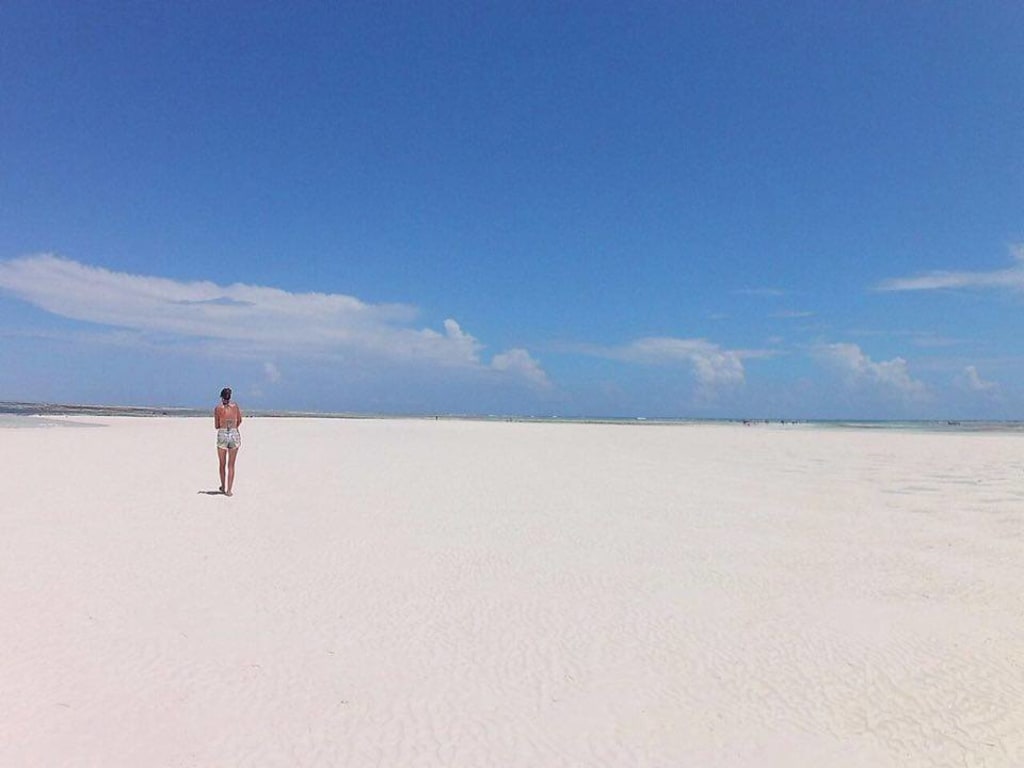 I grew up in a very small town somewhat like the scene of The Simpsons. A town where most people work at the power plant, not that there is anything wrong with that—it just wasn't in the vision I had hoped for myself. I so desperately wanted out of that small town for so many years as I felt trapped in a little bubble just waiting to burst out. My family situation didn't make it much easier±but I'll save that for another post.
I visited several Universities before deciding on the one that was the farthest from home. A nice crisp four-hour drive away. I did not have a car and public transportation was lacking in our town, so I rarely went home. I took a few mini trips to the states during University, to New York City and Chicago a few times. I absolutely loved it and could not wait to explore more. I kept thinking, what next? Where can I go? What can I do after university? The pondering question that every University grad goes through once they cross the finish line.
For me it was A) stay in the city and go to grad school or B) vanish away on a one-year teaching contract. Teaching? In a country I had never been to, in a city I didn't even know how to pronounce, and a language I had never really heard? Who the heck would want to do that? I chose the later. After some persuasion from an ex and a few of my close friends, I thought why the heck not?
I packed up my stuff, traveled back to my home town for two months and worked two jobs while I saved up for my year expenditure to Korea to teach ESL. I vaguely remember telling a friend I was going to teach abroad, and they straight up died laughing in my face. You!? Teach? Let's just say I am a pretty awkward turtle, but a funny and kind one at that.
I didn't do near enough research as I should have before jetting off to another country and let's just say I only brought one suitcase and very little winter clothes. Oops. It's okay, I survived off some nifty thrift shop clothing sprees. It was a very different experience, one other than any I could imagine and as soon as I landed in Incheon and got on that bus to my city, I immediately question what the hell I was doing. What was I thinking? I am completely alone. This was the first of many of these moments for me over the next couple of years and I soon came to long for the extreme solo dive into the unknown.
I came off a 13-hour flight in track pants and changed in the back of that bus into a nice "teacher appropriate" dress, as I knew my boss would be picking me up. Silly Hayls, that was unnecessary. Those first few months as a young 21, soon to be 22-year-old were a little tough. I was one of the youngest teachers there in the expat crowd. Over time, I grew a little more confident and became part of a marvelous strong girl pack group. We stuck together for the year and I must admit it was one of the best and rewarding years of my life. A lot of freedom, challenges, successes, and of course, a little heartbreak.
I saved up some cash over the last few months of teaching and went on to volunteer and travel around South East Asia. My best girlfriend met up with me and we had the time of our lives. I instantly regretted not changing my last flight home so I could venture off to Vietnam with her, but it had been a long 15 months away and I wanted to see my mini me (baby sister).
After stepping back into the cold Toronto city with my elephant pants on—yeah you know the ones—you could see my presence, my tan, and my absolute peace of mind. My mom noticed what a different person I was immediately, which was a whole lot less anxious and a lot calmer. I have had anxiety most of my life, but over the course of the trip it had dimmed slightly. I am pretty sure I slept for a week straight and did not leave my room that first week back home. However, in week two I hit the ground running and decided on what was next, Australia.
My friends at home often questioned how I traveled and how I was able to do all these things considering I didn't have a lot of money or come from a well-off family by any means. Well, most of my traveling experiences have consumed of "work travel." I don't just go abroad and not work. When I went to Korea I worked long hours all year round, even through the summer. Of course, we had some holidays off, but honestly not much. I saved up a bit and used that to travel for two months. I used that extra cash I had left over to then book my next flight to Australia (a super cheap one with 2 stops mind you). I then continued to work two jobs at home as a janitor and a server at a mini sushi restaurant to save up a bit before I left again.
After two months I went to Aussie Land... stayed a few months and worked two jobs in restaurants and cafes. It was surreal, but I still longed for more. I just couldn't pinpoint it. There were some lows there, trust me... like the time I booked a flight to Cairns and then headed to a banana farm to make some cash. I used my last pennies and had a slim 130 bucks in my bank account, which led me to empty half my suitcase in the line into the dumpster because I couldn't afford the extra $100 charge for weight. Or the time I then had about $70 left for my first week at the farm and no work yet. I ate oats with peanut butter and canned beans for a bit. After some guidance, friends, and simply not being dumb with my money anymore, I was stable again.
Australia was amazing, but I knew I wanted more, I wanted to keep learning and go back to school. I used all my banana savings to come back to Canada and squeeze my way into a last-minute spot in an International Development post grad program. This program was amazing, and I knew right away that I was in the right place at the right time. This was what I wanted to do, and this was the career path for me. I remember a prof calling us a pack of misfits one day—in a positive way. I was so thrilled to hear that—Yes! Exactly! A misfit who wants to do good, honest, and sincere work sounds like the perfect misfit to me.
This program led me to an Internship in Tanzania and a job back in Toronto after that. I truly thought I would be 100% happy to be back in Toronto and work here for years to come, but I honestly don't know. I have that constant feeling in my mind. Lingering, wandering, questioning, pondering. Where to next? I could live anywhere. I could teach anywhere. I can work anywhere....
I am a Wanderer….stay tuned!