Huron Mountains Adventure, Michigan's Upper Peninsula
A 200-Mile Jeep Trip Mixed With Day Hikes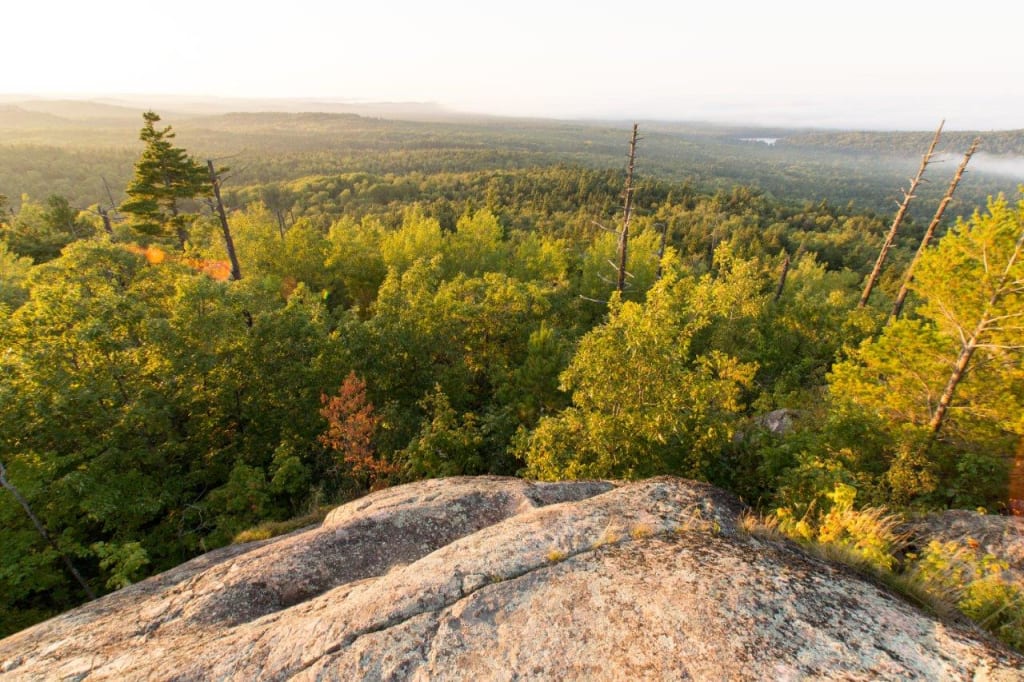 View from Hogback Mountain of Huron Mountains Area
I explored the Huron Mountains of Michigan's Upper Peninsula in late September a couple years ago. I drove my Jeep Wrangler in a 200-mile loop that started and ended in Marquette Michigan while stopping to do several day hikes. The northern section of this route from Eagle Mine to Lake Roland below Mount Arvon is forest service roads/trails. I wouldn't recommend trying it without a high clearance 4-wheel drive and a good GPS.
My trip started with a climb up Sugarloaf Mountain. This was a short hike of .88 miles round trip right off the road north of Marquette. The trail had two options, Easy and Difficult. Of course, I chose the Difficult Trail. It wasn't too bad if you take your time. The rocks and roots form natural steps.
Sugarloaf is 1,060 feet above sea level and about 470 feet above Lake Superior. There were big clouds of fog shrouding sections of Marquette County's forests this day.
After exploring the peak, I came down the a trail off the backside of Sugarloaf. The trail quickly started to disappear and then I found the remains of some old stairs. I don't think I was supposed to go this way!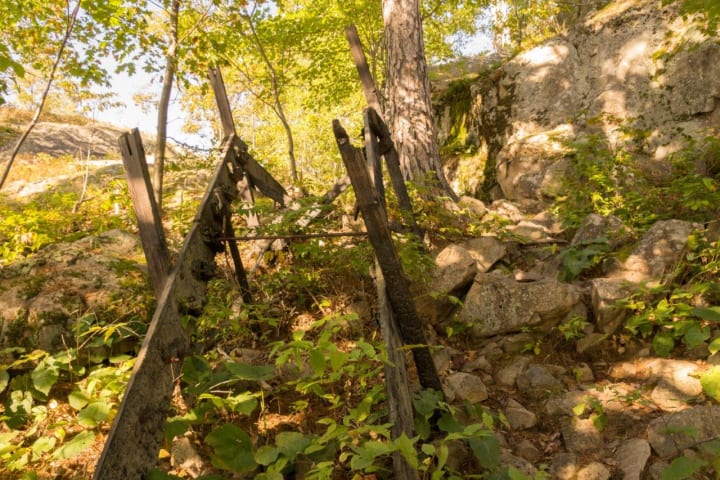 Having completed the ascent of Sugarloaf, I moved onto the trailhead for Hogback Mountain. Closer to the trailhead, the trail is very well maintained. However, this is part of the Wetmore/Little Presque Isle/Harlow Lake Area's trail system which is about 19 miles in total of crisscrossing trails– which can be confusing. I've been to the Wetmore/Little Presque Isle/Harlow Lake Area several times and gotten turned around twice. The GPS on my phone helped me to quickly recognize when I got off track. During this hike, I made a right when I should have gone left. Consequently, I hiked 5.4 miles while it should have been about a 4 mile round trip.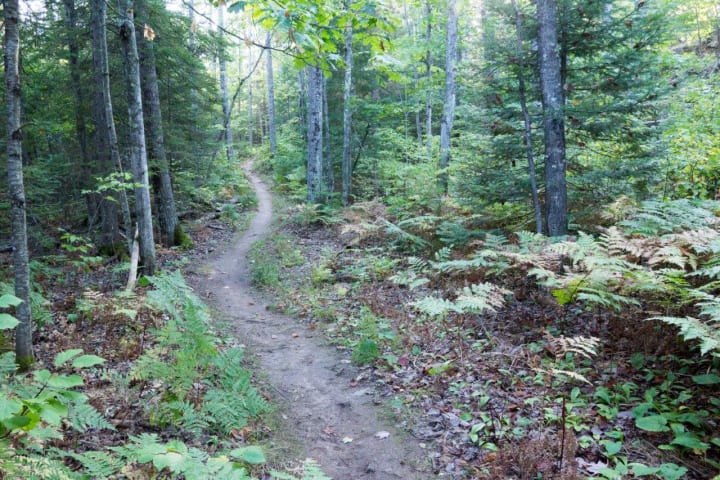 The last mile of the trail to Hogback becomes really challenging. Yes, this picture below is of the trail. You can see the blue blazes on the tree that mark the trail on the trees beside this rocky climb if you look closely.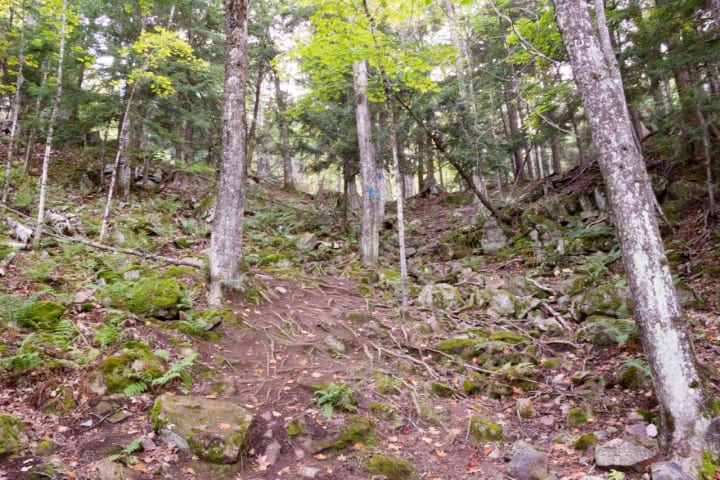 The summit of Hogback Mountain offers excellent views of the Huron Mountains which stretch north of Marquette to Lake Superior. Hogback Mountain has an elevation of 1,220 feet, making it the second highest point in the Upper Peninsula.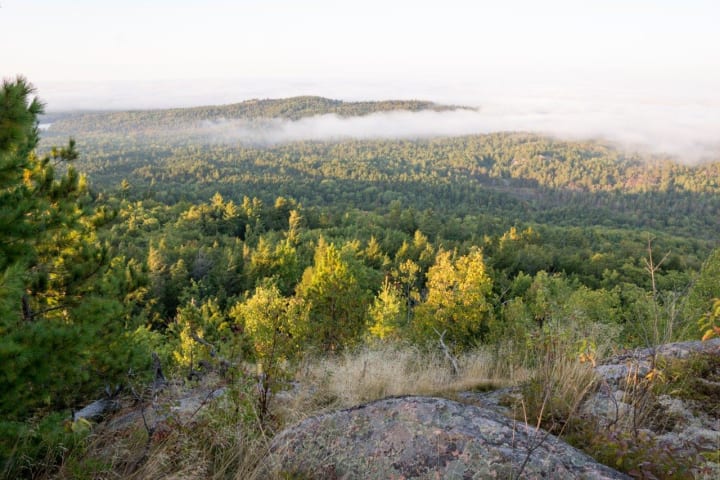 There are vast areas of wilderness north of Marquette. Some are public lands and some are private, like the 10,000 acre Huron Mountains Club. The club is one of the largest private natural areas in the Great Lakes region and includes extensive tracts of old-growth forest and a number of private lakes. They even have a gate house to keep out the riffraff, like me! The next day of my trip, I'm going to drive my Jeep through this remote region stretching away below me on national forest service and snowmobile trails.
My first night of my Huron Mountain Adventure, I camped at the Perkins Park and Campground on Lake Independence in Big Bay. I selected a rustic site close to Lake Independence so I could watch the sunrise.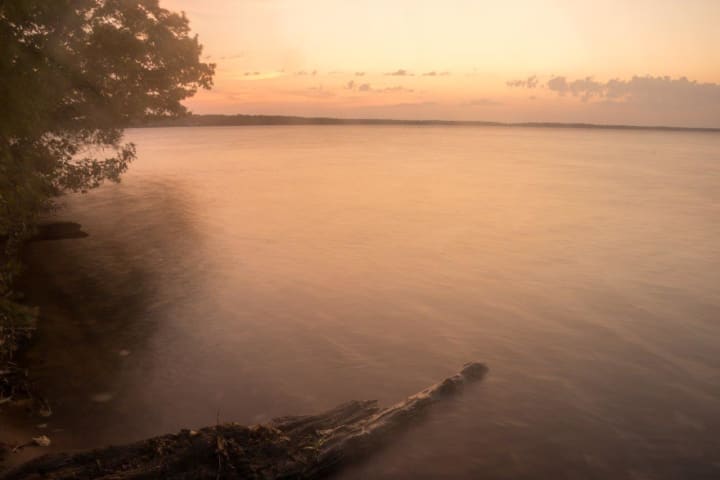 Before exiting the paved roads, I first stopped at the Thomas Rock Overlook which offers a great view of Big Bay, Lake Independence and Lake Superior. It has plenty of parking and is handicap accessible.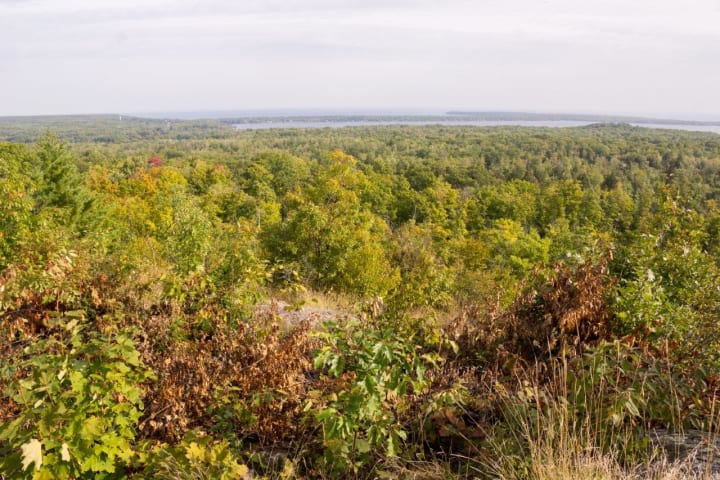 During my drive through the forests of the Hurons I came across many unmarked forest roads, but I kept going in a westward direction on what I thought was the main road. I crossed many small streams and stopped to photograph a few. I saw only one other vehicle.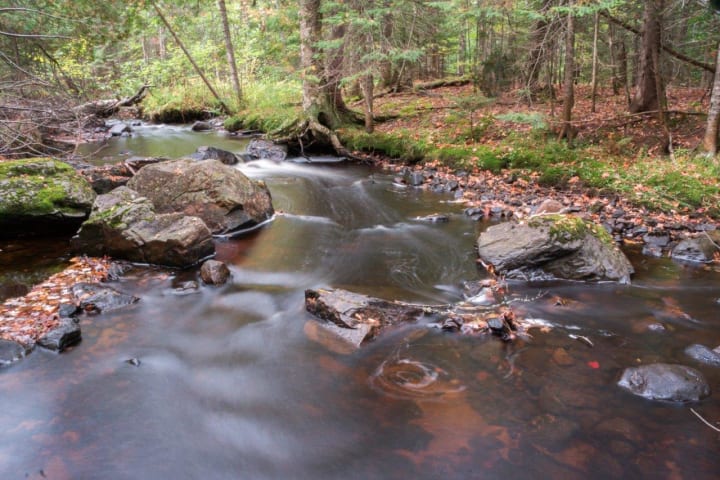 As I reached the west side of the Hurons where the highest point in Michigan, Mount Arvon, is located, it started to pour rain. So, I headed to Finn's for a hamburger. Before lunch, I stopped and photographed Huron Bay between thunderstorms.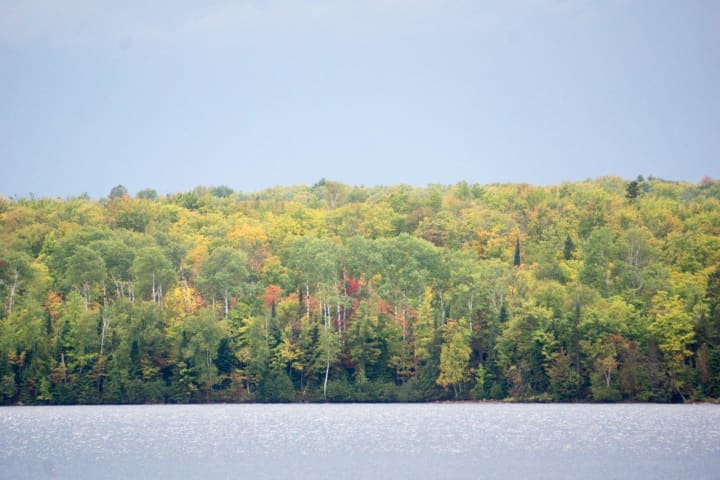 After lunch I headed over to check out Big Eric's Falls, Big Eric's Bridge and Big Eric's Campground. I saw them all, but not Big Eric! Big Eric's Falls is easily accessible from the parking area west of the bridge. The falls drops 5 to 20 feet.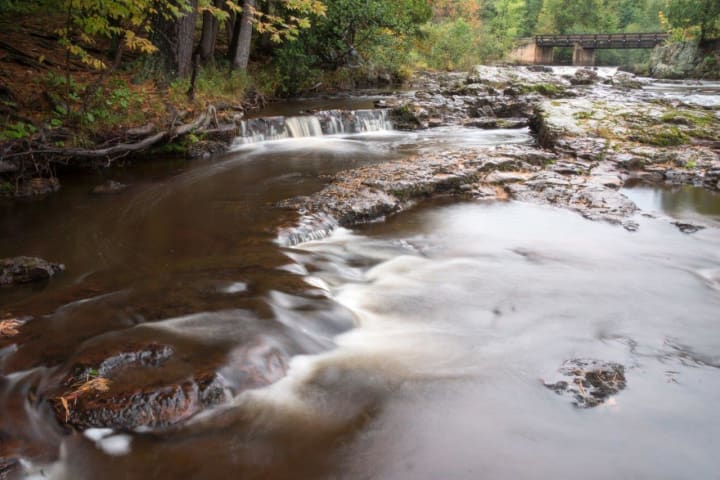 Big Falls is about 20 feet high and in a very remote location near the Baraga/Marquette county border. To reach this waterfall I had to cross a river with no bridge with my Jeep. The falls is visible from the forest road, but the view is blocked by trees. To reach the base of the falls, I had a steep climb down into the gorge.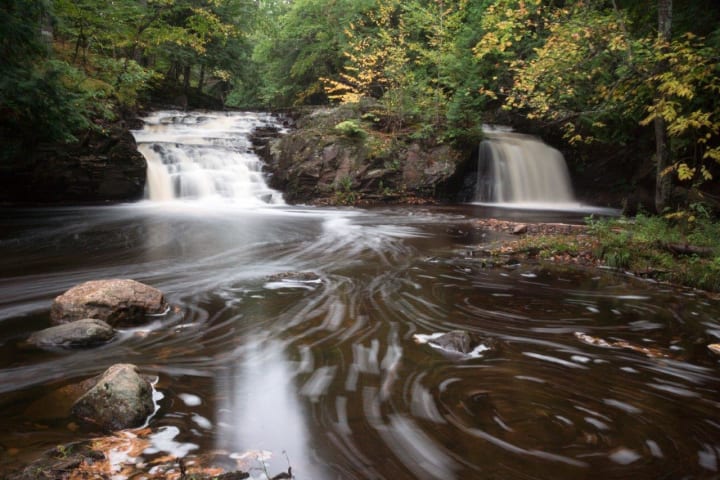 After visiting several waterfalls on tributaries of the Huron River, I headed to where the river entered Lake Superior.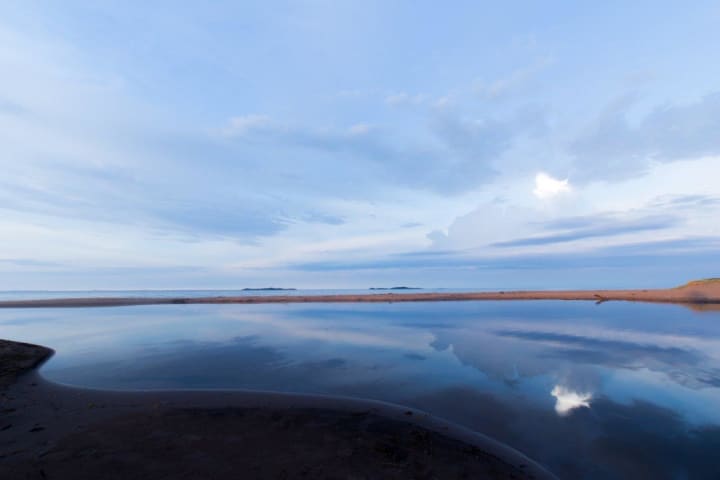 I parked my Jeep and setup my tent on the shoreline and awoke to another awesome Lake Superior sunrise.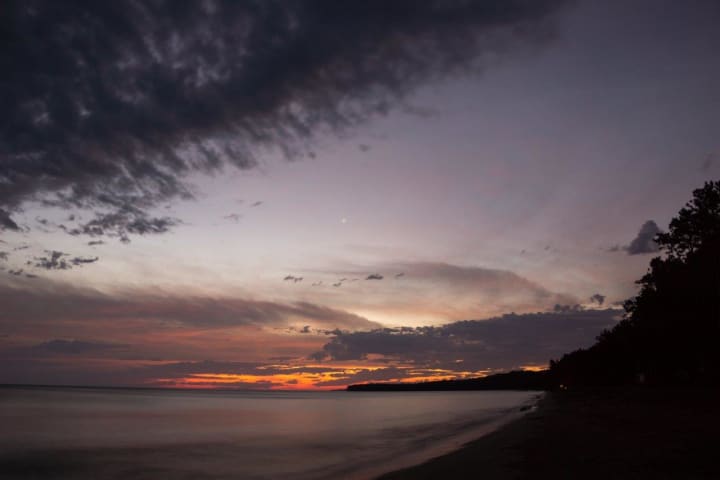 After packing up my tent and eating some oatmeal cooked on my camp stove, I broke camp and headed to Mount Arvon.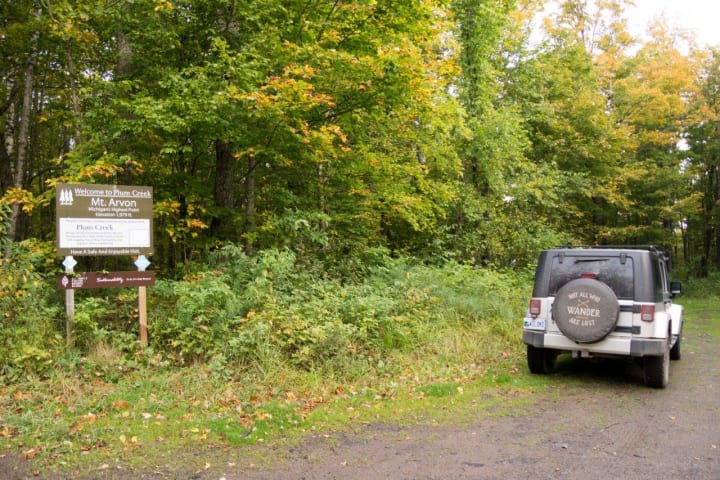 Mount Arvon is tree forested, but there is a small clearing where you can see west towards the Keweenaw Peninsula.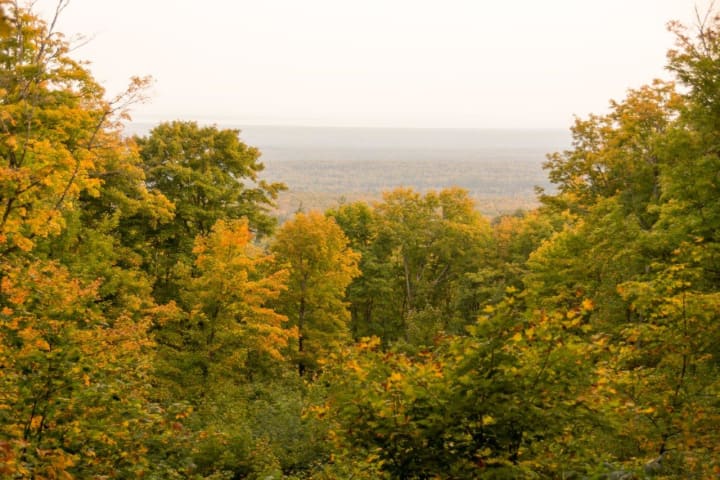 After visiting Mount Arvon, I headed south to Canyon Falls. This is easy roadside visit, and the river gorge is quite impressive. You follow a short trail along the Sturgeon River rapids to reach Canyon Falls. The waterfall falls nearly 30' into a smooth black rock into a box canyon which is often called the Grand Canyon of the UP (Upper Peninsula). I saw some crazy college students cliff diving into the river during my visit.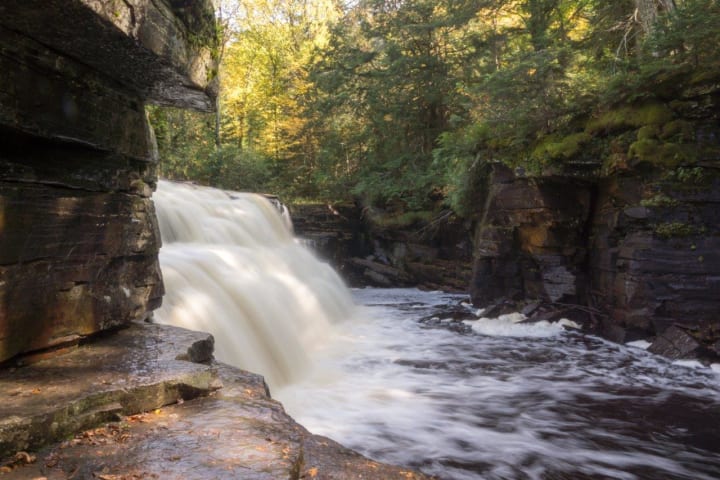 My final destination for my Huron Mountain region adventure was a hike around Craig Lake. This park is described as Michigan's remotest state park. It takes about an hour of driving some pretty rough two-tracks to reach this park. I also wouldn't recommend trying this trip without a high clearance 4-wheel drive. Once you reach it, you are rewarded with great views of beautiful northern lake while hiking the eight-mile trail that circumnavigates the lake.
With the proper permits you can back-country camp here. There are also some cabins you can rent from the state. I saw a couple anglers on Craig Lake that were probably staying in one of the cabins while I was hiking around the lake.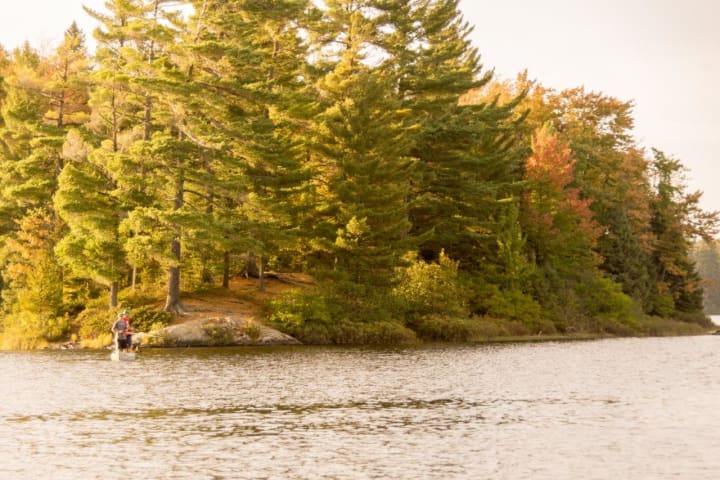 After my hike, I headed back to Marquette for my last night before heading back home to metro Detroit. I head a great time on my long weekend exploring some of the remotest regions of Michigan's Upper Peninsula with my Jeep Wrangler and my Merrell hiking boots.