How to travel like a local in Vietnam
Travel like a local in Vietnam to have the best travel experiences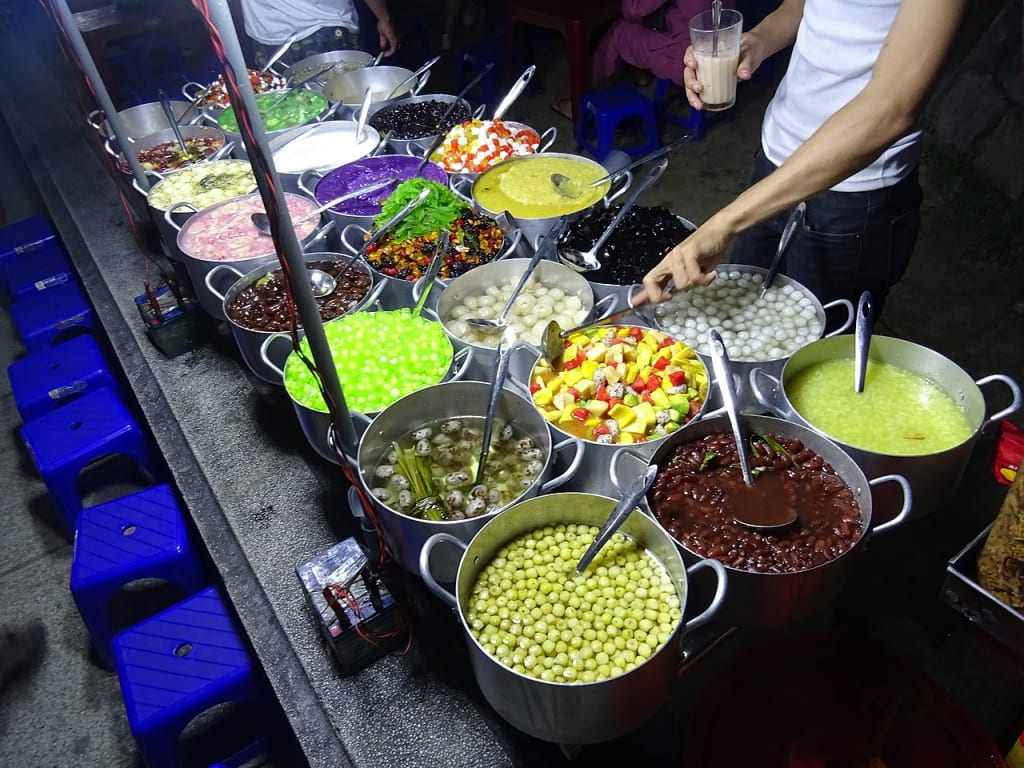 Christophe95, Food stand in Huế, CC BY-SA 4.0
The best way to enjoy a destination is to travel like a local. Places like Vietnam have much to offer visitors in terms of experiences and attractions which are quite different when you shed the tourist image, and simply become one of the locals. Listed in this article are several insider guidelines on how to travel like a local in Vietnam, for that authentic experience.
1. Learn To Eat Like A Local When You Cook Like A Local In Vietnam
That's right people, you can cook to your heart's content and learn all those secret methods for recreating your favourite Vietnamese dishes back home. You've got to admit that there is no greater thrill to feeling like a local than to shop for your own ingredients and cook an authentic local meal. Most of Vietnams top resorts offer cookery classes or you could even enrol at one of the cookery classes in Ho Chi Minh or even those offered at popular resort towns like Mui Ne.
Interactive cooking classes are amongst the most popular things to do in Mui Ne Vietnam; especially since the village markets, there are a treat to explore. Resorts such as Anantara Mui Ne Resort offer guests in-house cookery classes but it's the lead up to the actual cooking that's the treat. You will first set-off to the local market, mingle amongst the hustle and bustle of people there, and buy the fresh ingredients you need for your dishes. Then you head back where a skilled chef will have you cooking your favourite Vietnamese dishes which could include crispy spring rolls, Vietnamese pancakes, seafood salads made with local herbs and more.
2. Enjoy The Popular Vietnamese Street Food
Authentic and tasty, Vietnamese street food is also extremely cheap. One of the best ways to mingle with locals and feel like one is to explore the popular street food markets in whichever town your Vietnamese resorts is located. There are plenty of hawker food stalls in Mui Ne, since the town is very popular amongst tourists. Maika Street Food Stall and Bao Tram Rice Street Food are some of the more frequented.
Must try street food includes pho – Vietnamese rice noodles, xoi – savoury or sweet rice combined with other ingredients, bun cha served as sets which are noodles with grilled pork served with vegies and other ingredients, goi cuan – crispy spring rolls, banh mi a very popular Vietnamese sandwich packed with local ingredients and loads more tasty delights you must explore and taste. Oh, and don't forget to have this all while relaxing with a cup of ca phe trung which is a creamy Vietnamese egg coffee.
The street food stalls, as well as, the local open-air markets are good places to absorb the atmosphere and simply mingle in. If you are a first-time visitor to Vietnam check with your resort for local tours or ask around for those offering tours of the street food markets in order to make sure you visit the best.
3. Visit The Local Fisher Villages And Understand Their Simple Lifestyles
Learn about the daily routines and lifestyles of the local fishermen by visiting the nearest fisher village to your resort. Places like Hoi An and Mui Ne are popular for such activities where visitors can join the fishermen on their tours, observe and learn about the traditional fishing methods and watch a fresh catch being brought in which is quite the treat.
Mui Ne Harbour, for example, is a great place to go if you want to observe local lifestyles. Watch as the flimsy fishing vessels, which set off at night, start to arrive at the harbour as day breaks. The lucky ones bring in long hauls of seafood, which are then handed over to their waiting wives who conduct the sorting and selling process.
4. Do Your Souvenir Shopping At The Local Markets And Shopping Streets
Don't go in search of malls or shops for your holiday shopping needs if you want to experience the country like a local instead, head over to the colourful markets and shopping streets where you will enjoy not only the local flavour but a chance to pick up a few authentic souvenirs, at much lower prices than you pay at fancy shops.
The most alluring Vietnamese souvenirs to shop for include; silk products such as scarves, paintings and clothes, those famous conical hats which come in varied sizes, intricate hand-embroidered items and of course guoc moc which are wooden dogs, wooden clogs and other fascinating items.
5. Learn A Few Local Phrases
Anyone wanting to feel like a local in a foreign land knows they need to pick up a few local phrases. If you find the language too complicated, get yourself acquainted with a few sayings to get you by. Simple easy to learn sayings such as, 'do you speak English', 'thank you', 'how much', 'souvenir', 'I understand', 'how are you', 'hello', 'goodbye', 'good night', 'what's your name' and 'my name is' will help you interact better and feel like you fit in.
Enjoy your local experience in Vietnam!