How to Snorkel for Beginners
Snorkelling Holiday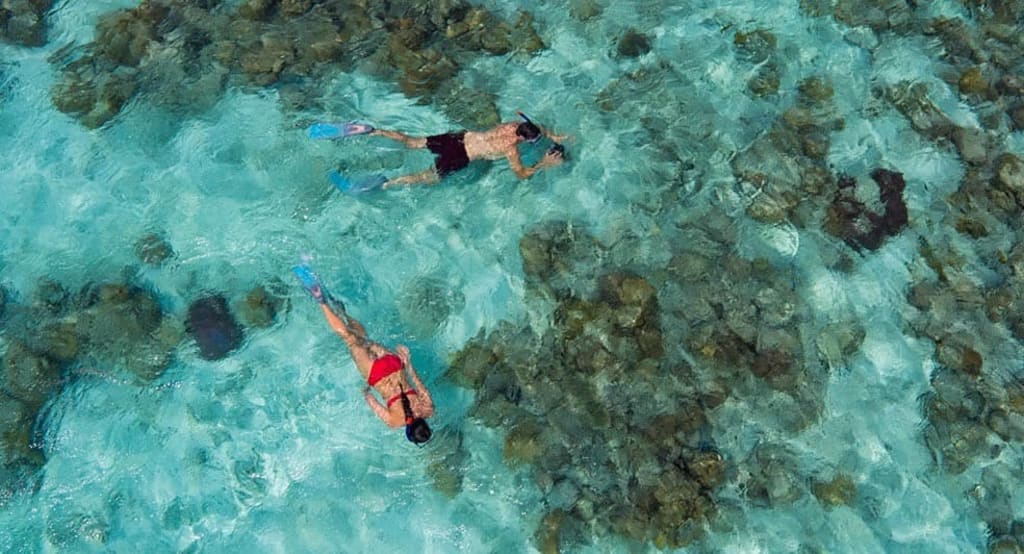 Image Credit: Anantara Kihavah Maldives Villas
Interested in learning how to snorkel? Here's an introductory guide that can help you get started on your aquatic adventure. Learn about some of the best destinations in the world for this activity and the main components of snorkelling equipment as well as some tips which you may find useful as a beginner.
Good Snorkelling Destinations
Most of us usually first consider trying out snorkelling right before setting off on a beach holiday somewhere. So what are some good spots around the globe for this activity? From Hawaii and the Maldives to Sardinia and Cypress, there are many places where you enjoy a wonderful experience. Some of the main factors to look out for when planning your snorkelling holiday are the clarity of the waters, the temperature of the waters (e.g. do you prefer only warm water snorkelling, or are you OK with chilly waters?) and the biodiversity of the marine life there. The latter is quite important, as the whole point of snorkelling is to enjoy the magical views of aquatic organisms under the water. These include colourful coral reefs as well as fish and other sea creatures such as turtles and stingrays.
If you prefer warm water snorkelling, one of the most renowned countries for this activity is the Maldives, thanks to its clear aquamarine waters and diverse marine life. When you book a stay at one of the many island resorts, it is almost guaranteed that you will be able to rent snorkelling equipment free of charge. In addition to this, resorts such as Anantara Kihavah Maldives Villas boast their own house reef. This means that you could conveniently alternate between snorkelling at the nearby reef and relaxing in your private pool villa. Maldives, however, is just one example of a warm water snorkelling paradise. If you're interested in putting together a global itinerary, make sure to also look at other destinations in Asia, Australia, the Caribbean, and the Americas.
The Equipment
As a beginner to the activity, it's important to familiarise yourself with the gear, before you head out into the water. First of all, there are goggles. While not a very flattering accessory by any means, goggles are necessary to help you see clearly underwater and reduce irritation to the eyes in saltwater. Additionally, when it comes to snorkelling goggles, they also serve as a holder for your breathing tube, also known as the snorkel, which gets locked into the goggles. The snorkel is what lets you breathe underwater as one end sticks up out of the water, allowing you to breathe in and expel air.
When choosing your goggles, the most important thing is to make sure that they can be adjusted to be the right fit for your face. They shouldn't be too tight or too loose and should be properly sealed in, covering your nose. A tight pair of goggles is better than a loose pair, as the latter will let water slip into the mask, defeating the whole purpose of wearing one. Another important factor to consider is your eyesight. If you wear prescription lenses, it might be necessary for you to order prescription goggles for snorkelling too. However, this can be expensive, so make sure you're committed to snorkelling before you invest.
Another piece of iconic equipment is the snorkelling fins. While these are not compulsory, they help significantly if you plan to do a lot of snorkelling out in the middle of the ocean. However, do note that they can initially be a bit disorienting to navigate in the water until you have acclimated to the fins. If you think fins aren't for you, consider getting protective swim shoes instead to keep your feet protected from sharp objects in the water such as rocks and sea urchins.
Key Tips
As a beginner, here are some tips that will help you along in your journey. Firstly, the art of snorkelling is all about learning to control your breathing. Practise in shallow water first as you remain calm, and learn to slow down your breathing so that you use less air while getting used to the snorkel. Secondly, always find calm waters to snorkel in. Even as you become more experienced, you will realise that calmer water not only reduces the chances of water clogging your snorkel but that it also makes it easier to observe marine creatures. Lastly, try to always have a snorkelling buddy with you so that you can watch out for each other in the water.