How to Plan Your First Trip to Dubai
A four-day itinerary!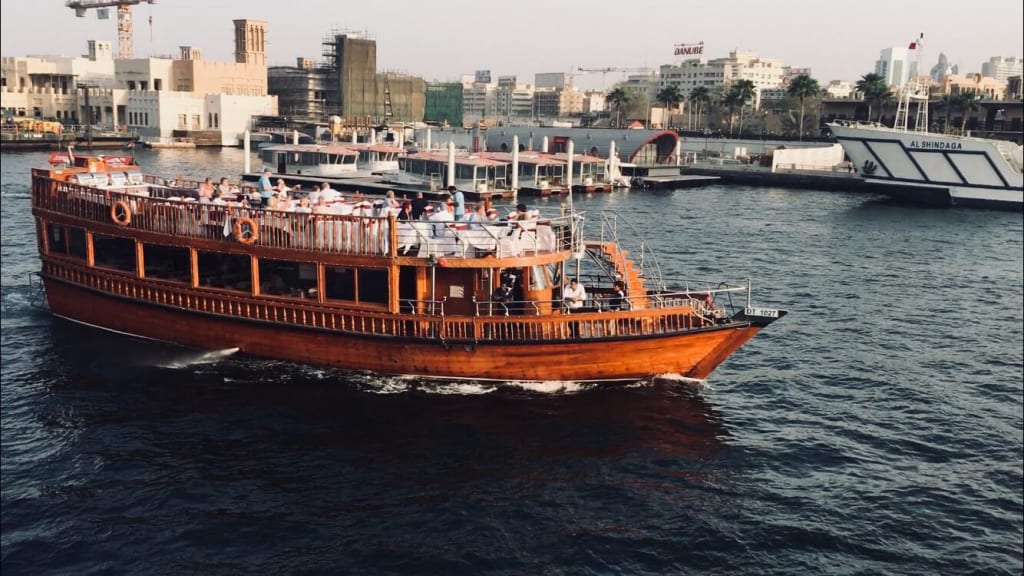 Shahana Shamsuddin, Dhow Cruise, CC BY-SA 4.0
There are different locations in Dubai to explore and these places let you participate in a variety of activities. All travellers can find something to their liking when in Dubai. If you thought Dubai was all about Arabic cuisine and shopping malls, you might have got that wrong. This is among the safest destinations in the world to visit with friends, and it provides unique opportunities to see life-changing events. Here is a 4-day Dubai itinerary you can follow to see the best of Dubai.
Day 1
The famed Burj Khalifa, the world's tallest tower, will kick off your day. In Dubai's skyline, this is an easily recognised building. This structure embodies everything Dubai aspires to be or represents, including luxury, grandeur, and development. You can go to the top deck for just 125 dirhams to see the breathtaking panoramic views. You must also visit the Dubai Centre, which houses nearly 1200 shops. The Dubai mall can be described as a world unto itself. There's also an aquatic zoo, an aquarium, an ice hockey rink, and a beautiful fancy waterfall. These are some of the top things to do in Dubai. It is also advised to stay at centrally located hotels from where you can easily access tourist activities and attractions. For instance, you can check out properties like Avani Palm View Dubai for your convenience.
Day 2
You can't visit a Middle Eastern nation without exploring the vast desert. And what better way to see it than on a Desert Safari? In a matter of hours, these Safari packages will combine adventure, leisure, entertainment, Arab cuisine, and culture. This is one of the best places to spend time with your family and friends while exploring the desert. Your desert tour will begin and an SUV will pick you up from your accommodation for some excellent dune bashing activities. It's among the most exciting things you might ever experience. You will be brought to a typical Arab camp in the middle of the desert. There will be things like Turkish dance, belly dance, camel rides, henna decoration, Lebanese cuisine, and Sheesha at this camp in order for you to relax and enjoy!
Day 3
If you want to beat the hot weather of Dubai, visit one of the city's water parks. It's incredible out here! The Aquaventure waterpark is a must-see for you and your friends. It's situated on the Palm Islands and will charge only 250 dirhams per adult for access. There are a lot of things to do and rides to go on here. When in Dubai, you can also take a dhow cruise for a more conventional experience. You should book a traditional dinner cruise, which would be a very soothing and enjoyable way to spend the evenings. This cruise can be booked at the Dubai Marina Creek. Dinner, cocktails, and entertainment are also included with this package. The ride will last almost two hours and promises to give you an exciting time out at sea!
Day 4
There are some fantastic traditional markets in Dubai that you must visit if you want to have the best Arab experience. When you're in Dubai, why not visit a gold souk? Even if you have no intention of purchasing gold, the old country Arabic charm of cobblestone streets, as well as wooden panels, is worth seeing. The windows of these shops will be filled with all sorts of gold jewellery. It'll be an action-packed day. After that, you can cross the river to get to the other side on an abra ride, which is a traditional boat ride. This will take you to Dubai's oldest neighbourhood, where fishing and trading first began. The market has an authentic Arabic feel to it, and it's a lot of fun to discover.
Reader insights
Be the first to share your insights about this piece.
Add your insights