How to pick an island to learn windsurfing in the Maldives
Some basic points to look out for!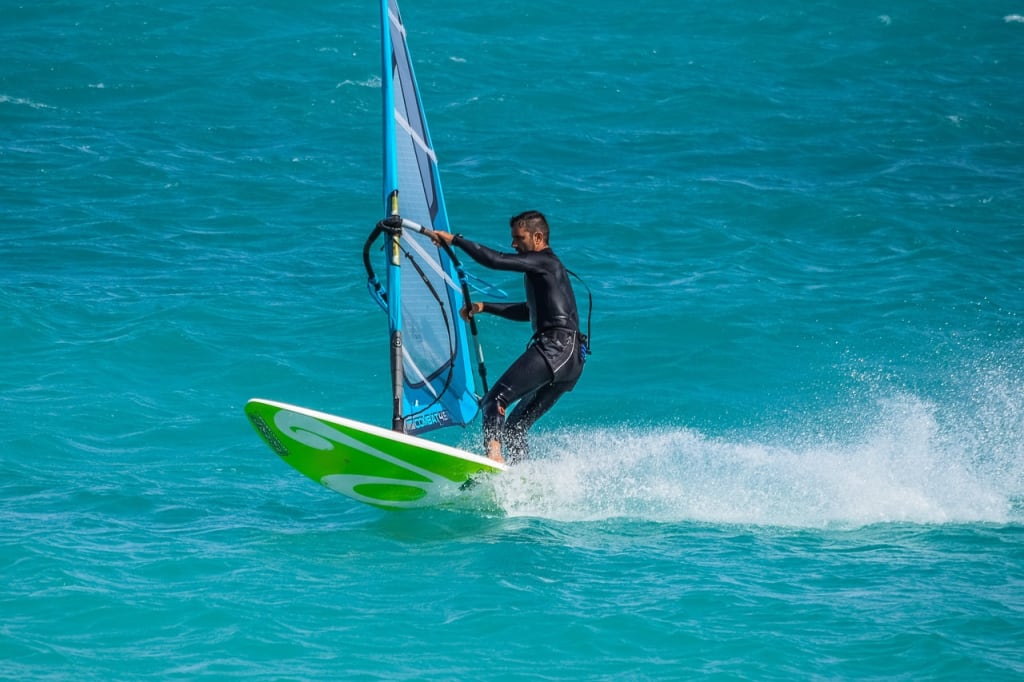 Image by Dimitris Vetsikas from Pixabay
The sheer number of islands and resorts in the Maldives means you have to keep some things in mind if you want to pick the correct island for any particular water sport. As all are different in some way or another. If windsurfing is your jam keep here are some points to ponder.
An island with a lagoon
The perfect lagoon has to have water at least up to your chest. Each day there will be a time for high tide and low tide. According to the state of the current, you can choose the time of day to windsurf. This could be in the morning, midday or the afternoon. A Water Sports Centre next to a big lagoon will always be preferable. It should have plenty of space and good wind conditions. Having a big lagoon is ideal for windsurfers with experience.
In certain resorts, the whole lagoon is shallow, and in others, it begins to gradually become shallow followed by a sharp deep drop. The latter is considered the best for windsurfing.
An island with a coral reef
An island with a living coral reef is perhaps not the most suitable option as some resorts in the Maldives, water suite leads to the coral reef, and these are popular booking options. The sharp edges of living corals can be dangerous and toxic if you get hurt. The saltwater may help in the healing process and disinfect it, but such cuts and bruises need to be cared for immediately. Some islands are nearly encircled by corals in the shallow waters. If you are a novice, you must take care not to fall on the corals, which could lead to severe wounds. Someone with ample experience will be able to move over if the area is small and stick to the reef. Corals are exquisite but if windsurfing is going to be one of your key activities pay attention to the reef quality and the amount of coral life on it.
Sandy seafloor
Try to look out for a lagoon with a sandy seabed. As some lagoons tend to have lots of sporadic corals, which means you won't be able to freely walk barefoot. However, sandy bottoms attract stingrays. They are generally harmless and shy away from human contact. But accidents could happen, so be mindful. Enquire with the staff of the water sports centre if there is any location, in particular, that is popular with stingrays. Normally they frequent distinct sections in the lagoons, however, due to human activities, they tend to shy away from areas where humans play. So, the ideal circumstance is a sandy floor without any coral life, as most windsurfers prefer to go barefoot. Inquire resorts such as Anantara Dhigu Maldives Resort, regarding such specifications before, making any bookings.
Obstacles in your way
Several resorts have water barriers to preserve the beach from corrosion. Sadly, such an island is not recommended for windsurfers, particularly for newcomers. If the breakers are kept away from the island and if plenty of space is still available then this won't be too much of an issue. Veteran windsurfers will probably manoeuvre over the current and will able to come and go and not get stranded. Apart from water breakers, certain hotels deposit their boats within the lagoon. Each resort will have several boats for travelling purposes. They will be anchored in the lagoon when not in use. Make sure the lagoon area where the water sports centre is located is free from such obstacles, so you can windsurf without any worry.
Reader insights
Be the first to share your insights about this piece.
Add your insights