How To: Life on Wheels
A Beginner's Guide to transitioning into a Home on Wheels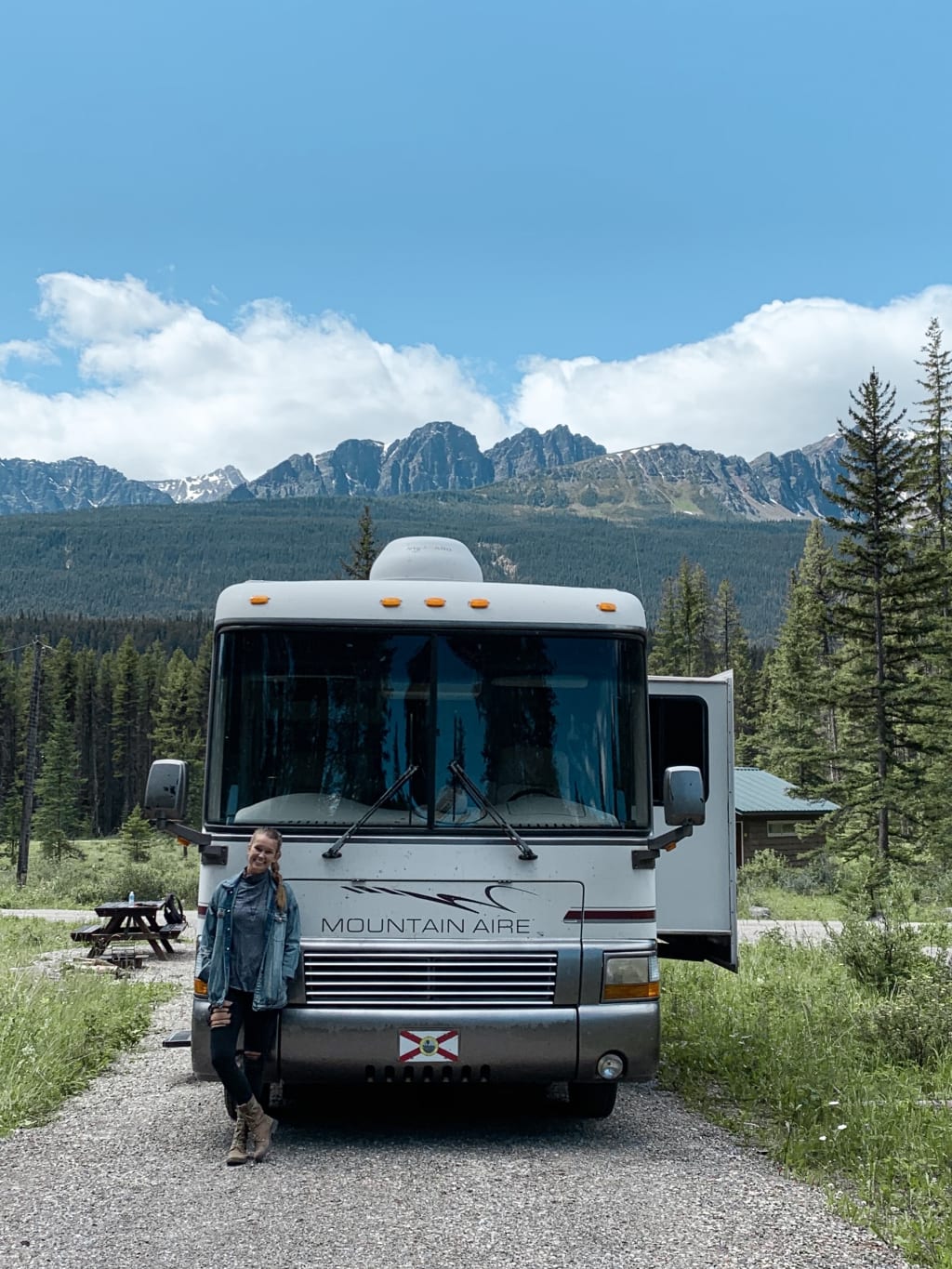 We see it more and more every day - people living and traveling in their mobile home on wheels. But how exactly did they get to that point, and how can I do something similar?
I remember getting so frustrated trying to find the answers to these questions, until one day a couple years ago, we just decided to go for it.
My now fiancé and I got our hands on a 1999 Newmar Mountain Aire Class A RV, and immediately saw our dreams of a renovated home, exploring the U.S. flash before our eyes. And we are currently living that dream! Here's my best advice on how you can do the same:
1. Choose Your Wheels!
There are so many types, sizes, and uses of recreational vehicles, so definitely do the research in finding which one works best for you. I am sticking to the RV route, since that's what my personal experience has been with, but know that the possibilities are endless!
With an RV, you have a few different classes.
#1. Class A Motorhome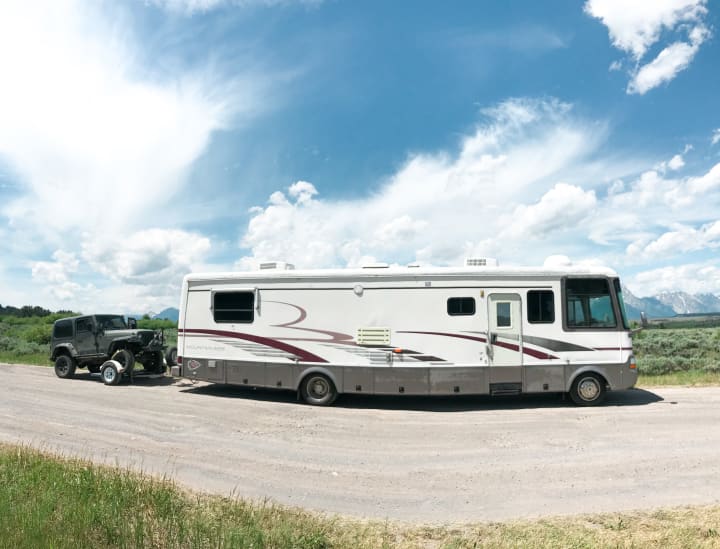 These are what you typically think of when you hear "RV." They are the huge, bus-like looking things driving down the road. Anywhere between 26-40+ feet long.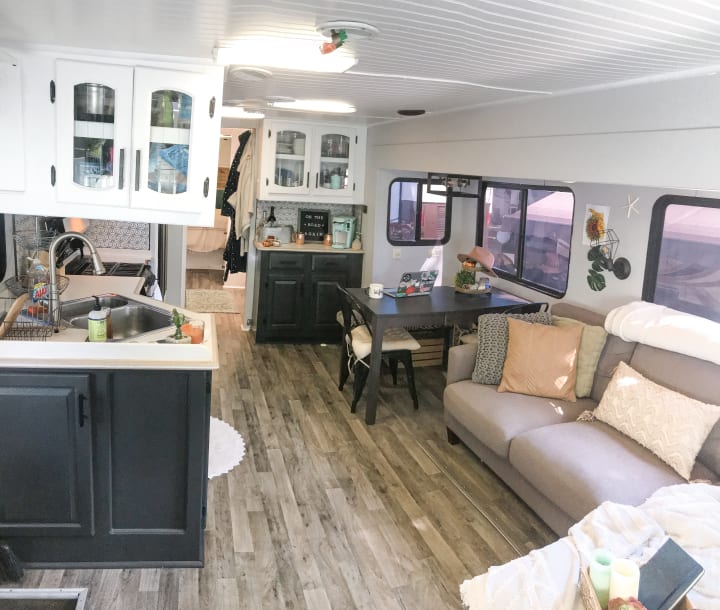 Functionality:
Largest you can go while living in a home on wheels (+/-)
Everything you need in one (+)
Typically has onboard generator (+)
Driving curve difficult/intimidating (-)
Plenty of storage (+)
Can tow another vehicle behind (+)
Larger usually means pricier in purchase, renos, + gas (-)
Terrible gas mileage (-)
#2. Class B Motorhome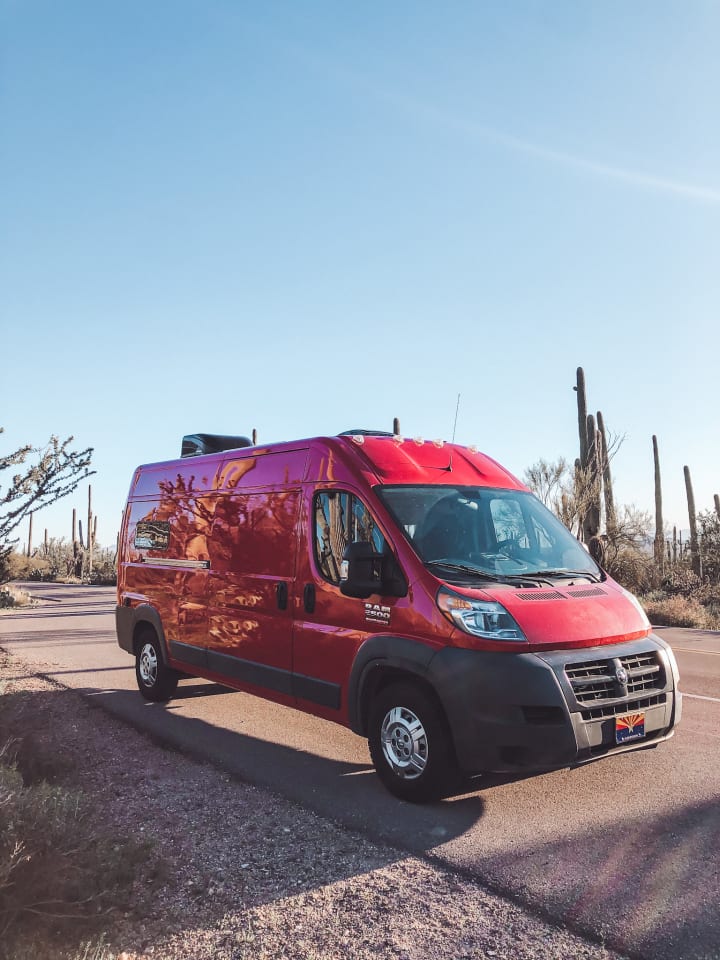 Basically, this is your standard cargo/camper van. Within 18-24 feet long.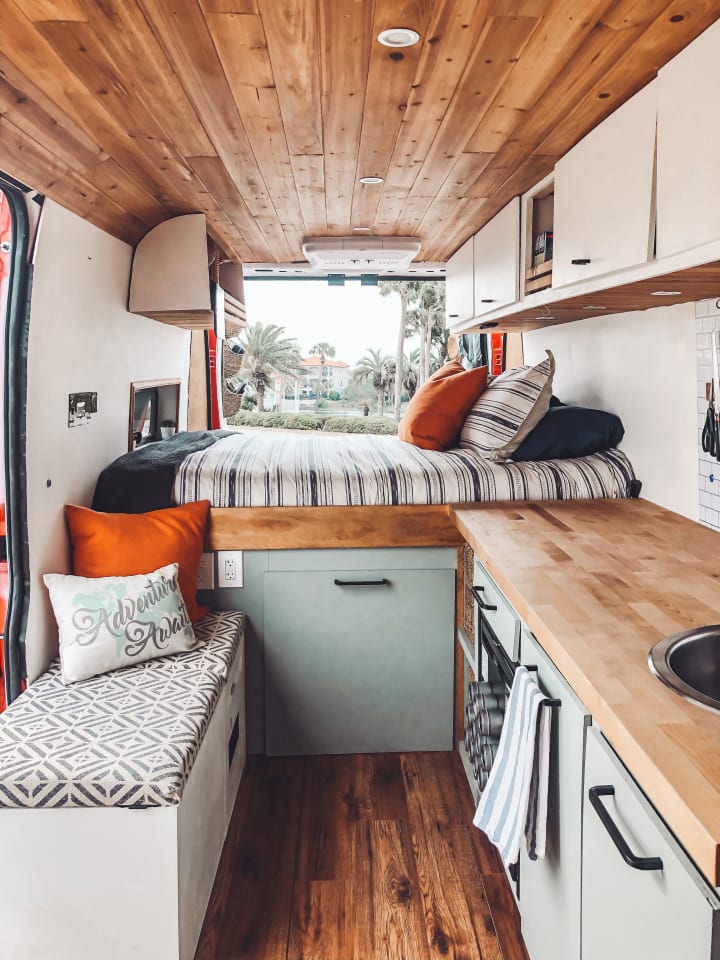 Functionality:
Compact (+/-)
Driving/operation curve easy (+)
Can lack in some amenities such as full sized shower, toilet, fridge + other space (-)
Much cheaper to maintain than larger vehicles (+)
Great gas mileage (+)
#3. Class C Motorhome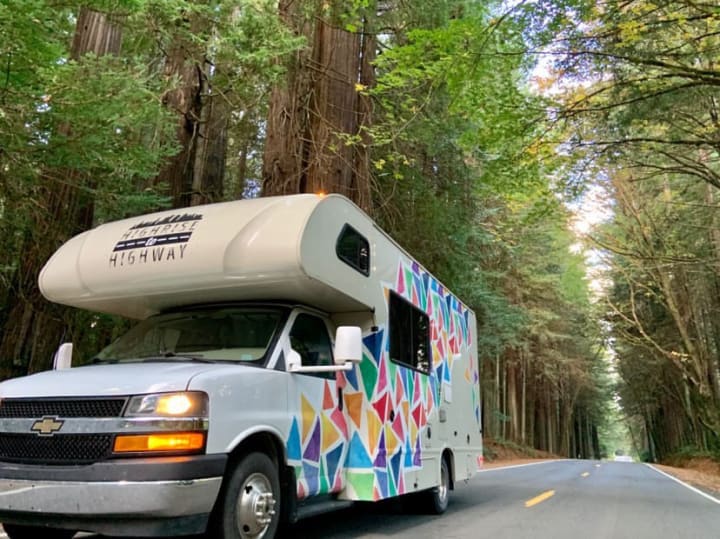 This is kind of like a cross between a Class A and the camper van. Anywhere between 23-36 feet long. It has a truck-looking front, with a camper home back half and bed overhang.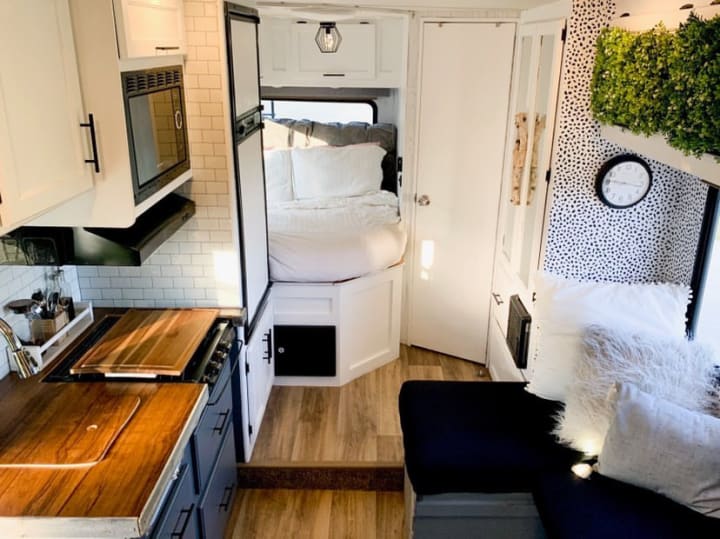 Functionality:
Medium-sized RV, smaller space (+/-)
Everything in one (+)
Still has every day amenities (bathroom/shower, fridge, sink) (+)
Little storage space (-)
Good gas mileage (+)
#4. Fifth-Wheel (or Goose Neck)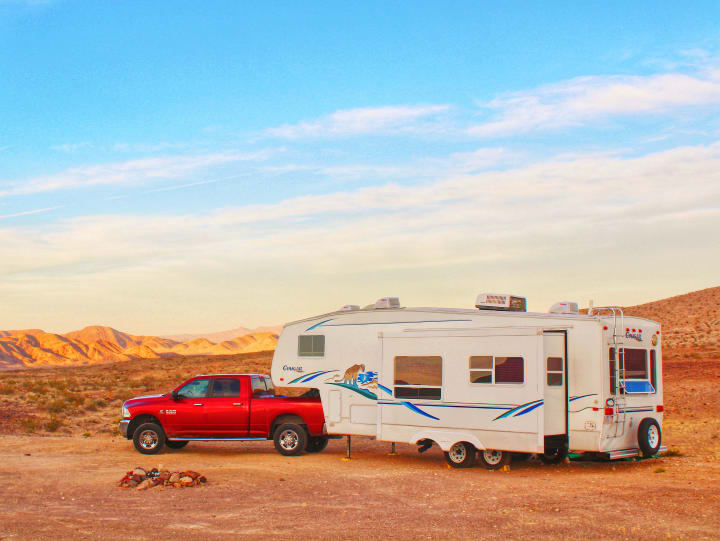 Called so, because it is essentially an extension of a truck. These can be as long as a Class A, but a goose neck hitch is needed to attach to a truck.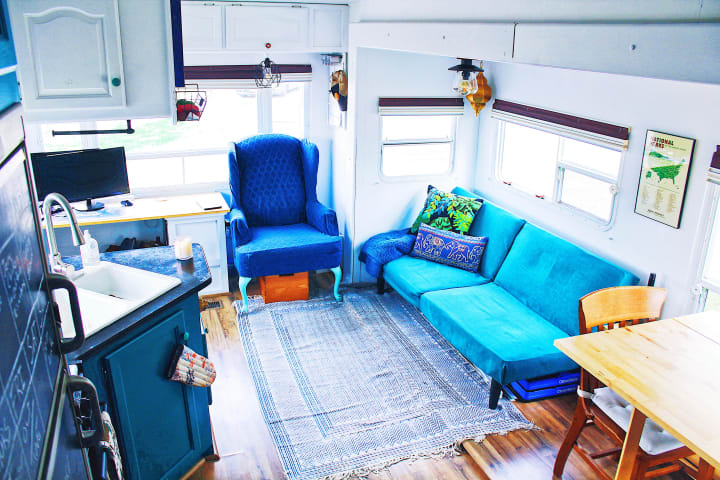 Functionality:
One of the biggest living spaces you can have on wheels (+/-)
Requires a large truck to tow (-)
Has options of multiple slide outs, deck/patios, openness (+)
Can detach and leave behind or store when needed (+)
Plenty of interior space, but not much outside/extra space (+/-)
And finally,
#5. Bumper Pull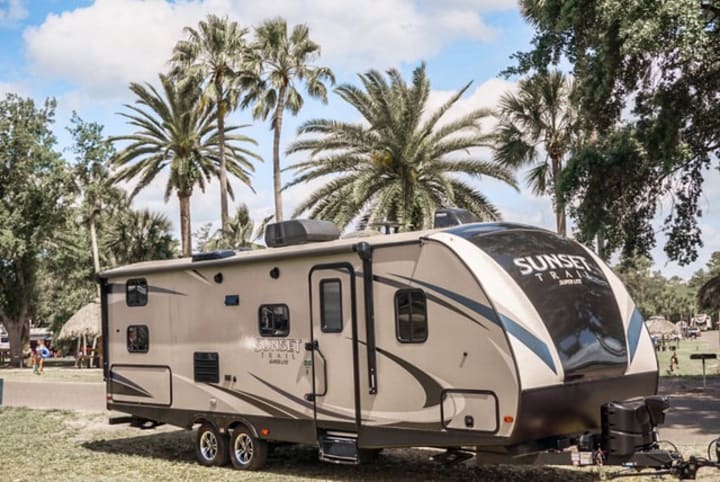 A bumper pull is exactly how it reads, a trailer that is pulled by the hitch/behind a truck or SUV. Also known as travel trailers or toy haulers (airstreams qualify here too), ranging from 10-30 feet in length.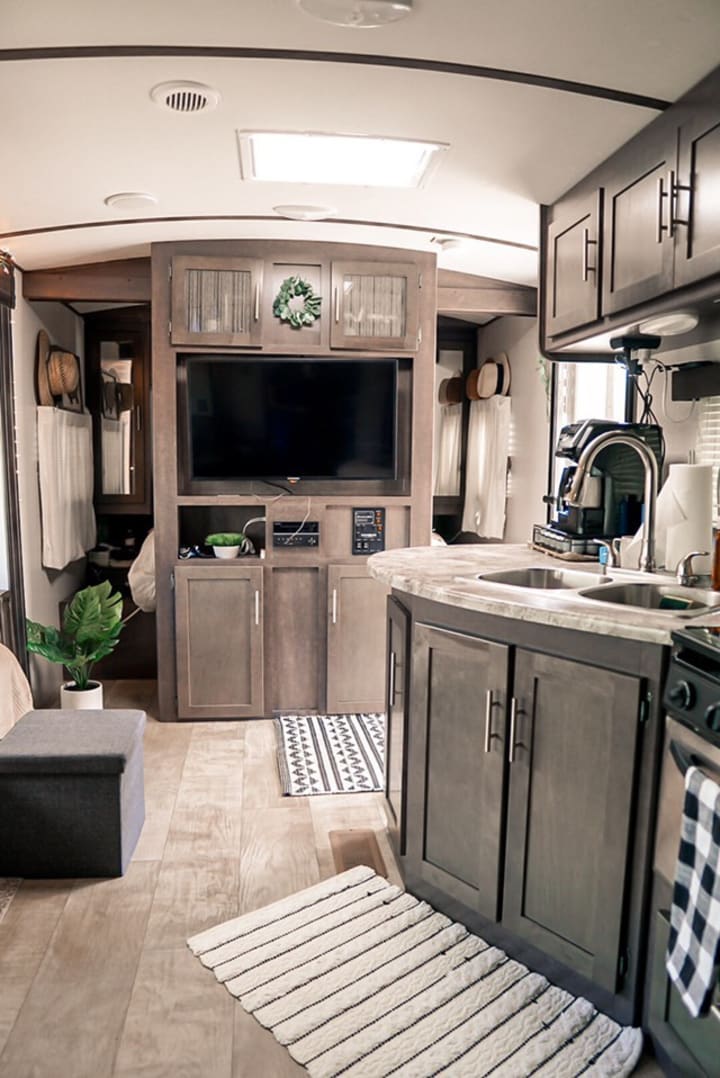 Functionality:
Some can double as a home and toy hauler (+)
Smaller, compact (+/-)
Less expensive to buy, maintain and operate (+)
Many different types and floor plans (+)
Needs a decent sized vehicle to pull (-)
Driving/towing curve can be difficult (-)
2. Choose Your Lifestyle!
This could almost be the first step as well, but what are you looking to use your home on wheels for?!
Do you want to be stationary, but have a more cost effective, minimalistic lifestyle? Have the comforts of "normal" life, but live in a smaller space.
Do you want to be on the move full-time? Have your home, but change your backyard view every day.
Or do you want a sweet weekend warrior for your road trips? Keep your current situation, but add in a little home away from home to take with you on shorter trips.
Whatever the case, this is crucial to know before making your purchase. You want the right vehicle to suit your needs.
3. Choose Your Budget!
Another incredibly crucial piece to your home on wheels puzzle. And this can be a 1, 2, or 3+ part budget breakdown. The first part being what are you willing to pay for the vehicle itself?
Will you need an additional vehicle to pull your trailer? Can you afford both? If not, X-out the ones that need a larger vehicle to haul it with.
Another piece is are you planning on renovating it? Definitely not necessary, but if you are wanting to make it "home," sometimes, you've gotta move some things around, add some to it, and take some out. How much are you willing to put in here?
Once you have all that, you have an idea of what your initial purchase(s) will be, but don't be fooled - you'll probably still have some more added to your bill ;)
4. Set Your Goal!
What do you want, and how are you going to get there?
This is an actionable step added onto the lifestyle + budget steps above.
If it is something you want to live in full time, but not travel so much - what do you need to do to transition out of your current living situation?
Action: Sell your furniture, home decor, cars, clothes, anything that won't fit in your new set of wheels. Do you need a sub-letter, someone to buy your house/condo/other home? Where will you stay? (See step 5).
For the weekend warrior, how much money do you currently have + how much do you need to save each month? When are you wanting to buy?
Action: Start saving $200/month to build a travel fund (equivalent to sacrificing 8 Starbucks coffees + 2 happy hours + 1 new pair of jeans + 4 dinners out per month...you can totally do that!)
For the full-time traveler, answer the same questions above + how long are you looking to go full-time? Do you have a sustainable income to support yourself doing so? If not, what can you do to keep that income?
Action: Pitch remote work to current employer, search for travel jobs, ambassador jobs, pick up jobs, remote jobs, capitalize on a skill you currently have to make an extra income (i.e. photo, video, blogging, etsy store, fitness...)
5. Move in to your new home on wheels!
By now, you will have made most or all the preparations needed to officially move in (or simply have your separate home on wheels). Now, you need a place to park it. If not at your own house, family's house, property, etc. Here's a few places that are mobile home friendly:
RV Parks: some have restrictions on the year of your rig, type of rig (i.e. School Busses, vans, or normal vehicles sometimes not allowed), and how long you can stay. But more often than not, they will have daily, weekly, and monthly rates ranging anywhere from $30-$100/night or $500-$2,000/month depending on where you are at.
Harvest Hosts: Super cool option for one-off nights you need to stay. These are typically breweries, wineries, farms, and other properties that allow you to stay with them for 1 night for free! (With purchase of $80/yearly membership).
BLM: aka Bureau of Land Management. Basically, these are public lands you can stay on with no hookups for (typically) up to 14 days. (This is also known as boondocking or dry docking - you have no access to water, electricity, or sewage, so it's just you and the land!)
State Parks: pretty similar to BLM in the sense that it offers no hookups, but is still managed by a camp host or someone employed by the state parks and recreation.
** Apps I like to use to find new spots: Campendium | Hipcamp | Google "RV Parks" ;)
6. Dive into your School of Hardknocks
I'm throwing this one in there, because the amount of knowledge you will learn by living in an RV of some sort will be ongoing. A lot of trial and error, YouTube University, reading, phoning friends, blogs, and anything you can find on how tf to run an RV hahah. I could make an entirely separate post about this one.
Putting it all in Perspective:
Definitely check out any of these guys on instagram to see or follow their stories! Adam + Brittani of @fenimoresadventuremore, Dawn + Jason of @highrisetohighway, Jesse + Rachael of @thetasteofadventure, Chase + Lindsay of @wereoutnabout, and yours truly, Brittney + Devon of @youmeandriggy. The RV community is amazing, and everyone is so stoked to share their journeys + encourage yours.
So you have a real life example of someone else's journey - here was our (Brittney + Devon) situation, goal, and transition into RV life:
We were lucky, as the RV was in the family for years, but it had been sitting out on property for many of those years, basically breaking down. We pitched the idea of renovating and living in it full time to Devon's dad, and he wouldn't have been able to sell it for more than a few thousand in its current condition, so he gifted it to us.
**If we had not had this RV right in front of us at the time, we would have opted for a class A or C because we did not have the right vehicle (or the money for one) to pull a fifth-wheel or trailer. And a camper van was too small of a space (for us) to live in full-time since we knew we'd be stationary for long periods of time.
We had just graduated college, were working full time, and living with our parents.
Our goal was to renovate the RV, within 6 months, live in it full time, travel when we could, and see where it takes us.
Our plan, was to keep our current jobs, keep our miscellaneous spending tight, and use the money we were making as our recurring renovation fund.
We ended up spending around $17,000 total on renovations we did (most, if not all of the handy work + manual labor credits to Devon;) entirely ourselves - including windshield replacement, new tires, engine work, new floors, new roof, paint, furniture, lighting, and decor.
We finished in March of 2018 in just under 6 months. When we moved in, we took it on our first road trip from Kansas City t0 Moab at the end of that month. And then, moved down to Tampa, FL for a new job that I had taken.
Our monthly expenses (rent, electric, food) being stationary have been as low as $800 and as high as $1,600/month depending on what part of the country we were in.
After a year in Tampa, we saved up enough money to support our cross continent road trip we had been dreaming of ever since we moved in. We quit our jobs, and were on the road by June 2019 through September 2019
Tampa - NOLA - Little Rock - Washburn - Kansas City - South Dakota - Badlands National Park - Wyoming - Grand Tetons National Park - Yellowstone National Park - Idaho - Montana - Glacier National Park - Banff - BC + Alberta + Yukon Canada - Alaska - Denali National Park - Washington - Oregon - Yosemite National Park - and our final stop was San Diego, CA where we've made our home for the past 8 months.
We've lived a little bit of each kind of lifestyle, and have loved it all the same, two years later. Honestly, there's nothing quite like fixing up your home, learning your home, AND traveling in it. If you catch yourself thinking about this lifestyle, there's a reason. Listen to your inner desires, take action, and jump headfirst into it - I promise it will be your craziest, most fulfilling adventure yet!