How to learn land sailing in Abu Dhabi
A far cry from what traditional sailing entails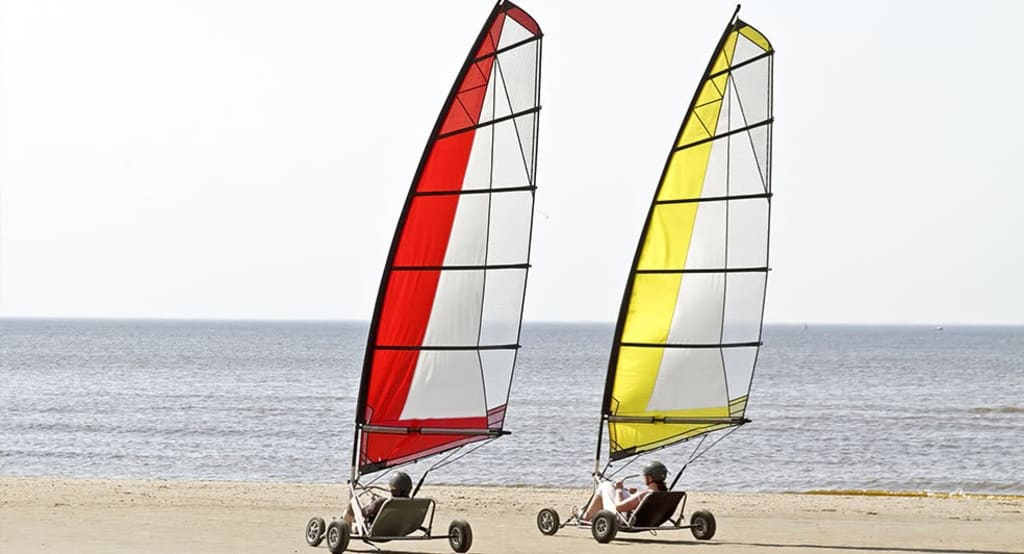 Image via Desert Islands Resort & Spa by Anantara
As a starting point, picking the most suitable destination to go land sailing (Yes! You did read that right and NO, this activity will only afford you views of the ocean and beach if you happen to be staying by the coast) would hold you in good stead. For this purpose, basing your holiday in Abu Dhabi will soon have you learning the ropes of a different type and form of sailing which in turn, has its fair share of hair-raising twists, turns and adrenaline rushes to be a part of. For a greater look at how you can learn to land sail, do read on.
What is land sailing?
This leisure activity which is gathering momentum in areas such as the Middle East involves a person seated inside a sailing kart, buggy, or land yacht which possesses two wheels at the back, one main wheel at the front, and followed by a sail affixed to the vehicle. The track for this pastime can either be the beaches, deserts, valleys, or in general, any hard sand-based surface which is fit for entertaining and enthralling racing.
Its evolution
What once was utilized for the transportation of goods & services has now revolutionized itself through widespread tourism into one of the most exciting forms of recreational activities that any person could engage in, especially when in Abu Dhabi for that matter.
Coming to grips with the sport
Essentially, land sailing requires two natural conditions to be in sync with one another. These being, hard land-based surfaces as mentioned above coupled with wind speeds that start off with a minimum of 14 knots. This is where the Arabian winds come in handy as these speeds are ideal for both beginners and skilled craftsmen to apply and master the art of taking on a different challenge while on holiday. Keep in mind that the stronger the gust, the faster you will travel but also, novices should keep away from land sailing when winds exceed 25 knots. Additionally, having a good understanding of the wind direction is paramount. However in this regard and if you have opted to reside at Desert Islands Resort & Spa by Anantara, the guides will ensure that you are educated on such a fundamental of the pastime which will surely enhance your experience of sightseeing. Abu Dhabi and its environs can be called upon and appreciated during the course of a land sailing adventure as well. The general rule is that you must operate your vehicle sideways in the wind's direction.
Getting the basics right
Your guide will begin by taking you through the ins and outs of land sailing which include a briefing on all safety measures and the providing of the necessary equipment accordingly. Thus, you will be seen sporting a pair of goggles, gloves, and a helmet. Thereafter, travellers like you will be informed of the role that every part of your yacht or buggy plays including the operation of the ropes and as a whole, guided along as to how one should manoeuver the said vehicle. One must always have access to a tighter sail as this will improve the speed at which you will be travelling. When it comes to maintaining balance and if you feel any one of the wheels rising up off the ground, then you must immediately lose the rope so that your sail will have more freedom in which to function. Further, land sailing is one such activity that will have you working your shoulders and arms in a way you never thought possible. However, in general, this sport leans more towards a leisure activity as opposed to any form of physical exercise as such.
Reader insights
Be the first to share your insights about this piece.
Add your insights