How to Get to My Son Sanctuary
Visiting My Son Sanctuary in Hoi An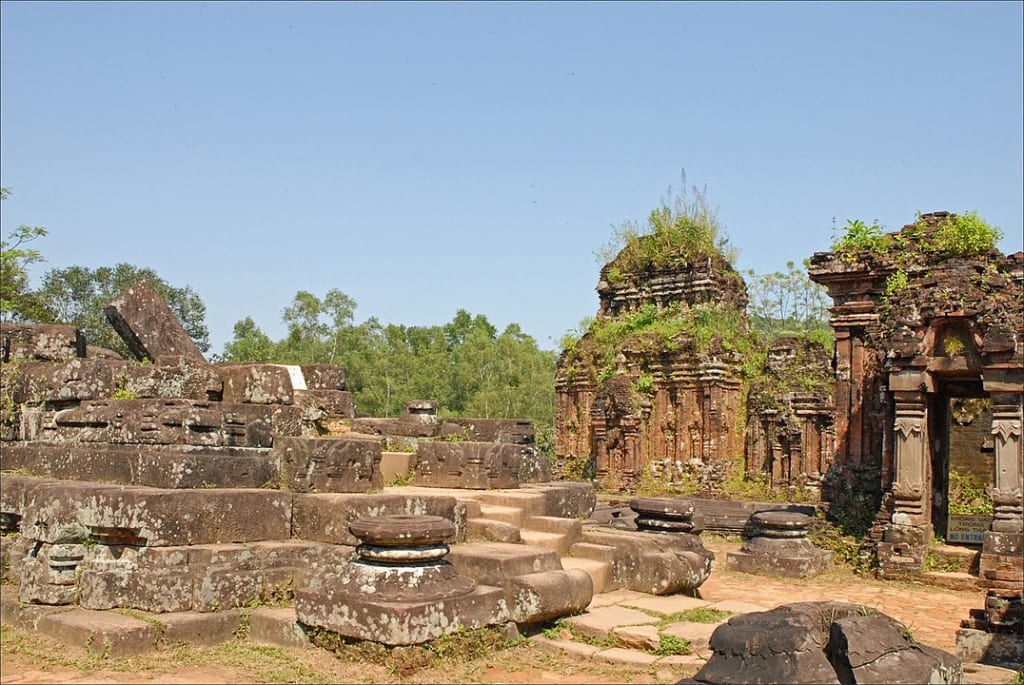 Dalbera Jean-Pierre, Le sanctuaire principal (kalan) - Groupes B, C, D. My Son est un des sites les plus importants de l'ancien royaume du Champa. - panoramio, CC BY-SA 3.0
An attraction growing in popularity, My Son Sanctuary is for the history lovers out there. It is one of Vietnam's most prized treasures and therefore draws in many tourists as well. It's time to delve into the past – a period where the people of Champa ruled. Here's a short guide on how to get there and a few things to know before your visit.
My Son Sanctuary
This is an attraction where travellers usually opt for a day trip for a visit. It is situated towards the west of Hoi An and can be easily reached via a taxi ride from hotels like Anantara Hoi An Resort. While travelling on the road to My Son Sanctuary, you'll notice the change of scenery to farmlands, this is when you'll be reaching the outskirts of Hoi An. Expect to see farmers tending to crop as part of their daily tasks.
In 1999, the sanctuary was classified a UNESCO World Heritage Site and it's not hard to see why. The structures here are said to be about a million years outdating even Angkor Wat. It goes back to the period of the Champa people and is the remnants of an ancient Hindu structure. It's not just these structures, but a few remnants from the battle with the Americans are also visible in the area making it a history hub.
Self-guided tours or group tours?
If you need time to look around and carefully take a look at the pieces of history, then its best to go on a self-guided tour. This way you can leave your Hoi An hotel at a time that suits you and take your time on the ride as well. Even though there is a network of roads that lead straight to the sanctuary, the possibility of getting lost on your way is still prevalent. Therefore, make sure to have the right directions with you if you choose to go on a self-guided tour.
Group tours are no hassle at all when it comes to getting to the attraction. A proper itinerary, an experienced guide and even meals are seen to. But the crowds are unpredictable. There may end up being more than the expected amount of people on board for the tour. For those who aren't comfortable with crowds, it's better to arrive here by yourself and let an on-site guide help you out.
Which mode of transport to take
For those who prefer a slower pace of travel from near the countryside, the bus is one of the options available for travel. This is both convenient and cheap if you've selected a self-guided tour. Hiring a scooty is also possible since the roads are pretty smooth most of the way.
Driving to My Son Sanctuary
Begin your journey from the centre of Hoi An, this means you'll have to take the road to the Hoi An Museum. Start steering west at Tran Hung Dao and keep to this road for the next 11 kilometres. Once you've reached the little town of Vinh Die make a turn north and reach the QL1A highway. Drive on the highway for a few hundred metres and take the turn off at Tran Quy Cap once you've crossed the bridge. You'll need to drive carefully from here on traffic-filled streets
Keep to the busy street and you'll drive past the busy countryside with farmers at work in paddy fields and small towns with cosy coffee shops. As you keep going, at the end of Tran Quy Cap to Hung road take a left. This road leads straight to the attraction and gets narrower as you get closer. From here on, the path is clear, once you've parked, you'll need to pay 5,000 VND as fees.
Reader insights
Be the first to share your insights about this piece.
Add your insights