How to get around in Nay Pyi Taw
Nay Pyi Taw Travel Guide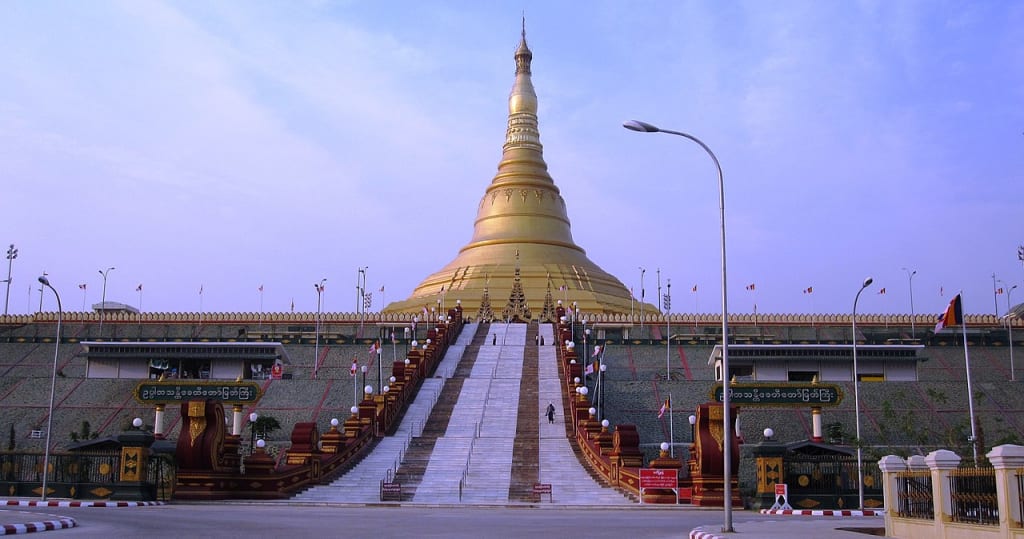 DiverDave at English Wikipedia, Uppatasanti Pagoda-01, CC BY 3.0
Ever wondered what the capital of Myanmar is? Good question! The thing is Nay Pyi Taw isn't one of those fancy capitals that are popular in the world or even among the locals for that matter. Strange but true, the entire place is just empty...rather like a ghost town. The capital has been divided into zones, the streets are huge, the lands are bare, and everything is simply empty and uninteresting.
About the new capital Nay Pyi Taw (NPT)
Nay Pyi Taw is so uninteresting that it might just pique your curiosity. This is a quiet and strange place with hardly anyone around for kilometres and kilometres of road, sometimes not even a building on sight, so you'll need to know where you are going. Keep in mind that the place is divided into zones, you'll find that even Nay Pyi Taw hotels that are recommended for tourists are located in 3 hotel zones. For instance, hotels the likes of PARKROYAL Nay Pyi Taw are located in Dekkhinathiri. The other 2 zones are Pohbbathiri and Uttarathiri.
Believe it or not, this capital has been able to manage two major international events like the World Economic Forum and the South East Asian Games. The cities vast space makes it ideal for such largescale events. Most of the big events are held at the Myanmar International Convention Centres which has internet at a higher speed than the rest of the country. This administrative capital offers classy business hotels as at affordable rates too. One drawback in travelling here would be that it takes about an hour to get from one place to another.
Travelling from Yangon to NPT
Those who travel to NPT are mostly businessman and politicians who travel from Yangon on official visits to the capital. Most of the business activities, however, take place in Yangon. International visitors too happen to arrive in Yangon mostly. Recently, flights to the capital are now more frequent than before, so travelling for such parties are easy.
Places to visit
Although this place is mostly a business capital and a place for politicians to gather, it doesn't mean to say that there aren't attractions for tourists as well. One of the most romantic attractions would be the Water Fountain Park. Be here by sunset and you can witness a lovely performance as jets of water shoot into the air and move to the tunes of a beautiful song. There is a tower here as well if you want to catch some of the best views in town.
Uppatasanthi Pagoda is yet another attraction that is worth your time. It was set up back in 2009 as a replica of the historic Shwedagon Pagoda. The difference is that you can walk inside the dome of this temple in NPT. There are six white elephants on the outside of the temple that is said to have been kept there for prosperity.
The National Museum of Myanmar is another good place to visit if you are curious about the country's history. There are several artefacts that have been recovered from the past and stories that tell the tales of history until the 20th century.
Pyidaungsu Hluttaw is the famous Parliament of Myanmar which consists of 31 buildings with a lot of space in between. Don't be surprised if you see that the parliament is also quite empty. Before this set of buildings could only be viewed from the outside, but now there are guided tours which takes you to the inside and allows you to explore the stories that revolve around this empty city.
Reader insights
Be the first to share your insights about this piece.
Add your insights