How to explore KL like a non-tourist
go where only a few would dare venture to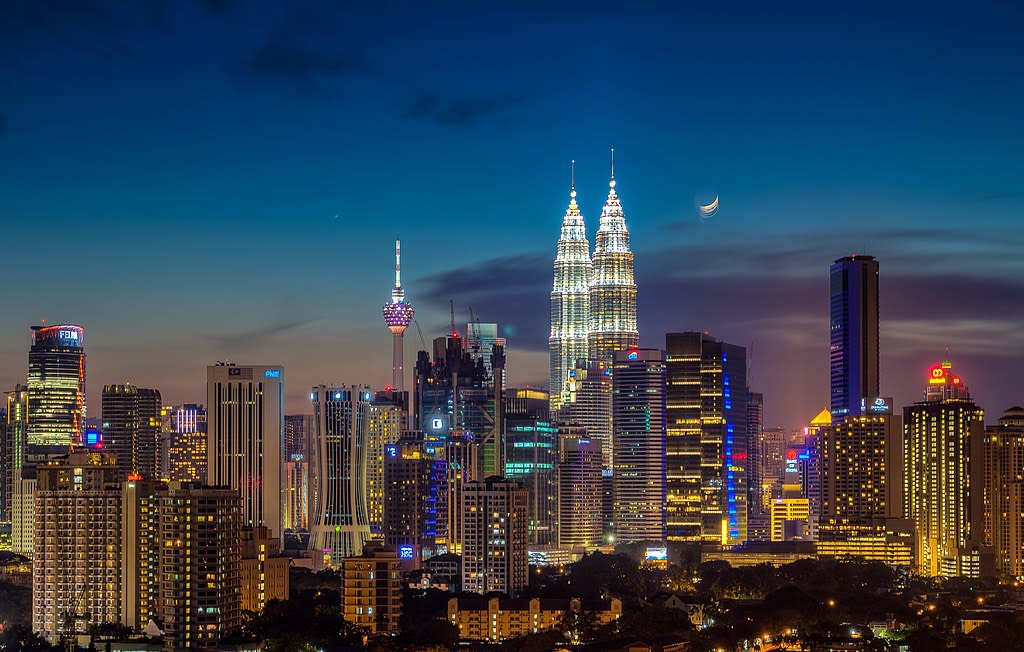 Moonrise_over_kuala_lumpur | img by naim fadil via wikimedia commons (CC BY-SA 2.0)
Malaysia's capital city of Kuala Lumpur is filled with shopping and nightlife districts that can at times be quite overwhelming. However, this global metropolis is known for housing the 'not so usual' type of leisure attractions that are as equally charming and enticing as the much more celebrated and visited areas of the city. Should you want to stay away from popular sites, then here is a list of places that will be well worth exploring.
The lookout point at Bukit Ampang
A favourite amongst locals and often frequented during New Year's Eve is the Ampang lookout point from where the brilliance of KL can be caught sight of and admired for hours on end. Watch as the city shimmers with landmarks such as the Petronas Twin Towers coming into focus before your senses will lead you to a local night market found around 1 km from the lookout point that will warrant more than a casual glance. Snack on mouthwatering Malaysian food while seated on a plastic stool as generator-powered bright lights adorn the immediate vicinity.
Eat like a local at Pasar Malam Taman Connaught
Although open on Wednesdays, the experience in turn will have you salivating for seconds and perhaps, thirds once you've spent as much time at Pasar Malam Taman Connaught. Spread out over 2 km with a whopping 700 stalls, all easily recognizable by the yellow tents that add to the allure of the same, Pasar Malam Taman Connaught is bound to get your foodie senses working overtime with its selection of gourmet creations and spins that are simply too irresistible to ignore. Ever tried Taiwanese stinky tofu or grilled king oyster mushrooms? Well then here's your invitation! Found 45 minutes from KL's city centre, guests residing or anticipating a stay at The Kuala Lumpur Journal Hotel which is a great 4-star hotel in KL found nearby will surely appreciate the spectacle and the chance to mix, mingle and observe.
Go café hunting
Kuala Lumpur's café culture is both engaging and enthralling with a slew of establishments affording visitors a truly remarkable time. First up is Jao Tim which comes complete with vintage tones, brick walls and a WWII vibe that will take you back to good old New York! For a themed café experience like no other coupled with an opportunity to move to smooth jazz music, then beeline towards Jao Tim. For a different take on ice creams filled with unique flavours and incredible presentations, look up Whimsical Gelateria & Café where the menu comprises Bacon, Nasi Lemak and Nian Gao topped off with sweet, flavourful ice cream you will undoubtedly fall in love with after every scoop.
Get your morning dose of 'healthy' at Desa Park
This would apply to your dog too as Desa Park is a dog-friendly park where you and your pet can bond, play and exercise all in one go. What's more? Your dog will not be required to be kept on a leash. Stroll along well-paved pathways flanked by lush green gardens and treat your senses to the vistas of a beautiful lake throughout your journey. After you've walked your dog, you can check out the lakeside shopping complex before stopping by the weekend community bazaar for a good serving or two of lunch.
Voyage to the highlands
For cool, chilly weather and a splattering of leisure thrills and spills that will be to your fancy in the event the city becomes a tad too monotonous to your liking, make note of the regions of Bukit Tinggi, Cameron Highlands and Genting Highlands. Found near each other, an hour's drive from KL will soon have you scouring through these pristine environs, cloaked in green gardens and valleys. For example, you may pick strawberries at Cameron Highlands, set yourself for a trip to a comfy French village when at Colmar Tropicale, Bukit Tinggi or tuck into a lobster dinner at Genting Highlands.