How Such a Tiny Country Brings So Much Joy to All Who Visit. .
Costa Rica packs a powerful punch. . Fasten your seat belts and plan your trip to one of the happiest countries on the planet! And if you live here already, you're Blessed!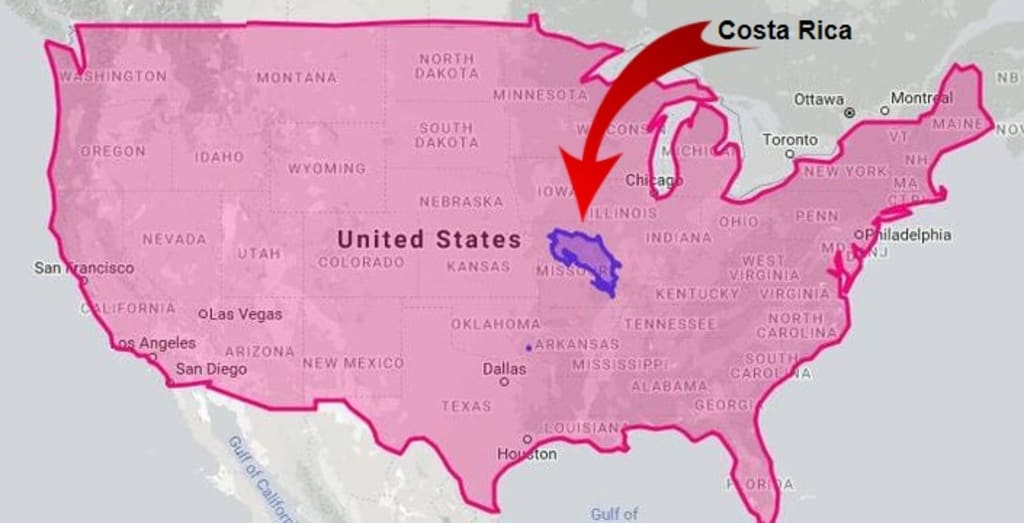 Only the size of West Virginia, Costa Rica has so much to offer all who are fortunate enough to visit!
When one sees Costa Rica in the photo above as a comparison in size with the United States of America, it is surprising. It's tiny, but it does pack a powerful punch! Hundreds of thousands of animal species, plants and ferns and over 5 million people. Remember that New York City, at full capacity, has close to 10 million people living there.
In a good year. . without COVID. . Costa Rica enjoys and hosts over 3 million visitors. They arrive by land, air and sea. Many of them are from the USA and Canada, escaping the cold, harsh, frozen winters and longing for a week or two of quality time spent in a paradise that they usually only dream about!
As a personal note, I spend a lot of time in Costa Rica. I live in the San Jose area and try to balance out six months in South Florida and six months in Costa Rica. I've been doing this since 2002. Yet, every time, still to this day. . when I land at the Juan Santamaria International Airport, get off the plane and go through Customs. . when I gather my luggage and walk out that back door to get a taxi to my home, I still feel like a kid on his first day arriving at summer camp. My adrenaline is pumping, a HUGE SMILE is frozen on my face and my eyes are lit up like two big spotlights! I never get used to that first moment in Costa Rica. I pinch myself to make sure it's not a dream sequence. .
New experiences, new faces, tico food, lots of Spanish, the smell of diesel, unending noises of the street. . loud motorcycles driven by crazed individuals, vendors selling everything from phone holders to fruit at every intersection. . unrelenting traffic. . fruit and vegetable stands all over the place. Even the bad stuff here is good. It feels right because we all need a little chaos in our daily lives and Costa Rica seems to spoon it out in heaps.
We are in the business of helping individuals and families acquire their legal status here in Costa Rica. We also assist in the shipping of their earthly possessions from their home country to their new life! We always ask those who decide to move here WHY they wanted to start a new journey, sometimes at an advanced age (one client and his wife were in their 80's and decided to move from the USA to Costa Rica). There HAS TO HAVE BEEN a strong draw to this country for them to do this. Their reason was that when they first visiting Costa Rica some 20 years ago, they knew at that time. . on their first trip, that this would be where they wanted to spend the rest of their lives. They took a lot of time to finally get around to it, but they're here now. They told us that when they were here on their 15 or so past trips, they loved the availability of fresh fruits and vegetables and they seemed to feel more healthy when they were here. They didn't experience stress or headaches. . no pains at all. They FELT YOUNG AGAIN! Now, that is a GREAT reason to move here at such an advanced age, don't you think? They have JOY in their hearts. .
Another couple who just moved into their home in Grecia invited us up to see their new home. They started their "legal status" process about two years ago and finally were totally moved in! They had a smaller home. . so cozy. It had a "homey" feel to it. They told us that they always had lived in a 4,000+ square foot home. They always had 'toys'. . a boat, an RV and all of the other things that people accumulate during their lifetime. They always were surrounded by lots of people. . at work and at all of the clubs and organizations in which they were members of or were involved in. Lots of late-night meetings, gatherings, functions, parties, seminars. . whew! No time to rest and always on the go. Now, they are looking forward to time to enjoy day trips to all of the surrounding areas. They are "early to bed and early to rise" kind of people now. . and THEY LOVE IT. It brings JOY to them.
Whatever the reason may be, there is a huge uptick of individuals and families moving to Costa Rica this year. Life is simpler here. The "Pura Vida" lifestyle is an integral part of our why we are all here.
Learn more about this "Pura Vida" lifestyle and consider a "Plan B", just in case your life gets too stress-filled and overwhelming. Costa Rica can be the answer to all of your ills. It can literally save your life. .
We wish you happiness, a feeling of awe and wonder each and every day that you awake & most of all. . we wish you a "Pura Vida" lifestyle sometime soon!
You're invited to visit our websites at: www.costaricagoodnewsreport.com & www.costaricaimmigrationandmovingexperts.com
Also, please enjoy our over 1,750 episodes of our "Costa Rica Pura Vida Lifestyle Podcast Series". We are found on all major podcast venues, including iHeartRADIO, Spotify, Apple Podcasts, Google Podcasts, Radio FM, Anchor & many more. Here's our link: www.anchor.fm/costa-rica-pura-vida
central america
About the author
Costa Rica is a magical place. Since November, 2002, when I first visited this country, I have been in love with the people, the culture, its biodiversity, the food. . everything about it makes me happy! Now I share my excitement with you!
Reader insights
Be the first to share your insights about this piece.
Add your insights