How I Almost Threw the One Ring into the Fiery Pits of Mount Doom. But Didn't.
I'm no better than Frodo Baggins. And it sucks.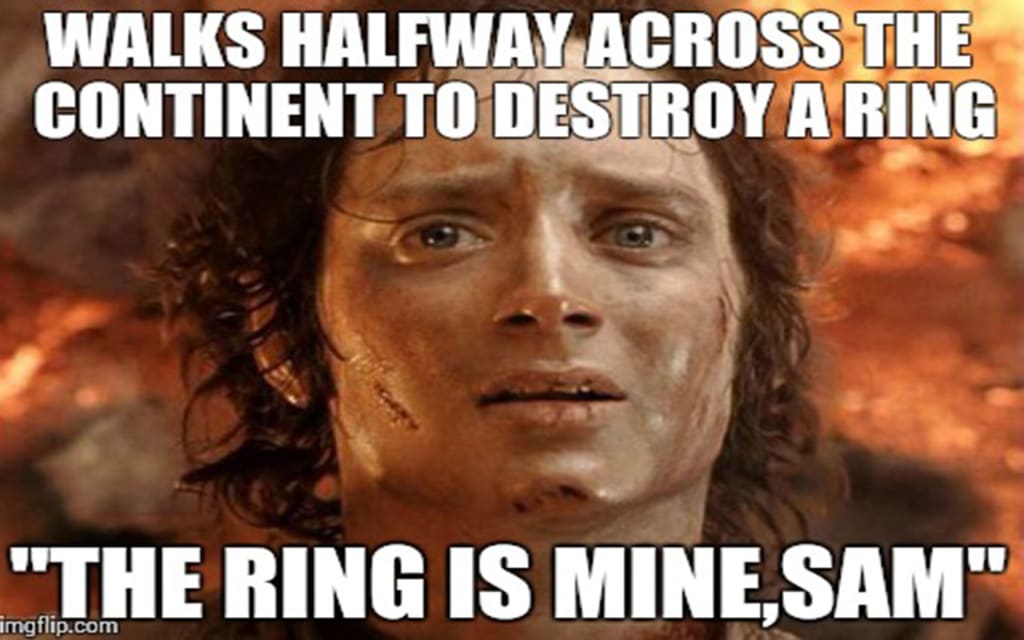 Me IRL. I am ashamed.
Becoming a fan of the Lord of the Rings series was a path I had no choice in taking. Meaning, my father imprinted it on me.
At six years old, the two of us sat in the living room with The Hobbit or The Fellowship of the Ring at hand. He would read the text aloud, page by page, chapter by chapter, and I would listen—actively. I was so inspired by the fantastical hobbits, elves, dwarves, and magic of the wizards that I simply couldn't contain the astounding world of Middle Earth, and the characters that inhabited it, locked in my growing mind. So I did what any six year old kid would do: I released them into my world, and I drew every scene I could imagine on paper with crayons. To the soundtrack of my father's voice, guided by the words of Tolkien himself, I brought each scene to life.
That's my earliest memory of my relationship with LOTR. Let's fast forward a few years. I've now accomplished multiple LOTR milestones in between the ages of 6 and 22. I've:
Stopped having nightmares about Sauron
Read The Two Towers and The Return of the King (NOT aloud)
Developed a MAJOR crush on Strider (he gets less hot as Aragorn)
Tried and failed multiple times to read The Silmarillion
Marathoned the extended edition DVDs too many times to count
Tattooed my foot with Elvish writing
As my 23rd birthday quickly approached, I realized I had one major thing left to do in my LOTR journey:
Go on a pilgrimage to my nerd mecca, New Zealand. Aka, Middle Earth.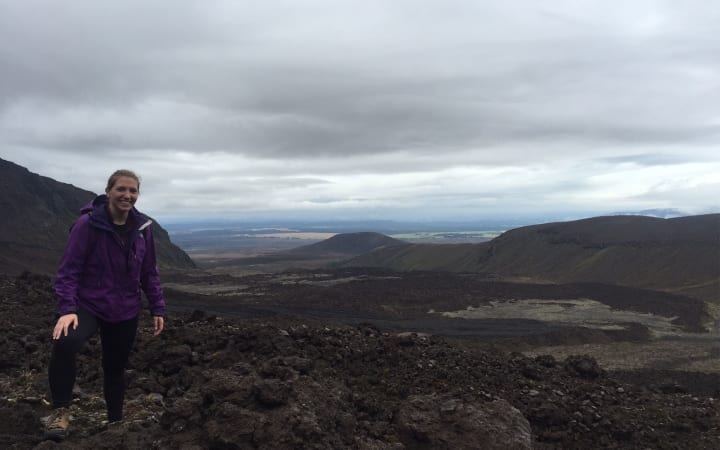 Two flights and 35 hours later, I arrived in New Zealand with my cousin. Every single day spent in Auckland was a countdown to the real prize—heading to the actual film location for Hobbiton—The Shire. Spoiler alert: I cried. A lot. But let's save that story for another article; for now, let's strictly focus on my failure at Mount Doom.
New Zealand is at the heart of Peter Jackson's opus. Often hailed as a "travel series for New Zealand," it's no wonder that the series of films instantaneously ignited tourism in the country. Both the North and South Islands were featured in the series; it's difficult to go to any location in New Zealand that hasn't been featured in LOTR.
The location of our story today is called Tongariro Alpine Crossing—located on the North Island in Tongariro National Park, about a seven hour bus ride from Auckland. As described on Go New Zealand:
This 19km trek in Tongariro National Park is New Zealand's best day one day walk. The track leads up to the saddle between Mt Ngauruhoe and Mt Tongariro and then diverts over Mt Tongariro. Mt Tongariro is not a single volcano, but a complex of craters that have been active at different periods.
The landscape on Tongariro is peppered with the different coloured and shaped craters, scoured volcanic rocks, active geothermal areas, mountain springs, and brightly coloured emerald lakes. The Tongariro Alpine Crossing is a strenuous hike of 7-8 hours, with a climb and descent of around 1000 metres through an alpine environment. Walkers need to carry a daypack containing drinking water, raincoat and warm clothing.
Luckily for me, I chose the most opportune day to hike Mt. Doom.
And by opportune, I mean shitty.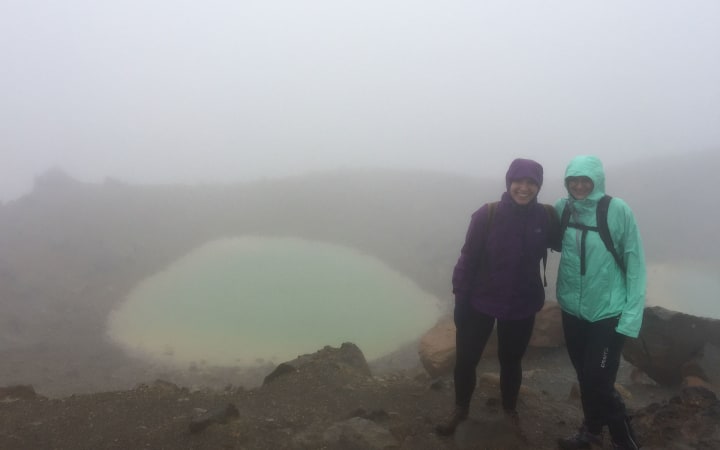 The weather that day was so horrendous that multiple natives tried to dissuade us from our journey. "Don't go, the weather is really bad," said the woman at the front desk of the hostel. "You're going to die. Just kidding," said the bus driver. "But actually," he continued, "it's going to hail. Don't summit. That's stupid."
Nothing would deter this ring-bearer (bear-ess?) from her journey—so we carried on and ignored everyone's advice, in true Millennial fashion.
Speaking of rings, I forgot to mention (and this is the purpose of this article)—as I did this hike, I wore the One Ring around my neck. Keep this in mind as the story continues.
The above photo is an accurate representation of what the entire 19km trek was like; foggy, low-visibility, rain, hail, and freezing cold misery. I thought it was supposed to be the end of summer in New Zealand in mid-March—but not at Mt.Doom.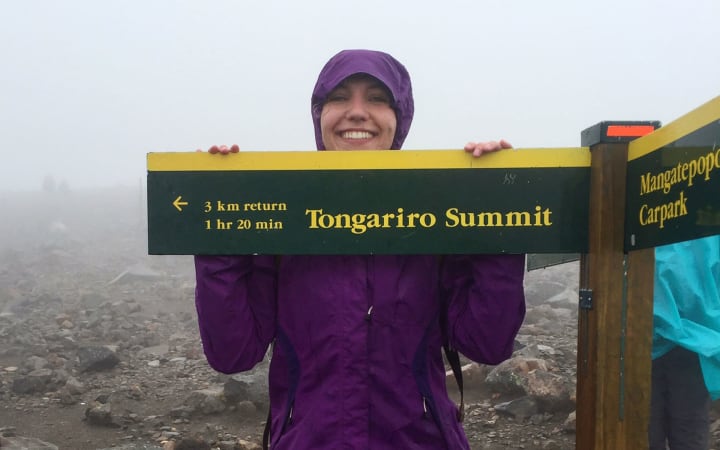 The first half of our hike was uphill with a steep incline. The large group we started with began to thin and thin as the hours went on. Soon we were 3km from the summit, and halfway finished with the hike.
Now was my chance to complete my journey. And destroy the Ring.
Remember—I've been wearing the One Ring around my neck this entire hike, with the intention of symbolically throwing it off of Mount Doom to destroy Sauron and evil FOREVER. #NerdAlert
On the edge of Mount Doom, time began to slow for me as I cautiously approached the edge. In front of me: fog. Behind me: fog. Limbs tired, the weight of the world on my shoulders (destroying evil is a mighty task), I removed the One Ring from my neck.
From behind me I hear, "What is she doing?"
"It's a Lord of the Rings thing," I responded.
"What is Lord or the Rings?"
I had no time for this uneducated traveler, (who does this hike without knowing what franchise it represents anyway??) and went back to my task.
In a movie-like moment, I held the Ring in front of me on the edge of the volcano, much like Frodo did in The Return of the King.
But also, like Frodo, I paused. As my hands moved to release the ring, I found my muscles holding onto it tightly once again.
I couldn't get rid of the ring. It was my ring. I brought it all the way to New Zealand. I did this entire hike with it around my neck. It meant something now. I can't just get rid of it.
But wait. If I can't get rid of the Ring... I'm no better than Frodo.
I went back and forth with this realization in my mind for about three minutes, before ultimately deciding that I can't destroy the Ring, it is my precious, and I should continue with the hike.
TL;DR: I went to destroy the One Ring symbolically in New Zealand and couldn't do it. I'm no better than Frodo Baggins.
Despite my failure to destroy evil, you should go to New Zealand!
The Tongariro Alpine Crossing one day hike remains to be one of my favorite journeys I've done thus far. Yes, it was a nerdy hike for me, but it was also a physically challenging one. With the proper weather, I'm sure I would have enjoyed the gorgeous views the volcano presented as well.
This hike a must-do when you're in the North Island of New Zealand. It's incredibly easy to book from hostels in the area. I stayed at the YHA National Park hostel and I recommend staying there. You can buy a subscription to stay in the YHA network (which is available all throughout the country of New Zealand) and further reduce your costs at the hostel.
Book your journey through YHA National Park hostel a day or two ahead of time. They'll keep you updated on the weather and if the volcano is open for hikes or not. No gear? No fear! This hostel also provides everything you need to complete the hike—whether you're interested in doing the one day hike or going for the full three to five day hike.
Happy hiking, fellow nerds!