Guides
Hola!
A Slightly Twisted Mexican Vacation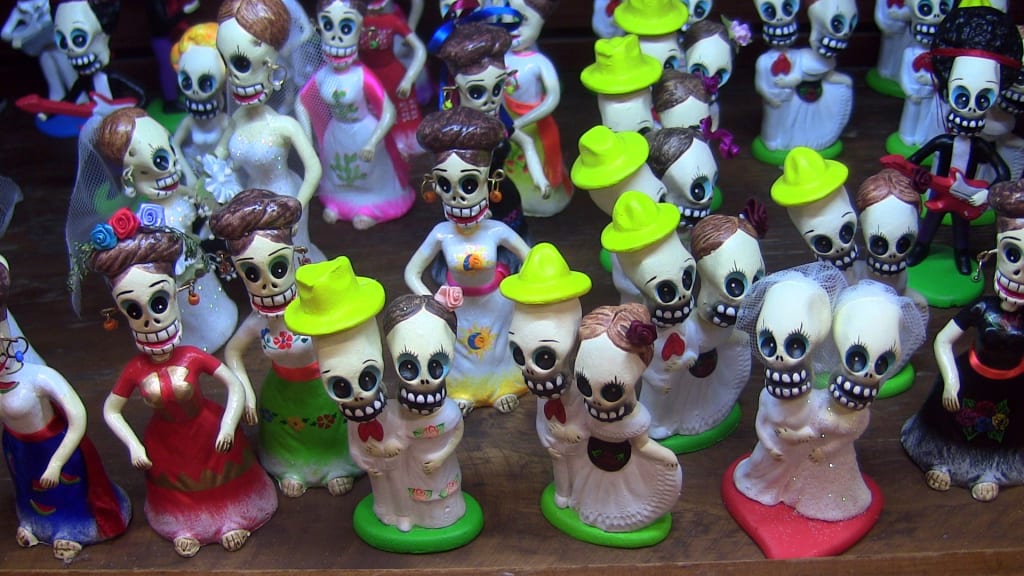 Let's be honest. When most people say they "went to Mexico," all they really have done is book a cheap week at an "all-inclusive," totally modern resort, and collapsed on a beach, drinking margaritas.
And there's absolutely nothing wrong with that. I've done it, too: we all need a little mindless luxury sometimes, especially in the middle of a sub-zero Canadian winter.
But there's a whole lot more to Mexico than this, or the incredibly exhausting alternative of clambering over the massive ruins of Teotihuacan or Chichen Itza. Mexico has a quirky, almost spooky side to it, and one that most visitors never catch even a glimpse of. If you're looking for something more than the "run-of-the-mill" vacation, this is a side of Mexico well worth seeking out.
There is no better place to experience it in than the north-central highland state of Guanajuato.
Guanajuato is also the name of the state capital and it's a beautiful, colonial-Spanish city that has something to appeal to any taste. It boasts a lively nightclub scene for the salsa-dance lovers, as well as elegant, old-world architecture that will offer stunning photographic opportunities on every street corner.
It is also home to several museums, one for every possible taste or interest. I am not kidding here: whatever it is that interests you, Guanajuato probably has a museum specializing in exactly that.
There is the Museo Regional de Historia, home to a collection of Mexican historical artifacts.
There is the Museo Casa de Diego Rivera. Rivera was a famous twentieth century muralist, and this museum is located in the house where he was born. It features many of his earliest paintings and drawings, along with furniture from around the time when he was born.
There is the Museo del Pueblo de Guanajuato, containing examples of miniature handicrafts from the Guanajuato region.
There is a wax museum, an art museum, a natural history museum, a mineralogy museum and, of course, the impossibly weird, slightly macabre, and utterly Mexican, Museo de las Momias.
I confess I am a museum addict and I have visited museums in the tiniest of towns, as well as every marble edifice crammed with treasures a major city can boast of. The Museo de las Momias takes the cake, though.
For well over a hundred years, many, many mummified bodies have been found: the result of the particular soil and climate conditions in the area. Eventually they were given a permanent home, as a collection testifying to the unique culture and traditions of the Mexican people. It must be experienced to be believed.
If you see nothing else in Guanajuato, you should see the Museo de las Momias. Visit it, because frankly, there isn't anything quite like this anywhere else on earth.
Guanajuato also offers easy access to the town of San Miguel de Allende, and I recommend at least a day trip there.
The appeal of San Miguel is that having had a strong "expat" population for decades, the community is comfortable with travellers, and has worked hard to maintain its picturesque charm while offering tons of modern amenities. It has always attracted artists (the late Toller Cranston had a house there), and there are several schools where you can sign up for one- or two-week long art classes and workshops in everything from sculpture to silkscreen.
Unlike North Americans, the Mexican attitude towards death is far more familiar and almost lighthearted. Every Sunday sees families picnicking in the cemeteries, still enjoying the company of their departed loved ones, in a natural, casual way.
The "Day of the Dead" is a festival that marks death in a strangely humorous way and special candy skulls, caskets, and related motifs are the hallmark of the party. San Miguel is one of the places where this celebration has reached mammoth and world-famous heights.
It's true that even the resorts now stock expensive, more friendly, and homogenized versions of these now, but in San Miguel you can buy the same sugar sculptures of imminent mortality as the locals do, in shops all year round. They make pretty good conversation pieces and souvenirs, although it can sometimes be a little awkward explaining them to a Customs official at Edmonton International Airport.
5 Tips for Enjoying Mexico Outside of a Resort
Women travelling alone should exercise caution anywhere in Mexico, especially after dark, but don't be so paranoid that you miss out on the essential friendliness and warmth of the Mexican people.
One really budget-friendly option is eating at a "Luncheria," where you can order simple corn tortillas with your choice of filling. One is merely a snack — but prices are generally low enough that two or three will still be a savings over a normal restaurant. And try the Nopales cactus filling. It sounds odd, but it tastes delicious.
While people will warn you incessantly about the water and the street food, the chances are you'll get a little bit of "traveller's tummy" no matter how careful you are. So order a Gordita (a kind of really fabulous toasted sandwich) from the stand in the marketplace and enjoy!
There are some terrific "curio" and "antique" shops in Mexico but you should beware: there is also a flourishing trade in faked antiques all over the world, and ten-to-one you will be paying top dollar for something that was made last week. Just buy things you love, at a price you are happy with, and don't worry about the "value."
Paper goods are very expensive in Mexico: you will pay less for a carved obsidian copy of a Pre-Columbian artifact than you will for a postcard. Mexico is a great place to indulge your love of fresh flowers, though: amazingly cheap in the marketplaces.
travel advice

Morgan Smith
Morgan Smith will drop everything to travel anywhere, on the flimsiest of pretexts. Writing is something she has been doing all her life, though, one way or another, and now she thinks she might actually have something to say.
See all posts by Morgan Smith →