Guides
Ho Chi Minh to Hue and Hanoi: My Vietnam Diary
Three weeks of exploring the delights of Vietnam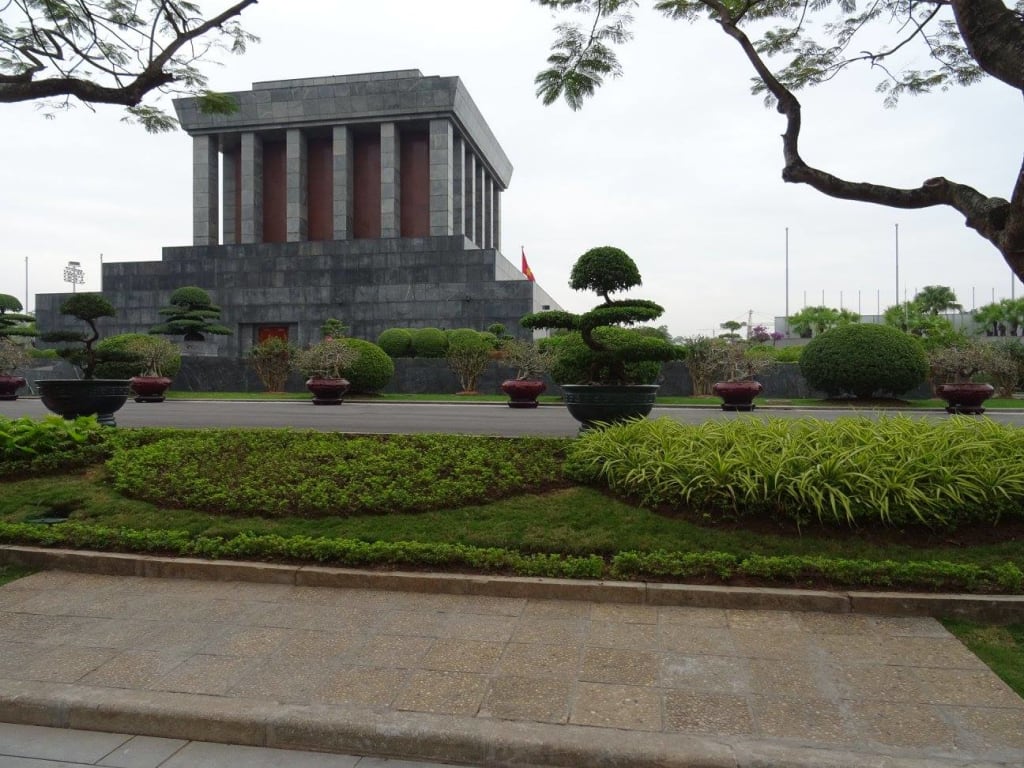 Over the Christmas 2016 holidays I took my first ever trip to Asia and visited my brother in his adopted homeland of Vietnam. I spent three weeks traveling a few cities, and kept a diary of what I got up to.
If you're planning a trip to Vietnam, or just want to learn more about this fascinating, beautiful country, then read on. Hopefully this will give you some inspiration and fuel those travel blues!
Day 1: Monday 19th December
A 5am wake-up alarm was a sharp shock to the system having only been able to get to sleep at around 1am after watching NFL on SkySports the previous evening. I'd hastily thrown a few t-shirts, shorts, pants and socks into my backpack and changed into jeans for what I suspected would be the last time in possibly three weeks, then ventured out to Stratford station.
In true TFL style, transport threatened to ruin the holiday before it had even begun - the Piccadilly line was experiencing severe delays due to maintenance work at Bounds Green running late. So I trekked up the central line to Lancaster Gate, walked up to Paddington and then spared with a cool £22 for the 15-minute Heathrow Express service to Terminal 4.
Upon arriving at Heathrow ridiculously early I met my parents in Cafe Nero and began the process of checking bags and proceeding through customs, which was surprisingly straightforward. Then a 3-hour wait for the plane began, cue a Carluccios breakfast, purchasing of last minute toiletries and a golf magazine, if you're my dad.
Come 11am and a 12-hour flight was staring us in the face. The delightful Vietnam Airlines, with their turquoise planes and flight attendant outfits, were most welcoming and pretty damn comfortable. I swiftly set about exploring the entertainment options and duly rattled through their finest movie offerings - Eddie the Eagle, Independence Day Resurgence (fell asleep), and the actually quite decent Criminal, as well as a really tough golf game, a hand or two of Black Jack and the maritime delights of Frantic Finley's Adventure.
Day 2: Tuesday 20 December
A brain sapping half-day flight saw us land at 6.15am the day after we had left home, losing 7 hours in the process.
Ho Chi Minh airport was absolutely dead other than our newly arrived flight so we breezed past border control and collected our bags, then found the transfer to our first destination.
My parents had booked their Vietnam excursion through an agency called Audley, which essentially organises all areas of your visit for you - from journeys between cities and hotel stays to recommending and booking activities. They laid on a hotel in central Ho Chi Minh for us to wait for a few hours, until my brother arrived fresh from seeing England spanked for their worst ever test score by India in Chennai.
We dropped our bags in the hotel, headed down to the restaurant for a quick buffet breakfast then ventured out into the humidity and heat of a Ho Chi Minh morning.
The temporary hotel was a stone's throw away from the hustle and bustle of Ben Than market, a red-brick roof covered mass of people selling knockoff Nike tshirts, watches and speakers, 'butchers' serving up severely conspicuous raw meat and entrails that were happily sweating away on an open counter, and a fish stall that was home to live fish in small buckets, a woman decapitating a recently killed trout and live frogs positively bursting out of a tight bag.
Needless to say I kept my newly withdrawn 2 million Dong (equivalent to around £75) firmly in my pocket, as we wandered through the market to explore the unique delights of a roundabout in downtown Saigon. Quite how the traffic flowed on these roads was somewhat of a mystery upon first experience - motorbikes arrived from every angle, cars showed little sign of stopping for anything, while buses and lorries showed even less concern for the welfare of fellow road dwellers. It looked like absolute madness set to the symphony of a thousand horns.
With a chastening first view of Saigon road etiquette ticked off the to-do list we returned to the hotel, I had a quick power nap on the floor until my brother arrived around 11am, looking ridiculously tanned. We swiftly jumped into a taxi up to his flat, in the wonderfully named Happy Valley in Saigon's District 7. A first real driving experience gave us first-hand insight into the madness that ensues on a seemingly never-ending basis in this city - little motorbikes carrying a family of 4, taxi drivers navigating through a sea of motorbikes, and people generally battling for space that doesn't exist.
My brother lives in a little gated complex of flat blocks, it's a really nice place in a very modern area of the city. We dropped our bags off, changed into fresh clothes and then Ant and I went out on his motorbike - the first time I've ever even sat on a motorbike - to explore the local area, and popped into a local bar for a couple of glasses of local beer. Then I came home for a much needed nap.
In the evening we headed into Ant's neighbourhood of Phu My Hung and opted for a quick and easy pub meal in the local Vietnamese version of an English pub.
Day 3: Wednesday 21 December
This morning we awoke to one of Saigon's famous rain deluges. It soon subsided and we headed out to a nice little cafe near Ant's flat, and had some delicious egg-based breakfasts. Most breakfast offerings here seem to be based around eggs - from egg on toast with additions of bacon, sausage, tomato and more, to eggs benedict. We shared our little sofas with the most gorgeous tiny kitten, who slept throughout our meal, while I also got my first taste of the local coffee delicacy, Cafe Sua Da, which is a delightful concoction of eye-wateringly strong coffee and condensed milk. Yummy.
We wandered back to the flat, changed, and caught a taxi down into the centre of Saigon. Our intended destination was the War Remnants Museum but, upon arriving there at 11.20am, we were told the museum was closing for lunch in 10 minutes. So we reversed the day's plans on their head and set off for some traditional markets.
Walking through the streets of Saigon is no easy feat. Not only are there often no pavements to walk on - indeed, the government's masterplan to reduce the city's crippling traffic problems is apparently to remove pavements and add in more lanes for the traffic to fill - but when there are you'll often find pushy motorcyclists seizing possession of them when they can't force their way through the seemingly constant traffic jam. But we battled our way down 'sports street,' a collection of stalls selling the same fake football shirts and sports equipment, and explored a few local markets.
I purchased a pair of dark blue and black Nike trainers for the grand fee of 250,000 Dong (about £12) and the 'new, official' Vietnam national football kit for 350,000 Dong. I was delighted with my purchases.
A stop-off in a lovely coffee house allowed us to rest while sampling a few delicious fruity smoothies - I had a combination of mango and strawberry - before heading back for a chastening museum experience.
The true horror and sheer scale of the wars that ravaged Vietnam for decades were drilled into you during the couple of hours we spent wandering the floors of the War Remnants Museum. From examples of how peoples' lives had been ruined by the Americans' barbaric distribution of Agent Orange chemicals during the war in the 70s, to photos of babies and adults ravaged by crippling deformations by the same attacks - some so brutal my mum refused to look at them - and examples of how vigilant and staunchly independent the Vietnamese people were/are, this was a truly eye-opening experience.
Outside the museum, next to a huge collection of US fighter jets and monstrously big helicopters, were true life examples of so-called Tiger Cages, which were used to house prisoners of war. This terrifying exhibit detailed methods of punishment laid on by these prisons - from being hit with a cane to having sexual organs burned - and had an example of a guillotine that was used to behead prisoners. There was also a detailed account of a massacre that saw dozens of inmates murdered during a three-and-a-half ordeal.
It was an almost morbidly fascinating exploration of decades of hurt experienced by the Vietnamese people, who have somehow survived and seen off the invasions of not only the French and the Americans, but also defeated the so-called Southern Vietnam puppet army. It speaks wonders for the people of this fascinating country. Some of the propaganda may be a little overkill - such as a huge quote from an American general about it being wholly to blame for the war - but the museum is well worth a visit.
In the evening we headed across the city to District Two, taking in the sights of the Opera house and more delights of the Saigon traffic system. Our first port of call was an awesome little Vietnamese brewery, Pasteur Street Brewing Company. We each tried out a delicious local beer, including a pineapple infused IPA, then sampled a few of the more edgy offerings. These included a 13% stout that was recently voted the best chocolate beer in the world, an 8.6% Double IPA, which had delicious fruity undertones, and a passion fruit beer.
We then walked on to a lovely little Vietnamese restaurant called Hoa Tuckingmill, in a quiet courtyard area known as the Refinery. This was our first real taste of traditional Vietnamese food, and I had a delicious bbq lemongrass beef dish, which you had to assemble into mini beef wraps held together in rice paper. The combination of great food and local beers soon had me feeling the effects of jetlag and I was exhausted. So home to bed.
Day 4: Thursday 22 December
The highlight of today was my first ever time riding a motorbike - and I loved it. I'm a few days I'll be taking on a very special motorbike experience with my brother and his mate Mark, so he gave me a warm-up on his girlfriend's bike. As a London cyclist I'm fairly used to navigating busy traffic, but I'm not sure anything can prepare to taking to the streets of Saigon on two wheels.
I picked up the basics of motorcycling fairly quickly, it's an automatic bike so the concept is a fairly simple one of turn it on, hit the throttle and point it in the direction and away you go. But the bigger challenge is joining the road with millions of other, more experienced, more pushy motorcyclists and slightly more scary road users. We trundled along a few quiet back streets on the way to breakfast, in a delicious local cafe called the Kafe, then got a bit more adventurous as we headed out to a shopping mall in search of very late Christmas presents.
A couple of presents later and we biked south in search of a phone shop to try and fit a Vietnamese sim card into my Samsung S6. No luck, my phone is possibly locked and the security software on my phone hated the move - thanks for nothing McAfee. This gave me a chance to experience motorbiking on a main road, and I think I handled it fairly confidently, ducking between cars and slower bikes and even getting on board with the local tradition of horn honking unnecessarily.
We headed back to the flat to relax, then freshen up and head on down to the centre of Saigon for the evening. We got a taxi down to the Bitexco Tower, where my brother had booked a window table in the 52nd floor bar for sunset drinks. This gave us great views of the city from high as the sun went down and we enjoyed a few drinks in a pretty special location.
We then moved on to a nearby restaurant called Ciao Bella which, as the name suggests, is an Italian, but not just pasta and pizza. I had a delicious Tuscan chicken which, like most things I've eaten here, had a light spice to it, while my brother had a huge wholefish sea bass. All the Vietnamese food I've had so far has been amazing, and generally really fresh and healthy.
Day 5: Friday 23 December
There are now just two days to go until Christmas, but it really doesn't feel like it in these hot and balmy conditions. To sleep last night I had to crank on the air conditioning, and woke up at 5:30am. My sleep pattern is a mess, but it's worth it to see the sun appear on an early Saigon morning, and it already feels toasty hot today.
This morning I was good and accompanied my brother to the gym in his apartment block. It was so hot that I barely did a thing, but felt good for it anyway. Them we packed up out things and embarked upon a trip south from Saigon to Long Hai, on the east coast.
In true Vietnamese fashion the journey was interesting. It took 45 minutes just to make the 3 or 4 mile journey outside the city, with the most lorries you'll ever see causing huge traffic jams on the road out of town. This was combined with some slightly hairy moments where our taxi driver decided it was wise to try and push his way through aforementioned massive lorries.
The road out to Long Hai was also very interesting. This gave me my first sight of rural Vietnam, with towns built on the road featuring storefronts on the main busy road, then random huge office blocks that were predominantly empty, followed by huge government buildings, temples and even very grand houses in behind the almost slum towns. It was really interesting to see.
We arrived in Long Hai around 2pm, got checked in, booked a spa for the evening and went to check out our beautiful villa. There's a view of the sea, a private pool, huge bedrooms, I have am awesome wet room and it's generally very fancy. I could get used to living here, that's for sure.
After unpacking we headed straight for the main pool, which is a large, fairly shallow pool with sun loungers that you can laze on in the pool. We had a beer, then the poolside bar had a happy hour from 4pm so we treated ourselves to a couple of cheap cocktails each. I went for a lemongrass monitor followed by a Long Hai Iced Tea (when in Rome).
Then we headed off for our spa, and my first ever real massage. I went for a hot & cold stones massage, and it was awesome. My body is still tingling and aching a little from it but I feel so much more relaxed and chilled out as a result.
Day 6: Saturday 24 December
Massive cliché warning. First day in the proper sun and I burnt my shoulders. We spent all day by the pool and then played by tennis, and the sun must have stung me while swimming. Bummer.
Still, in the evening I witnessed one of the most amazing scenes I've ever witnessed- blue Santa goes blue.
We went for dinner at a Christmas Eve meal the venue put on, with tables up on a grassy area next to the beach, which it was far too dark to be able to see but lovely all the same. The meal itself was good, with a buffet selection including meat and fish skewers, Big prawns, salads and even crocodile foie gras, which was a new one to me. But the main event went to the entertainment put on by the venue.
We knew that Santa was arriving at 9, but when he did we were surprised to learn he was dressed in a blue Santa outfit. And we were even more surprised when the blue Santa took to a stage in the center of the tables, poised to dance, then began doing robot dancing to house music. Midway through the music dropped out and a voice screamed 'Motherfucker' and thus Blue Santa Goes Blue.
We later learned that the resort manager had found a dance troupe performing their moves in the nearby town and recruited them to entertain guests. In fairness, the blue Santa was very good, albeit slightly out of keeping with the general family feel of the evening!
Day 7: Sunday 25 December
Christmas Day in Vietnam. It was a pretty quiet affair really, we went down for breakfast, had a walk along the beach, relaxed and then had dinner in the resort restaurant. Not a huge amount to report but Merry Christmas!
Day 8: Monday 26 December
This morning after breakfast we had a round-robin tennis competition. It was super hot, around 32 degrees, but me and Ant, and his mate Mark, took to the shabby looking courts for a few tie-breaks of tennis. It was fun, but really hot, and we all won two games, then came back to the villa and jumped straight into the pool.
In the evening we had a barbecue delivered up to the villa, then proceeded to cook a mountain of meat on it. We had chicken wings, beef tenderloin, sea bass fillets, pork ribs and prawns, with some root vegetables, and it was all delicious, if rather chargrilled. Then we sat back and watched the evening's football play out - which was possibly one of the dullest collection of football games you're likely to encounter!
Day 9: Tuesday 27 December
Time to leave the sunny seaside. We packed up this morning, went for breakfast and then made the journey back west to Saigon and relaxed for a few hours before heading off to the airport.
It was now time to venture north, and I flew to the ancient Vietnamese capital of Hue with my brother. It was only about an hour flight from Saigon, but we arrived around 10pm and it was bucketing down with rain, which didn't bode well for the plans we had laid out for tomorrow.
Day 10: Wednesday 28 December
We woke up early, peaked out the hotel window and darn it... still raining. Today was the day of our motorbiking trek between Hue and Hoi An, which takes you over the Hai Van Pass and over a mountain that lays between the two cities. The route we were taking was the opposite of the one taken by the Top Gear team back in 2013.
We grabbed an early breakfast (eggs as always, seemingly) then walked up the road to find Motorvina, our bike rental firm. It was tucked away down a back alley but we eventually found it, signed some paperwork, got some advice on directions and got familiar with our bikes for the day.
I first got given a white Yamaha but the guy realised the tire was flat and instead gave me a brown vehicle that lovingly became known as 'The Beast.'
The first mission was to find a petrol station and get out of Hue, which we did fairly quickly. There was then one long straight road that would take us all the way out into the countryside and onto the Hai Van Pass. The first road wasn't dissimilar to the one that had taken us out to Long Hai a few days earlier, with interesting little shack shops on the roadside and grander buildings lurking behind them.
The closer we got to the mountain the more the rain persisted, and soon enough my hands were freezing and my poncho was beginning to leak water - although it wasn't as bad as Ant's, which had somehow begun falling apart and leaving strips of plastic on the road. So we powered on along the road for around 70km and stopped at a cafe / bar / shack for a couple of glasses of hot Vietnamese coffee. I took the opportunity to pop on a jacket for warmth, took a few photos and we were on our way again.
The rain was getting increasingly heavier, which was emphasised as we passed through the warm dryness of two tunnels only to emerge to belting rain. One of the best views of the day was at the bottom of the pass, as we looked out over water on both sides of the road, and we got hassled by a guy who was collecting foreign money - my brother gave him a rupees note but neither of us had any English coins, which seemed to be his main interest.
We began to plod our way up the mountain, making occasional stops for photos but what should have been a glorious view was rudely restricted by dense fog that meant you struggled to see further than ten metres in front of your face.
At the top of the mountain was a group of small cafes and shops, so we stopped off there to warm up, have a quick drink and take a few photos. Unfortunately there was very little to capture on camera, as you could barely see the shops from across the other side of the street. But we sat and chatted to fellow bikers enduring the conditions before embarking on the trek down the mountain.
The descent was a little trickier as the road was so wet and there were some tighter turns. But we did manage to get a few clearer, more exciting photos - including a train following a track along the bottom of the mountain and along the seafront.
At the bottom of the descent we soon moved into Danang, which looked fairly industrial and not overly exciting given it's the third largest city in Vietnam. The road took us through more towns, but by this point we were so wet and cold that we began to put the accelerator down and push on to Hanoi.
We did get some really cool seafront views, with some pretty big waves crashing in and a load of brand new seaside resort complexes popping up along the route towards Hoi An, and an increasing number of massive marble statues along the way. Soon enough we reached our destination, and headed straight to the hotel to grab hot showers.
We took the bikes into the Motorvina shop at this end, where a cute Vietnamese girl asked me where I lived and then whether I was rich, before heading out in search of food - we hadn't eaten since breakfast. We found a really nice little cafe called Hung Phuoc 2, which is right next to the river and served awesome cakes and milkshakes. So I had a passion-fruit and chocolate cake and a strawberry milkshake, before we wandered back through the quaint little market streets of Hoi An to retire to the hotel for a few hours.
After a long day on the bikes the downtime was much needed, but we later headed out into the town for a couple of drinks in a sports bar then on to a restaurant called Cargo. En route we found a little leather makers where we ordered some shoes, for which we had to have our feet measured so the shoes could be exactly tailored to fit us.
At the restaurant we had a short wait but soon got a table on the rooftop terrace, obviously next to a table of self-involved Americans. We had a couple of starters which came out in turn, some delicious deep fried spring rolls then a selection of breads, and then we both had Red Snapper for main - which was a huge wholefish served with chips. It was pretty awesome.
Day 11: Thursday 29 December
Today was suits day. We hired bicycles (for free) from our hotel and headed out to my brothers regular tailor in Hoi An - yes, here such a thing exists - and eyed up a few options.
I decided to go for a new blazer, and had a series of materials and colours to choose from, so I went with a dark navy and black chequered option. It looked pretty fancy and apparently it was very good quality kashmir, apparently. I selected a white shirt material to go with it and then got measured up in the store, while a huge family of German people decided that was the best time to sit down and take up all the space in the shop.
Once our measurements were taken we were told the clothes would be ready by 5pm so we headed back into the middle of Hoi An to explore more of the old city. We bought a pass that would give us access to five sights and interesting places. We first went into a small temple that was very traditional and decadent, then went into another larger temple that had talks for visitors. We also went into one of several 'old houses,' which was a traditional Vietnamese house from the 17th century that is still inhabited in the upstairs rooms and offered an interesting insight into how people lived in Vietnam. We also found an interesting little museum that explored life in Hoi An through the ages, from the old jobs people did, their fishing and dancing traditions, through to games they would play.
We then headed out of the town centre on the bikes for a first taster of rural Vietnam. We cycled out of the town and through a series of small roadside houses then reached a huge rice paddy field that was being worked by a few Vietnamese people - who seemed to be picking up mud from inside flooded sections of the field and placing them on marked out mud borders. The fields were also being worked on by several water buffalo, who seemingly stood around eating grass all day.
We took a few photos of the rice production in action then got back on the bikes and explored further into the wilderness. We found a few ponds with fishing boats and a few shacks with Vietnamese people playing cards and not a lot else, but it was nice to see a slightly more rural side to the country than I'd seen before.
We headed out to try on our suits at Ti Na's, they advised alterations that would be made overnight, then we headed back into town to collect our shoes. Then we explored a few new streets and found a cool little bar where we had a couple of beers.
We then crossed the river and went in search of a restaurant brilliantly named Fish 'n Chips 'n Stuff. Obviously we had fish and chips, and it was really tasty. We headed out along the river, and popped into a couple of bars for a drink, including a bizarrely Mr Bean-themed bar, which had some of the strangest, grottiest toilets I've ever seen, but we had a couple of cool cocktails - including a Jager Mojito and then a nice passion-fruit Mojito.
Day 12: Friday 30 December
Today was our last day in Hoi An so we had a lazy morning watching crappy football highlights - Lille v Montpellier - then trekked back out into the rain and out to Ti Na's to collect our altered tailored clothes.
My brother's girlfriend had had a plane nightmare, her flight back to Saigon via Abu Dhabi from London had been delayed by 6 hours. So my brother had to get on the phone to Etihad, who were as useless as you'd expect from a company that sponsors Manchester City, and we waited around to check if she could sort it out.
We then headed out to meet our parents, who had just arrived in Hoi An, for a quick lunch at their restaurant, which looked far more salubrious than ours. A huge rye bread club sandwich later and it was time to head back to the hotel for our transfer to Danang airport.
We flew back to Saigon, following the standard half hour delay to the flight and after a few cheeky beers in the airport - while playing a game of best world XI football team, best England and Bolton XIs we've seen play, which certainly passed the time.
Upon getting back to Saigon we learnt that Beckie wouldn't be able to get back from Abu Dhabi until the next day, and that her flight wouldn't land until 7pm, which put a spanner in the works for our New Year's Eve plans the next evening.
Day 13: Saturday 31 December
The final day of 2016 proved rather eventful. It began with a relaxing morning then we headed out on the bikes for a haircut - my first in eight months. Safe to say my hair was getting pretty long, and a lot of it ended up on the hairdresser's floor but at least it only cost £2.
We then went for a sandwich in An Nam Gourmet, a Vietnamese version of Marks & Spencer where they largely sell western food, and then went to a local bar called Harry Casuals for a few games of pool, where we were joined by my brother's very Scottish friend Grant.
It was then time to head home as my brother had to travel across town to the airport to meet Beckie. I stayed at his flat waiting for a call on whether we were going out that evening. I'd already assumed that we wouldn't be, so I headed out for a wander and sat in a little bar called Ruby Soho, and immediately got the call from my brother that we were going out! So I head to run back to the flat, pack my stuff and grab a taxi into the centre of Saigon.
We had heard that taxis would be a nightmare late on New Year's Eve, so I'd booked a hotel that looked perfectly pleasant - although the price of £22 in the middle of Saigon should have been a warning. I grabbed a cab down to the general region of the hotel and had to wander the streets to discover it down a back alley. It seemed small but OK, but then on getting into the room I discovered the shower didn't work and the weirdest toilet system I've ever seen, where the toilet was actually placed in the shower.
I got changed and out of there as quickly as possible, and set out on foot (which is seemingly rare in Vietnam) towards the venue we were going to for a new year party - the Hotel des Arts. Half an hour later in sweltering humid conditions I was covered in sweat but arrived at the venue, got the lift up to the 24th floor and met my brother and a few of his friends.
One of the perks of paying £120 for a New Year's Eve party - scratch that, seemingly the only perk - was freeflow champagne, so it's safe to say we got very drunk on bottomless champagne. Neither of us can remember how much we drank, nor any of the end of the night. But all I do know is I woke up in a random girl's bedroom on the other side of Saigon, with a fantastic view across the city. I vaguely remember getting very angry with a very incompetent taxi driver, but that's about it. Happy New Year!
Day 14: Sunday 1 January
Safe to say none of us felt too good today. I woke up very early at this girl's house, freaked out a little bit and got out of there sharpish and found a cab back to my brother's place. Luckily he had given me a spare key, so I could get into the house, but I felt a good breakfast was in order so headed down to Eden, where we went in the first week in Saigon. I had eggs benedict with bacon, a diet coke and a Vietnamese coffee with milk as I accessed the messages I'd received from people overnight.
I then made my way back to my brother's flat, watched the football from the previous day and lay on the sofa feeling very sorry for myself and drinking lots of water. Soon enough my brother arrived home and brought a sandwich, we watched Match Of The Day and then I retired to bed for some overdue sleep.
A three-hour nap later and I felt much better, and we headed to a very British pub called The Tavern for a Sunday roast. We then headed back home, I packed my stuff ready for a new adventure tomorrow and we watched the football.
Day 15: Monday 2 January
I woke up early doors and was at Saigon airport by 8.30 ready to make the flight north to the Vietnamese capital, Hanoi. The plane was, for a change, due to set off on time, but lo and behold as we were due to fly the captain informed us the flight would be delayed due to there being 'too many aircraft trying to take off.'
The flight itself wasn't too bad, I just played Football Manager for the whole two hours, then I was collected by a transfer at the airport to the hotel, which turned out to be in the centre of its Old Quarter. I headed out for a wander through the busy streets, and the first dodgy guy I saw asked me to buy some books, then asked me if I wanted a lady massage, then if I might want some marijuana. I kindly said no thanks to all of his offers.
I wandered around the Hoan Kiem Lake, which looks pretty fantastic in the early evening, then wandered down a few random streets to get a taste for the city. At first sight it seems a bit more western than Saigon - for a starter, they have that strange concept known as pavements on the side of their roads that you can actually walk on.
I found a road that is pretty much predominantly bookshops, and there's Nike, Adidas and Puma shops right outside my hotel. I also popped into a Highlands Coffee store to get a refreshing cold coffee, and had a fair wait to get my hands on a caramel Phil Freeze, which was worth the wait. There was a jelly type of substance amongst the mix of cream, coffee and ice.
I did a bit of research on good pubs and restaurants in Hanoi, then in the evening went to test one out. I found a pub interestingly called Polite Pub, which was a dinky little bar showing black and white movies and with decent beer on tap, plus a huge range of spirits. I sat having a chat with a nice American bloke, who is spearheading the newly legalised marijuana industry in the US.
I headed home, grabbed some snacks from a local shop and sleepily watched the football then dozed off.
Day 16: Tuesday 3 January
This was a first chance to check out Hanoi so I walked all around the Old Quarter. I started off walking to St Joseph's Cathedral, which was a massive closed church. Interesting but not overly exciting.
The main point of this little exploration was to visit Hoa Lo Prison, which was used in that capacity up until the early 90s. It was interesting, but pretty small so I took in the displays and then headed back to the streets of Hanoi.
The next mission was to find the Hanoi football ground, which turned out to be much further away than I was expecting. After traipsing through back streets and away from the tourist areas I soon found the now decrepit old yellow stadium, which could do with a lick of paint and probably rebuilding.
The stadium was surrounded by sports shops, and I made a few bargain purchases of a fake LA Lakers top (and, I later discovered, shorts) and presumably fake Real Madrid and Hanoi T&T strips.
I found a cool little bar called Beer 2KU and had a Vietnamese beer called Truc Bach, which is brewed in Hanoi. I then went home for a nap, had a bath and headed back out to explore more of Hanoi at night. I got a little bit lost so popped out into a Swedish-owned Irish bar called O'Leary's to get my bearings, then wandered north towards the so-called Bia Hoi corner. Here I discovered there was a whole host of little bars, so I decided to do a mini bar crawl.
The first was called Craft Beer Pub, and I had a Platinum Pale Ale which tasted more like a wheat beer than a pale ale, but was pretty good all the same.
Next up I went to a bar called Rockstore, which was really cool but had loads of wannabe sales people trying to flog guests endless amounts of tat - from dubious looking pastries to a guy standing next to an English family for 5 minutes trying to flog the kids cigarette lighters and a fake wallet that he tried to prove was real by holding a lighter against it.
A happy hour later I moved on to Quarter Bar, where I got chatting to an English guy who was teaching in Korea and in Vietnam for a week away. We were soon joined by two German guys, who suggested we try 'a balloon.' This is basically laughing gas, which feels a bit like poppers in that you get a quick hit and then it goes.
We milked happy hour in Quarter Bar way beyond the actual hour, thanks to the awesome waitress Ly, then the German guys suggested we move on to a pub called Tom's Bar. This place was super cheap and had a few people in it, including a hot Vietnamese girl in a blue dress who clearly worked for them in some way and an even hotter Vietnamese girl who was, unsurprisingly, a prostitute who was trying to get me and Craig, the guy from Norwich, to part with a cool 1.5 million Dong for her services - which works out to about £50. Safe to say we both declined.
In Tom's we met a Polish guy who was determined to teach us how to 'take balloons properly.' This involved taking the gas in, holding your nose as you breathed out through your mouth and then taking another hit. He was right, it did give you a bigger rush. The German guys left but me and Craig stuck around for another drink and ended up leaving about 2am.
I wandered home through the empty streets of Hanoi, which were deserted bar a few Vietnamese blokes on bikes offering me a lift home, then offering me 'lady massage, very sex sex sexy lady' which I again had to politely decline.
Upon arriving home at 3am, I realised the football was on live but promptly fell asleep!
Day 17: Wednesday 4 January
Safe to say I'm not feeling good this morning. I slept in, had a call from the hotel reminding me to go down for breakfast, which I really couldn't face, showered and headed out. I went back to Joma for a cinnamon bun and Iced coffee but was still feeling ropey.
I headed out for a walk to try and feel better, past the lake and up towards what is apparently a good area for shopping, but turned out to be a mass of crappy market stalls selling the same tat. Apparently Vietnamese people think because I'm western I'll want to buy absolute tat. Hanoi is full of people walking around with huge collections of wallets, lighters, bracelets and these strange looking baked items which they're constantly trying to flog to you. It's never ending.
I walked across towards the Bia Hoi corner and had a beer then heard from the parents, who'd just checked into their hotel which was literally around the corner from where I was.
I went to meet them and took them up to the Rockstore bar for a bite of lunch and a drink, then walked them back through the old quarter and down to the Hoa Lo Prison, as they wanted to see it on their afternoon off. So I headed back to the hotel to relax.
In the evening I went to meet the parents for dinner, picked them up from the hotel and then called into a bar for a drink before moving round the corner to New Bar restaurant. It was proper Vietnamese food and really tasty, I had some spring rolls and sea shrimp (more widely known as prawns) in tamarind sauce, which was pretty awesome.
Then we headed out in search of a drink and found what can only be described as a garage that has been poorly converted into a bar. It was cheap and I quite liked it, but my mum didn't seem overly impressed about the Vietnamese concept of a bar. She looked scared, if anything.
They soon went home so I went to visit my friend Ly in Quarter Bar, where I had a couple of beers, bought some random baked treats, and enjoyed a bit of proper Vietnamese finger food with the staff at Quarter. Then headed home with every intention of watching Chelsea v Tottenham but fell asleep straight away!
Day 18: Thursday 5 January
Today I did a bit more exploration of Hanoi, and headed out early doors towards the Ho Chi Minh complex, which houses the former leader's Mausoleum on the grounds of his one-time residence. The walk took slightly longer than I expected and I arrived at the site around 10.30am, which was pushing it a little as the Mausoleum closed at 11am.
In hindsight I timed the visit well, as just as I was walking in there was a huge group of schoolchildren just leaving. I walked into the complex, having just about navigated my way to the tucked away, totally un-signposted main entrance, and promptly joined a queue that wasn't obviously leading to anything. After standing there for ten minutes, not quite sure what we were waiting for, our group was ushered into the complex, in a strict two-by-two line and paraded towards the Mausoleum.
We again had to wait just around the corner from the Mausoleum, before being promptly marched along a red carpet past a group of schoolchildren, through a welcoming committee of white uniformed guards and up into the Mausoleum. We were briskly marched through a continuing red carpet, up a flight of stairs and swiftly into a dark chamber that housed the body of Ho Chi Minh, sitting in a glass cabinet in the middle of the room. We briskly walked around the glass cabinet, giving us a near-360 degree view of Ho Chi Minh himself before exiting the chamber - with photos absolutely strictly not allowed. It was a very brief experience and one that was fairly surreal, looking at a very lifelike dead body of a revered Vietnamese figure, but I'd certainly recommend visiting it.
After the Mausoleum we were free to wander around the rest of the campus, beginning with the very grand yellow bricked Presidential Palace and Ho Chi Minh's former residence and house-on-stilts. We got a glimpse into the former leader's life, which sounds fascinating and makes me want to learn more about this great man. The campus is littered with grapefruit and mango trees and built around a large pond that makes it feel very serene and idyllic - you can just imagine how peaceful a location this would be to live.
After taking a mass of photos around the campus I walked up to the nearby Highlands Coffee for some much overdue refreshment - it was already 12pm and I hadn't eaten breakfast. I was planning to move on to the Vietnamese Military History Museum but when I wandered over to it I was abruptly told "Closed!" by an unnecessarily intimidating military guard on the main entrance. A theme that dominated as I continued to wander.
I decided to walk up towards the nearby West Lake, so turned left out of the museum and discovered the road was home to a mass of huge bright pink buildings behind huge yellow walls guarded by military in green uniforms. They looked very grand and important and was clearly some form of Government base, so for some reason I decided it was a great idea to take photos. This decision did not go down very well.
A very angry looking Vietnamese man waved his gun at me in an attempt to move me down the road, so I swiftly stored my camera in my pocket and shuffled on along the long, long road up towards the lake. There were multiple further entrances to various points of what I soon realised was the Department of Military Defence, each guarded by two or three rather scary looking guards - so I moved as quickly as I could to avoid drawing attention.
I soon reached the lake, which was a much needed calm and peaceful area, so I took a few photos and relaxed then wandered up towards the adjoining larger lake. I then began walking back towards the Ho Chi Minh complex and past it towards the Military Museum. I paid my 40,000 Dong (about £1.50) and made my way inside. The museum was really interesting, looking at the history of wars and fighting through the centuries in the country, including the very early days of how the nation began and examples of very early swords, daggers and cannonballs.
Further around the museum was an impressive collection of tanks, planes and more used by French, American and Vietnamese armies and slightly propaganda-fused accounts of the US invasion. I really enjoyed looking around the museum and there were some fascinating exhibits, such as the first American pilot to be captured by the Vietnamese (you can only imagine what happened to that poor guy) and a model of the Chu Chi tunnels.
By this time I was pretty tired, so I headed back to the hotel to wait for a text from my parents ahead of going for dinner, which it turned out they'd already had on a street food tour around the city. So we met up for a drink in the Old Quarter and called it a night around 10pm, when I went and bid a fond farewell to Ly at the Quarter Pub. On the way home I popped in to Beer 2KU and bought a beer for 52,000 Dong with a 500,000 note, only to see the server leg it out of the pub and try every nearby store for some change. How little change they had in their till is a bit worrying!
Day 19: Friday 6 January
Today was my final day in Vietnam. I had a relaxing morning before checking out of the hotel and going back into the markets around the Old Quarter. I snapped up a New York Yankees cap for a miserly 200,000 Dong, which in reality was probably a bit steep but I liked the guy on the stall, and wandered a few of the stalls but didn't find anything I fancied buying.
I was collected by a taxi to travel to the airport at 2pm and 27 hours of traveling home alone duly began. The initial flight from Hanoi to Saigon was pretty straightforward, and actually ran on time for the first time in Vietjet's history. I then had a five-hour layover at Saigon airport, so I headed up to the departure lounge to eat some Pho and relax. This was where the troubles began.
I headed down to the check-in desk, which should have been straightforward but the girl on the desk noticed an anomaly in my passport. It transpired that the immigration officer on the way into Vietnam had written in my passport that my Visa was only valid until 5th January, despite the Visa designated to me by the Vietnam Embassy actually running until 18th January. Upon reading the small print the Visa actually states that the length of stay is subject to the immigration officer's decision upon entry into the country.
This led to me having to go through to immigration and explain the situation to them, they understood the error and told me it was fine and I then had to rejoin the queue I had already waited ages to get through.