Growing Up in Minnesota
How I Made the Move to California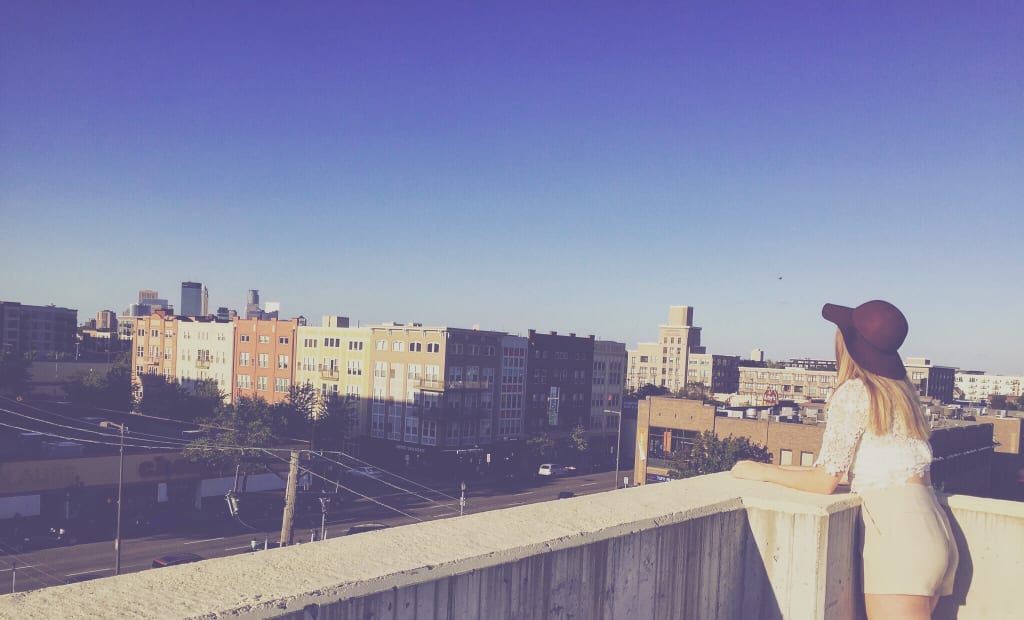 I am an aspiring artist from a small town called Chaska, Minnesota who is reaching for new and brighter experiences. This is my adventure that took me from a trapped bubble to an overwhelming sight of new life in California.
The Beginning of My Story
The start of my story begins with my parents who met in Huntington Beach, California. My father was a tall, blonde, California boy and my mom was a gypsy from Phoenix, Arizona. They fell in love by the beach and got married years later on a beautiful mountain top that I found out to be the same church that was in the show, The O.C. My parents eventually decided to have children and soon enough out came my older sister, Chelsea, who was born in California. While pregnant with me, the baby of the family, my parents decided that it would be a good idea to move to Minnesota, where the education and school systems were top notch. Yes, I agree that my parents were just trying to give me and my sister the best quality of life, but once I was exposed to the Minnesota cold and the so called "Minnesota Nice," I knew that this place wasn't going to be where my future would take me. I had bigger and better plans brewing.
My Experiences in Minnesota
I am not about to talk bad about Minnesota because I know that it is the place that made me who I am today. I also don't regret having to grow up in a small town, since it made me appreciate the quality of family time and being a real kid. Minnesota is a place that is freezing cold, yes, but it also offers new insight into the importance of creating strong family dynamics and lasting friendships. I first grew up in a town called Chanhassen, Minnesota or the home to Paisley Park, the studio and home of Prince. I lived there until I was in third grade and all I can remember is having barbecues, block parties, playing with the other kids in the neighborhood, having lemonade stands, creating awesome snow forts with my sister, and truly just having an environment to be a creative kid. I learned today that I really appreciate every moment that I had to express myself as a child and be a fun care free kid. Soon things got a little more difficult once my parents divorced and in third grade I moved to Chaska, which was the town right next to Chanhassen. My world was flipped upside down, since the split of my parents meant the loss of a strong family dynamic that kept me hopeful for so many things like love, commitment, family, and much more. Eventually as I got older, I realized that my world wasn't completely over it was just time for a new change. As a child, living in Minnesota is perfect to develop, grow and be able to have a life full of adventure, but once you get to the stage where you are in high school, Minnesota doesn't seem all that fun to you anymore. While I was in high school, I was kind of an outsider and my passion for being creative was lost, probably because of the fact that relationships change from when you were a kid and as a rebellious teen you loose passion for what is truly important in life. Plus, as a teenager in Minnesota, there are really not many activities to do. Even as a young child, I always knew that I wanted to get out of a town that seemed like a bubble that I was being trapped in. I wanted to see the world and try new experiences that I have never before. I wanted an environment where I could express myself freely with the right resources and gain a confidence that I could never have if I stayed in Minnesota.
My Transition to California
In Minnesota, I was what you would call a "closeted singer" or one who always sang in the shower and never pursued her dreams since she thought they weren't realistic enough. That is the other thing with Minnesota. It is a state that emphasizes reality and deals with being in a realistic environment where you have a job or career, have a husband or wife, make babies, have a family, and then retire. It's a world that is idealized and trapped in a state of repeated obligations. My transition to California was an easy one and after I graduated from high school, I knew that college was my ticket out. I wanted to be in a new environment where I could truly be myself and create. I always had a passion for music growing up, but I never thought that I was good enough to pursue it, that is, until I moved to California. Once I got to San Diego State University, I was instantly exposed to a new and exciting culture. I immediately met so many great friends in college that I know will be in my life for a long time. Not only that, but the people I met in college helped me develop from my small town bubble, and really chase after my passions. In my first year of college, I started making singing videos of covers of songs and I was so nervous to post them on social media, but with the support of the people around me and this new environment that I was in, I gained the confidence to be more creative. Being able to move to California has also given me the opportunity to gain so many new resources with the field that I want to go into, which is the music industry. I was able to take trips to Los Angeles to work with a producer and I now have two singles released on Spotify and iTunes. Without the move to California and the help of my family and friends, I don't think that I would ever have had the courage to go after for what I want.
What I Gained
I learned that growing up in Minnesota has given me the roots to be nice to everyone, appreciate the small things, and it has shown me the importance of having a support system of family and friends. With my transition to California I learned how to be more creative, less shy, more confident, and be determined enough to work hard and pursue the passions that keep me happy. I was content with evolving in a small society with a contained environment, but there is always a time when you realize that you may have outgrown your surroundings and it was necessary for a change of scenery. My time now in California is full of hope, dreams, and new experiences.