Graz, Austria: Away from Vienna and the Alps
Austria, a country of only 8 million, attracts the 11th highest number of tourists visitors in the world per year. I studied in Graz, a cosmopolitan, elegant old city away from the large tourist crowds.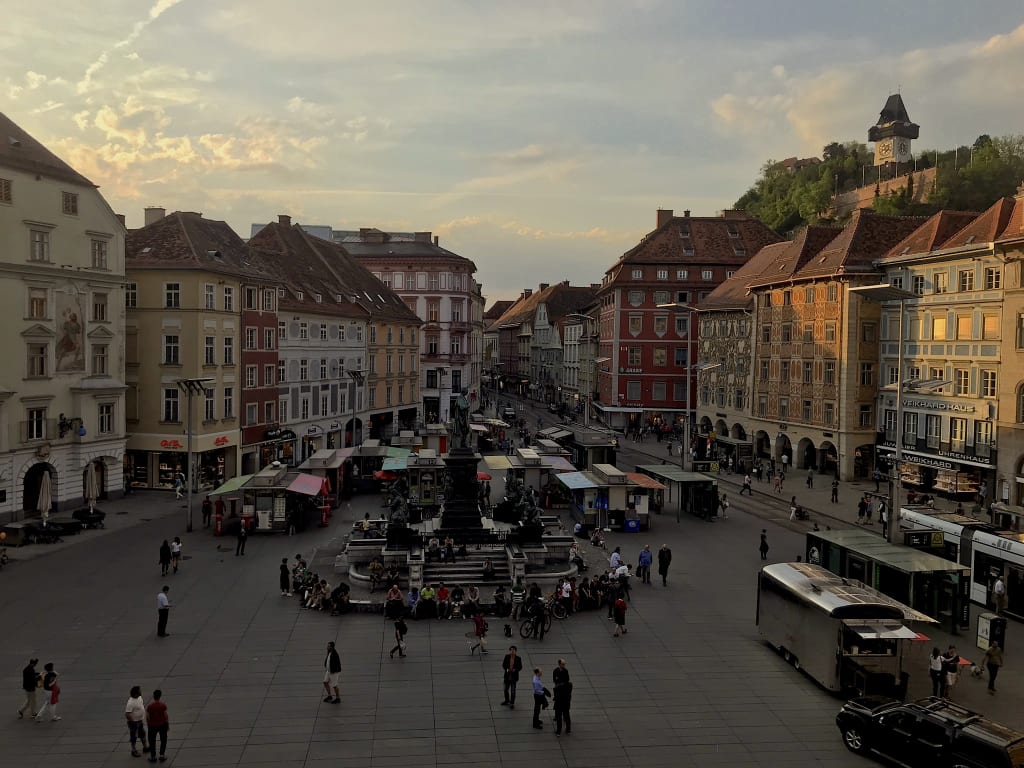 Austria is a country that attracts millions of tourists each year. For a country its size, it consistently attracts relatively high numbers of visitors who take in the Alps or make a possible city trip to the capital of Vienna or backdrop of the Sound of Music, Salzburg (Austrians have likely never seen this movie and are annoyed with its popularity). However, Austria has another hidden gem of a city outside the Alps and Vienna, nestled into the rolling green hills of Styria, Austria's southwestern province. In 2018 I studied German in Graz, Austria's second-largest city and capital of Styria. During this time, I traveled to 21 countries throughout Europe, but my heart remained in Graz. I'll tell you what's so special and enthralling about this Austrian city obscured by the crown jewel of Vienna to the north and the looming shadows of Alps in the west.
The City
The Altstadt of Graz, or the Old Town, is one of the largest, oldest, and most well-preserved medieval areas in the world. The Old Town and its colorful, Baroque-style buildings and facades bask in the glory of Schlossberg, an 11th-century military fortress built on the top of a hill in the middle of a city covered by greenery. When visiting Graz, walk up the stairs on the side of Schlossberg or take the elevator up to a view of the Old Town's famous red roofs, which are a hallmark of the UNESCO World Heritage site.
When I studied in Graz, my friends and I would often trek up Schlossberg with a few Puntigamers, the most popular beer brewed in the city, to watch the sun set over the red roofs. Nothing beats the view of the river Mur winding through the middle of the city, seeming to separate old and new architecture. When you are done at Schlossberg, walk down Herrengasse, Graz's main street, and take a glance at the colorful facades, some of which are adorned with murals dating back to the 15th century. Then, get lost in the many side alleys, rich with hidden bars, shops, and cafes. In February, this is where parties and parades for Fasching, or Karneval, take place. In the winter, the street is lined with Christmas markets, and in Spring and Summer, it is hard to go a week without finding live music or a festival outdoors.
Just west of Schlossberg and bordering the Old Town is Stadtpark. With its close proximity to the rest of the city and position between the old town center and the university campuses, it is one of the most lively European parks I have visited. If the weather is nice, take some dinner and perhaps a bottle of Styrian white wine to the Volksgarten portion of the park, where students sit in circles under trees bordering a lovely little pond, playing music, singing songs, and enjoying life. If the weather gets bad, there are two wonderfully ambient bars situated on either side of the park, and much more of the city is close by.
Graz, home to more than 70,000 students, owes much of its vibrancy to its youth population. Included in the 70,000 are thousands of international students as well, a group that I was a part of. The presence of its many students gives Graz an unmistakable glow. Further west of Stadtpark lies the campus of the University of Graz. Walk 5-10 minutes from Stadtpark down Zinzendorfgasse on a weekday and you will run into a plethora of university students heading to class. On Zinzendorfgasse there are several unique coffeehouses, such as my personal favorite, Café Fotter. You can also wander around used bookstores frequented by students, eat anything from high-quality sushi to a four-euro lunch at a kebab stand, or visit my favorite deli and butcher, Fleischerei Mosshammer.
After exploring the university campus, walk further west down Schubertstrasse. This is the greenest, extravagantly wealthy, and elegant area of Graz. The street is lined with a botanical garden, parks, and towering mansions painted with every pastel color.
Without stopping, you can walk 20 minutes from the city center through Stadtpark and into the university campus. It is even easier to get around on bike, rented cheaply from one of the many bike rentals in the city. The best way to explore the many hidden treasures of Graz is to let yourself wander through the lively streets.
The Nature
Despite being further from the Alps than most of Austria, Graz still boasts chances to soak up a beautifully unique outdoors scene. Whether you are looking to hike, bike, explore the countryside, or be guided through wine country, Graz and its surrounding area will provide exceptional experiences that showcase Austrian charm.
If you are in Graz and have an itch to hike, Schoeckl Mountain, standing at 4,741 feet, is a convenient excursion. When I hiked Schoeckl in January, it was snowing and there was little to no visibility, yet it added to an eery winter atmosphere. The hike up from the base will take you one or two hours, and you can take a bus from Hauptplatz or Jakominiplatz that will get you to the base for just a few euros in 15 minutes. In the winter, it is possible to ski at Schoeckl for much lower rates than you can find around Innsbruck or elsewhere in the Alps. One of my favorite parts of hiking in Austria is seeing local mountain bikers slowly trek up the mountain, only to fly down past you minutes later. At the summit of Schoeckl, there is a traditional Austrian Gasthaus where you can fill up on Schnitzel or traditional Schweinebraten, and warm up with a glass of Gluhwein in the winter if you are so inclined.
Only 30 minutes away there is another worthwhile excursion, Barenschutzklamm, where you can find an even wider variety of hiking, restaurants, and landscapes. Barenschutzklamm can be hiked in the winter for free, and in the summer for three euros. The hallmark of this hike is a man-made wooden ladder that winds around rocks, waterfalls, and up a valley to a plateau where you can stop for a bite to eat before deciding whether to continue hiking up to the summit, which offers views of snow-topped mountains and luscious green valleys, or to go back down by a different route.
An absolute must while you're in Graz is the Styrian wine road. The 250-mile wine road winds through the rolling hills of Styria, adorned with old red-roofed houses and a combination of marshland and vineyards. The best way to tour the wine road is to get a map from the Graz Visitor Center on Herrengasse and rent a bike, set off from Graz, and pick one of eight stages of the wine road to embark on. Along the road, there are many taverns and restaurants situated near the vineyards that sell local wines. It's charming, vibrant, and a side of Austrian culture that many don't take the time to see.
The Food, Drinks, and Nightlife
Aside from the many coffeehouses and bakeries, there is a myriad of different types of cuisine unique to Graz. The most typical Graz eatery is the Bausatz chain, which lets you build your own pizza, burger, or pfandl (an Austrian dish made from spaetzle, a type of egg noodle) for only five to seven euros. There are seven Bausatz locations in Graz, all with their own unique flair. If you want a good view and a young crowd, go to Area 5, located directly on Jakominiplatz, the central transfer point for the city's buses and trams. Or, if you want a cheap place to eat in the Old Town that has a bit more upscale atmosphere, check out Continuum on Sporgasse, Old Town's most picturesque street. The food will not disappoint, and the beers are cheap.
No trip to Graz would be complete without soaking in the city's nightlife. With an abundance of university students, live music, and night clubs, the nightlife in Graz is unbeatable for a city of its size. After dinner, start your night out by visiting one of the many bars in the city center that offer live music. You can find just about any type of music in Graz, from Austrian punk rock at Music House to one of the many jazz cafes around the city center. Stockwerk Jazz is a perfect quiet place to start the night out, listen to jazz, and hang out with locals. Austrians are surprisingly easy to talk to once they have a drink in their hand, and will be especially interested in you and eager to practice their English if you try to start a conversation. Try asking them about politics, history, or culture. Many bars also host traditional Austrian folk music. If you walk by a window and see a man in lederhosen playing a type of accordion or violin, do not pass without going in; you'll be thankful for the authentic experience.
If you are looking for a bar without music, visit Office Pub in the Old Town. The Office Pub is owned and operated by the University of Graz, and run by English-speaking international students. On Wednesdays, "International Night," the place is packed with exchange students from all over the world. The beer is priced lower and the atmosphere can't be beat. It's also incredibly easy to spark up a conversation with someone here, as most of the patrons, while not tourists, are traveling themselves.
If you are feeling energetic, there are many night clubs throughout the city that play electronic and pop music. In the summer, there are often techno concerts on the shores of the Mur, near the main bridge that connects the Old Town to Lend, where the famous modern architecture of the Kunsthaus art museum illuminates the city. On the Lend side of the river, there is an abundance of night clubs. Postgarage is my personal favorite and has hosted some famous DJs, such as Paul Kalkbrenner. If you're not feeling the night club scene, I would recommend Miles Jazz Club, which has free live music nightly and is open late.
One important note to keep in mind when going out in Austria, specifically Graz, is that most bars and clubs allow smoking indoors. This can be annoying for many, but from a different perspective contributes to the charm and ambiance of Austria. Austria is the last country in Western or Central Europe to allow smoking in restaurants and cafes, and the question of a smoking ban has been a hot topic in politics recently, which is another suggestion for conversation if you're looking to converse with locals.
Final Thoughts
If you are visiting Austria or just traveling through Europe and looking for a central location to spend a night or two before heading to Italy or Germany, Graz is a wonderful city to discover. From its historical city center, to its abundance of outdoor activities, to its vibrant parks, cuisine, and nightlife, Graz is a truly cosmopolitan city. As a student there for eight months, I went from knowing almost nothing about it to admiring it so much that I would recommend it as a travel destination equally or more than almost any city in Europe that I visited.
I have given more of a local's guide to Graz, but if you are looking for some of the more touristy stops, the Graz Visitor Center has an abundance of free information. It is also housed in the largest medieval armory in the world, which offers tours for eight euros. On a rainy day, it and several museums are a great option for staying indoors. Kunsthaus, the Graz Museum of History, and the Arnold Schwarzenegger Museum (Graz is the hometown of Schwarzenegger) are all unique museums specific to Graz and Austrian culture. Schloss Eggenberg is also an indoor option if giant, historical Hapsburg castles are to your liking; an even older can be found after a short hike to the Roman ruins at Burg Goesting. And Graz is also home to the second-largest Opera in Austria, which sells affordable tickets compared to Vienna and is ornately adorned in Baroque magnificence.
If you decide to stop and see Graz during your next trip, please let me know. I'd love to help you out and give some more specific tips and pointers for getting around the city and the rest of Austria. I could go on and on about perfect walks along the river Mur, interesting restaurants to try, scenic bike routes, or historical points of interest in Graz. Viel Erfolg in your travels and Servus!