Gluten-Free Flying: Airline Dining and Dietary Accommodations
54 global airlines were surveyed - here's what was found.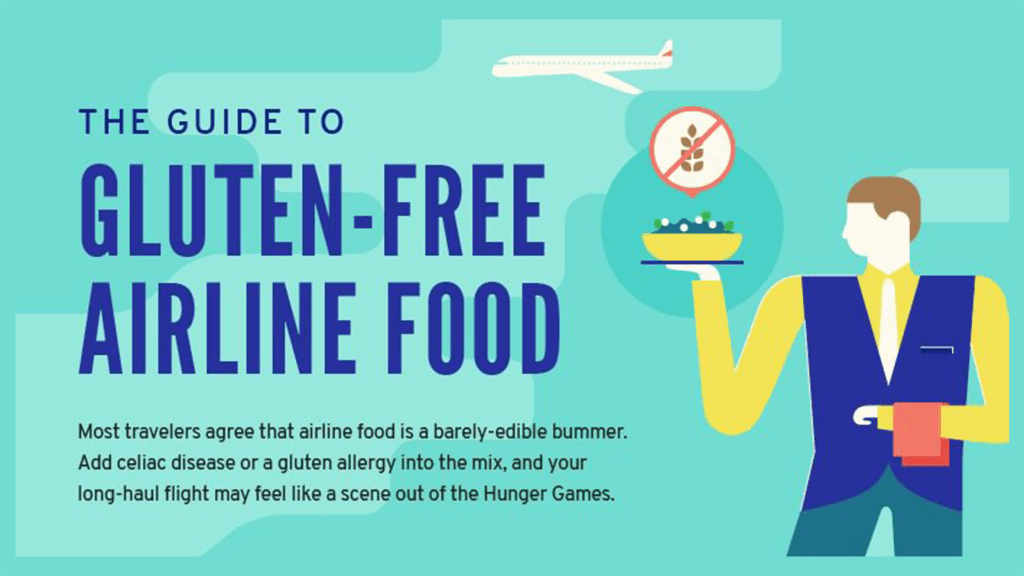 When you think of air travel and in-flight dining, it's hard to imagine anything other than a plastic tin of chicken drowning in a cream sauce. Or does the dried out pasta usually suit your fancy?
All jokes aside, the popular opinion around in-flight dining suggests that airlines leave us with limited options. While the industry as a whole is generally known for poor customer service and PR disasters, perhaps we've overlooked efforts and been too harsh when it comes to in-flight refreshments.
The Evolution of In-Flight Dining
The commercial flight industry has made significant strides over the years towards accommodating travelers with a variety of food allergies and health conditions. From lactose-free and diabetic, to vegan and kosher options, it has become an industry standard to offer passengers options that meet their dietary needs and/or restrictions.
Today, more than 3 million in America follow a gluten-free diet and one third of Americans actively seek to avoid gluten. With "gluten-free" being a major buzzword in today's lexicon, we can only imagine just how challenging travel can be while concerned with unintended gluten consumption 40,000 feet in the air.
Then again, what's worse: frequent trips to the bathroom or staying snackless for hours on a long flight? Now that's a tough call.
A Guide to Gluten-Free Airlines
Reservations.com sought out to do the research and determine just how gluten-free friendly airlines are these days.
Surveying 54 global commercial airlines, Reservations.com found that nearly all offered gluten-free snacks and/or meals. For those that did not, they at least had "low in gluten" in-flight options available. However, blind faith in someone else's hands can be a bit of a gamble when it comes to your gastrointestinal health.
Those with celiac disease or a serious gluten intolerance may want to consider the risk of cross-contamination. Whether airlines claim "gluten-free" or "low in gluten," many explicitly express they can't guarantee their special offerings were never exposed to gluten during manufacturing.
This isn't exactly a hand slap towards the commercial airlines industry, as exposure to gluten is a concern that exists across the board for those with sensitivities. For example, grocery store shelves are filled with products that offer similar statements on their packaging and labels. Cross-contamination isn't news – it's a risk the gluten intolerant are keenly aware of day in and day out.
Another factor to consider is that fulfilling your dietary needs may come with an additional cost. Again, this isn't exactly unexpected for those with celiac disease or a gluten sensitivity. Fortunately, only 4 of the 54 airlines surveyed noted that they charge extra for special meal accommodations.
Aside from availability and additional charges, Reservations.com also looked into when passengers should input their "Special Meal" request. As you might imagine, the sooner you do so, the less likely you'll be met with a face that reads "we forgot."
Most airlines allow you to share accommodations and reserve a "Special Meal" up to 24 hours before departure, but some require a 48 hour or even 72 hour prior notice. Even if you do lock in that information ahead of time, a friendly reminder at check-in and at the gate will only help ensure you're nourished while flying high.
Take Matters Into Your Own Hands
At the end of the day, it's just plain difficult to place full trust in and rely on the busy airlines staff to accommodate your needs. Reservations.com affirms the best tip for gluten-free travelers is to do your own research and come prepared with your own snacks and meals.
Rather than spend time worrying over availability and questioning ingredients, use that time to pack your own treats for a more personal in-flight dining experience. Not only will you guarantee yourself a gluten-free friendly meal, but we're willing to bet it'll be tastier than whatever the airlines would offer you to begin with.
Be sure to follow TSA guidelines while packing snacks to bring on board and you'll be good to go!