Glacier National Park/Avalanche Lake: I Went for a Little Stroll in the Woods Yesterday
Glacier National Park, Montana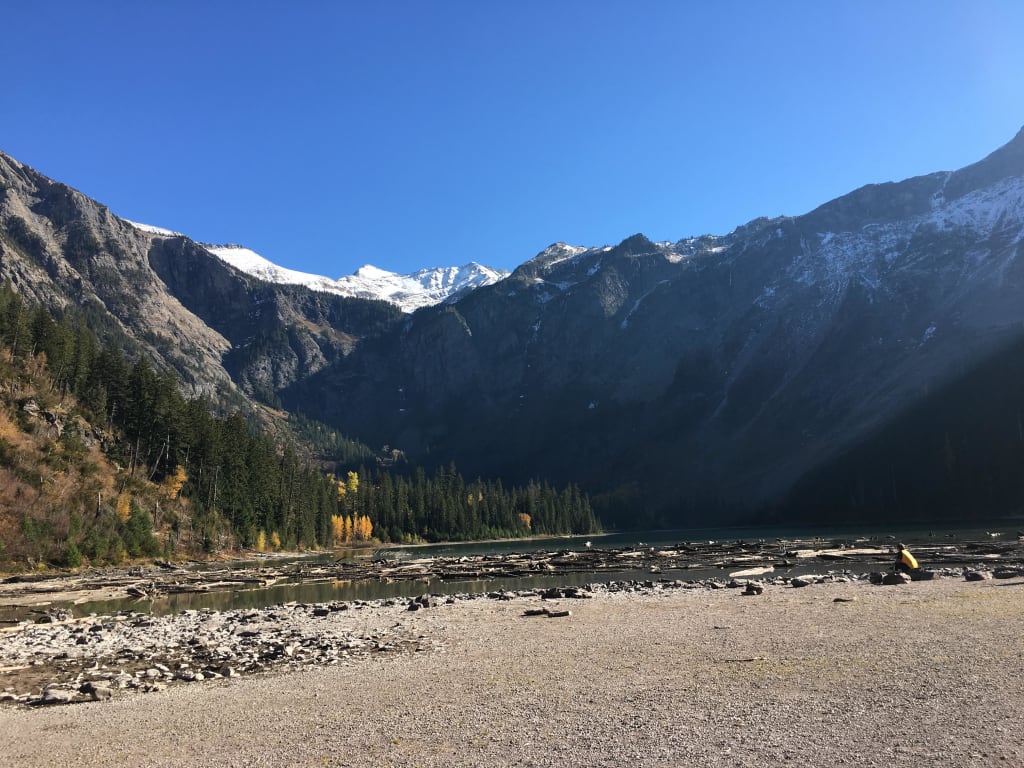 Let me start this out by saying that this is the first time in a long time that I have done any serious hikes with elevation. In fact, the last time that I did, I was maybe 5-years-old in Germany in the Swiss Alps.
See, I've already started with the excuses.
Yesterday, my friend Steve and I took a day trip to Glacier National Park here in lovely, Big Sky Country, Montana. As we were driving into the park, it was just one breathtaking view to the next. If you ever have a chance to get to Glacier National Park, take my fucking advice, be like Nike and Just Do It.
We stopped at a couple of lookout points first to take the typical touristy pictures, and then we got about sixteen miles into the park to take a hike to Avalanche Lake. This time of year, sadly, sixteen miles is all you're allowed to wander in due to the snow accumulation at the top of the mountains already.
I must be honest with you, and I didn't want to admit this at the time, but I was fucking terrified to take this hike. This was the first major hike I was going to do since I found out about my sciatic nerve issues, and I truly was concerned that my body was going to suddenly turn into a little bitch and not let me complete it. While I had taken some hikes in Wyoming, it was nothing compared to what I knew I was in store for at Glacier.
I know, enough with the fucking excuses already.
We found a place to park, got our backpacks on, and we got rollin'. The first, oh, ten minutes, I think to myself, "Piece of cake." (Boy was I fucking wrong.) There was a beautiful bridge to the left, so we stopped for a second, just so I could take it all in. There, we saw a natural stream of water that was coming in due to the melting of the snow from the mountain tops.We got back on the trail, as we were determined to not be bear food and that we make it back to the car before sunset.
The entire way up, you had your typical person giving you the occasional (every fucking time),
"You're almost there!"
I wanted to smack one of these assholes at one point.
I had to take a couple of breaks. We kept going, and the incline just kept getting worse and worse. I stopped to take another break, at this point decided that it was probably a good idea to quit smoking, drinking, and probably an appropriate time to find Jesus at this juncture of my life as well, while I was as it. At this point I felt like giving up, and I was reassured to just keep going and that when we got there, I would see that it was worth it.
As I looked around, "Fearless" by Pink Floyd started playing in my head, my second wind kicked in like that Xanax when you're having a moderate to severe panic attack, and it all hit me:
How nice it is to have legs that can climb mountains, if we stop being little bitches and just fucking do it. Some people will never have the ability to see what I saw on that exquisite, Montana day.
I then kept truckin' right along.
As we made it up to Avalanche Lake, I was just in pure awe. I took off my sunglasses, felt the sun on my face, and let the breeze coil across my entire body.
We just sat there for a while, as I took it all in. I felt extremely small and more so tranquil. We sat on a bench, created by half of a tree block, and I just looked around. To my left, I saw a stream of water and some children playing on the other side. Right in front of us, your typical tourists (hello Pot, meet Kettle): a couple, trying to take the perfectly timed picture of them jumping in the air with the mountains in the background. (I'm not quite sure they ever got that picture and their friend just lied to them), and to the right, more people sitting on these log made benches, just taking it all in as well.
As I stared at the water, I remembered Hemingway always wrote about how the fly fishing in Montana had been some of the best he had ever done, and I couldn't fully believe I was truly there at one point.
We sat there for about thirty minutes, and then decided to make our way back, as it was about an hour back to where we were parked. The way back, I must say, was a cake walk compared to the way up. At one point, I even got a little cocky and started jogging up inclines as we would come to them. I was high on life and just loving everything around me. I started jumping from rock to rock, much like I did as a little kid in the Swiss Alps in Germany, and I just felt alive. I felt more alive than I had felt in a long, long time, and it was a feeling that I simply cannot explain: I was just there, present, and one with nature, and just at peace.
We made it back to the car, and then I realized, I did it. I conquered so many of my fears on this hike, and it was all worth it in the end. I got out of my comfort zone, kept on going, and ended up seeing one of the most beautiful sites that I'd seen since I was a just a wee lad.
Do yourself a little favor today and do one thing that scares you—and I mean scares the shit out of you—I promise you, you won't regret it.
"You pick the place and I'll choose the timeAnd I'll climbThe hill in my own way" -Pink Floyd, 1971
'Til next time,
-Christina
activities
Creative Writer / Author / Coffee Addict -- Currently working on my first book!
Receive stories by Christina Hendry in

your feed