Getting Lost in the Alpine
Sometimes a little exertion is required in order to find serenity...
Taking a moment to capture the foggy scene that surrounds us. © Zach Doehler
One of my favorite ways to get outdoors and get my body moving is to go out for a hike. Sometimes that may be a day hike, other times that may be a multi-day overnight hike. Whatever the case, there is always some exertion required, but it always pays off when you're out in nature.
Not far from where I live is a place called Paradise Meadows. It's a stunning collection of alpine meadows located in British Columbia's oldest provincial park; Strathcona. This place is truly nothing short of amazing, and when the conditions are right, you really feel as though you have traveled to another part of the world. These meadows are perfect for getting outside and exploring, something that we often don't do enough of as busy humans with normal everyday lives.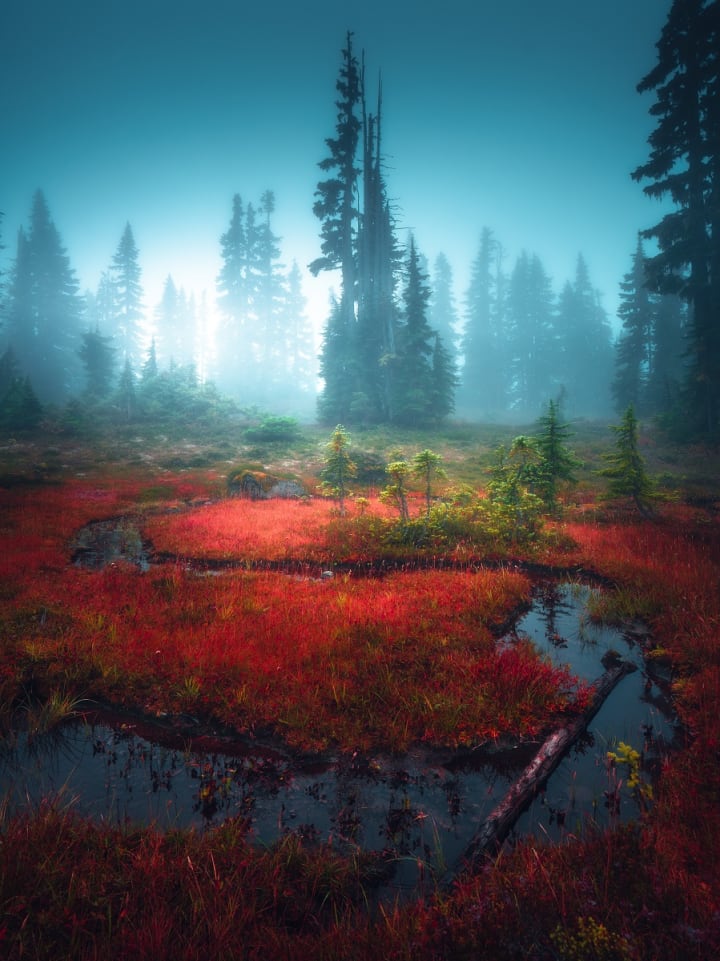 I have spent many days up in these meadows hiking, exploring, and capturing the endless beauty that this place has to offer. Typically I would come here for sunset whenever I had the opportunity to. Sometimes it would be during Summertime when the weather was warm and the bugs were fierce. Other times it may be during the Fall when the colors are beginning to really change and offer new possibilities for post-processing. And occasionally I would come up in the Winter time when the meadows would be covered with a fresh blanket of snow. No matter the weather or time of year, this place always has something to offer.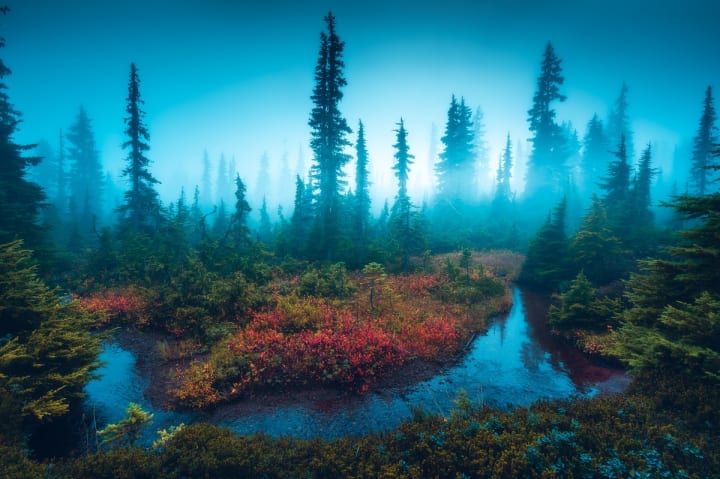 Last Fall, my buddies and I decided to head up here for a couple nights. It was going to be the last hike we would do together for the season, so we wanted to make it a good one. We had another hike planned at a different part of the island, but the forecast made a turn for the worse so we had to make sudden changes to our target location. We ended up deciding on coming to the meadows.
To be totally honest, I wasn't all that excited to come here. It's not that I was bored of this place necessarily, but I had been here so many times already that year, I was just sort of hoping to hike somewhere new and exciting; a place I hadn't visited before. I felt as if I had seen a good portion of Paradise Meadows already and I didn't really have the desire to return. But, I was wrong in my assumptions, and it wasn't something that I realized until many weeks after that hike.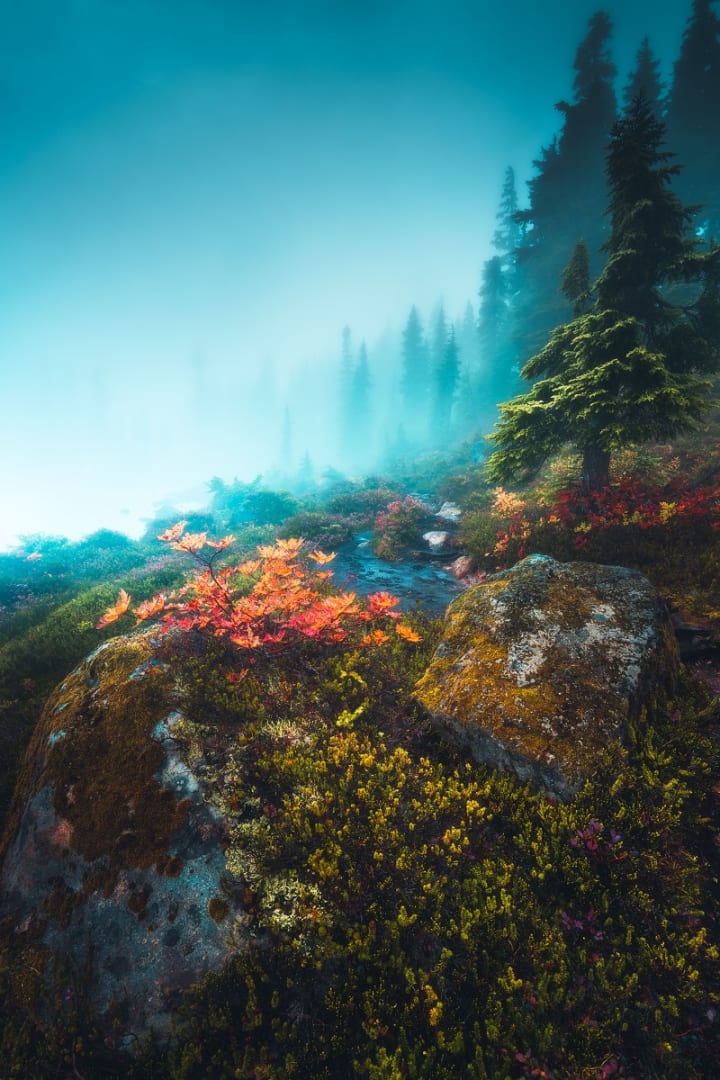 We left one Friday morning to make it up here in time to hike to our camping spot before dark. We decided to camp at a little place called Kwai Lake. It's about an 8km hike one-way from the parking lot. When we initially arrived, the weather was beautiful. Sunny skies with some clouds here and there; it was looking to be just perfect for sunset. In my mind for photography that weekend, I was really hoping on catching some warm sunset skies along the meadow pathways. I had these images and compositions in my mind that I was planning on capturing. And I was also hoping to photograph the milky way from a still alpine lake. But, things don't always go according to plan; especially when it comes to landscape photography.
After arriving to camp, a thick cloud of fog rolled in and covered any view I was hoping for. My initial plans of shooting sunset and the milky way were thrown out the door, and I was finding it a bit difficult to not become discouraged. I was up there to enjoy some time in nature with some friends, it didn't have to be a photography trip. In fact, I was going to be leaving the following week for a road trip through the Rockies. So why did I care so much about capturing images during this camping trip?
Despite any reasoning that I tried to do with myself, it was to no avail. My focus was on photography. I wanted to capture some images that weekend to add to my portfolio. And I wasn't going to let the conditions change things for me. The following day, we loaded up our day packs and decided to head out to explore the different lakes near our camping spot. Yet again, the conditions were cloudy and oh so foggy. Though it wasn't what I hoped for, I was excited to shoot some moody foggy imagery. Fog tends to offer a really stunning atmosphere for forest photography, so I got my hopes up that I could do something similar with these meadows.
It didn't take long though for that internal pessimism to roll around yet again. "Sure, the conditions are foggy and excellent for forest photography, but how am I supposed to work with that in these wide-open meadows?", I thought to myself. I focused too much on that grey empty sky that would be an eye-sore to my compositions. I wanted texture in my skies and I certainly wasn't getting any of it with this thick fog. So, at first, I left my camera packed away. I didn't even bother to take it out. It was as if I felt what lay before me just didn't match up to my standards and there was no point in me photographing it. I felt it was better that I just stayed focused on hiking and moving my feet across these muddy trails.
It wasn't until one of my buddies took out his little mirrorless camera and started shooting. He wasn't complaining at all about the grey conditions. He wanted to take advantage of where he was and capture some images. It was at that moment I realized I was being foolish in my thinking, I may as well take out my camera and join him. Worst case scenario, I do nothing with the images. But I did not want to regret not shooting at all just because it wasn't what I had hoped for.
I captured roughly 100 or so images that day. I was happy with a few of the compositions but overall not all too stoked on those grey texture-less skies in each image. After around 10km of hiking with our day packs, we made it back to camp just before the rain was beginning to come in. A few of us had become fed up with the wet conditions that we weren't initially prepared for. And we made a relatively non-mutual decision to pack up camp and leave a night early. In all, we did another 10km of hiking, made it back to the vehicle, and headed straight to the nearest place that we could get some burgers.
I felt at first that packing up and heading home early was the best idea we made that trip. It was only getting more and more wet and there were rain showers scheduled to arrive and not go away for roughly 24hrs. It just seemed pointless to me at the time to stick around for any longer.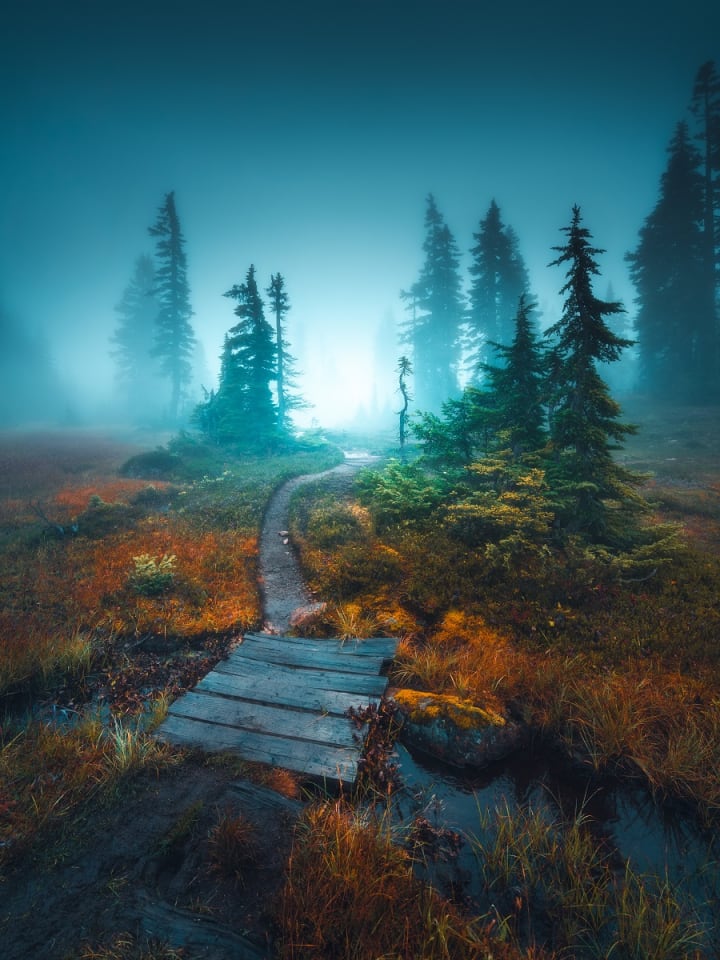 It wasn't until a few weeks later when I began processing these images that I realized, maybe we should have stayed up there for the whole weekend? When I began working on these photos, I soon realized just how stunning those foggy meadows were for landscape photography. And if you're willing to get a little creative, you can truly transform those bland and grey RAW files into something interesting.
Had I known I would enjoy processing these images as much as I did, I don't think I would have wanted to leave so early that weekend. Sure, I was cold and tired at the time. But sometimes, you just gotta push through it in order to truly appreciate the moment. Sometimes, a little exertion is required in order to find that bit of serenity...
Thanks for reading.
Instagram: @calibreus
Website: www.calibreus.co
Want to learn how to create your own colorful and dreamy images? Visit my tutorial site: www.store.calibreus.ca
About the Creator
Hi! My name is Zach and I am a landscape and nature photographer from British Columbia, Canada. I look forward to sharing with you the behind-the-scenes of some of my adventures!
Website: calibreus.co
Instagram: @calibreus
Reader insights
Be the first to share your insights about this piece.
Add your insights