Gelato
Italy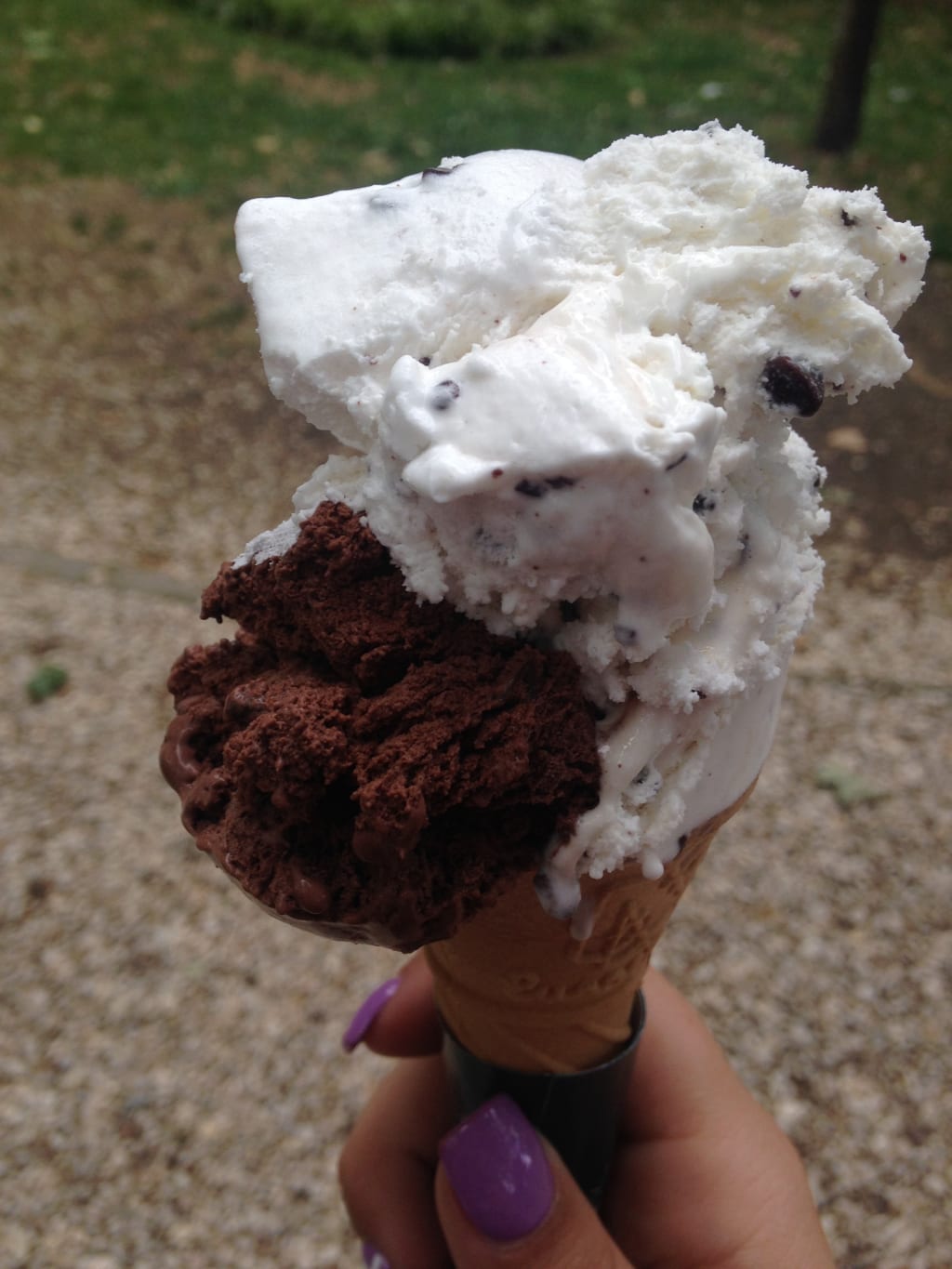 Day two, its been a long day, I'm still getting used to the time change. We had just gotten done with a class at the University of Roma. We got on a bus, what an experience that was. People shoulder to shoulder, finding something to hold on to, eyes on us. People could tell we were new to this, eyes searching for everything we have. Phone, check, wallet, check, passport, check, keys, check. We get off the Termini.
We are too tired to walk, so we decided to get a taxi to take us to the Pantheon. Step out, sun shining bright on our faces, right in-front of the building. In front there is a fountain with a few steps leading up to it. The fountain, like many of the details in Rome, had faces on it with intricate details around the faces. We all go there to take pictures and sketch in our mole skins. After we take our walk through the Pantheon, we decide to get gelato. The mass of people, heat, and walking all day made us a bit hungry. This was the first gelato I was going to be having, I have honestly quite nervous. What if I messed up the words? What if I say something too slow? What if I get up there and change my mind? All these what ifs.
Just turned the corner and there we are, walking on the cobblestone road looking at the bright green, big letters spelling out Giolitti, couldn't miss it! You walk in and the first sense you feel is smell, not overwhelming, but just enough to make you smell a various amount of different flavors. The first thing you have to do is go to the cashier and order what you would like to get a ticket to had to the people at the counter. As we approach the counter with the stainless steel tubs full of gelato, names written out, the nerves become more noticeable. I don't know what to do exactly. As my nerves started clouding my thoughts with what ifs and worries, it was interrupted by the question, "How can I help you?" Okay Libby, this is your time, you can do this.
Since I was still so used to being home, having the plain, chocolate, vanilla, strawberry, cookies and cream, etc. I decided to get cioccolato fondente (Dark Chocolate) and Biscotto Oreo (Oreo Cookie.) These flavors together were delicious, especially for those chocolate lovers in the world. After one lick of that gelato I couldn't stop myself, the flavors of the chocolates with chunks of oreo danced in my mouth. It was too good, better than ice cream or frozen yogurt. Gelato has a more creamier consistency.
I just wish that I had more confidence and bravery to have gotten a fruit flavor, such as strawberry, mango, banana, pineapple, pear, etc. The first thing I was told when ordering gelato is too always get a sweet flavor along with a more tart flavor.
It wasn't until the third day of Rome and we had to go on a walk of Rome with a group of two to three people. My friends and I were having a difficult time figuring out where to go so as we grew tired of figuring it out we went with the idea of the Gardens. As we got off the Metro, we arrived at Piazza del Popolo. We walk around and find a place to sit and sketch for a little, sitting there we are wondering where we go to find the Gardens. My eyes lock on a staircase going up to a lookout area, thats when I made the choice of saying to go up the stairs and see if the Gardens up there.
Up the stairs, green with hints of pinks, oranges, reds, yellows and purples peeking out. Scents of sweetness with the occasional buzz of a bee. We walk over to the ledge thinking the look out is going to be of just the Piazza, wrong! "This is absolutely mesmerizing," spill out of my mouth, overseeing all of Rome, straight ahead Vatican City, to Ancient Rome. After taking pictures upon pictures, we decided to walk further into the Gardens, where we had stumbled upon a different open area with a fountain in the middle. Due to construction we were unable to see the Trevi Fountain, therefore this fountain we had made our own Trevi Fountain. Once we thrown our coins in what our "Trevi Fountain" we found a little shop with gelato and pastries. Today I was feeling good and had more confidence with my ordering, I decided to go with fragola (strawberry) and cioccolato (chocolate.) It didn't come with surprise that this combination would be a glorious combination. Tasted exactly like a chocolate covered strawberry. As days pass and the more gelato I get the more confident I get with ordering, along with being more adventurous with flavors.
It was the fourth day in our trip, we arrived at Florence. Once all situated in the apartments we all decided to walk around and go to the Ponte Vecchio, and once again at night. The moon glistening off the river, swiftly giving it a kiss of light, we needed to stop and capture the beauty. We started walking away when everyone wanted to go get some gelato at this little hole in the wall place.
We walk into this gelateria and there the choices are listed. Best part, if you couldn't make a decision on what to have, there was a wheel on the wall that you could spin the amount of times as flavors you are getting. That night I had promised to try another fruit flavor once again. So I chose chocolate and banana, which together reminded me of a frozen chocolate covered banana you can get at some ice cream places in America. The color of the banana gelato had surprised me, I knew it wasn't going to be a neon yellow but have a tint of yellow. I was wrong, the color came close to an eggshell color.
Two days later, my friend and I are used to the Florence lifestyle and where most places are located. We were walking around, doing our walking Florence assignment for our course when, we started feeling hungry and were in the mood for gelato. We decided to go back to that little hole in the wall from the first night but on the way there we had gotten distracted by other gelateria, La Strega Noce. There was one flavor I was debating on getting, lavender. I asked for a sample, it was not half bad. There was a hint of cinnamon and vanilla in it, smelled just like lavender. I decided to not be that bold and have a lot of that. I went with chocolate and mango this time. This combination was not like the others I had. Yes, it was very good and I enjoyed it, but the mango would go better with either a vanilla or other fruit.
If there is one tip to learn from this, it would be that chocolate isn't great with all fruit and to always have confidence in your order. First time in a different country and ordering something that everyone there is so used to doing can come with nerves. Just breathe and it will work out.