Fun, Friends, Freedom
Forget about sun, sea, and sand. This story is all about making memories.

Birnnbeck Pier
I shall admit that there was, in fact, some sun and sea and sand involved, but that was not the main focus. On Saturday April 20, 2019, I did something I'd not done before.
I had a seaside day trip with my best friend. We've been friends since we were four years old. As I write this, we are, as my partner and teens so readily remind us, "middle-aged."
Day Out
Of course, I've had days out before. Occasionally, they have included friends. This day, however, was all about me and my best friend forgetting the world, and having some time out. Given how long we have been friends, it may seem a little surprising that we have never done that before.
We had been talking about a plan to spend a day or a weekend somewhere different. Usually, I'd spend my time with my children or my partner, but they were all happy to do their own thing while I did mine.
Bestie and I decided on a day out in the lovely little Somerset town of Weston-Super-Mare. It was convenient for her, as her parents have a caravan nearby. I was happy because it is one of my favourite places, somewhere I'd quite happily retire.
We did not make much of a plan beyond having breakfast. We did have an idea, but I said that I would show Bestie some of my favourite places.
Feels Like Home
It took about three hours, with two changes, for me to get there on a train. I got there earlier than expected, and, having started out really early in the morning, I'd had trains almost to myself for most of it. I love traveling by train, but it is not something I do often.
There was also the bonus of having beautiful views from the train, watching the sun come up over the countryside. As tired as I was from getting up and out, a couple of hours before I usually would, I could not close my eyes. I felt so lucky to be enjoying such scenery.
Around 6:30 AM–Sunrise from the Train Window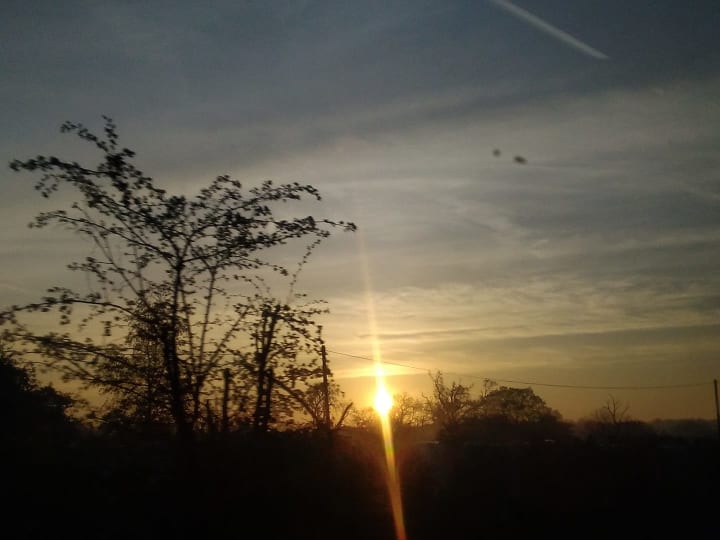 When I arrived at Weston-Super-Mare (often shortened to "Weston") train station, I felt great. I was so happy to be there, and I had what I can only describe as a sense of belonging.
Usually, if I am alone in an unfamiliar place, I might be uncomfortable or unsure of my bearings. While Weston is not entirely unfamiliar to me, I have only been a few times, and never on my own. I came out of the station and immediately seemed to know where I was, and how to get to where I was going. This might seem perfectly logical, but I had, as far as I know, never been to that station before.
View from the Tea Room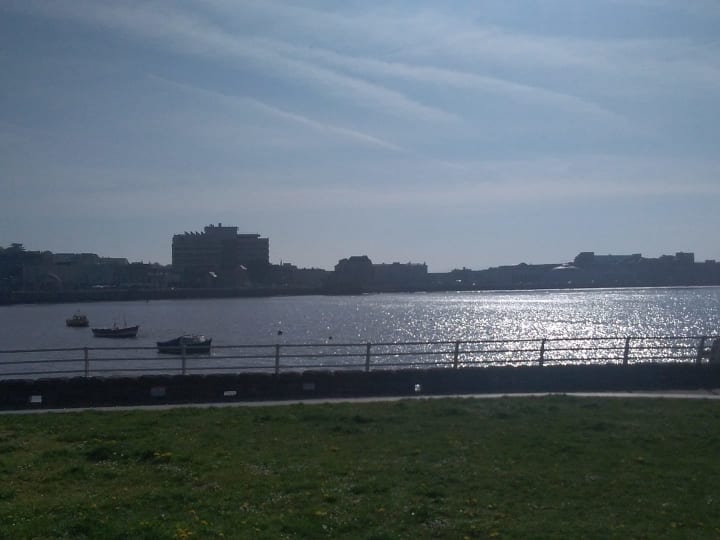 Favourite Places
Bestie and I did not have a specific plan. We were both happy to be by the sea on a lovely, sunny day. I had suggested a couple of places I like. Other than that, we spent a lot of time wandering, and enjoying the sunshine.
We met up at Dr Fox's Tea Room, located on Knightstone Island, for breakfast. It had taken me about 20 minutes to walk there. I waited for my friend while enjoying views from an outdoor table overlooking the Bristol Channel.
Having been to Dr Fox's with my partner, I knew that it was nice there. Bestie and I had a full English breakfast, and a cup of tea. We decided to sit inside to eat, although there is plenty of seating for customers who wish to sit and eat outside.
Birnbeck Pier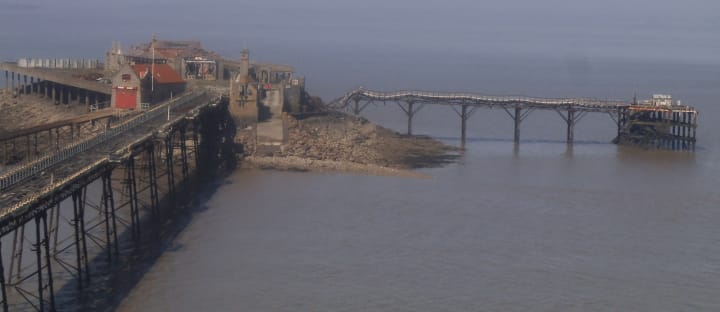 Once we had finished our breakfast, we decided to go for a walk towards Birnbeck Pier, and then make our way back into the town. Although I had wandered that way before, this was the first time I had an opportunity to see Birnbeck, and take pictures, from a different angle.
Birnbeck Pier is the only pier in the UK that connects to an island–Birnbeck Island. Sadly, the pier and the island have been dilapidated, and unused for a long time. There is, however, an ongoing project to help get it restored. For more information about that, please visit Birnbeck Pier and this website.
Pubs and Food
There are plenty of pubs in Weston. Most of them are regularly busy, entertaining both tourists and locals. I made a selection of just three for my friend to visit.
I surprised with myself again for remembering, I knew of a nice pub close to Birnbeck. This pub is called Captain's Cabin. It's a little out of the way from the town.
Before we went into Captain's Cabin, Bestie had mentioned gardens that she wanted to see. Knowing just what she meant, I led her across the road from the pub where we climbed some steps to Prince Consort Garden.
We took a pleasant stroll around the garden before coming back to the pub. We had only had one drink but, I think, we were both drunk on sunshine and happiness.
Prince Consort Garden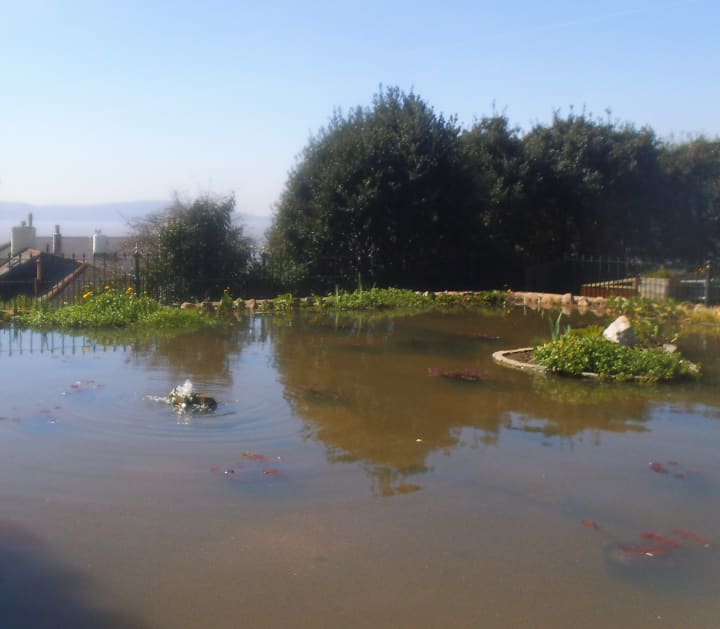 We then made our way back towards the town. I had apologised to Bestie for the fact our next destination was a Wetherspoon's pub! She didn't mind. This one was Cabot Court. It is in a nice, large building, and has a spacious beer garden. Despite this, there was still no room to sit down. We found room outside on the grass—the day could not have been more relaxed.
There was one more pub on our list, but that was to wait until after lunch.
Sakura
I had been to Sakura once before. Having loved it so much, I wanted to go again. Bestie had had supermarket Japanese before, but this was her first experience at a Japanese restaurant.
We were not disappointed. At around 2 PM, we arrived at Sakura, which is in the town, and just a short walk from the seafront.
There is an excellent selection of food. I had sea bass sashimi as I had enjoyed it so much last time. Bestie and I had a noodle dish each, and we shared some sushi rolls.
The Wheel of Weston
I had seen the ferris wheel on previous occasions, but not been on it. I do love a good ferris wheel. I like to be high up. Bestie and I wondered if our fondness for being high up was related to the fact that we are both quite short in stature.
Having been on various ferris wheels, Weston is a comparatively small one. It does not need to be very big, though, as you can see for miles with amazing views all around.
New People
The main reason that Bestie and I had decided on this day out was to have some chill time. She was going down there anyway, and I was glad of an excuse to visit my favourite place.
I had asked my partner and sons if they wanted to come but they decided to do other things. We were expecting to just be me and Bestie but then her new boyfriend came to stay with her in the caravan.
This meant that I had a good opportunity to meet him. I already liked him from what Bestie had told me about him. Most of the day was just me and Bestie but the final pub we visited, we invited her boyfriend to come and meet us.
This was Scally's. It is on the edge of the town so a little further from the other places. My partner and I had found it when looking for an alternative bar.
I took Bestie to Scally's where we had a couple of drinks and played on their quiz machine. Then we sat outside, waiting for Bestie's boyfriend. He came over and greeted us—he hugged me. I was not expecting that. I don't do hugs and I had expected, perhaps, a handshake. I didn't mind, though. It was lovely to see my best friend so happy.
We chatted for a while before they both walked me back to the station.
The End
As lovely as it was to have such a wonderful day out, I did love coming back home to my family. This might seem quite an ordinary story but ordinary can be good.
I got to do something special. There were ordinary things that I did for the first time. It felt really good to have that experience and to be so comfortable with it all.