Free Things to do in Paris
Paris on a shoestring. Yes, it's still possible.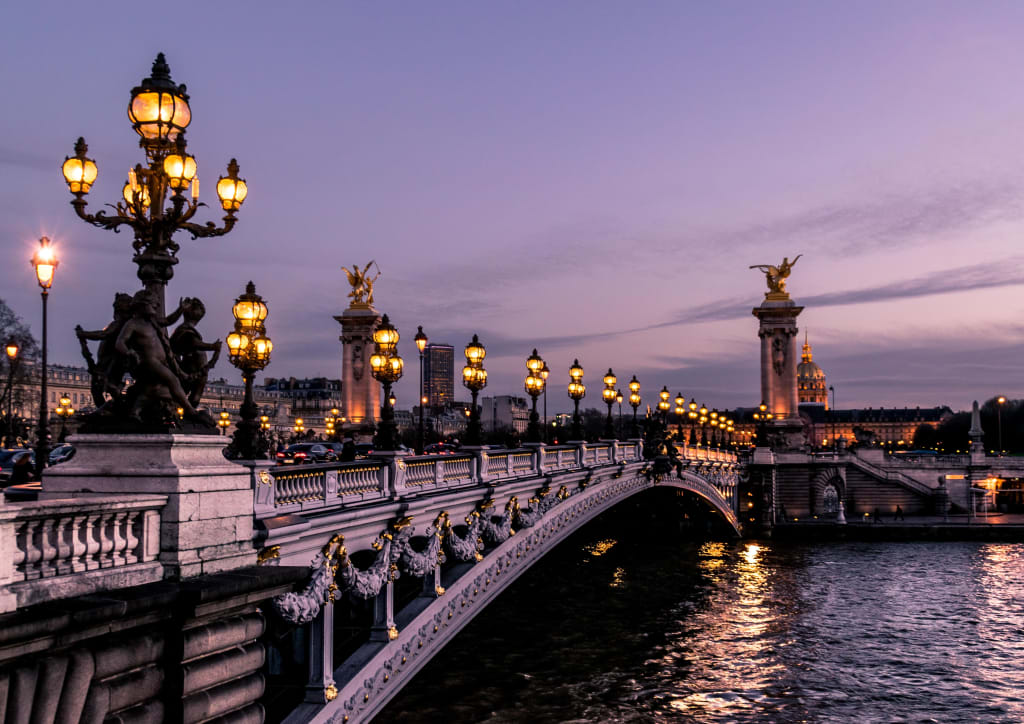 Photo by Leonard Cotte
Let's face it. Paris is an expensive love to have. If it's not the endless supply of macarons and croissants draining your bank account, its those pricey exhibition tickets, trips to Disneyland and daily café au laits at quaint river-side cafes. Needless to say, Paris is not the cheapest of beautiful European cities. That said, it doesn't mean that it's not possible to travel around the City of Love on a budget!
Stroll Around Jardin du Luxembourg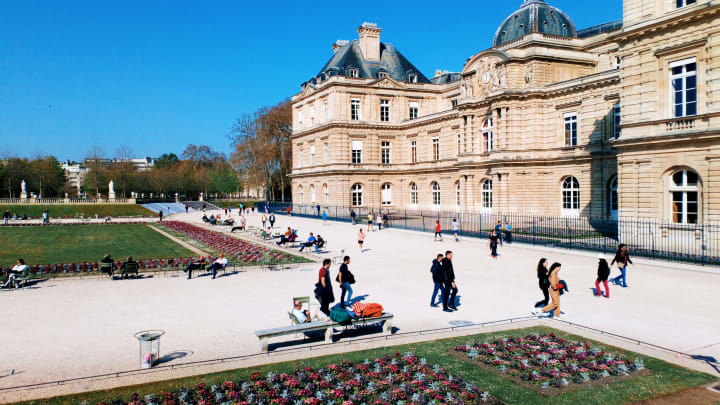 My favourite park in Paris. What better way to spend the day than sunbathing in one of the iconic green metal lounge chairs (tip: grab a second for a footrest, but only if it's not too crowded, because nobody likes that person).
The park dates back to 1612, created by Marie de Medici. She commissioned the construction of the Luxembourg Palace to resemble Pitti Palace in her native Florence, Italy. Nowadays visitors have 23 hectares to explore, including fountains, monuments dedicated to literary figures, a boating lake, and even a mini Statue of Liberty. Oh, and a beekeeping academy.
Because, of course.
Visit Montmartre Village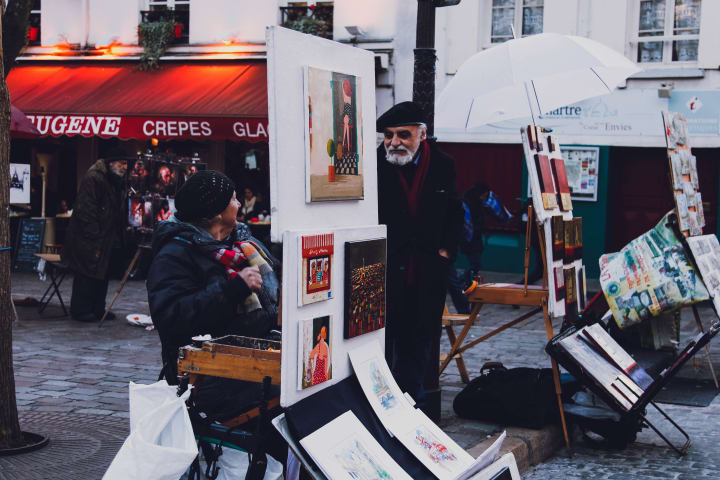 Once the central hub of starving artists in Paris, and hang-out zone of Dali, Picasso, Toulouse-Lautrec and Matisse, Montmartre village has long since been swallowed by the ever-expanding boundaries of Paris, and has become a tourist attraction in its own right. The streets are often crowded, so I recommend visiting early in the morning.
Place du Tertre is the go-to spot for anyone looking to have their portrait or caricature sketched, or to buy an artist's original artwork, otherwise Dali Espece, Paris' museum on the eccentric painter, can be found just a few feet away from the main square away, though here are entry fees. If you're looking to spend the afternoon without spending a penny, however, this is the perfect place for people watching, and practicing some sketching of your own.
Explore the Musée de la Sculpture en Plein Air
Found along the banks of the Seine, near Gare l'Austerlitz train station, access is free via Jardin Tino Rossi. The open-air art gallery, which is open 24/7, features almost forty sculptures, by both well known names such as Jean Arp and Constantin Brancusi, alongside lesser known artists.
The park also includes several mini amphitheatres, where it is common to find locals practicing their tango skills, with music played through a bluetooth speaker. Everyone is welcome to join, or sit and watch, and often you will find professional teachers giving free lessons in order to advertise their dance schools or private tutoring services.
Visit Celebrity Graves in Pere Lachaise Cemetery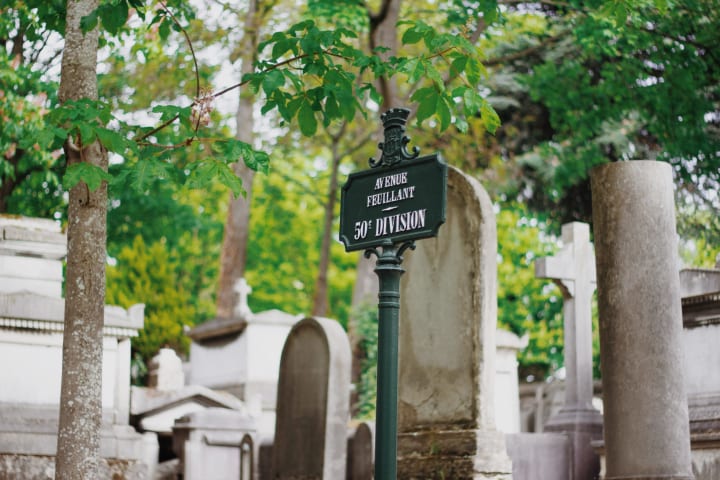 Pay tribute to Paris' most famous locals and expats alike; Édith Piaf, Oscar Wilde (with his elaborate tomb), Proust and Jim Morrison. Entry is free, and peculiarly, laminated maps can be found at the many entrances. Nevertheless, this is still a cemetery, and so, needless to say, be respectful.
Personally, I love to head to any of Paris' famous three cemeteries (Pere Lachaise, Montmartre and Montparnasse), all of which being the final resting place of countless famous artists, writers and musicians, with a good book on a nice day, as it's always a peaceful spot away from the bustle of the city, without my having to travel far from home.
Watch the Sunset at Trocadero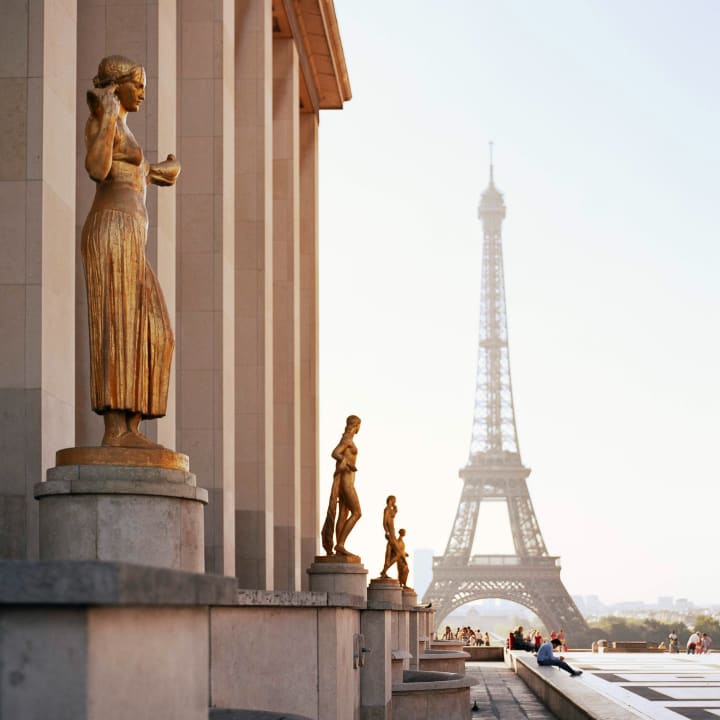 Trocadero is as marmite a feature of Paris' landscape as the Eiffel Tower itself, and whether you love it or hate it, you'll be pushed to find a better view in all the city - or a better place for those must-have Instagram shots, in fact. It's typical to see couples and wedding photo shoots taking place from the crack of dawn (especially at the crack of dawn) through to sunset, complete with balloons and flower-laden bicycles. Be careful for pickpockets, as the crowds attract those with sticky fingers, but otherwise, this is an excellent spot for people watching.
Take a Stroll Around Ile de la Cite
It's surprising how few people seem to realise that the Seine includes several islands, the largest and most well-known being Ile de la Cite, regardless of the fact that upon the island sits Notre Dame herself. Admittedly, walking around the island isn't the same experience since the terrible Notre Dame fire last year, with the entire area cordoned off for several years to come, but the surrounding streets are full of charming, if touristic cafes, gift shops and boutiques, and personally, I'm a big fan of Marché aux Fleurs Reines Elisabeth II - the flower market next to Cite metro station.
Tip: Wander down side streets to find the quieter corners of the island.
Admire the Architecture of Paris' Churches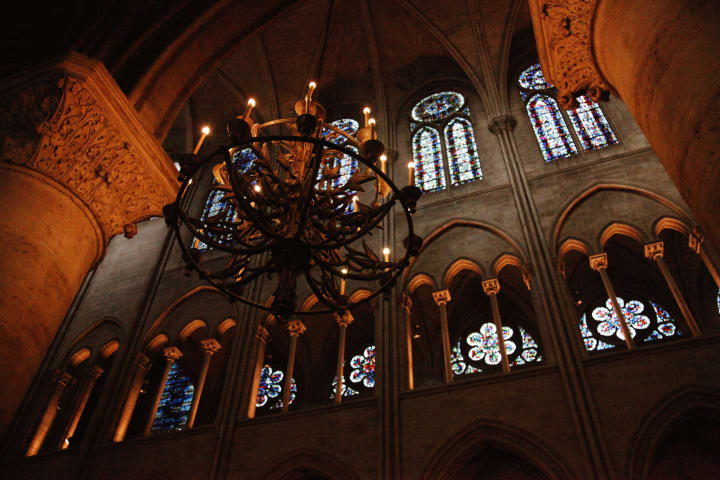 Of course, as mentioned above, Paris' gem of a church, Notre Dame, was severely damaged due to a devastating fire last April, and so will be closed to the public for the foreseeable future. That said, there are countess other beautiful churches across the city, with free entry (though a donation is always appreciated). Sacre Coeur is undoubtedly the second most famous church Paris has to offer, while Saint Sulpice is the second largest after Notre Dame, and only fifteen minutes away, in the 6th arrondissement. Other beautiful churches with free entry include Eglise de la Madeleine, Church of Saint-Eustache and Saint-Alexandre-Nevski Cathedral in the eighth arrondissement.
Bonus: While St. Denis Basilica in the northern Paris suburb does typically charge a fee for entry, it is free on the first Sunday of every month, and as the burial place for 43 Kings and 37 Queens, it is well worth the visit.
Find Movie Locations Hidden in Plain Sight
Paris has featured in countless movies over the years, from Charade (1960) to Fantastic Beasts: The Crimes of Grindelwald, to, of course, Woody Allen's Midnight in Paris. You can find the street in which Midnight in Paris's Gil first travels back in time to 1920s Paris near the Pantheon, while the carousel featuring in Amelie stands at the foot of Sacre Coeur, and Pont de Bir-Hakeim is recognisable from Inception. There are countless blogs and websites online dedicated to identifying movie locations across Paris. Grab a pen and a map, go out and recreate famous scenes from your favourite movies.
Go Tango Dancing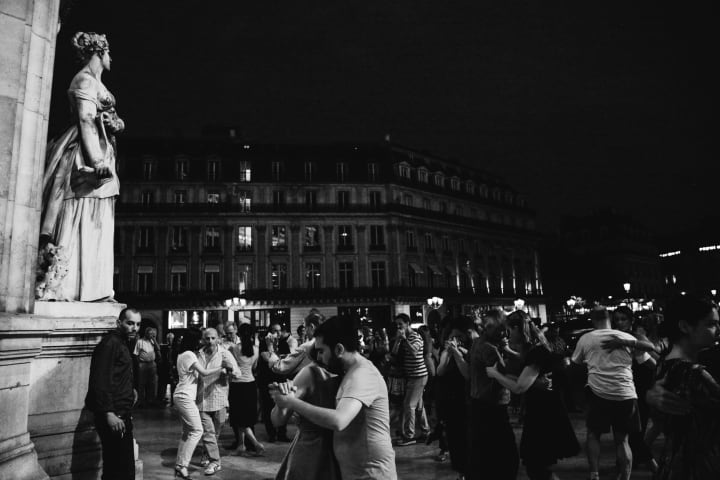 I have already briefly touched upon this one above, but as there are multiple locations across Paris where one can dance for free, I thought it deserved its own section. The most famous spot for free tango dancing is perhaps alongside the Seine, in Jardin Tino Rossi, where on most nights from late Spring until early Autumn, both locals, expats and clued-in tourists alike can be found practicing their footwork.
Alternatively, on certain nights of the week (Monday?), dancers will also take to the steps of Paris Opera. I've attended these nights myself, and it's a slightly more unusual set up, seeing that people will dance while a performance is taking place inside, on the agreement that a break must be taken during the interval and the steps must be cleared for any passing by during this time. Bags are safe enough, as they are piled in the centre of the space, and everyone dances in a circle surrounding them, usually with a few people sitting out a dance at a time, making it difficult for anyone to run away with your bag. A few times I've even seen people attaching their bags to the pile, making any theft even trickier.
See the Twinkling Lights of the Eiffel Tower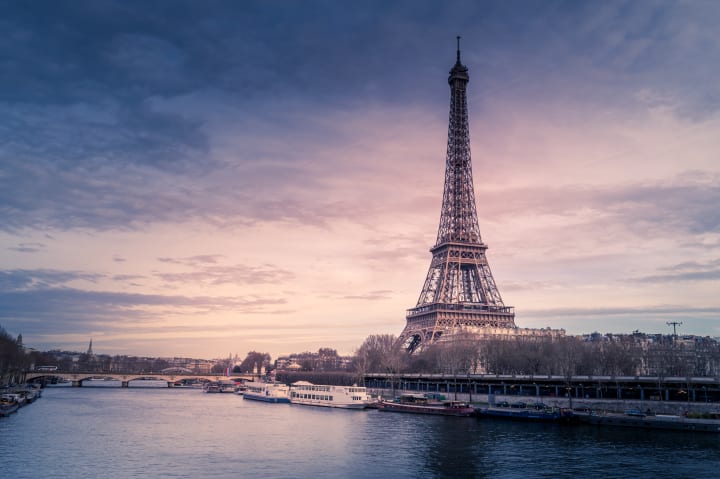 On the hour, every hour from sunset, the Eiffel Tower lights in as a twinkling beacon of lights on the landscape. I recommend rocking up on the banks of the Seine across from the Eiffel Tower, on a nearby bridge, or at Trocadero, shortly before the hour strikes, and enjoy the show.
Visit the Flea Market at Port Saint Ouen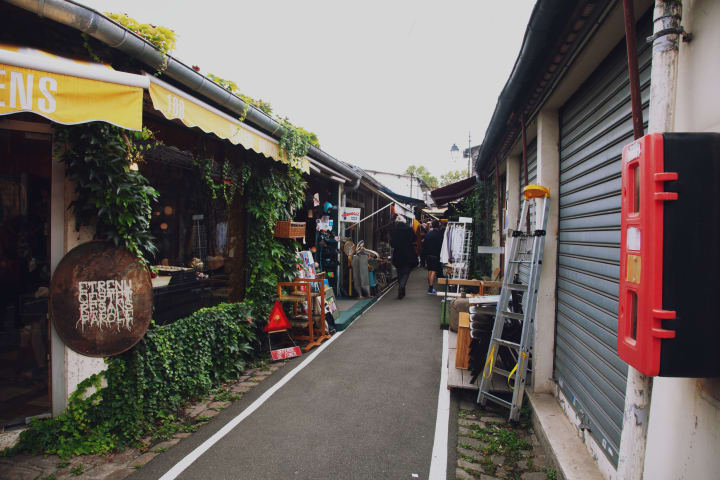 There are numerous flea markets in and surrounding Paris, but the one at Port Saint Ouen is undoubtedly the most famous, and the best, and personally I could spend hours wandering its winding streets, exploring every stop and stray corner for bargains. You can buy everything here from original artwork to vintage prints, homeware to furniture, couture fashion to old cameras. If you're willing to rummage and take your time, real bargains can be found, and I've found that its' pretty each to drive down a price, if you do find something which catches your eye, but often, I go there just to people watch and window shop.
Find the Lost Villages of Paris
As with many cities, as their perimeters expand to accommodate a growing population, villages are engulfed, becoming a part of the city. However, mini-arrondissements such as La Butte aux Cailles in the 13th arrondissement and Villa Leandre in the 18th arrondissement are still recognisable as the villages they once were. Sometimes you need to get out of the city, without getting out of the city, and as these lost villages have managed to retain all of their charm and beauty of long-gone days, they are the perfect place to wander and get intentionally lost.
Look for the Oldest Tree in Paris
If you're looking for a quirkier tourist attraction, while wandering the left bank's Latin Quarter, take a quick detour to Square René Viviani in search of the oldest tree in Paris. Sure, it's just a tree, but it's a very old tree. A very old tree in a beautiful park. Give it a nod of recognition, and settle down on a nearby bench with a good book - perhaps a book purchased from one of the bookshops below.
Curl up with a Book in one of Paris' English Bookshops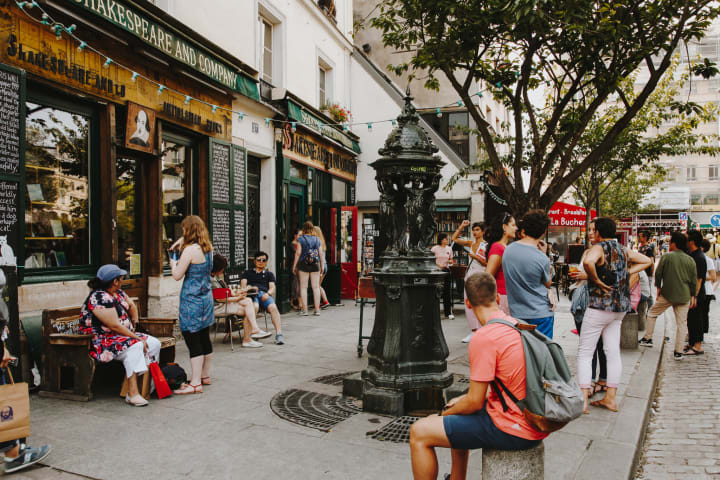 Coincidentally, just alongside the oldest tree in Paris, lies one of the oldest English bookshops in Paris still in business; the world famous Shakespeare & Company, a place very dear to my heart. With the upper floor dedicated as a library, it's easy to spend hours reading the latest bestseller, or a gem of a classic found upon a dusty bookshelf, without having to spend a penny.
The left bank especially is teaming with amazing English bookshops, including The Abbey Bookshop, San Francisco books, and the newest of them all, The Red Wheelbarrow next to Jardin du Luxembourg, while Galignani is arguably the best bookshop on the right bank.
Bonus
Many tourist attractions and museums are open on the first Sunday of every month, though places do tend to get crowded with bargain-hunting tourists and locals on this day, but if you don't mind the crowds, you can save a lot.