For the Love of Cheap Travel!
Ultra-Cheap Travel Stories and How I (We) Did It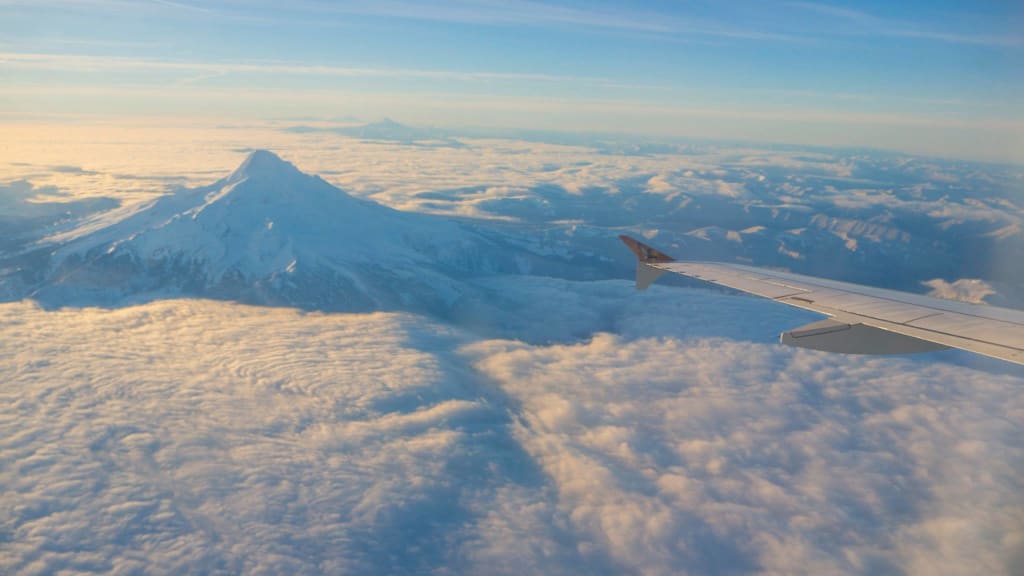 The early morning approach into Portland, OR, passing by Mt. Hood on a $38 round trip day trip from Denver in January of 2017.
I like to believe that we all dream of cheap travel, but most of us never take the time to actually figure it out. We all talk about the places we will go, and the things that we will see later in life, but we hardly ever actually take the time to research and go. I have strived for years to travel and experience what I can on my ultra-low budget. One of the most common things that I hear from older people is how they wished that they had taken the time to travel more while they were younger. I do not want to say that when I'm older. Maybe its my own version of FOMO (fear of missing out)...
When I turned 18, and I had a lot more time and independence, and I had a big itch to start doing my own travels. I had traveled quite a bit with my family as a kid, but only a couple of times a year. My dad worked for a major airline when I was really young, so we had flight benefits for years, and we used to use it to visit family in the Midwest and in Europe frequently. However, I feel that I still have a lot of ground to cover, and I felt that way when I graduated high school too. Fresh out of school, I thought that I knew what I wanted to do with my life, but I quickly found myself questioning that decision while I was taking college classes. I was also working at a flight school for minimum wage taking care of airplanes. My love of aviation has been around my whole life, and it only accentuates my love of travel. I decided to pick up more hours at the flight school, and stop going to school for a while after one year of classes.
I spent my time setting aside what little money I was making (that didn't go into gas or food), and I started to do some research on cheap ways to see more of the country. I quickly found a growing shift in the airline world known as the "ultra-low-cost-carriers" or ULCCs. These are airlines that take budget travel to the extremes. They are becoming well known for their poor comparative product quality (uncomfortable seats, no first class, no entertainment, etc.). They have become most well known for their "pay for only what you need" attitude, which causes a lot of people to become irate, confused, and quick to jump on the "scam" conclusion. For me, however, this was not the case. I believe that the ULCCs are actually very up-front about the way that they work if you put in even a small amount of research, and, while the traditional airline traveler may not appreciate the changes that they are making to the industry, they are making revolutionary adaptations to the world we live in that are far more valuable than any physical option that they could put on an airplane.
The first time that I traveled on a ULCC was to Dallas from my hometown of Denver in the fall of 2014. I called my friend as soon as I saw the price of the tickets, because I could not believe it at the time: $18 each way! He and I began planning a day trip to Dallas immediately just because we could. A day trip was possible because the airline had a flight out at 6 AM and a return flight at 6 PM on the same day at that time (airline schedules change very frequently, so the times and options don't always exist). After the time zone changes and flight times, that was nine hours on the ground in Dallas, and just over 12 hours from departure to return. This meant that we could see the highlights of Dallas, and we would not have to spend money on a hotel or baggage, and if you choose not to select a seat on the airline then they just assign one to you for free. This was perfect for us. We managed to do a whole day in a city almost a thousand miles away for just under $38 round trip. The only other expenses that we had for the day were airport parking ($7), a transit day pass in Dallas ($9), lunch ($8), and entry cost to several attractions ($15). Our total cost was about $77 for the whole day! Now that was something that I could afford on next-to-no income. And if we really wanted to cut it down even further, we could have used the generosity of someone we knew to drop us off and pick us up from the airport instead of paying for parking, and we could have brought a lunch (but lets be honest, a big part of why people travel is to try the local foods, or at least it should be).
After our first adventure on a ULCC to Dallas, I started traveling a lot more by myself, because I had a flexible Tuesday or Wednesday off every week, and these are generally the cheapest days to travel of the week. The airline had several sales every week, and at the time they were having $18 sales about once a week, so I would pick about two-to-three cities a month, and visit some place new for the day. I managed to visit Seattle, Portland (OR), San Francisco, LA, Salt Lake City, Atlanta, Chicago, etc. on my own. After some time of traveling alone, I wanted to experience more cities with friends, and because it was so affordable, I was able to travel with a lot of friends to a lot of places: Orlando, St. Louis, New York, Las Vegas, Phoenix, Des Moines, Bismark, San Diego, Indianapolis, etc. The experiences and memories that we have had from those travels is always money well-spent, and time that I wouldn't give up for almost anything. I hope that you will take the time to read my detailed trip stories for the many places that I have been on my cheap travels, and that they will spark your curiosity and imagination of just how far you can go, and how much you can do on almost any budget.
In my experiences with the ULCCs I have come to appreciate their place in the world more than most, and I have noticed how it helps people with more than just a point-A-to-point-B form of transportation. Many people have gotten so angry about the carriers, and the way that they have reshaped the airline industry with their pay-for-each-add-on-item mentality that they have lost sight of the amazing thing that they have brought to the world. We take for granted how amazing it is to wiz through the air so effortlessly at over 500 MPH to travel across large parts of the globe in such little time. People become entitled with their free drinks and snacks and entertainment on other airlines that they aren't willing to take in the brilliance that is modern air travel, and how cheap tickets could benefit everyone.
On one trip, I sat next to an older lady who was so ecstatic about the journey, no matter the lack of luxury, because she had found such cheap tickets. The prices were so cheap that she took time off from her job for the first time in a while, and she was on her way to visit her son for the first time in years after he moved away for a job. This was something that wasn't possible for her before, because she couldn't afford the ticket prices of the traditional airlines. On another trip, I sat next to two ladies who were on their way to Disney Land (their favorite place on earth) for the first time in years for what they hoped was going to be an annual tradition, because the cheap tickets allowed them to afford to get there. A co-worker of mine managed to fly her son out to see her, and go to a baseball game with him for the first time in almost two years, because the prices were so cheap. I helped another co-worker in his sixties travel to San Diego monthly to visit his daughter, followed by browsing condos there, and finally making his dream come true of owning and retiring to San Diego by the beach in a one bedroom condo on a very small budget, something that he didn't think was going to be possible for many years, as he didn't expect that he would be able to visit so frequently while also saving for retirement.
Traveling is a big part of my life, and I watch it benefit those around me all of the time. While I understand that it isn't for everyone, I do wish that a lot more of the world could see traveling with the ULCCs the way that I do, and experience the excitement that it has brought to my life and so many other's lives making real dreams come true. I urge you to read my detailed trip stories that are coming from the many trips that I have taken, so that you can start formulating your own budget travel plans.